Thursday, January 28, 2016
Message Given by the Most Holy Virgin Mary
To Her Beloved Daughter Luz De María.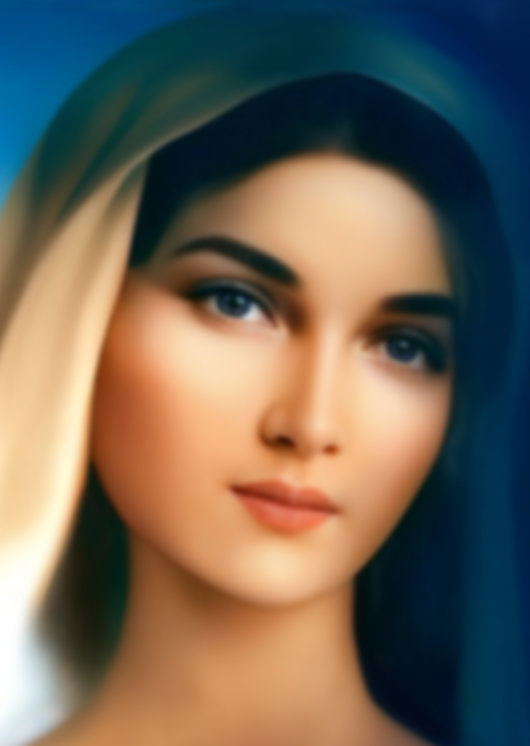 Beloved children of My Immaculate Heart, I bless you.
As Mother of all humankind I do not stop My Word to tell My Son's People to come back and reunite inside My Son's Sacred Heart so that they will not be afraid of getting lost as they go along safe paths.
MAN'S WORKS AND ACTS ALLOW PEOPLE TO SEE WHAT MAN REALLY HAS IN HIS INTERIOR.
MAN'S REACTIONS AT UNEXPECTED INSTANTS DEFINE THE DEGREE OF SPIRITUAL MATURITY OF THE CREATURE.
That which man keeps in his heart is what he expresses with his word. A violent creature carries with him little or no conscience of what are My Son's acts and works. A creature that does not respect his fellow humans is far from loving in the way My Son has ordered you to love your fellow men. My Son warns you about the danger of the human will when it is guided by the human ego. THE TRANSPARENCY IN THE ACTS AND WORKS IS NOTORIOUS IN THOSE WHO ACT KEEPING MY SON IN THEIR HEARTS; THIS IS NOT SO IN THOSE WHO LIVE BY APPEARANCES.
Beloved children, within the square meter—the immediate surroundings—the actions, the impulses, the way you treat others, the love, the truth, the fraternal interaction, and the humility will tell who you are and how you are. This is not the instant for tepidity or deceptions.
This is the instant when you will be in the manner of My Son, if you belong to My Son…
If you do not belong to My Son, you will act in a mundane manner ignoring compassion, love, fraternity, truth, patience, obedience, and the virtues of others.
If you do not belong to My Son, you will wish to be the first always, you will pretend to know everything, you will despise those who do not think or act like you.
This is the instant to look at yourselves because if you don't, My Son will lead you to look at yourselves even if you do not want to do it. Truth is a pillar of the son of My Son, It is seed that bears fruit. He who does not work in this way, he who does not act in this way, is a member of the dying church which, because it does not constantly carry the Cross on the shoulder, cannot make its enemies flee and does not see those who want to destroy it.
Don't you see that in My Son's Church both the wheat and the weeds are together?
Who are those that want to pull the weeds without looking at themselves?
Or, who—knowing the weeds and the evil they do—allows them to stay inside, without seeming to be weeds, so that they will continue destroying furtively from the inside?
You must observe the precepts established, from which are pendent the Law and the Prophets:
"YOU SHALL LOVE THE LORD YOUR GOD WITH ALL YOUR HEART, AND WITH ALL YOUR SOUL,
AND WITH ALL YOUR MIND…
AND YOU SHALL LOVE YOUR NEIGHBOR AS YOURSELF." (Matthew 22:37-39) HE WHO LOVES DOES NO EVIL; HE WHO DOES EVIL DOES NOT LOVE TRULY.
Beloved children of My Immaculate Heart, at this instant evil lurks everywhere incessantly praising wrongdoers and taunting those who act correctly within what is good. Be astute and really think, at every instant, from where comes the praise and from where the recrimination. Both have two paths but they feed off the same venom which comes to bring down My children by recriminating and praising what is not done correctly.
Beloved children,
Each one is called to witness and give testimony of My Son's Teachings and, for this, the Holy Spirit needs the soil prepared for Him to reside.
The Mystical Body of the Church remains on Earth and each of you is fully responsible for not mistreating It, not slapping It, not despising or reviling It, and not wounding It.
Each one of you must give the best of yourself in order to collect the best of your brothers.
Trust in the Word that explains to you walking in God's Law without fear of tripping…
Trust in God every instant…
Trust in God, do not fear, even though on occasion you must wait…
" do not fear, for I am with you" (Isaiah 43:4)
He has His Plan for each one of you and He knows what you need and when you need it, because He knows you from within…
"I have inscribed you on the palms of my hands." (Isaiah 49:16)
Do not neglect the Faith because
"the Spirit expressly says that in later times some will renounce
the faith by paying attention to deceitful spirits and teachings of demons" (1 Timothy 4:1)
Beloved children of My Immaculate Heart,
I STRONGLY CALL YOU TO REMAIN ALERT, WITH LIT CANDLE AND THE BEST OF OILS…
The devil remains in a constant battle against My children; and you must be able to distinguish what belongs to God from what belongs to the devil. WITH A FALSE DOCTRINE, THE DEVIL ARRIVED AND INTRODUCED HIMSELF IN MY SON'S CHURCH AND, AT THIS INSTANT, ATTRACTED OVER HUMANKIND THE SATANISM FROM ANCIENT BABYLON TO MAKE IT PUBLIC AND TO HAVE IT PRACTICED OPENLY. This has been the purpose of those who have remained within the groups that surreptitiously call themselves clubs, mafia, sects, secret societies, new ideologies, new era, which have dragged ancient rites and involving those who are lukewarm and indifferent.
Beloved children,
THIS INSTANT IS NOT JUST ANY INSTANT. THIS IS THE INSTANT OF INSTANTS WHEN TEN
NATIONS WILL TAKE OVER THE CONTROL OF EARTH, AND THEIR TEN LEADERS WILL BE THE REPRESENTATIVES OF THE NEW WORLD ORDER.
The antichrist makes his public appearance without prior warning, and arrives with great praises as the one that will achieve peace and the reconciliation between peoples, peace that is sign of the imminent presence of the executioner of humankind.
Beloved children,
YOU MUST DECIDE TO CHANGE; DO NOT LEAVE
UNTIL TOMORROW WHAT TO YOU REPRESENTS ETERNAL LIFE; DECIDE AND DO NOT FALTER. DO NOT WAIT!
The war advances dragging in its wake a huge complexity of interests among which is to destroy most of My children, three fourths of My children, in a clear and sudden manner. Which weapon would be able to accomplish this if it is not the most sophisticated and the most powerful that exists at this instant?
Beloved children, humankind is in crisis. Wake up before you are examined; know My Revelations, My constant Warnings in all the places where I have appeared to warn My Son's People and Mine.
CHILDREN, IT IS URGENT THAT ALL OF YOU UNITE. ONLY THE UNITY OF MY SON'S CHURCH WILL BE ABLE TO CONFRONT THIS GREAT IMPOSTOR AND HIS ALLIES. My Son's People, you yourselves will unmask this impostor, and for this you must remain complying with God's Law.
SO MUCH HAS RISEN AGAINST MY SON'S PEOPLE!
YET YOU CONTINUE WITHOUT GIVING ANY SIGNS OF KNOWING WHAT IS HAPPENING OR WISHING TO LEARN ABOUT IT.
I walk in your midst and I see the indifference with which you treat one another and how you watch other people suffer… I see how the one who suffers lunges towards the brother without that being a difficulty to resolve his need. This is a violent generation, unscrupulous and ignorant.
Look on high; the signs over abound. You will see in the sky what you have never seen before as a sign of the urgency of the instant.
Pray, My children, pray for Mexico; it will face a great trial.
Beloved, pray, pray for Rome; it will suffer. The Vatican will be grounds for world news; those who do not love My Son will cause great pain.
Pray, the volcanoes will be the scourge of man. Mexico will suffer for this reason; Ecuador will suffer. Unknown volcanoes will be news.
Pray; the earth will be shaken; Spain will lament.
Pray; the United States continue suffering; Nature turns against this Nation.
Children of My Immaculate Heart,
THE RUIN OF HUMANKIND LEADS A GREAT MANY SOULS TO FALL INTO HELL.
DO NOT BE INDIFFERENT TOWARDS YOUR BROTHERS. PRAY FOR THEM, WARN THEM ABOUT THE WICKEDNESS IN THE WORLD.
DO NOT STOP; EXPLAIN TO THEM, OVER AND OVER AGAIN, EVERYTHING THAT THE WORLD IS FACING.
Existing realities cannot be hidden; evil hurls over humankind without compassion, and men will see in awe how fire falls from the sky. They will seek a place of refuge but will find none.
My children, do not move away from the Eucharistic Sacrament.
Pray the Holy Rosary and wait in Holy Patience for the help that will arrive from Heaven at the bloodiest instant of global persecution of Christians.
Rome will suffer and in view of her own lament one cannot call saint those who leave God for what is mundane and sinful while blaming God for their own miseries, for being selfish, and for their frustrations when they want to possess more than their brothers.
Vices are welcome and My Son is sent away; the churches remain empty; there is no one to pray.
Beloved children of My Immaculate Heart, the plague advances and man suffers.
Use mullein and rosemary in discreet amounts.
CHILDREN, MY IMMACULATE HEART REMAINS WITH YOU.
YOU ARE SONS OF THE KING OF HEAVEN AND EARTH; DO NOT FEAR, MY SON SUPPORTS HIS OWN.
I bless you, I am your Mother.
Mother Mary.
HAIL MARY MOST PURE, CONCEIVED WITHOUT SIN.
HAIL MARY MOST PURE, CONCEIVED WITHOUT SIN.
HAIL MARY MOST PURE, CONCEIVED WITHOUT SIN
(*) Note:
The scientific name for Rosemary is Rosmarinus officinalis
The scientific name for the plant commonly known as Mullein is Verbascum thapsus