Sunday, January 31, 2016
Message Given by the Most Holy Virgin Mary
To Her Beloved Daughter Luz De María.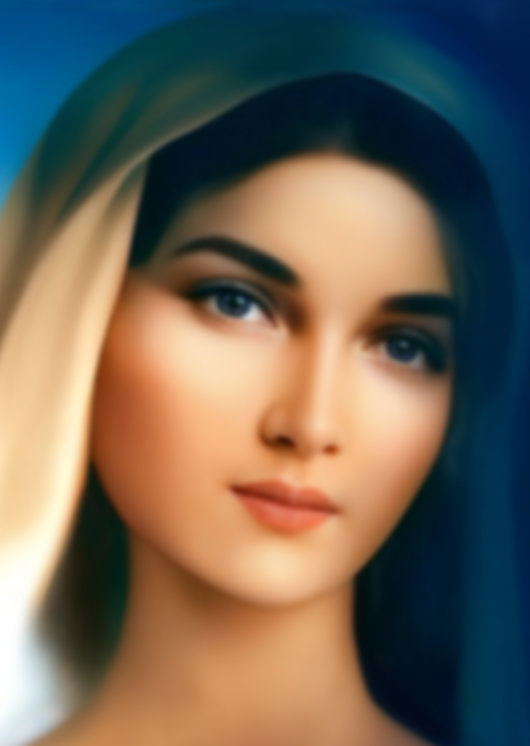 Beloved children of My Immaculate Heart,
My Word gets to My children as blessing that the Divine Will allows for His People. Embrace My Word, children, before the instant passes.
Man will want to quench the thirst of his soul and he won't have a way to quench it. Given the rejection of everything the Paternal House reveals and that is left by the wayside, it will be at sunset when humankind realizes that this Revelation marked the way but was despised.
Man will turn the Commandments into a convenience for his bad living; such great audacity is the ruin of humanity. Who like God?!!!
All that is Sacred has been minimized so that debauchery reigns among My Son's People. Children of My Immaculate Heart, do not lose Faith. From Heaven will come down The Help for the Faithful People, not to prevent you from suffering or from being purified, but to prevent that suffering from being more than what is Divine Will.
Evil will never triumph; the bad behavior of My Son's People will lead you to fall to the ground begging for the Divine Hand. Some of My Favorite Children—the Priests—walk in such arrogance that does not let them turn back and, on occasion, their incongruous way of guiding My Son's People is the door through which these People get away and look for refuge in satan by denying sin, denying evil, denying hell as a place of grief, denying God's Law, denying the Cross, denying Me as Mother of humanity. SO MUCH DENYING THE DIVINE GREATNESS IS THE MAGNET THAT ATTRACTS TO EARTH THE PURIFICATION OF EVERY HUMAN CREATURE. My Son's People will suffer as well as those who join the malignant antichrist who at the end will be the one to make them suffer horrendous punishments and deprivations. When he feels in agony, he will turn against his followers.
Before this happens, those faithful to My Son, with horror and dread, will see brothers in the Faith deny My Son and turn in their brothers for fear of losing their lives. INTO THE PURIFICATION, THE SEAT OF MY SON ON EARTH WILL BE ATTACKED AND CLOSED. THE DISCONCERTED SHEEP MUST REMAIN UNITED. I WILL SUSTAIN YOU IN THAT BRIEF INSTANT.
Do not move, children, do not allow terror to invade you when you suffer loneliness. This is why My Calls have been directed to the spirit, to the soul, so that you do not fall in despair.
So much evil will be dispersed like the wind, and for man this will be suffocating, as much as the air totally contaminated with the most lethal poison.
There will be a purification like never before, since the beginning of the world. Not only the Earth will be shaken but also the Sky just like man's wickedness has been without compassion toward his brothers and without any respect for his Lord and his God.
Beloved children of My Immaculate Heart,
I SEE MY FAVORITE CHILDREN—THE PRIESTS—SO WEAK! SOME ENDORSE THE ACTS THAT LEAD TO SIN; I GUIDE THEM SO THAT THEY WILL SAVE THEIR SOULS.
MY SON'S CHURCH, AS DYING, KEEPS ON THE SOCIAL, BUT ITS MISSION IS TO SAVE SOULS AND
THEY DISOBEY ME. The houses of My Favorite Children must not be sunk in luxury or in big feasts; My Children must be austere like My Son. LIVE ON WHAT IS NECESSARY AND HELP THE POOR, NOT ONLY PHYSICALLY BUT ALSO SPIRITUALLY.
MY FAVORITE CHILDREN MUST TAKE WITH STRENGTH THE CROSS MY SON BEQUEATHED TO THEM, SO THAT THEY BE EXAMPLES OF FAITH AND LOVE…
AS MOTHER, THIS GIVES ME GREAT PAIN BECAUSE THE WAR IS STARTING INSIDE THE SAME
CHURCH, MY SON'S CHURCH, WHERE AGREEMENTS BURN IN DISUNITY, AND THE PRIORITIES ARE NONE OTHER THAN STRATEGIES TO CONFRONT ONE ANOTHER.
Children, approach the Eucharistic Sacrament; do not reject Him; prepare without delay and receive Him with love and firm purpose of amendment.
My Son has been defied so much! And this although He has announced to you what will happen. You already know that later on you will see the Earth and it will look like rubble of what it used to be.
What will be left of a country will be a small island, and what will be left of a city will be rubble, and the cry of the heart will be heartbreaking. Man does not come when called tenderly; the rebelliousness of this instant makes him show himself defiant, and My Son, with the purpose of recovering souls, allows the Justice to remove man's entrails in order for him to see himself in his smallness and for him to see the damage that he has caused to himself.
Children, look at you! … Why have you allowed a small wound to get infected without washing it? Why have you allowed a wound to fester? Worms eat away at the skin and adhere to the places that have pus. As Mother, I want My children to have a different reaction; when there are riots, I see how My children are emboldened; when there are attacks and persecutions, they cause more terrible deaths; in the presence of weapons, they take more revenge and do not draw back, they attack the innocent with the terrible terrorist brunt.
MY ADORED SON SUFFERS SO MUCH WHEN HE SEES THAT HIS PEOPLE ARE DEFIANT! THE WAR ADVANCES, IT DOES NOT STOP, IT SEEMS TO SLEEP BUT IT IS AWAKE, AND THE RUMORS OF PEACE ARE MORE RUMORS OF WAR.
MY SON WILL ALLOW THE ILLUMINATION OF THE CONSCIENCES, ACT OF GREAT MERCY FOR EVIL
TO TURN AWAY FROM THOSE WHO WISH IT. THIS ACT IS A PREAMBLE TO THE GREAT SUFFERING.
My daughter, do not worry about some of My children who have come close to you not believing you, they are afraid because you write the truth of My Words. Go on ahead waking up My children for the Glory of My Son Jesus Christ.
The devil embedded himself in the positions of greater power in the world, he waits for the antichrist for him to take charge of all humanity.
Children, do not lose Faith; and you announce what My Son asks and what I as Mother request. Tell My children to be faithful, to come prepared to receive My Son in the Eucharist; tell My children not to accept what is contrary to God's Law.
Confusion will grow each instant within My Son's Church. Some will go against the others, assuming progress, the evolution of generations, they have forgotten that the LAW IS AN ETERNAL PRESENT.
Pray, My children, pray for Brazil; sin will make it suffer again.
Pray, My children, pray for the United States; Nature will scourge it greatly and terror will grip this Nation where innocents will lose their lives.
Pray, My children, pray, the land will shake with great force, so much so that the groans of My children will be heartbreaking.
Pray, My children, pray; together with the economy that hangs from a thread, Japan undertakes its influence.
Pray, My children; Jerusalem will suffer.
My beloved, the elements will be joined with man's suffering; be patient, do not panic, satan takes advantage of panic to prevent you from praying and to keep you away from My Son's side.
YOU REMAIN INSIDE MY HEART. I CRY TEARS OF BLOOD (*) FOR THIS HUMANITY SCOURGED BY ITSELF, BUT AT THE END I WILL TAKE YOU BY THE HAND AND, AS INTERCESSOR OF ALL HUMANKIND, I WILL PRESENT YOU TO MY SON.
It will be those who are faithful that will continue to attract the Divine Mercy towards the Earth and it will once more exhibit in the sky the rainbow of the love of My Son's Faithful People.
Do not regret, yes recognize what you are…
Do not regret, decide to rectify…
DO NOT REGRET, TRUST IN MY SON'S LOVE AND IN MY INTERCESSION BY AND FOR EACH ONE WHO REQUESTS IT…
Look on high; the signs do not stop, the generality of humanity looks towards the ground with the head down looking for the mundane more than for what is up high.
I bless you with My Love, I protect you with My Mantle. As Queen and Lady, I seek you tirelessly. Children, life does not end on Earth; see to it that the soul does not lose Eternal Life.
My Love is with you.
I call you out of Love.
Mother Mary.
HAIL MARY MOST PURE, CONCEIVED WITHOUT SIN.
HAIL MARY MOST PURE, CONCEIVED WITHOUT SIN.
HAIL MARY MOST PURE, CONCEIVED WITHOUT SIN.
(*) On this day (31 January 2016) an image of the Virgin of Guadalupe has appeared with oil and a red liquid coming out of both eyes which is presumed to be blood.