Thursday, February 18, 2016
Message Given by Our Lord Jesus Christ
To His Beloved Daughter Luz De María.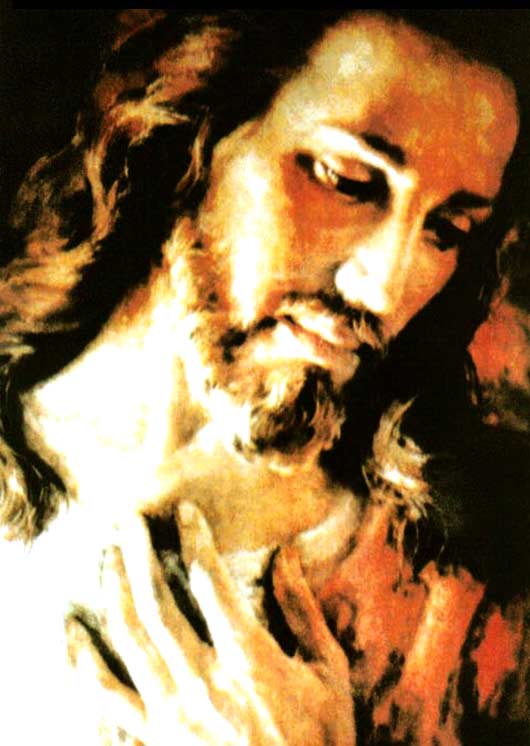 My beloved People,
I KEEP YOU IN MY LOVE AS THE SUN THAT SHINES IN THE ZENITH KEEPS ALL OF YOU IN ITS LIGHT.
The wind blows for everyone. So is My Love: It gives Itself to everyone without distinctions, waiting for My children to want to breathe all I constantly give them without reservations.
IN MY HOUSE EACH ONE IS AWAITED WITH ETERNAL EAGERNESS SO YOU WILL SHARE THE GLORY RECEIVED BY THOSE WHO HAVE LIVED ACTING AND WORKING IN MY WILL, FIGHTING FOR RIGHTEOUSNESS—THE ONE I HAVE TAUGHT YOU—being repeaters of My Acts and Works and complying with The Commandments, living the Beatitudes, and constantly testifying that I LIVE IN YOU IN TRUTH AND SPIRIT.
My beloved People, humanity have been led by bad habits and false ideologies at all instants of the course of history, deforming My Will at human convenience.
MY MYSTICAL BODY HAS TAKEN THE WRONG COURSE although I call them by means of My children, My Prophets. You have ignored My loving Warnings and you have plunged into the sinful path that surrounds you because you have misused your free will thus impoverishing the spiritual relation with My House by limiting yourselves.
EVIL EXISTS, BUT WICKEDNESS DOES NOT PENETRATE MAN IF HE IS STRENGTHENED BY FAITH, HOPE, AND CHARITY.
My Love is protection for each one of My children, it is a magnet that keeps you attracted to Me, if you seek Me and surrender to My Will so that I act and work on you.
Children, you must understand that not everything you perceive is intuition; it is My Holy Spirit in you, when your surrender leads you to unite and delve in the Love I give to each of you.
Beloved, this instant is complex for man if he is not properly directed towards Me, because the instant leads you to perceive the need for 'something' and you dedicate yourselves to a foolish quest. You encounter what is deformed and you adopt it, thus declining in the spirit without being able to wait until you discern; instead, you act on impulse and you act incorrectly if you do not discern.
Man knows that he has been given soul and spirit; he just doesn't know what his own soul is and he doesn't delve into what is his own spirit. For this reason, at this instant, there are so many wrong ways of looking for Me, and My children think they are good, not so much because of ignorance but because everything seems to be just another unimportant thing.
MY CHILDREN, YOU SUFFER PSYCHICALLY AND EMOTIONALLY WHEN YOU LIVE IN A CONSTANT FIGHT AGAINST YOUR CONSCIENCE WHICH CALLS YOU TO RETURN TO ME AND TO ACT AND WORK PROPERLY. You do not feel the tense relation between the conscience and the deformed acts and works of your free will.
I desire peace and the good of each one of My children. My Mercy is so infinite that you have not been able to draw from it to avoid the evils that humanity attracts and which you face without having the answers or the actions to stop the unforeseeable advance of Creation.
MAN'S ACTIONS ARE THE REFLECTION OF HIS OWN SPIRITUAL DISABILITY WHICH HE SUFFERS BECAUSE HE LACKS AN ADEQUATE GUIDANCE AND TEACHING BY THOSE WHO HOLD THE HIERARCHY OF MY CHURCH. My People should not ignore the consequences for their spirit and for the evolution of their brothers brought on by their behavior.
At this instant, humanity lives a chain reaction which is the consequence of evil acts and works that awaken Creation which acts. Creation does not react; it acts against those who annihilate it mercilessly and those who annihilate themselves: Man.
IT IS NECESSARY THAT, AT THIS INSTANT, I CALL YOU IN THIS WAY AND NOT ANOTHER…
IT IS NECESSARY THAT I GIVE YOU KNOWLEDGE SO THAT YOU CAN REASON AND EACH ONE CAN DECIDE TO SAVE HIMSELF AND COOPERATE WITH THE PLAN OF SALVATION FOR HUMANKIND.
Children, power struggles are not just about the economy; even though the economy is a factor you must not stop observing. The struggles that you do not know go beyond what is natural. The great powers of the world have come to undermine human will, in the same way they undermine Nature against My Will; and I allow it until man himself laments how far science has taken him when it is used for evil.
When you move away from Me, you do not discern, and you react without setting in motion the good will and the good feelings you possess. Hence it follows that at this instant you see man against man. You are spectators of the catastrophe and carnage about which My Mother warned you and you ignored.
This is the instant of the man who recognizes the evil he has committed…
This is the instant of the man who rectifies his acts and works… This is the instant of the man who asks forgiveness… This is the instant of the man who listens to My Word...
I am ignored because they have not been guided to know Me in depth and they do not feel Me close, but distant…
They have deformed the image of My Mercy, they ignore Me, and they deny My Justice—which is an act of infinite Love for My creatures—by taking It as punishment and not accepting It as consequence of human disobedience.
My beloved People, man's mental agitation paralyzes the feeling and hardens the heart to prepare man to act subservient to evil that calls the instant to hasten so that the devil takes all his wickedness and spreads it throughout the Earth on those who rebel against My Merciful Love.
Terrorism acts ruthlessly to keep you afraid. This is a weapon of the antichrist: To scare My People who lack Faith.
My children, pray; terrorism will present itself agitating with repression the Peoples who do not know this weapon of evil.
My children, pray; Earth goes on its course and repels those who hurt it contaminating it with nuclear energy.
Pray for Turkey, Syria, and Russia.
My children, pray for the United States; it accelerates tragedy for its inhabitants.
Pray; the land shakes and the water does not give truce.
Pray, My children, for Russia; it will suffer at the hands of Nature.
Pray, My children; the awakening of volcanoes will be astonishing for you.
Europe is invaded. Just as seawater undermines the sand without the sand noticing, Europe has been invaded; the invader remains inside.
You, My People, DO NOT DIVERT MY LAW; LOVE MY MOTHER, the way day respects the sun and night respects the moon. The wolf in sheep's clothing leaves traces of his actions. Stay prevented and attentive to conversion before you judge yourselves.
I LOVE ALL MY CHILDREN. NOT ALL RELIGIONS MAN HAS BROUGHT TO PRACTICE ARE FAITHFUL TO ME, NOT ALL OBEY THE COMMANDMENTS WHICH ARE THE REVEALED TRUTH OF MY FATHER'S MERCY TOWARDS HIS CHILDREN.
My Church is the one that acts and works in Divine Will. To the one who faithfully obeys all Mandates without pretense or contention or compromise, MY TRUTH IS MY TRUTH, AS MY LOVE IS MY LOVE: Unique, inscrutable, impenetrable, infinite, the same yesterday, today and forever.
My Church calls evil, evil; and calls what is improper, improper.
My Church is guided by Me; it does not impose Itself with human interests.
Pray, children, for Central America.
My beloved People, I remain with you; do not continue quarreling. "I am who I am." (Exodus 3:14)
You are My children; you are not your own god. I AM YOUR GOD, WHETHER YOU WISH IT OR NOT!
DO NOT BE AFRAID, I WILL NEVER ABANDON YOU. IN THE FACE OF INJUSTICE, I WILL SEND MY ANGELS TO HELP YOU IN THE SAME WAY THEY HELPED AND HELP THOSE WHO ARE FAITHFUL TO ME.
MY LOVE SURPASSES EVERYTHING, FROM WEAKNESS TO IGNORANCE, IF YOU DECIDE TO SURRENDER TO ME.
I bless you.
Your Jesus
HAIL MARY MOST PURE, CONCEIVED WITHOUT SIN.
HAIL MARY MOST PURE, CONCEIVED WITHOUT SIN.
HAIL MARY MOST PURE, CONCEIVED WITHOUT SIN.