Tuesday, March 1, 2016
Message Given by the Most Holy Virgin Mary
To Her Beloved Daughter Luz De María.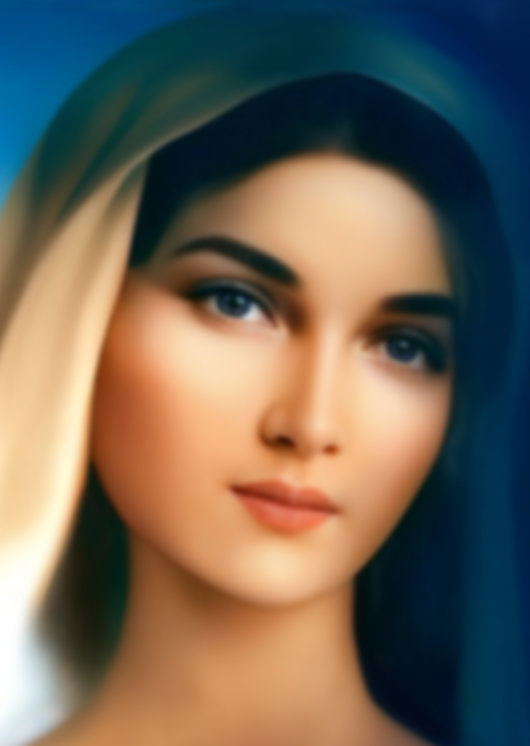 Beloved children of My Immaculate Heart,
AS FAITHFUL MOTHER AND INTERCESSOR IN FAVOR OF HUMANITY, I SHELTER MY SON'S PEOPLE IN MY LOVE.
The approach of each of you to the righteous Path depends on the human freedom with which you act and on how you receive the Pleas of the Paternal House.
OBEDIENCE AND SACRIFICE ARE FOR RIGHTEOUSNESS.
Keeping My Son, not as a priority, but as a strategy for the time when you need help, is an inconsistency, since each one receives according to the measure with which he acts and works in Divine Will.
MY CHILDREN ARE NOT UNINTERESTED; THEY DO NOT HALF LIVE…
THEY ARE THE ONES WHO STRIVE WITHOUT EXCUSES; THEY ARE THE ONES WHO GIVE EVERYTHING FOR THE DIVINE ALL.
Beloved children, do not forget that My Son comes to separate the wheat from the weeds… You are wheat, and the responsibility within Brotherly Love is to work in the field of Divine Love so that the souls will not be lost. Children, you will accomplish this by bearing witness by acting and working with a smile or a good response, because indifference, lack of love, and hubris drive away your brothers, since these characteristics do not come from a soul that remains in the path towards Eternal Life.
EACH ONE HAS A SPIRITUAL PATH FOR WHICH HE MUST CARE AND NOURISH. HUMAN PROGRESS DEPENDS ON SPIRITUAL PROGRESS.
My beloved, lack of love and indifference are destroying this generation. At this instant it is necessary that you remain alert and in inner silence so that you hear the voice of your conscience that guides you and constantly tells whether you act righteously or, on the contrary, you disregard this guidance and are dedicated to offend your brothers, to mistreat them, to be envious which is cancer for the soul. There are some who dedicate themselves to hurting their brothers, and, when they read these Words, they feel these Words are not for them; and since they do not take responsibility for this, they go on with their lives being the same, without radical changes that would lead them to accept My Son.
AT THIS INSTANT, THE FORCES OF EVIL WORK HARD TO DEVIATE MY SON'S PEOPLE FROM THE
TRUE PATH, because they know that the coming events will lead some men to react in favor of good.
Human impiety results from the automation of man who, for lack of knowledge and to avoid thinking, allows the current of the world to drag him, leading him to accept all ideologies and to make them his own. Masses rise by the power of men without a conscience, and man acts in response, reacting to what he sees without reasoning, without using his intelligence, without any love for his fellow men; this way he transforms into an unrecognizable being that does not seem to be God's creation.
Creation convulses; it does not recognize man because man's actions are improper and irresponsible. Creation is moved and disturbed by the response of evil's actions and the scanty response of good in man. Humanity ignores that all its acts and works have repercussions on its surroundings and, like a plague, they contaminate everything around it, which violates the natural order of Creation, and so Creation turns against man.
Man's hand has not measured the consequences of everything he has transformed with his excessive and uncontrolled actions, thus coming to build his own punishment.
Pray, My children, pray for the Middle East, pray for Turkey, it will be darkness.
Pray, My children, pray for Indonesia; it will suffer in large scale.
Pray, My children, pray for Japan and Chile; Nature will flog them.
Pray, My children, pray; Nature will not give truce; the United States will suffer.
Beloved children of My Immaculate Heart, My pain over all you suffer is constant; a new plague approaches humanity with even more force.
The powerful of the world control humanity, create war with the purpose of reducing the world's population, and in this they will have no qualms.
My Son's Church remains under attack by the freemasons who mercilessly act and will act to achieve a single unified world religion, banishing Christianity to give way to one religion.
My children,
DURING THIS SPECIAL LENT, YOU CONTINUE WITHOUT PUSHING ASIDE THE ACTS AND WORKS
WITH WHICH YOU PLEASE YOUR SENSES, YOUR LIKES, THE WORLDLY PLEASURES, AND YOU ARE
INCAPABLE OF OFFERING A SACRIFICE TO REPAIR FOR PERSONAL SINS AND FOR THOSE OF
HUMANITY. Man is so deeply rooted in his habits that he loses the ability to control and restrain himself because of what has become customary and because of his personal wish.
Beloved children of My Immaculate Heart,
Man will not achieve Divine Will by acting with works that are so worldly. BE WILLING AND READY TO DECIDE TO CHANGE; OTHERWISE, IT WILL NOT BE POSSIBLE FOR YOU TO MOVE AWAY FROM THE MUNDANE AND SINFUL, AND YOU WILL BE LESS LIKELY TO ASCEND SPIRITUALLY.
In order to survive, this humanity needs to be Love, grow in the Love, feed off Love…
Humanity will face the consequences of its disobedience and irresponsibility; humanity will be disturbed and distraught by a global announcement which will have all human creatures on tenterhooks.
Look on high: The coming events are announced. Volcanoes awaken and their behavior will be abnormal.
Beloved children of My Immaculate Heart, you must know that prayer must be accompanied by acts and works according to Divine Will. The true Christian is the one who obeys God's Law and shows himself as he is.
Those in good health, offer fasting; those who are not in condition, offer to abstain from things other than food. Fasting and abstinence help the spirit and direct man towards a detachment from his ego and openness towards the Holy Spirit.
Children of My Immaculate Heart,
I PROMISE MY HELP TO THOSE WHO ARE OBEDIENT TO THE REQUESTS FROM HEAVEN. CALL ME: "HAIL MARY MOST PURE, CONCEIVED WITHOUT SIN."
The devil and his henchmen are tempting man who is governed by free will, and for this reason he will fall easy prey to evil. But he who resists and wishes to please and comply with My Son's Requests is guarded so that he will resist the onslaughts of evil with greater force.
Lent reminds man of My Son's giving, of the Father's Love for humanity, and of the Blood of the Righteous One that redeems humanity. Evil will remind men that with blood he exterminates life; but he will not exterminate the souls of the righteous.
The wise of the world cannot understand that nothing is impossible for My Son and that man's theory is surpassed by Divine Science. My Son will confuse the learned of the world and is Light for the humble and the simple with broken and contrite hearts.
Beloved, you who are willing will console one another. Nuclear energy is used (by countries) to intimidate each other. Could it be that nuclear energy has already been surpassed by inventions that are not yet known? Man attracts his own scourge…
COME, CHILDREN, COME TO ME; I INTERCEDE BEFORE MY SON.
The battle of this instant will intensify, but I am with My children and My Hand will not leave you unprotected.
FULFILL WHAT MY SON ASKS OF YOU AND I WILL KEEP YOU BY MY HAND.
Pray the Holy Rosary meditating what you say.
Mother Mary.
HAIL MARY MOST PURE, CONCEIVED WITHOUT SIN.
HAIL MARY MOST PURE, CONCEIVED WITHOUT SIN.
HAIL MARY MOST PURE, CONCEIVED WITHOUT SIN.