Saturday, March 12, 2016
Message Given by Our Lord Jesus Christ
To His Beloved Daughter Luz De María.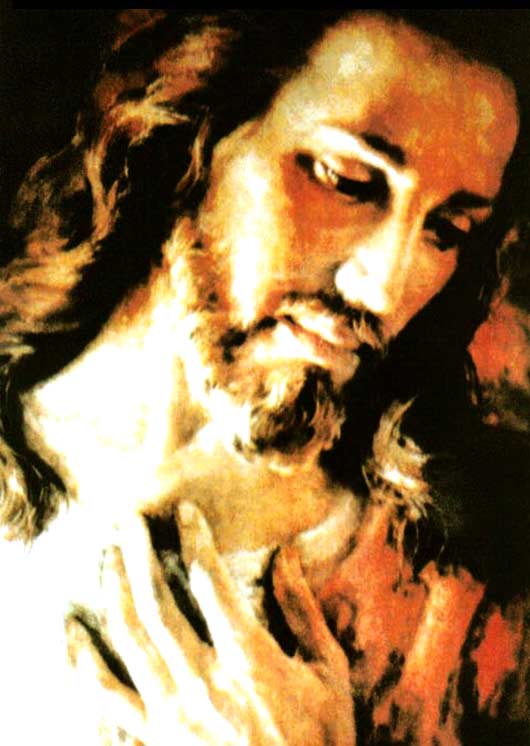 My beloved People,
I SHOW MYSELF TO MY PEOPLE EVERY INSTANT AND THEY DO NOT RECOGNIZE ME. I GIVE MYSELF TO MY OWN AND THEY DO NOT ACCEPT ME.
Great is My Mercy which is given without expecting the response of My People that show themselves as strangers to My Divine Love.
Beloved children, you are the Treasure of My giving of Myself. My Sacred Heart is full of blessings, and I pour them out over My own. Some embrace them; others, despise them. But I give Myself equally for all mankind, just like the sun gives its light equally to all.
My children are Love, each one knows he lives in Divine Will; each has Our Love in the same proportion, so that at some point in life, he reflects the precious contents of Our Love.
My Love—present in those who are Mine—motivates them to constantly look for My Truth, not for personal satisfaction but because THE MORE THEY KNOW ME, THE GREATER IS OUR UNION WHICH SUBLIMATES UNITED WITH MY SUFFERING AND MY JOY.
Children, that which is human ends up overshadowed by the eagerness of the soul that seeks Me, as the soul desires to taste more of what is Divine than of what is human. And it is not because what is human is improper, it is because the deformed human ego tends to act more on free will and tends to move away from Me.
I want My People to yearn to search for knowledge, to be concerned about fully finding My
Love, and to taste the obedience to My requests. My People are those who love to remain by My side, but they love even more to surrender to Me with soul, faculties, and senses; and I, as Beggar of Love, fall in love with the soul that looks for Me, calls Me, and recognizes Me.
MY PEOPLE, I INVITE YOU ONCE AGAIN TO BE NOURISHED WITH YOUR LOVE FOR ME BY RENEWING YOUR CONSECRATION TO MY HEART. I call you to bear witness to My Love so that, in the fraternity in which you are called to live, each human creature will find joy by giving without expecting to receive.
Given the imminent arrival of the impostor, I alert each of you so that the yearning for My House will lead you to remain conscious and alert in order not to be deceived. The impostor arrives to usurp what is Mine, and YOU ARE CALLED TO BE RESPONSIBLE REGARDING YOUR PERSONAL ACTS AND WORKS WITHOUT ALLOWING CONFUSION TO STOP YOU, WITHOUT ALLOWING ANGUISH TO SWAY YOU. THIS IS CALLED FAITH.
I ALERT YOU, CONVERT SO THAT YOU WILL NOT LOSE ETERNAL LIFE. DO NOT ACT FOOLISHLY TRYING TO SAVE WHAT IS MATERIAL.
WHAT IS MATERIAL IS WATER AMID THE FINGERS OF YOUR HANDS.
My beloved, a large part of humankind is immersed in a continuous offense against My Sacred Heart making It bleed. Rage in man increases speedily. Inhuman acts are done for pleasure because, as My children move away from Me, they feel like owners of the world and they forget Me completely. This has allowed evil to make them commit abominations against life itself.
My People keep Me waiting for the human will which refuses to live the way I order. They all look at the events but only some react. I suffer because of the passivity of My Church.
Children, you are wanderers in your own land, you look for refuge in foreign places where some will be sent to the battle field and others will betray the one who embraced them.
Man stopped being man when he was dehumanized rejoicing in his brother's pain. Even though humankind is immersed in wickedness, I do not abandon MY PEOPLE. The vintage is near and I will separate the wheat from the weeds.
HOW MUCH LOVE DO YOU HAVE IN YOUR HEART? COULD IT BE THE SAME YOU RECEIVE FROM ME?
My beloved, remain in a state of alert; the third world war is not forgotten. It pains Me to speak this Truth; My Love alerts you so that you will not fall into the clutches of the deceiver. You are My People, and each one must pray with the heart, with the whole mind, with the faculties and senses, taking seriously the possibility to partake of My Goods, which I will not bequeath to those who have not made a commitment to My House.
The land trembles in view of the wickedness of this instant.
Pray for England; it will suffer by the treacherous hand of man.
Pray, children; where there was sun there will be cold; and where there is cold, the sun will predominate.
Pray, My children, pray. Man already decides about his death. What else will he create to offend Me?
Pray for Mexico; it will suffer; violence will recrudesce and Nature will react.
Pray, My children; the land moves with great force.
The Purification arrives for all humankind without being expected. Terror will cover Earth; the day will darken because of so many tears shed. My Mother will wipe the face of My suffering People.
A great discovery will give new strength and energy to this civilization; however, after the announcement, they will embrace evil through misused science, and they will take the route of pain, of suffering, and of wickedness.
My beloved People, economic power sponsors evil, and evil will make the economy fall to cause men to despair. (The objective: Establish a single currency.)
Children, do not set your hopes on the metal god; it falls and will not stand up again.
THE ANGUISH OF THOSE WHO DO NOT HOPE IN ME WILL BE ENDLESS.
My People, Puerto Rico will suffer; since it is land of My Mother, it is land of blessing and My Mother will rescue it from amid the water.
My People, you will come to long for the peace you have disdained; humankind will live in anguish because of constant threats from one another, until these threats will materialize into a despairing truth. Man's heart expels Me, and evil takes My place with human permission.
Be attentive! Famine approaches causing desperation amid the plague that advances without anybody letting you know the truth.
Children, know Me so that you will be strengthened by My Spirit and so that you will be united forming a single wall of protection against the unbridled rage, against the unprecedented famine, against the incurable diseases that science cannot explain because it finds no answers. For this reason, cherish the medicines that My Mother reveals to you.
MY BELOVED PEOPLE, THE DAY TURNS INTO NIGHT; DO NOT MOVE AWAY FROM ME.
TO LOOK AT YOURSELVES INTERNALLY IS A BLESSING.
THE GREAT WARNING IS NEAR, AND YOU WILL BE EXAMINED.
DO NOT DESPISE MY CALLS.
REPENT!
Your brothers make fun of you, but do not forget that those who despise My Warnings perish in the same wickedness that repeatedly silences man, but never before as in this instant.
My Word says:
"For at that time there will be great suffering, such as has not been from the beginning of the world until now, no, and never will be." (Matthew 24:21)
DO NOT DESPISE MY CALLS; REMAIN ATTENTIVE.
AT THE END, MY PEOPLE WILL BE FREE FROM ALL EVIL AND I WILL BE THEIR GOD.
DO NOT BE AFRAID; I REMAIN WITH MY PEOPLE.
Your Jesus
HAIL MARY MOST PURE, CONCEIVED WITHOUT SIN.
HAIL MARY MOST PURE, CONCEIVED WITHOUT SIN.
HAIL MARY MOST PURE, CONCEIVED WITHOUT SIN.