Sunday, March 13, 2016
Message Given by the Most Holy Virgin Mary
To Her Beloved Daughter Luz De María.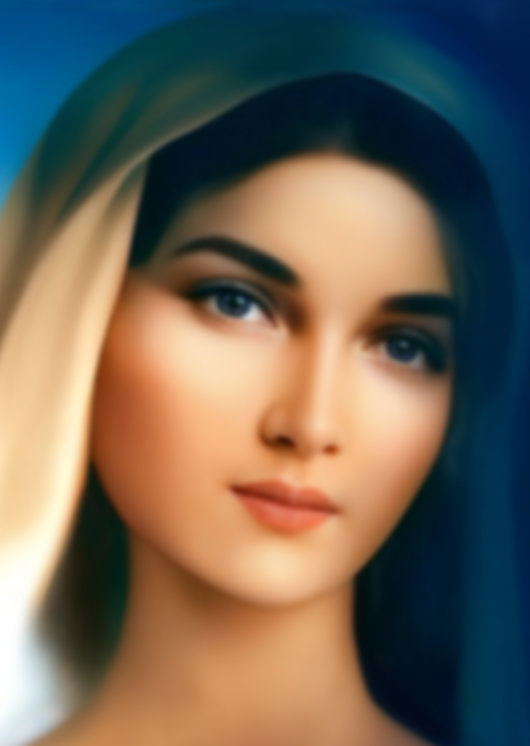 Beloved children of My Immaculate Heart,
COME TO MY HEART; INSIDE YOU WILL FIND PROTECTION AND STRENGTH FOR YOU TO CONTINUE WITHIN THE MANDATES OF MY MOST BELOVED SON.
Children, invoke the Holy Spirit—whom you have forgotten. Ask for the Gift of Discernment, and act righteously. Do not neglect the Faith, nourish it continuously, be children pure in heart. For this you must live away from sin and more united with My Son.
AT THIS INSTANT, THE TRUE CHRISTIAN MUST REMAIN IN SPIRITUAL GROWTH SO THAT HE WILL
NOT LIVE FROM A DISTANCES THAT WHICH HE MUST LIVE INTENSELY AND VERY CLOSE TO HIM…
With pain I see how the enemies of My Son's Church grow…
I see how impious hands touch Him, and how impious hands and tongues receive Him…
MY SON'S PEOPLE ARE LED TO CONFUSION AND, THROUGH CONFUSION, TO THE PERDITION OF SOULS.
With pain I look towards Earth; desolation makes Earth more arid by the same aridity of hearts that claim to belong to the Church but despise My Son and accept the devil. They erect large sculptures and worship them, attracting all the evil that they should discard, and thus they accelerate the arrival of the antichrist and the great persecution of the faithful Church.
Every instant everything seems to sink more and more because of human indifference. The entire Creation rebels with great force against man who wants to make it disappear.
Malice runs like foam; it is increased during childhood to rob children of their innocence with the purpose of increasing the number of the wicked. This way, demons achieve greater power over mankind, thus annulling the Faith in My Son, the Love for fellow men, and Charity.
Beloved children, be strong against the wiles you receive, against the indifferent treatment from your brothers, and against the power that evil has achieved and which will advance as the instant advances.
BELOVED, DANGEROUS DIFFERENCES AMID MY SON'S PEOPLE ARE COMING, AS WELL AS AMID THE CLERGY.
My faithful children will be slandered for not disobeying the Holy Scripture. Heresies will propagate sheltered by the immorality in which humankind lives, sheltered by freemasonry which has been allowed to act freely within My Son's Church, rushing into all social classes, and establishing serious control over the youngest ones, dragging youth to rebel against God and to accept what is worldly as natural.
HUMANKIND DOES NOT KNOW THAT THE DEVIL REJOICES BY SNATCHING INNOCENCE AWAY FROM SMALL CHILDREN AND BY LEADING YOUTH TO DESPISE MY DIVINE SON…
Beloved children of My Immaculate Heart,
THIS COMING HOLY WEEK MUST BE FOR MEDITATION, amid acts contrary to fraternal Love and to the Faith, acts that will spread all over Earth together with revolutions in Countries where man is considered a thing and not a worthy son of God.
My Son is Mercy; however, Divine Justice cannot be left by the wayside in light of the constant calls received by humankind so that men will not be indifferent to Divine Love, to the Divine Truth, and to so many souls who are lost and are apostates because of the freedom with which evil takes action against My Son's People.
Beloved children of My Immaculate Heart, peace will not be lived altogether while evil's mud dirties what is the most Sacred: Freedom, which will not be true freedom, but a resemblance of freedom until the poison of the antichrist is banished from Earth.
Beloved children, THERE WILL BE WAR; THE GREAT BLOODLETTING OF MY CHILDREN WILL EXCEED ALL EXPECTATIONS; THE ATMOSPHERE WILL BE DIRTY BECAUSE OF THE DEVILS that fill it with so much of their impurity that it will fall on Earth with all its dirtiness and all the demonic freedom that man's heart attracts with his irreverence and his rejection of all that is Divine. The devil is already being honored, and this evil is growing, this evil that corrodes hearts until it comes to achieve the lifting of man with the purpose of banishing from Earth everything that could remind man of the Divinity.
CHILDREN, MAN THIRSTS FOR POWER AND, IN ORDER TO GUARANTEE THAT POWER, HE WILL MAKE WAR WHILE MANAGING TO HIDE THE TRUE PURPOSE OF COMMUNISM AT THIS INSTANT: DOMINANCE OVER THE PEOPLES.
There will be propagation of horrors—such as the horrors of this instant—under the protection of those who, wearing sheep's clothing, hide the wolf that shelters and arms the rebels that are starting to show themselves—and will show themselves—all over Earth, bringing horror, tension, insecurity, and uncertainty to the inhabitants of the world, thus preparing the arrival of the false liberator that humankind will embrace because of their great ignorance.
JUST LIKE HUMANKIND WILL DISAVOW THE TWO WITNESSES AND WILL GIVE THEM DEATH…
SUCH WILL BE THE SLOW ACCEPTANCE OF THE ANGEL OF PEACE THAT MY SON WILL SEND TO GUIDE HIS PEOPLE AND TO FREE THEM FROM THE CLAWS OF THE ANTICHRIST.
My children are stubborn and take only what suits them to know; they do not delve into what lies ahead for them; this would prevent them from being confused.
At this instant PRAYER is necessary. It is necessary to pray the Holy Rosary; awareness of the Eucharist is essential for the souls not to be condemned due to ignorance; the practice of the Commandments and Acts of Mercy is necessary, together with being living testimonies of the Acts and Works of My Son.
Pray, My children, pray for the United States; it will continue to be flogged by Nature, and its inhabitants will become agitated and will stir up protests.
Pray, My children, for Argentina; it will be agitated by its inhabitants and Nature will be ruthless.
Pray, My children; Thailand will suffer the fury of Nature; Indonesia will be surprised by eruptions of most of its volcanoes.
Pray for Colombia; it does not find Peace.
Beloved,
REMAIN IN THE UNITY OF THE HOLY TRINITY, PRAYING FOR ONE ANOTHER, BEING ACTIVE FOR
ONE ANOTHER, ALL OF YOU BEING AWARE OF THE GOOD YOU BRING TO YOUR BROTHERS, AND OF THE GOOD
OF WHICH YOU DO NOT LET YOUR BROTHERS PARTAKE WHEN YOU SEEK ONLY YOUR PERSONAL SALVATION.
Look on high, the signs do not stop; examine yourselves and change, reconcile with My Son. In these days that are coming of the Holy Week, unite with the Paternal House, as you have never done before.
I bless you and I offer you My loving Hand.
I intercede in your favor. I love you.
Mother Mary.
HAIL MARY MOST PURE, CONCEIVED WITHOUT SIN.
HAIL MARY MOST PURE, CONCEIVED WITHOUT SIN.
HAIL MARY MOST PURE, CONCEIVED WITHOUT SIN.