Wednesday, March 16, 2016
Message Given by the Most Holy Virgin Mary
To Her Beloved Daughter Luz De María.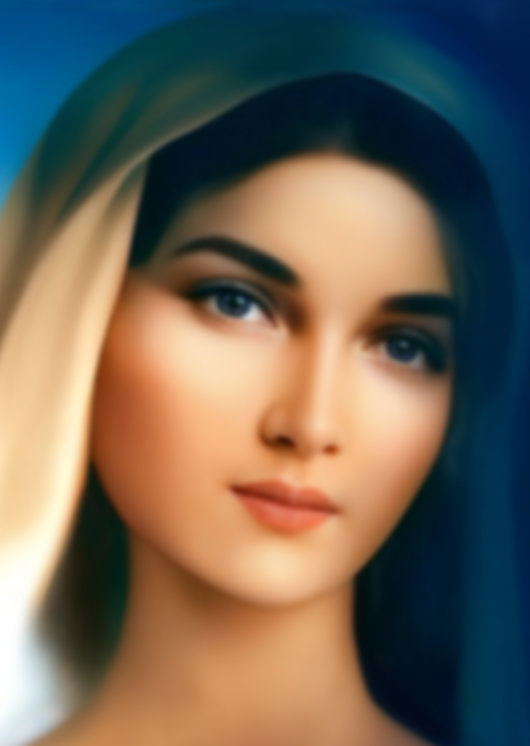 Beloved children of My Immaculate Heart,
Instant to instant I bless you to reinforce Faith in each one of you. Evil has spread all over Earth attacking man, mostly his senses, so that these will be led to act against Divine Will.
All Angelic Legions are on Earth attentive to the call from each one of you. Do not forget that to ask for help, to request Divine assistance—the intercession of the Saints, the help of your Travel Companions and their intercession—will strengthen you at this so cruel an instant that all of humankind is living.
There are so many detractors that make fun of My Son's Calls and My Calls at this instant when they have Heard talk about peace! They forget My Son's Word through Saint Paul: When they feel at peace and security, then sudden destruction will come upon them. (ref 1 Thessalonians 5:3) False peace is in the hands of a power. Do not put your hope in what is not lasting. You go ahead, attentive and alert, getting ready, especially spiritually.
YOU MUST GO FROM PRAYING BY REPEATING WORDS, TO PRAYING BY TALKING TO GOD, TO MEDITATING.
THIS BECAUSE, GIVEN THE STRONG INSTANTS THAT ARE COMING,
MY CHILDREN MUST MEDITATE ON EACH WORD THEY PRAY SO THAT THEY WILL FIND REFUGE, STRENGTH, ASSISTANCE, NOURISHMENT, ALONG WITH THE FAITH AND THE CERTAINTY THAT, THROUGH EACH PONDERED PRAYER, FAITH WILL INCREASE IN EACH HUMAN CREATURE.
At this instant, some of My children are persecuted by the same brothers in their immediate surroundings. Rejoice and be glad because this is a sign and a signal that My Son is taking you along His Way due to the promptness and imminence of the events that I have announced to you throughout the times.
At this instant when behind humanity's backs the deceiver prepares to attack harshly My Son's People, they want to make My Son's children deviate, leading them to focus all their attention on a false peace. Children, do not forget that the wolf will be a wolf (ref Matthew 7:15) and will persecute all of My Son's true children; he will torment them and they will have to take refuge and live united in order to protect and shelter one another. Some remain at a distance; but, during the bloody instants, they will yearn for their brothers.
BELOVED CHILDREN OF MY IMMACULATE HEART, A NEW PLAGUE ADVANCES QUICKLY. USE THE MEANS OF NATURE THAT I HAVE GIVEN YOU, WITH CERTAINTY AND FAITH.
Do not forget that unity is essential—unity among yourselves and unity with My Son's House. Those who persecute you at this instant are pushing you faster towards the true unity with My Son.
Given the coming events, My Son's children cannot half live. You know you must be faithful, righteous, and merciful, and you must decide to say yes! yes! to My Son, or no! no! (Ref Matthew 5:37, 12:30) because the lukewarm will be spit out of the Divine Mouth. (Ref Rev 3:16) The events themselves will separate the wheat from the weeds (Ref Matthew 13: 24-30).
Evil penetrated humankind and men opened the doors of their homes for misused technology to take a place of honor in their homes. Through misused technology, the minds, the thoughts, the conscious and the subconscious of My children have been intoxicated with a lethal venom. At this instant when you know about it, you must decide to replace the place of technology and give it to an altar of love for My Son.
Beloved children of My Immaculate Heart, do not despise the signs or the signals of this instant; do not rejoice with false rumors of peace. You know how evil works, deceiving, lying, and showing another face that is not the true face.
My beloved, terrorism advances; pray for France.
Pray, beloved children, for Ecuador; Nature will flog it.
Pray, My beloved, for Nicaragua; it will suffer, its land will be shaken.
The purification of the United States continues; pray for this land of Mine.
LOOK ON HIGH, LOOK ON HIGH, MY CHILDREN!
MY SON WILL SHOW YOU AHEAD OF TIME THE EVENTS THAT YOU KNOW WELL: A SIGN OF MERCY.
Remain at peace with My Son. Constantly ask for assistance from the Holy Spirit so that you can discern correctly. Do not be of those who at the first trial flee in distress. My Son's People are courageous because they have traveled with My Son the road to Calvary.
You must live this coming Holy Week in a saintly way. You will not walk alone at any instant because My Son resides within each of you, and I continually come to you to show you the correct path.
Awaken the spiritual senses because with a lukewarm faith you will not be able to defeat the persecution…
Awaken the spiritual senses, meditate and delve into every word you say when you pray; do not be of those who, in order to comply, pray hastily, because you offend My Son when you pray to fulfill a duty.
PRAY, MY CHILDREN, PRAY AND MEDITATE. YOU MUST KEEP GOING ON THE ROAD WITH THE ARMOR OF FAITH, BUT NOT A WEAK ARMOR, IT MUST BE AN ARMOR IN DIVINE WILL.
A ruler, known and recognized in the world, will be put to death, and this will infuriate his People. At this instant evil is stealthily moving everything it needs so that, from one instant to another, you will be surprised with news that will make you shudder, because you will see how a People is destroyed in order to carry out the wishes and plans of the one who comes to usurp My Son's place.
Work on yourselves. Do not use the gift of the word to speak lightly. Be love, as My Son is Love.
Beloved children of My Immaculate Heart, before food becomes scarce all over Earth, the foodstuffs will be contaminated so that those who consume them will get sick. The purpose is to destabilize great many of My children. Do not forget that he who acts with Faith is free from all evil.
Do not forget that communism continues to rise with more force against Nations.
Be Love as My Son is Love. Give living testimony. Hasten the pace. Grow spiritually. Do not forget that I joyfully embrace the suffering of those who are Mine, and I pour blessings over all humankind.
My Maternal Love, My blessing be with each of you.
Mother Mary.
HAIL MARY MOST PURE, CONCEIVED WITHOUT SIN.
HAIL MARY MOST PURE, CONCEIVED WITHOUT SIN.
HAIL MARY MOST PURE, CONCEIVED WITHOUT SIN.