Wednesday, March 23, 2016
Message Given by the Most Holy Virgin Mary
To Her Beloved Daughter Luz De María.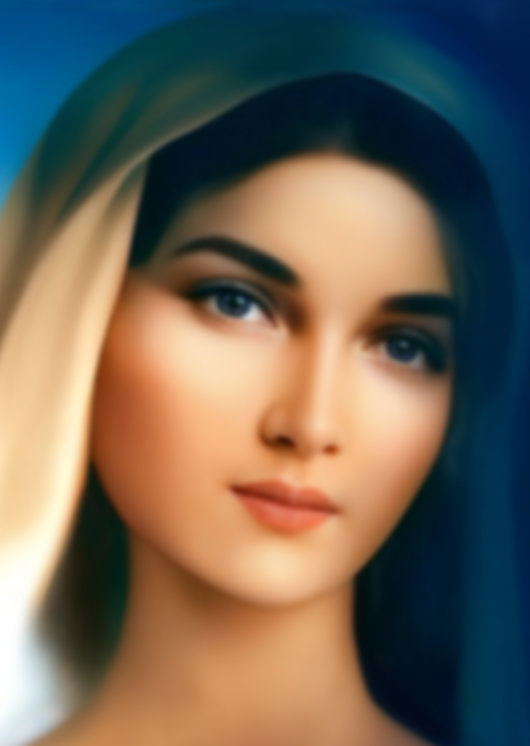 Beloved children of My Immaculate Heart,
EACH ONE OF MY CHILDREN IS MY SON, EVEN THOSE WHO DO NOT LOVE ME.
You are My children, those that My Son redeemed on the Cross; and, as Mother of the Universal Family, I announce to you and I warn you constantly. My battle against evil does not stop at any instant.
Beloved children, during Lent, humanity must remain prepared for change. To what change are you called? Without knowing in depth what it is that must be changed, those who decide to change make multiple purposes with good intentions, but they do not really know themselves. And…if man does not know his weaknesses, what will he combat? If man does not know himself in his virtues, he can dedicate the instant to something other than his weaknesses.
Beloved children of My Immaculate Heart,
HOLY WEDNESDAY, THE DAY WHEN MY SON WENT TO THE HOUSE OF LAZARUS. As Lazarus was His great friend, My Son stayed in that house, where the sisters of Lazarus took pains to care, not only for My Son, but also for My Son's disciples and for those who followed Him. Lazarus is a faithful friend to My Son; Lazarus, unconditional, obedient, the one who gives it all, offers it all. Lazarus is generous with all his brothers, without looking at faces or social positions or economic conditions; he was as each one of My children must be.
Beloved children of My Immaculate Heart,
My Son, Love par excellence, was sent to save you from the evil which inclines man to fall prey to his misused free will. My Son gave up Himself for each of you in a True Sacrifice, taking the sins of men upon Himself, the sins of those who have not obeyed My Son's Love, who have despised His surrender, who dismiss the Commandments of God's Law, and disobey the Law of Neighborly Love. Promiscuity is the food with which you feed satan; heresies are considered natural; the worship of satan is man's choice, and in that choice you will suffer the unspeakable at the hands of and in the government of the usurper, who will truly be the most cruel persecutor of My Son's People. Just like Judas betrayed My Son, there are so many of you who constantly move away from My Son to join evil and to cooperate in spreading evil, and maybe with a small detail you overshadow the good you have done!...
MY SON, AWARE OF ALL HE IS TO SUFFER, DOES NOT FLEE, BECAUSE THAT AFFRONT WILL TURN INTO A SACRIFICE IN WHICH HE WILL BE PRIEST AND VICTIM. HE WILL ASK THE FATHER FORGIVENESS FOR ALL, PAYING THE PRICE OF JUSTICE OF ALL SINS.
Who understood this?...
Who understands this at this instant?...
My Son anticipated His suffering… at this instant He anticipates humanity's suffering… and they do not believe, they despise the Calls through Our Prophet and other instruments. The Paternal House alerts; He does nothing without alerting His children, and they do not believe…
For this, when darkness advances, do not lament. When you see man turn into the unthinkable, do not lament. In the plague, remember Heaven's Calls. War is the expression of the instant in which you move: Some suffer from ignorance, others from unconcern, and these human creatures will be the weakest.
The cruelty of those who have their senses, their feelings, and their hearts clouded with false promises of ideologies contrary to the true Love that My Son has taught will be more serious each instant, and the laments of the innocent do not move the hearts of stone. Children, do not see from a distance that which will spread all over the world until man lives imprisoned in his own home.
MY SON DID NOT SURRENDER FOR THIS, BUT HE KNOWS EVERYTHING, AND AS IN THE PAST, HE KNOWS THAT HIS OWN CHILDREN WILL BETRAY HIM.
MY SON'S PEOPLE, RENEW THE CONSECRATION TO OUR SACRED HEARTS EVERY DAY.
Live these holy days united with My Son; do not forget that the evil one is upon men, and as soon as he finds a minimally open door, he takes what is not his and leads man to do evil.
My Son has been Merciful with His People; and He will be Merciful every time man looks for Him.
Beloved, do not forget Divine Justice; it will come. You do not expect My Son and He will return. And where will be those who have denied Him, those who have distorted Divine Law and the Sacraments? They have distorted the Divine Word.
Pray especially for My Son's Church.
Pray for England; it will suffer the pain of its own.
Pray, My children; Earth suffers.
Beloved, get ready, grow by praying, by meditating on each of My Son's offerings; know each one so that you will love Him more. It is urgent that you trust in My Son's promises, that you delve into My Son's Love and make it your own, that you know Him truly so you will not be led along the wrong way.
MY CHILDREN, BECAUSE SOME HAVE NOT LIVED LENT AS IT SHOULD BE LIVED, ACCOMPANY MY SON IN EVERY STEP HE WILL TAKE BEGINNING ON THURSDAY, IN REPARATION FOR LENT. Accompany My Son next to Me in these days of Passion. Examine yourselves and become the children who love in Truth and Spirit.
Come to Me, give Me your hand and let us walk next to My Son in this Merciful Surrender.
I bless you, My children, you who delve into the knowledge of the Revelations and pay attention. I bless you with My Love.
Mother Mary.
HAIL MARY MOST PURE, CONCEIVED WITHOUT SIN.
HAIL MARY MOST PURE, CONCEIVED WITHOUT SIN.
HAIL MARY MOST PURE, CONCEIVED WITHOUT SIN.