Saturday, March 26, 2016
Message Given by the Most Holy Virgin Mary
To Her Beloved Daughter Luz De María. Resurrection Sunday.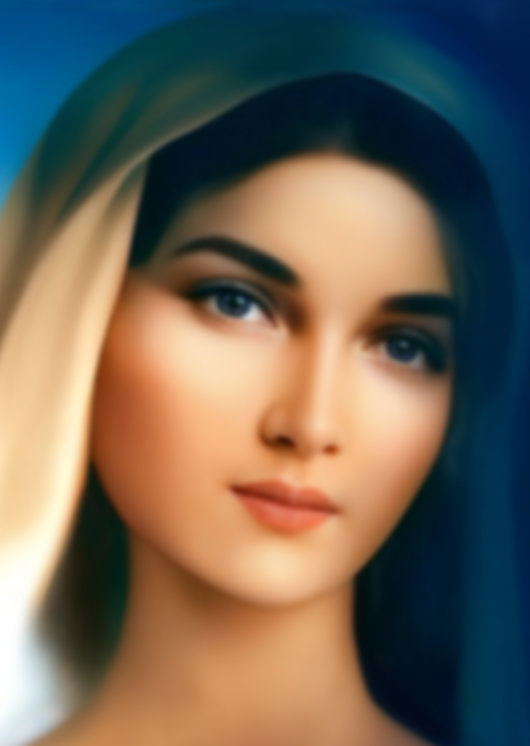 Beloved children of My Immaculate Heart,
CHILDREN, I CALL YOU TO HONOR MY DIVINE SON BY LIVING EACH INSTANT IN HIS WILL.
Wake up, children! Wake up that you may live true peace in the spirit. Wake up! You live in ignorance and in a poor spirituality because of the materialism in which you have immersed yourselves, and because of the eternal and relentless search for that something which man does not know what it is, but moves within him; this search puts you in a situation in which ignorance plunges you into a sea of restlessness where you look for something without knowing, and you fall captive—even eagerly—to the fantasies that other more open minds present to you as something highly advanced when in reality they do not represent any spiritual progress to you; on the contrary, they deviate you from true knowledge.
You, My children, must maintain clarity of the senses, clarity and knowledge so that the mind and the reason will lead you to the desire and the determination to be better each instant, for your own good and for the good of all humankind, and because of the determination you will become faithful. Children, I want the heart to burn in desire to get away from falsehoods that you may hear, and from the deviations to which materialism, negative ideologies, and the devil himself present to you as attractive in order to take you as his prey.
Children, the spirit is immortal, as immortal is the Father Who created you and to Whom all His children must return.
MY SON'S LOVE IS ETERNAL TRUTH. HE WANTS YOU TO BE AWARE OF THE UNITY IN WHICH YOU MUST REMAIN: THREE PERSONS IN ONE SINGLE GOD, FATHER, SON, AND HOLY SPIRIT. This is the responsibility to which each one of My children is called: Lead and guide your brothers to the Truth so that evil will not be able to take as his prey those who wander on the wrong paths.
THE FORCE OF LOVE LEADS TO OBEDIENCE. If you love My Son and belong to Him, you know you must not save only yourselves, you must give light to your brothers.
Children, consecrate yourselves to My Son's Sacred Heart and to My Immaculate Heart, but not just to consecrate yourselves; you must be aware that this implicitly entails the commitment to give testimony with good acts and works in which the Eucharistic food remains essential, and for which you must be properly prepared. Do not forget to pray meditating, and to pray the Holy Rosary, not as an imposition but as a necessity for each one of My children.
My beloved, do not listen when the world censures you for being spiritual creatures, because you pray, because you love My Son and recognize the Holy Trinity, because you love Me. They will call you crazy, fanatics, they will instigate you, slander you, and threaten you; it's just that hearts that do not love, not having Love, they know not to listen or obey.
CHILDREN, COME TO ME, COME TO ME. I AM REFUGE FOR YOU, SO THAT
BY MY HAND, EACH SCOURGE WILL BE A REAL VICTORY LOVINGLY OFFERED TO MY SON.
I am despised, and those who love Me are despised also, because I call you to My Son and to the fulfillment of God's Law, and not to fall into the sacrilegious, the fake, the apostate, or what is the great sign of perdition for the human creature: To forget and to reject the Holy Trinity.
BELOVED CHILDREN OF MY IMMACULATE HEART, MAN WILL HAVE TO UNDERSTAND THAT THERE EXISTS A WILL FAR SUPERIOR TO THE HUMAN WILL, and man will have to bear in mind that the greatest among you is the last, and the one who prides himself is the son of perdition. Children, be alert!
You, My beloved, pray, persevere, know My Son, love Him. He who does not know Him cannot live off the knowledge of his brothers; each one must know Him personally.
KNOW HIM; APPROACH HIM WITH TRUST.
My Son is Love for all, He is Mercy for all. Children… do not attract Divine Justice to you, do not rebel; be compliant and observant of God's Law and of the Sacraments. MY SON IS ETERNAL PRESENT.
Do not allow hatred in you; hatred begets more hatred, and hatred is used by evil to divide and cause death.
Children of My Heart, the Holy Trinity invites you to knowledge, to the Truth, to the implementation of My Son's Word that It may be life in all, abundant life.
Beloved children of My Immaculate Heart,
The present instant is an instant. Remain attentive, walk the straight path, do not deviate from it, recognize that My Son's children do not stir up strife, but are called to fraternize in obedience and compliance to DIVINE LAW.
Beloved children, with the instant comes the collapse of two heavenly bodies. This event will be seen in the sky by all; then each human creature, in his soul, conscience and essence, will see all the evil he has committed and the good he has failed to do.
Divine Mercy does not end, because when man is before the crag, It gives him the grace of purification. Some will take it as a blessing; others, past the trial, will rebel and join the one who will control Earth, the antichrist.
BE ATTENTIVE TO MY WARNINGS! THESE WILL STRIKE WITH GREATER FORCE WITH THE PASSING OF THE INSTANT.
Children, save your soul! I bless those who read and treasure this Word springing from My Immaculate Heart.
MY MATERNAL MANTLE COVERS YOU; YOU ARE MY GREAT TREASURE, MY BELOVED CHILDREN.
I remain with you.
Mother Mary.
HAIL MARY MOST PURE, CONCEIVED WITHOUT SIN.
HAIL MARY MOST PURE, CONCEIVED WITHOUT SIN.
HAIL MARY MOST PURE, CONCEIVED WITHOUT SIN.