Sunday, March 27, 2016
Message Given by the Most Holy Virgin Mary
To Her Beloved Daughter Luz De María.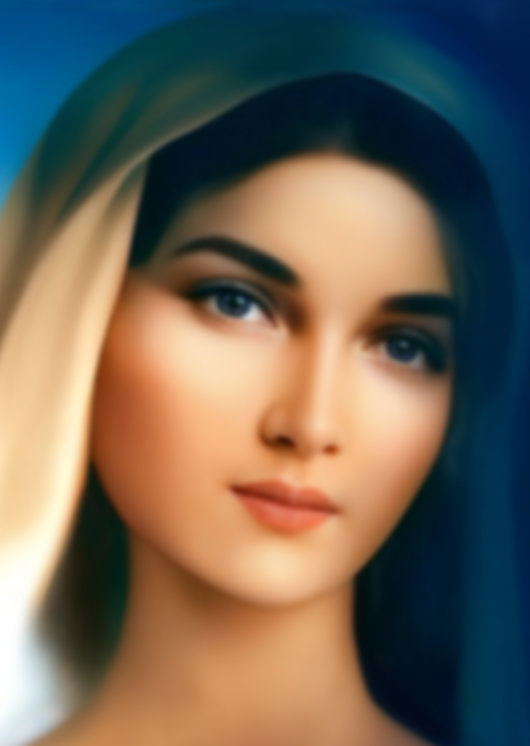 Beloved children of My Immaculate Heart,
As Mother, I love you…
As Mother, I bless you…
As Mother, I speak to you with My Heart…
HE WHO IS AWARE OF MY SON'S LOVE FOR HIS PEOPLE IS AN OBEDIENT CREATURE. HE WHO DOES NOT OBEY THE DIVINE MANDATES EXPRESSED IN THE HOLY SCRIPTURE CANNOT CALL HIMSELF SPIRITUAL.
He who remains away from My Son—who redeemed you—cannot aspire to the affairs of Heaven.
Beloved children of My Immaculate Heart,
THE UNION WITH MY SON IS VITAL TO MAN.
This generation is rebellious, deceiving, indifferent, ignorant, and hostile to everything that is a sign of Salvation…
This generation is concretely hostile to My Son and lover of riches, among other things… This generation will be shaken until they gnash their teeth…
By all means I look for you to intercede for each one of you and to bring you to rediscover the true Way.
Children, each one possesses intelligence, thinking, reason, heart, and will. It is with each one of these that you must look for My Son and find true Knowledge, the one that is only given by the Holy Spirit to those who plea for Understanding and Knowledge, but guided by the Holy Spirit.
BELOVED CHILDREN, DO NOT WASTE THE INSTANT DELVING INTO KNOWLEDGE THAT IS NOT BASED ON THE DIVINE WORD.
THIS IS DECEITFUL, FAKE, AND WILL LEAD YOU TO HELL.
You must focus your thinking on using the so precious instant on expanding the Knowledge in order to act and work in Divine Likeness. He who only thinks about himself does not act correctly. First you must give life within yourselves to the Word from Heaven, not to keep it, but to share it with your brothers.
Reason, illuminated by the Holy Spirit, will manifest itself in humility and wisdom with which each child of My Son acts and reacts, as mirror of the works and acts in My Son's Love.
My children's hearts must be sincere and must keep My Son's Will in the first place, even against the human will…
My children's hearts are hearts of flesh, not stone; and they offer the first place to the King of kings and Lord of lords, Jesus Christ…
To acquire the raison d'être, knowledge must remain submerged in the principle of My Son's giving: IN LOVE.
DO YOU WISH TO CONTINUE PENETRATING INTO THE TRUE PATH? I DEMAND OBEDIENCE. If you do not understand, you will understand along the way. Do not stop at this instant when the Divine Love embraces within His Mercy anyone who leaves what is worldly and sinful and gives himself without reservations or conditions.
I guide you strongly and tenderly, with Maternal Love and firmly; this instant is not for tepidity; this instant is for fidelity and unity of all the People of My Son and Mine.
Come to Me and by My Hand I will take you to the depths of the human will and you will clearly see that My Son is Everything and man is man. EACH ONE BEARS FRUIT AND THIS IS THE TESTIMONY: LOVE.
DO NOT LIVE IN THE PAST. THIS IS THE INSTANT WHEN YOU MUST GROW. REMEMBER THAT TO WHICH YOU ARE ALL CALLED SO THAT YOU WILL NOT BE LOST.
Children, you may know arithmetic, grammar, literature, the great sciences; but We keep coming to instruct you on obedience and true Love, because you do not finish learning the basics as you are under the control of the human ego which you must discard.
You keep ignoring the Divine Word; you ignore the warnings received in each Call, because unconsciousness has overcome all the senses, contaminating them until they have hardened.
Beloved children of My Immaculate Heart,
The man of this generation thinks he is superior, he feels like he can control, by means of technology, all that exists…
Science has forgotten that God exists and that what moves faster than the speed of light cannot be seen by science. What man thinks he has achieved as goal is only progress; and within that progress, man will find another greater one to overcome. Thus, man has reached a small scale of the Grand Universe; he has won a small scale of knowledge.
Children of My Immaculate Heart,
THE INSTANT CONFRONTS MAN. LARGE-SCALE EVENTS ARE COMING. You have not believed in the Miracles that My Son has allowed during My Apparitions, especially some of them. You have seen the sun approach Earth (*), you have seen stars fall from the sky. IS THIS A DIVINE MIRACLE OR IS IT NOT? And you continue in disbelief!
You remain within the infinite Universe, and without the sun detaching itself from the sky, the Divine Hand, as if shrinking the Universe, at the speed of light, manages to make man feel as if the sun were falling and hurling itself towards Earth, although its position has not changed. This has happened in some of My Apparitions; but not even the man of science has believed in what he should know and accept as a Miracle. However, this generation will indeed see the Powers of the Sky move strongly, changing places.
This generation will suffer through the star Sun (1) and before the power of man, this generation will feel the supremacy of the Creator, and will have to accept that what man has achieved is not what he thought he had achieved.
Beloved children, darkness will be separated from light; and darkness is closest to the unconscious Humankind that makes fun of the Divine Word.
By Mercy, you receive from the Holy Trinity the advancement of what will happen, but still you do not obey. You know well that you are warned about the coming events, not for you to be afraid but for your human will to search for the True Path.
Children, Heaven is the transmitter and man is the receptor, but the receptor is an unbeliever, he is disobedient and arrogant, so much so that he does not even question why there are so many announcements from the Father's House to this generation. The few who are aware are mocked and continuously attacked by multiple fake data that are spread in order to disperse My Son's People from the Truth.
HUMANKIND BLINDLY FOLLOWS THE CURRENT OF THE UNCONSCIOUS MAJORITY.
YOU HAVE FREE WILL; YOUR FREE WILL SHOULD DECIDE IN FAVOR OF ETERNAL SALVATION.
Beloved children, survive this constant flow of evil's insinuations, overcome everything that is not Divine Will. The devil likes it when man follows him; he likes everything he suggests and man obeys without thinking.
Beloved children of My Immaculate Heart,
OPEN THE SENSES, CORPORAL AND SPIRITUAL SENSES.
IT IS THE INSTANT TO GIVE EVERYTHING FOR SALVATION; SPIRITUAL TEPIDITY IS NOT FOR THIS INSTANT.
Pray, My children, pray for Portugal; it will suffer unexpectedly.
Pray, My children; Italy will be greatly flogged by Nature. The Vesuvius volcano will be news and Etna will make the man living in surrounding places leave those places.
Pray, My children, pray; France is shaken; terror arrives again in daylight, agitated by its own rulers.
Pray, My children; Ecuador suffers again; Chile is shaken in its land. Argentina suffers; from the subversion of a few will come the cry that later will engulf all My children.
Pray, My children, pray for Hawaii; its lament will be intense.
My children, volcanoes will continue to awaken; food will be scarce because of intense flooding; strong heat will contribute to food shortages. Where there is desert they will have rain, where they have rain there will be desert.
MEN OF THE ENTIRE EARTH, ALL CHILDREN OF MY IMMACULATE HEART: MAN WILL EXPERIENCE
WHAT HE DENIED OUT OF STUBBORNNESS, THUS EXPOSING HIS INDIFFERENCE TOWARDS THE DIVINE WORD.
MY SON'S CHURCH WILL BE DRIVEN TO THE SCHISM.
CHILDREN, DO NOT WAIT ANY LONGER; SEEK SPIRITUALITY, THE ONE THAT DOES NOT COME TO MAN WITHOUT MAN'S FIRM DECISION TO LOOK FOR KNOWLEDGE AND, THROUGH KNOWLEDGE, UNITE IN DIVINE WILL.
Do not be afraid, My Immaculate Heart will triumph. You live in My Maternal Heart.
I bless you.
Mother Mary.
HAIL MARY MOST PURE, CONCEIVED WITHOUT SIN.
HAIL MARY MOST PURE, CONCEIVED WITHOUT SIN.
HAIL MARY MOST PURE, CONCEIVED WITHOUT SIN.
(*) The so called miracle of the sun to which the Most Holy Mother refers as a Superior intervention has manifested itself as a tangible sign without altering the order of the star sun.