Tuesday, March 29, 2016
Message Given by the Most Holy Virgin Mary
To Her Beloved Daughter Luz De María.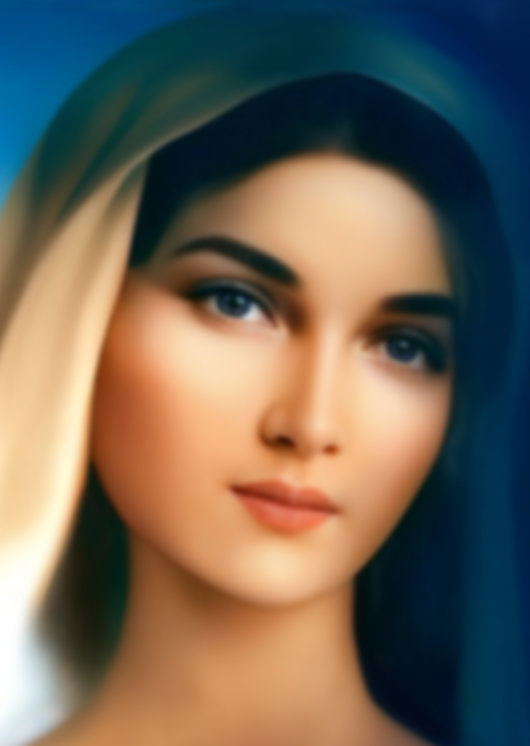 Beloved children of My Immaculate Heart,
I have constantly called you to remain attentive, each one of you as part of humankind, as autonomous creatures that have free will and hence are carriers of the HUMAN SELF.
Beloved children,
THE HUMAN SELF WILL ONLY BE DEFEATED WITH DIVINE WILL AND BY NOT WANDERING THROUGH WRONG PATHS SEARCHING FOR WHAT YOU HAVE INSIDE.
Children, do not look for My Son outside of you; He lives in the interior of each of you; the Truth is within you. Listen to Him and suffer no more.
Beloved, My Son watches how humankind consumes everything God the Father bequeathed to them, and man, as predator, exhausts all resources he has been given for a healthy and blessed existence.
Man joins other men with common ideals in order to stand out, leaving aside the conscience, forgetting the moral and spiritual obligation to restore all he borrowed from Creation, but which he has used as his own to splurge, without renewing what needed to be renewed for the correct existence of humankind on Earth.
As Mother, I see that Creation is unmercifully and continuously contaminated with chemicals that scientists know are not suitable for Nature or animals and least of all for man. As this happens, Nature continues its growth, albeit defective due to contamination.
CHILDREN, YOUR SUFFERING HAS ITS ROOTS IN YOUR
NOT HAVING DONE WHAT YOU WERE SUPPOSED TO DO,
RUTHLESSLY ABUSING EVERYTHING YOU RECEIVED FROM THE HANDS OF THE ETERNAL FATHER, AND TAKING ADVANTAGE, WITHOUT ANY COMPASSION, OF EVERYTHING THAT WAS CREATED.
Given the continuous aggressiveness of man against Divine Goodness by means of misused science, Earth suffers constant violence due to the toxic chemicals that are spread by air, thus altering the normal growth of Nature, of the animals, and even more so, of men who are deliberately intoxicated. Creation has completely mutated because of the merciless hand of science; foodstuffs no longer nourish, instead they invade the human organism with all the toxicity to which Creation was subjected. IT IS MAN WHO ATTACKS HIMSELF, WHO MAKES HIMSELF SICK…
Beloved children, Earth suffers the terrifying action of man that invades it and contaminates it with nuclear tests at sea, in the air, and on the same land, as well as with waste materials left from radioactive tests, materials that are buried in the deserts and in lands of poor countries that, in exchange for food and money, receive and accumulate such materials which eventually and irreversibly get to contaminate the human organism.
Children, you have shortened the path towards the fatal outcome to which you are headed.
EVERYTHING YOU HAVE ALTERED, ALTERS MAN, SO MUCH SO THAT THE HUMAN UNCONSCIOUS CANNOT REJECT WHAT IT KNOWS, AHEAD OF TIME, WILL CAUSE MAN AN EVEN GREATER EVIL.
Earth is desolate for lack of human creatures with consciousness and without fear of being disowned. So much moral decadence has allowed the spread of contamination by the sea to the entire Earth. Creation fights against death, the sun is not man's ally, the water wants to purify Earth, and hence the lack of control of this moment in the climate around the world; aridity reigns not only on Earth but also in the hearts of mankind.
Each one is a reflection of what he has in his heart and of his toils in eagerness: If the creature is worldly, his toils are worldly…
If the creature tends towards God, his toils will be directed towards the spiritual…
FOR THIS REASON I INVITE MY FAVORITE CHILDREN, THE PRIESTS, TO GUIDE MY SON'S FLOCK ALONG THE RIGHT PATH, giving them a wise leadership to have clarity on how to approach and live in Divine Will, which goes beyond prayer…
The Holy Trinity orders man to love the Triune God. My favorite children, priests: Teach men how to love their Lord and their God, how not to offend Him, how to approach God with the Wisdom of the Holy Spirit so that He will live in the soul of My Son's People, so that men will merge into Him and be one...
THIS IS THE INSTANT OF INSTANTS WHEN MAN HAS TO WALK WITH THE KNOWLEDGE OF
GOD to maintain clarity and determination, and so he will not delve into the mud, but into the Solid Rock…
Do not give liquid food to My Son's children; give them the Knowledge, the ability to delve into Him Who created them, loves them, and wants to have them in His Heart.
Preach to them the True Science: How to recognize sin, how to advance along the spiritual path in order to fly, not with wings like birds, but with the spirit, to attain Eternal Goods and be worthy of Divine Mercy.
My Son does not live in silence in Heaven; He tirelessly searches for His children. My Son is not an avenger who chases after His children to punish them; He gave His children the freedom to choose so that man himself will decide on the path he wishes to follow. BUT, HOW CAN MAN LOOK FOR HIS CREATOR WITHOUT HAVING THE CORRECT TEACHINGS?
Men constantly blame My Son for all that happens to them, as they ignore the responsibility of their human acts. But, how do they attend to their responsibility if they are told there is no penalty for sinning? ...
Everything man possesses is a gift that comes from Heaven. And, what does man tell to his lineage when at this instant he ignores God's Law, he ignores the pain after death as well as Eternal Life?...
Beloved children of My Immaculate Heart,
IT IS NEVER LATE TO BE REUNITED WITH MY SON… WITH AN OPEN AND THIRSTY HEART, ASK THE HOLY SPIRIT TO GUIDE YOU…
Clamor in this desert where you live, that the same Travel Companions may appease your desire for the sinful world and engraft in you the ardent desire to encounter My Son…
Beloved children, the proximity of major events such as earthquakes—given the force that at this instant moves Earth from within its entrails, and surfaces, not only agitating the waters but also affecting man—makes it indispensable for the creature to be united with his Creator, UNITED IN THE CORRECT WAY, NOT ACCORDING TO EVERYONE'S FREE WAY OF THINKING.
In his unconscious, man perceives the proximity of natural events and events from the Universe, as well as those that affect the conscience.
DO NOT DESPAIR; SEEK THE ONLY COMPANY THAT WILL NEVER DISAPPOINT YOU: THE COMPANY OF DIVINE WILL AND THAT OF THIS MOTHER WHO LOVES YOU.
The animals that inhabit the Earth lose the sense of direction, they scramble to the surface as Earth trembles in its entrails, and man allows everything to happen without an instant of reflection.
The rage of the devil takes over the human creatures that, in an instant of insanity, plunge themselves against the Gift of life, or who do not take My Son seriously and constantly reject Him blaspheming.
MY CHILDREN, STRIVE TO BE BETTER, TO BE TRUE, AND TO SEEK TIRELESSLY DIVINE LOVE AND TRUTH.
War does not wait for the appropriate moment; it is man, in his unbridled madness of possession, the one who decides the instant when humanity's pains will begin.
I remain before you not only to console you, but also to guide you along the good path and to intercede before My Son when, truly repentant, you come to Me to request My intercession.
I WILL NOT ABANDON ANY OF MY CHILDREN. IN THE FACE OF ADVERSITY, YOU WILL FIND IN ME THE MOTHER THAT LOVES YOU.
Children, do not forget that My Son is in each of those who are His, and He loves His People, so He sends His Angel of Love to guard the way of His People when they are in the crucible and persecuted. Have Faith; do not get discouraged.
Pray, My children, for My Son's Church.
Pray, My children, for Costa Rica; it will suffer.
Pray, My children, for Hungary; it will be flogged.
Pray, My children, great sacrileges will be committed.
Man's destiny is Eternal Glory; the devil's ambition is to steal souls to make them part of his legions and lead them to pounce on My Son's true children.
CHILDREN, DO NOT LET THE GUARD DOWN; REMAIN ALERT; PRAY MEDITATING THE UNION
WITH THE DIVINITY; AND DO NOT FORGET THAT I AM THE MORNING STAR TO GUIDE MY CHILDREN,
AND DARKNESS WILL NEVER BE ABLE TO DULL MY LIGHT.
I bless you.
Mother Mary.
HAIL MARY MOST PURE, CONCEIVED WITHOUT SIN.
HAIL MARY MOST PURE, CONCEIVED WITHOUT SIN.
HAIL MARY MOST PURE, CONCEIVED WITHOUT SIN.