Saturday, April 2, 2016
Message Given by Our Lord Jesus Christ
To His Beloved Daughter Luz De María.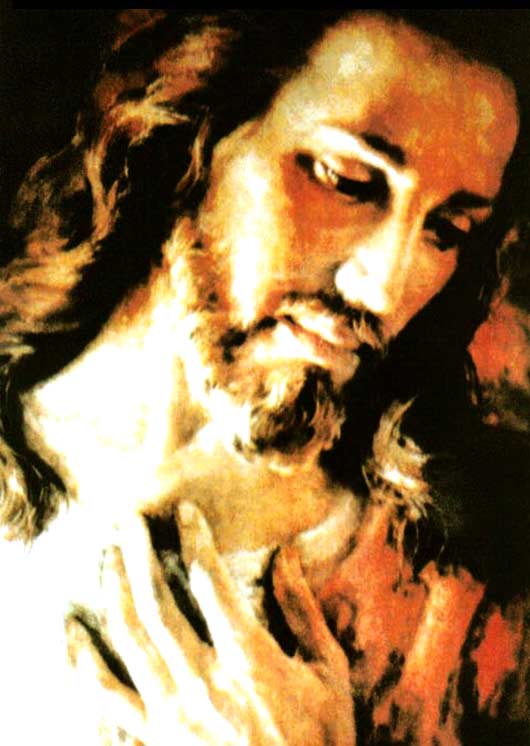 My beloved People,
My Sacred Heart calls you to delve in It taking for you goodness, gifts, and virtues that you need at this instant to combat the inclination towards evil.
My beloved, it is crucial that you do not take lightly My Words given the ease with which humankind has been led to take everything concerning My House.
YOU WILL ONLY FIND GOOD BY HEADING TOWARDS ME; ANYTHING ELSE WILL SEPARATE YOU FROM ME.
I DO NOT LOVE SIN, I CENSURE IT, I JUDGE IT IF YOU DO NOT REPENT, AND I SUFFER FOR IT.
SIN IS NOT A PART OF ME; IT IS ALL THAT MY FATHER LEFT IN THE COMMANDMENTS.
HE WHO DOES NOT LOVE ME AND DOES NOT OBEY THE LAW AND DOES NOT REPENT IS WITH
EVIL.
Mankind has disguised evil in a thousand forms, under false stereotypes and false ideologies, under false alliances and black desires to seek the common good. My children, confused by the worldliness that affects My Church, fall into debauchery—work of satan to lead My children to quicksand and catch them in the desire to be part of modern behavior.
Is it not current to love God above all else and love your neighbor as yourself?
Or is this Commandment neither coincident with this generation nor valid for My children of this instant?
Beloved children, My People, you feel so elevated in all the sciences, you enjoy great advancements in every aspect, and yet you have not discovered that evil is using all this that I mention to you in order to lead you to be, each instant, more worldly and more accepting of any existent ideology and wickedness. Satan has found fertile ground in this generation—ground that has been fertilized with the truth of My Word and the necessary severity, given the Great Purification you are already living and refuse to accept—with the purpose of placing masks of goodness on that which My House does not accept as good, seeing as satan's own head and his tentacles have already pounced relentlessly and without reservation on My People.
You do not know what it is like to face evil when it hides behind alleged good intentions, works, acts, or obedience. Uncovering evil is not easy for My People because they do not know My Word and they have relegated Me to the endless part of life [or the back of beyond] so that I will not cause any discomfort.
I WILL CONTINUE TO UNCOVER EVIL, ENCYSTED IN MY CHURCH, SO THAT MY PEOPLE, MY
MYSTICAL BODY, WILL KNOW TRUE SANCTITY TO WHICH I HAVE CALLED THEM IN EVERY INSTANT.
THEY OFFEND ME WHEN THEY INTRODUCE SATANISM, DISGUISED AS ATTRACTIVE MUSIC, IN MY
TEMPLES, ON THE ALTARS BUILT TO CONSECRATE BREAD AND WINE, AND FOR ME TO OFFER
MYSELF OUT OF LOVE FOR MY PEOPLE; DURING MY OWN TRANSUBSTANTIATION, MY ALTARS
ARE PROFANED, WITH PERMISSION OF THOSE WHO REPRESENT ME ON EARTH. OH…
ATROCIOUS PAIN THAT SHREDS MY HEART AND CROWNS ME AGAIN!… WHERE IS THE
HIERARCHY THAT REPRESENTS ME?… WHERE IS THE AUTHORITY OF THIS CHRIST IN HIS OWN HOUSE, WHEN STRIDENT MUSIC WITH OBSCENE WORDS IS WELCOME IN MY TEMPLES IN
ORDER TO CALL MY CHURCH MODERN? MY CHURCH WHICH HAS NO BEGINNING AND NO END!
My People, what would become of you if I were to keep away completely from you My Word which I explain at this instant?
I AM A GOD OF LOVE, OF PEACE, OF JOY, OF HAPPINESS; I AM NOT A GOD OF SHOW OR SPECTACLE. THAT IS SATAN, NOT ME.
I explain My Word to you that My People understand the instant in which they live and its seriousness; yet I am ignored and rejected. You forget that I see all that happens in the life of each one of you, and before humankind, I will call blasphemous he who loses My Sheep and leads them to another pasture poisoned with hatred, indifference, arrogance, immorality, lack of justice, obstruction to My Truth, and the persecution of My Prophets whom I have sent to rescue souls, souls that have been alerted in advance by My Mother in all Her Apparitions so that beforehand they will have the opportunity to discern between good and evil.
My beloved People, you have lost the ability to discern; you make decisions lightly, dragged by the surf that is stronger than the faith you claim to have, given the force with which evil is embraced by My People because of your ignorance of My Truth. For this reason you will embrace the enemy of My People as if he were Me, and you will give him the honor that the creatures owe to Me, thus causing the bloodiest persecution of My faithful and My Mother's children, of those who are firm and convinced, of those who wish to achieve sanctity.
Children, so much hiding of the Revelations—which My Mother has bequeathed to humankind so that they be prepared—has caused the SMOKE FROM HELL to reach My Church, where freemasonry has been surpassed by satanism.
MAN GIVES GREAT PAIN TO THIS HIS GOD, TO MY ANGELS WHO CRY BECAUSE YOU SCORN ME AND MY MOTHER!
Evil is hard-working and tenacious, he slowly lunges against those who are Mine with great dissimulation, taking the place of goodness, but without complying with My Law; therefore, My People must get to know Me so they fully recognize Me, not with a slight varnish.
I am Love and Mercy, I forgive those who come to Me repentant and with firm purpose of amendment, and, at the same time, I am Just Judge before whom not a single sinner gets by without properly repenting of the evil committed.
This instant is crucial for My children, definitive, regarding their fusion WITH ME, so that, using their free will, they will accept Me as their God and Savior. I treat My children very carefully; I know well that, if I call them "My favorite" before their brothers, their lack of humility will enter and take over My place. Therefore to him, who is more fulfilling to Me, I leave as the last of My servants, and I do not praise him before his brothers.
All men travel in life; they will receive the final prize before Our Holy Trinity. IF THEY DO NOT KNOW ABOUT MAN'S FIDELITY TO MAN BECAUSE THEY ARE NOT FAITHFUL TO ME WHO AM THEIR GOD, WHAT GOOD ARE HONORS BEFORE MEN? "GIVE TO CAESAR THE THINGS THAT ARE CAESAR'S,
AND TO GOD THE THINGS THAT ARE GOD'S." (Luke 20:25)
I do not want to be offered sacrifices that will not be fulfilled; I do not want dying children because of prolonged fasting if the mind has led the heart to stay away from Me. I do not want empty prayers or long discourses with no content and without teachings for My People.
My beloved People,
Earth has changed its constant movement, and this causes the great tectonic plates around the Globe to shift. Creation trembles with force because of man's sins.
Pray, My children, pray for Indonesia; it will be shaken.
Pray, My children, pray for the United States; man will flog it and Nature will purify it.
Pray, children, for Rusia, pray; it will bring pain to My children.
Pray, children, pray for Chile and Brazil; man and Nature will speak to them strongly.
My beloved People,
Humanity's god will stop being a god before the astonished gaze of My children; they will panic and become insecure because they have not trusted their security to Me.
The universal coin arrives promptly together with the governments that will implant the microchip in their populations. Because of this My children suffer. You must not forget that I provide food to the birds; likewise, foodstuffs will reach My People by My same Hand.
Children, man has entered the route of offenses and provocations. Soon they will no longer be offenses and provocations, and humankind in general will know about the gall that man himself can bring in his own hands and to his own brothers.
As the apple of My Eye, I will not leave you; in each Eucharist I will clothe you with Faith, in each prayer My Mother will give you the consolation of Her Love, and your Travel Companions will help you when protection from My House is needed.
You, My beloved People, you who convert, you who leave the mundane, you who make the decision to belong to Me more than to the world, you who tirelessly seek to be more of My House and a better child, you who despise Me and ignore My calls, you who do not believe, you who have been filled with hatred, you who do not accept Me and despise My Mother, you … you who read this My Word,
I, YOUR GOD, BLESS YOU AND OFFER YOU MY MERCY.
Your Jesus
HAIL MARY MOST PURE, CONCEIVED WITHOUT SIN.
HAIL MARY MOST PURE, CONCEIVED WITHOUT SIN.
HAIL MARY MOST PURE, CONCEIVED WITHOUT SIN.