Tuesday, April 5, 2016
Message Given by the Most Holy Virgin Mary
To Her Beloved Daughter Luz De María.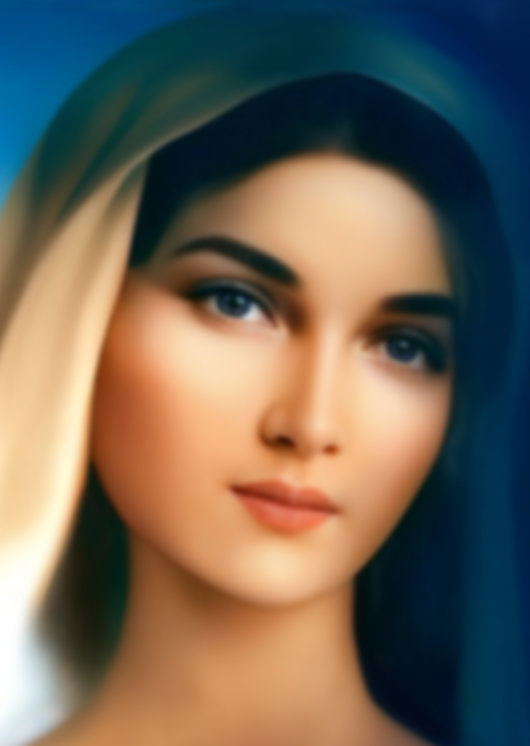 Beloved children of My Immaculate Heart,
I LOVE YOU AND I CALL ALL OF YOU TO REMAIN IN MY MATERNAL IMMACULATE HEART.
My beloved children,
MY SON'S MERCY IS NEVER EXHAUSTED, IT HAS NO END; HOWEVER, YOU MUST REPENT OF THE
OFFENSES COMMITTED AND YOU MUST ALSO MAKE A FIRM DECISION NOT TO OFFEND HIM AGAIN.
Since Divine Mercy is a sign of the Father's infinite Love for human creatures, you must rush to It and embrace this very great Blessing, before the lamp oil runs out.
Man refuses to take into account the Holy Divine Justice, and hangs onto a God of Mercy that forgives everything—even the most dreadful sin—without the need for human repentance; and this, children, is not true.
IT IS NECESSARY THAT YOU BELIEVE, THAT YOU INCREASE YOUR FAITH; and this does not come about if the human creature does not know My Son…
Mercy comes to meet man and, at the same time, Divine Justice waits for its due instant, which is this one, the one facing mankind, and which is closer every instant, producing chaos, devastation, rage, revenge, lust, immorality, …
Beloved children, do not think that a nuclear confrontation is a matter of science fiction; provocation leads humanity to suffer, man's new inventions for military purposes are a scourge for man, and man will suffer firsthand, in his own flesh, the effects of it.
Beloved children of My Immaculate Heart, at his instant, Divine Love does not prevail; instead, total individualism does, because of man's lack of control of himself.
Children of My Immaculate Heart,
THIS GENERATION HAS HAD A TECHNOLOGICAL REVOLUTION, AND TECHNOLOGY OWNS MY CHILDREN, IT HAS IMPRISONED THEM IN ITS CLAWS, it has annulled man's reception capacity, and therefore, man's faculty of memory has started to vegetate: It no longer produces, it obeys a series of commands having seemingly religious intentions, with which the large advertising companies lead man to serve science and to despise My Divine Son.
Children, you have not noticed that you have been subjected to a study with the purpose of defeating and dividing you, for most of you to walk carrying perverse desires and so be irrational and pagans.
Man's instinct has invaded several of the so called religious leaders to make them behave as pagans, to make them blaspheme about what they do not know in the midst of a boundless idolatry of the good life and money.
Poor children, those who before money fall to their knees! When the economy falls irrecoverably all over the world, it will be like a game of dominoes in which money will be hurled down with no chance of stopping it (1). My children, you will look in amazement how too many of your brothers will fall prey to the sickness of lack of economic power, and the devil, taking advantage of that instant, will offer you comfort in exchange for your souls. It will be when the evil legions take the bodies of those of My children who sell themselves for money by persecuting those who were their brothers before. PRAY WITH FAITH BEFORE THIS PROPHECY IS FULFILLED.
Children, delve into the knowledge of the Holy Scripture so you will not offend My Son by following false christs that move around the world.
My children, do not follow false teachers who confuse you with ideologies that are not in the Scripture. Do not forget that My Son's Kingdom is forever and for all generations.
At this instant, false teachers move around, who call themselves christ, to lead you to another reality that is not My Son's, grafting in their followers a cult to those teachers that are seen as small gods. Do not get lost, children, do not get lost in those hidden claws of the enemy of the souls.
Evil flies around Earth like wind, in the same way, you breathe wickedness. Only those who know My Son and His Word find the way to get away from evil. Those who do not know Him are trapped in nets of heresies that do not seem to be what they are.
Evil runs in its lawless and unbridled desire to cause as soon as possible the persecution of My children and of innocence at the global level. Voluntary abortions are seen as a defense of woman who is losing the sense of motherhood and responsibility. In most countries this practice is accepted; since man despises the Gift of Life, what awaits man for his destiny?
MY CHILDREN HAVE BEEN SEVERELY INFECTED WITH ALL THAT IS WORLDLY; THEY DO NOT
WANT TO LISTEN TO MY SON OR TO ME, AND THEY GO TO THE ABYSS LIKE SHEEP TO THE PRECIPICE,
EXPERIENCING PAIN LIKE NEVER BEFORE.
This instant of great spiritual battle is not perceived as such by those who are not fighting for the salvation of the soul; for this reason, My children are called crazy and are persecuted. They have been blinded and do not see how war advances towards humanity… Where do they find total peace?
Beloved children of My Immaculate Heart,
The Middle East will be a source of great confusion; therefore Nations who wore linen will wear rags given the usurpation to which they will be subjected by their invaders.
Pray, My children, pray for Argentina; the rebellion will be stealthy at the awakening of the day.
Pray, My children, for Europe; it will be harshly lacerated by invaders. Pray, children.
Pray, My children, the volcanoes continue to erupt with force all around Earth.
Pray, My children, the United States will be cause for news at the loss of citizens from terrorism
Earth continues to tremble strongly given the power that the sun exerts on Earth; from the center of the Earth, it moves abnormally.
The minds—agitated and confused—hurl themselves on their brothers; agitation leads to rage, and man will be an animal without being one.
CHILDREN OF MY IMMACULATE HEART, CONSECRATE DAILY TO
MY SON, PRAY TO SAINT MICHAEL ARCHANGEL, BUT, ABOVE ALL,
COMPLY WITH DIVINE WILL. GOD'S LAW IS AND FOREVER WILL BE THE WORD YOU MUST KNOW AND OBEY.
Each of you consecrate yourself to My Heart; pray for what was not fulfilled regarding My Request about Russia.
My children, I bless you. To those who read and carry in their hearts this My Word explained in this Call, I bless you and I protect you with My Mantle.
I love you.
Mother Mary.
HAIL MARY MOST PURE, CONCEIVED WITHOUT SIN.
HAIL MARY MOST PURE, CONCEIVED WITHOUT SIN.
HAIL MARY MOST PURE, CONCEIVED WITHOUT SIN.