Thursday, April 14, 2016
Message Given by Our Lord Jesus Christ
To His Beloved Daughter Luz De María.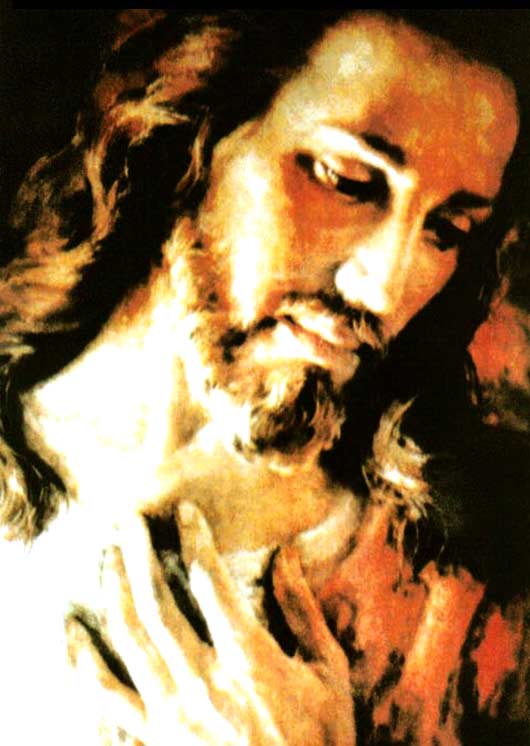 My beloved People,
My Mercy comes looking for you so that you will not be lost leaving aside My Word and the explanation of it.
At this instant, it is essential that I instruct you, reminding you of the Truth, so that you will not deny what is undeniable. I do not want you to be lost believing that the devil does not exist and, because of this, plunging yourselves into sin and taking My Mercy for granted.
HELL IS ETERNAL…
THE CHOICE OF HELL IS PARTICULAR, PERSONAL; EACH ONE WILL HAVE WHAT HE HAS ASKED.
The sinner does not find himself before eternal fire just because; the reason is that during his life he rejected repentance and despised My Mercy.
THE EUCHARIST IS THE LIFE AND THE CENTER OF MY CHURCH: I giving Myself up in My Body, Soul, and Divinity, so that all of My children look for Me and obtain nourishment from Me being properly prepared. Respect shown to My Body and My Blood on the part of My Priests will be cause for persecution; the worldly man does not respect My Divine Presence.
My Love is Mercy for each one of My children. My Love is not blind; it is infinitely Merciful; this is why I constantly grant you opportunities so that, after a due remorse for each committed fault, you make and keep the proper correction for every sin. The man who has fallen into sin is free to amend his fault and return to be, before Me, undefiled. Not so those who do not repent or do not firmly believe, despising Our Divine Law.
My beloved People,
THE REALITY OF THE PLACE OF FIRE IS INDISPUTABLE, AS IS HEAVEN FOR THOSE WHO SET ASIDE THE HUMAN EGO AND GIVE IT UP SO THAT I WILL BE ALL IN THEM.
Children, My Mercy does not destroy My Justice; on the contrary, My Mercy reaches its plenitude when it appeases My Judgment…
CHILDREN, SAVE YOUR SOUL!
DO NOT LOSE YOUR SOUL WITH FAKE ANALOGIES THAT THE MODERNISTS WANT TO IMPLANT IN YOU.
My beloved People, My Love and My Justice are a mystery to humankind, so much so that there are too many individuals who at this instant evoke Me to tell My People what are not My Truths.
You well know that the signals abound, but man does not see them because he does not believe and does not wait. The wickedness in which he lives makes the impious refuse to see the Signs that I allow.
My beloved People, you will suffer because of the irreversible scarcity of natural resources; you will suffer all over Earth because the entire economy will stop due to the plan devised long, long ago by the groups that antecede the antichrist.
You will be confused by those who call themselves "christ" and My Church will be lost … and the Schism will come to be.
For man, having money is what keeps him attached to the world and gives him status. Children, lists will be made in parishes with the names of My faithful to persecute them and to deliver them to freemasonry and, in turn, to the allies of the antichrist who will subject them to merciless tortures with the purpose of having them renounce their Faith.
MY CHILDREN WILL BE HUNTED TO IMPLANT IN THEM THE MICROCHIP AS I ANNOUNCED TO YOU SEVERAL YEARS AGO.
A large part of humankind has lost the fear of Me; they will lament the atrocities against My children. Man has surpassed the devil; there is no finding who can stop the appetite of the human will filled with desire for violence.
Those who have given themselves to the devil, at this instant, are thirsty for blood, sign of life.
Beloved, weakened in its entrails, Earth opens up; faults that reach the surface of the Earth vibrate causing strong earthquakes whose waves affect extreme points of Earth.
Pray, beloved children; keep in mind that the geography of Earth will change.
Pray for Indonesia; it will suffer the ferocity of Nature.
Pray, My children, pray for Japan; it attracts towards itself the shaking of the land.
Pray, My children, for Bolivia; it will be flogged; its inhabitants will suffer.
My beloved People,
The aurora borealis will be seen all over the Earth; these effects will be signs for men of change in the Earth's axis and the movement of the Earth's axis.
My beloved People, social agitation is unchecked by man; the lack of control together with the nullity of values and the scarcity of foodstuffs lead several countries to desperation.
Some eagerly wait for the fulfillment of My Mother's revelations in Fatima in order to undermine what She truly asked of My Church.
I LOVE AND WAIT, WAIT AND LOVE.
My People, not only Earth has hastened its changes; My children have separated from Me, embracing what gives them greater comfort, leaving aside the principles of Our Divine Law, and hauling their own misfortune.
My beloved People,
YOU MUST CONTINUE TO PRAY; PRAYER FROM THE HEART REACHES OUR TRIUNE THRONE, AND
WE ARE NOT INDIFFERENT TO EARTH…
Pray being fully aware that each word is a coming together with Our Trinity and with our Most Holy Mother.
Request protection from your Travel Companions and the intercession of the Saints.
Pray from the heart, reasoning each word so that you will meditate in depth each word instead of repeating it senselessly.
At this instant, man needs to expand his knowledge of Me so that he does not limit My power in him. I give Myself to you as much as you allow Me.
I flood you with the greatness and power of My Love so that wisdom will not be attached to Earth but elevated by My Holy Spirit.
YOU MUST BE SPIRITUALLY WISE SO YOU WILL DISCERN AND NOT BE FOOLED BY EVIL. LOVE MY MOTHER. SHE IS THE PROTECTION AND SHELTER FOR EACH ONE OF THOSE WHO ARE MINE.
Your Jesus
HAIL MARY MOST PURE, CONCEIVED WITHOUT SIN.
HAIL MARY MOST PURE, CONCEIVED WITHOUT SIN.
HAIL MARY MOST PURE, CONCEIVED WITHOUT SIN.