Sunday, April 17, 2016
Message Given by Our Lord Jesus Christ
To His Beloved Daughter Luz De María.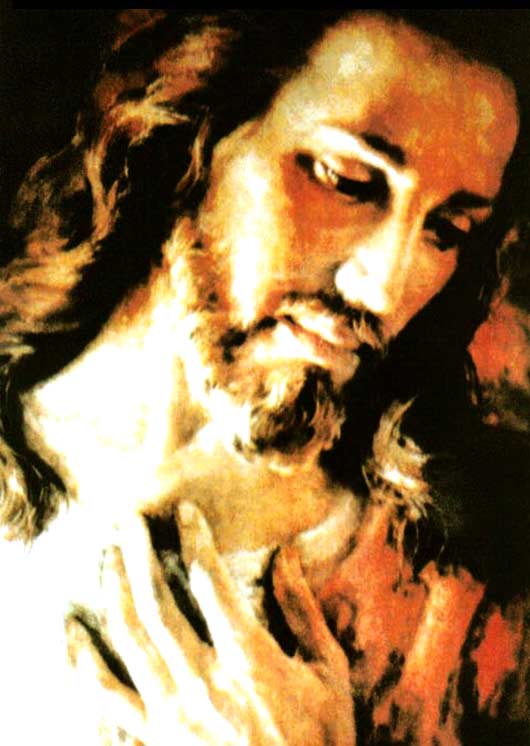 My beloved People,
I KEEP YOU IN THE PALM OF MY HANDS… as the ears of grain grow up taking the color of the sun, so you, My children, must look towards My House and reflect in the depths of the heart: How close are you to Me?
When the wind shifts suddenly and untimely…
When the seasons do not continue within normality…
When the fruits and foods cause harm to the human body…
When contaminated water infects man with great diseases…
When man no longer looks his brother in the eye…
When man and woman do not look at each other and look at another of the same sex…
When small children have lost their innocence…
When Earth has aged because of man's ill will…
When science has been taken by those who do not have a conscience but, in their eagerness to serve evil, leave aside Eternal Life and forbid My children to declare Me as their Lord and their God… THE IMPOSTOR WILL BE AT THE DOOR OF HUMANKIND. IN YOUTH HE BEGAN HIS SILENT ATTACK AGAINST ME AND AGAINST ALL WHO DECLARE BEING FAITHFUL TO ME.
My Mystical Body will suffer the unspeakable. The closer it is to humankind the unveiling of the impostor, the antichrist, the greater will be the persecution of My faithful children.
My Prophets will be mocked, especially you, My daughter. Do not stop! Continue! I will not let you go from My Hand.
Earth will be contaminated by man who, tossing deadly weapons, will cover the clouds with fire and, before the horror of My children, the sky will be seen burning, and they will see the resistance of the non-believers that will make fun of this event until, immersed in the pain of their own bodies, they will lament, blaming Me for the lethal effect of the weapons on their bodies.
AT THIS INSTANT, NATURAL CATASTROPHES WILL INCREASE, ANNOUNCING THAT THE PATH MAN MUST FOLLOW IS QUITE ANOTHER, DIFFERENT FROM THE ONE HE IS ON NOW.
Time is no longer time… I am the Eternal Present! Man has given names to the months, dates to the years, and names to the days of the week. I GIVE HUMANKIND MY REVELATION AND THEY MAKE FUN OF ME…
MY MOTHER GIVES YOU HER WORD AND YOU DO NOT LOVE HER… THE GREAT APOSTASY IS NEAR; MY PEOPLE WILL BE REDUCED TO SILENCE AND WILL ADORE ME IN HIDING. My Church will lose part of My Favorite children [the priests] due to the apostasy. Then, the enemy of My children will enjoy his entrance into humankind to take over the power of this generation that, having rejected Me, is opening the door to the enemy of souls.
THESE INSTANTS HAVE THEIR HOURS AND THEIR MONTHS; DO NOT WAIT LIKE FOOLS WHO DO NOT OBEY MY WORD, HEED MY CALLS AND MAKE THE DECISION TO CONVERT.
Difficult instants await you: The water will not stop and the sun will raze several countries; in his desperation, man will knowingly drink contaminated water. To the admiration of man, snowfall will arrive for no reason. My children will find themselves in the sea—which has been harmless—and before their eyes, to their astonishment, the sea will recede making the beach a desert.
Nature will be cause of fear for My children and of rejection for those who will blame Me for such human suffering.
Society finds satisfaction in transient pleasures. Those who live a faith of instants and emotions will mistakenly search My calls, because they do not see that this explanation of My Word antecedes the events.
A ruler will act impulsively and will light the fire, and conflicts will worsen until they become unsustainable. One, two, three: In an instant, what man has constructed will fall in the hands of those he considers his enemies. The Powers have involved small countries providing them with weapons in order to usurp the territories to store strategic weaponry.
The metal god is a sign of power and stability for man; it will fall and succumb and will not rise again. Humankind will accept what is offered to them, they will accept being marked, and in view of a single value, without hesitation they will give themselves to the clutches of the announced enemy of this generation.
I invite you not to let My Words go by. "I AM WHO I AM" (Exodus 3:14).
OUT OF LOVE FOR MY CHILDREN I WILL SEND MY ENVOY ANGEL WITH MY PEACE. He will arrive and will shelter those who will adore Me in solitude, he will be Love for those who decide not to deny Me in spite of being persecuted by the antichrist. My Angel will be Voice of those who, subject to persecution, live under the rubble, in the mountains. He will lift the weak so that standing they will wait for My Second Coming. I will give My Envoy legions of Angels for him to help My children.
MY PEOPLE, NATURE INCREASES ITS WEIGHT UPON MAN. DO NOT WAIT TO LOOK FOR ME; COME TO ME QUICKLY. Incandescent fire will come down from on high and will fall on Earth wreaking havoc and destruction.
CONVERT QUICKLY; LOOK FOR ME TENACIOUSLY, TIRELESSLY; LOVE MY MOTHER, AND PRAY SO THAT SHE WILL INTERCEDE IN YOUR FAVOR.
Pray, My children, pray for the United States; it will fall prey to terror, and Nature overwhelms it, the land trembles, the smoke from a volcano alarms humankind.
Pray, My children, pray for Italy; pain comes to its land, man's hand falls on Italy.
Nature shakes it.
Pray, My children, from one end to the other Earth moves with force.
Japan, Chile and Greece will suffer.
My People, nuclear energy continues to be the scourge of men.
DO NOT LOSE FAITH. I EXPLAIN WHAT LIES AHEAD SO THAT THE COMING EVENTS WILL NOT FIND YOU ASLEEP.
WAKE UP FROM YOUR LETHARGY! DO NOT SLEEP! AWAKEN!
TIME IS NO LONGER TIME, AND THE INSTANT HAS STOPPED BEING INSTANT.
I am with those who look for Me; My Love yearns for them. My Mother, Shelter for My children, fills you with goods in each Rosary you pray.
"I AM WHO I AM." I bless especially those who take this My Word and make it life, and life in abundance.
I Love you.
Your Jesus
HAIL MARY MOST PURE, CONCEIVED WITHOUT SIN.
HAIL MARY MOST PURE, CONCEIVED WITHOUT SIN.
HAIL MARY MOST PURE, CONCEIVED WITHOUT SIN.