Saturday, April 23, 2016
Message Given by the Most Holy Virgin Mary
To Her Beloved Daughter Luz De María.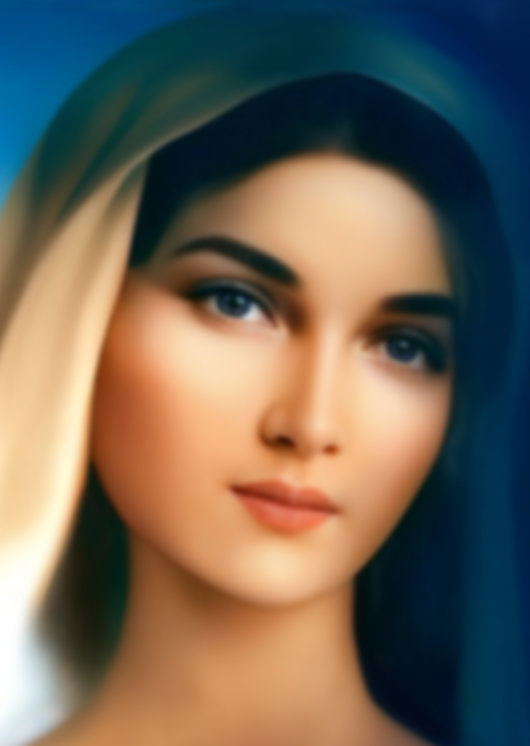 Beloved children of My Immaculate Heart,
As Mother of all humankind, I love you.
My Heart suffers for each one of you when you do not respond to My Son's Call. Conversion is necessary.
ALL OF MY SON'S CHILDREN MUST COME THIS VERY INSTANT IN SEARCH OF CONVERSION; YOU
MUST COME OUT TO THE ENCOUNTER AND CONVERT, BECAUSE AT THIS INSTANT MAN GALLOPS AT FULL SPEED
ON HIS HUMAN EGO FILLED WITH IMPERFECTIONS WHICH HAVE BLOSSOMED AS YEARS PASS.
Beloved children,
Humankind must immediately stop all acts contrary to goodness. You are incapable of seeing how much you harm yourselves by denying My Son. You have obstinately shut yourselves not to look at your wrongdoings or at the good you do not do. Each one looks at himself from the perspective that is most convenient, leaving aside all that entails irreverence, contempt, disobedience and even more, sacrilege committed against the Divinity.
BELOVED CHILDREN, YOU HAVE NOT BEEN ABLE TO LOOK AT YOURSELVES, TO SEE YOURSELVES WITHOUT MASKS AND WITHOUT FRIVOLITIES, TO SEE HOW MUCH YOU DENY YOURSELVES, HOW MUCH YOU OMIT, AND HOW UNFORTUNATE YOU ARE WHEN YOU SHUT YOURSELVES IN THE IMPOVERISHED HUMAN EGO WHICH IS CONTAMINATED WITH THE MUNDANE, IN ORDER NOT TO SEE YOUR SPIRITUAL REALITY. You have decided not to see the Truth; you have decided to live hypocritically on the side of evil so as not to feel any remorse for the daily wrong works and acts.
Beloved children of My Immaculate Heart,
I see you walking in the world, but more than walking I see you wandering, because he who walks stops at some instant of his life to look at himself, but he who wanders around the world does not stop, he continues madly, wildly, stumbling over and over again and, when he stumbles, he gives himself up in the hands of evil, because he does not want to see his reality so he can go on living in this unreality, in that falsehood, in that darkness that evil presents as something nice to make him feel good, mired in sin.
Beloved children, ENVY OVER-ABOUNDS AT THIS INSTANT AMONG ALL MY CHILDREN! ENVY, THE GREAT EVIL THAT AFFLICTS HUMANITY! Because envy blinds and debases man, it makes him attack the innocent, it makes him attack those that My Son has called to be His spokespeople, faithful and truthful; it makes him attack his brothers, because envy makes him think, 'Why not me and why him?' I will give several answers to this, but some will not be pleased; but what you are missing, children, is to speak the Truth.
A large portion of My Favorite children could be instruments of My Son as Prophets, in the sense that you could spread the explanation of My Son's Word revealed directly to you, My Favorite children. My Son has chosen a few souls amid that priestly and religious sea, and the rest He has taken from His People; and He has not given more power to those who lead His Church so that they will stop and think, when they see My Son's instruments, My Son's spokespeople, faithfully raise the Word, which My Son reveals and explains to them, before the entire People, believers and nonbelievers.
My Son gives His Word according to His Will, not according to rank or to wisdom, not according to studies or to position. In most cases, My Son explains His Word through His People, through His children whom He has culled from His own People, because at this instant not all His Priestly People act according to His Will or to His Law, and this causes envy—in some of His Favorite People and in some human creatures—towards the souls that My Son and I choose, who are then harshly attacked and are called impostors and fake; but this should not be news to My Son's Faithful People because My Son was called 'Beelzebub' and He was mocked when He said He was the Father's Son, and even on the Cross they did not believe Him.
BELOVED CHILDREN, MY SON'S PEOPLE, YOU WILL NOT AWAKEN UNTIL YOU REPENT, AND WHEN THIS HAPPENS, IT WILL BE LATE, not late to win My Son's Mercy, but late to go to your brothers, to those you have criticized and massacred through the tongue, to those you have offended and have tried to silence, to those you have called absolute liars, apocalyptical; to those instruments of Heaven who tell you the Truth, the Truth you have hidden in the deepest part of your heart and that you do not want to accept.
Again, I repeat, maybe it is late because the conditions of the world may not let you send word to those brothers, one word of apology because you have harmed those that My Son has chosen.
Beloved People of My Son,
The Prophet's life is not easy; he is constantly and wrongly refuted and attacked. However, he lives what others will not, others, "like whitewashed tombs" (Matthew 23:27), dedicate themselves to criticize everything because they consider themselves learned in spirituality, and they almost think of themselves as gods, but these will not enjoy Heaven in advance because he who lives of envy lives disrupted, lives in sorrow, in ambition, lives with his heart filled with arrogance and looking down on his brothers.
He who lives filled with envy falls easy prey to the devil, and acts and works according to satan's acts and works, until some event in his life leads him to open his heart, his mind, and stop his aggressive instincts and return to the true path.
Beloved children of My Immaculate Heart,
AS MOTHER, I HAVE TRIED TO TALK TO YOU AND GUIDE YOU IN ONE WAY OR ANOTHER, TO MENTION THE MISTAKES, THE SINS, THE DEFAMATIONS, AND ALL THAT LEADS YOU TO MUDDY THE SPIRIT.
BUT YOU DO NOT HEED MY RECOMMENDATIONS! What can I expect as Mother if you do not obey My Son and you despise Him? I must tell you that you are in a most delicate instant for all of humankind; you are at the edge of the precipice of the great events, you are at the edge of the cliff: Just one minimal movement is enough for Humankind to fall.
It is unfortunate and extremely painful for a Mother, having to issue these words to Her children, but My Voice will not be silenced just because a few want it… If My Son is thirsty for souls, as Mother, I am willing to go on to the last instant calling you, because if one single soul looks at Me and returns to My Son, I will give My Son the greatest happiness…
My beloved,
WHAT HAPPENS, WHAT HAPPENS WHEN A MAN APPROACHES A PLANT THAT HAS ITS LEAVES AND TRUNK FULL OF THORNS?
He gets pricked and it gives him pain; and he must pull out the thorns one by one. You constantly do this to My Divine Son's Heart, and all the Angels, shedding tears, worship My Son so that you will not give Him so much pain.
Man's unconsciousness has reached unthinkable levels, so much so that he does not think but instinctively acts insanely. The same instinct that the devil places in man because of the irresponsibility with which man has undermined all Creation, by that instinct with which man touches a tree and the tree dies because of the feeling the man externalizes, a feeling that has become a sense of death and, at the same time, it is a sense that can lead man to reconsider and to amend his life…
All that My Son tells you is as if it was the wind, you hear it go by and then you continue in the daily sin. Children, I lament this instant so much! Because the one who sins and does not repent, the one who sins and does not make amends, the one who sins and does not have a firm purpose of amendment, that child of Mine walks in shadows that lead him to greater sins and, when this child wants to regain the right thinking, the right walking, the right acting and working, he finds himself so saturated with evil that he must make a heroic effort to return to good with humility and with the Truth in his heart, in his mind, and in his word.
"Not everyone who says to me, 'Lord, Lord,' will enter the kingdom of heaven" (Matthew 7:21) because Heaven is gained with the works and acts on this Earth. My Son does not give away Heaven. My Son is big on Mercy, "…slow to anger…" (Psalms 103: 8), but My Son does not give away Heaven even though He loves you so much. HE DOES NOT GIVE AWAY HEAVEN JUST AS HE DOES NOT APPLY HIS JUSTICE UNNECESSARILY.
Beloved children of My Immaculate Heart,
Stop to reconsider the suffering of all humanity, the natural, social and economic disasters of this instant… What humankind lives at this instant is total convulsion. Earth shakes with force and it will continue to shake. The sea behaves in a different way, natural phenomena cannot be compared with the scale of the past; these are giants that rise against man, not because they have been created to punish and purify man, but because man exudes so much negativity towards My Son, so much wickedness toward My Son, that Creation, not finding a resemblance to the human creature, turns its gaze toward that creature, sees God's workmanship, and wants to awaken it from the evil in which he lives, wants to snatch it away from satan's clutches, and Creation, because of the negativity that man exudes, calls him by the only way known to what was created by God's Hand, CALLS HIM BY THE LOVE. AND THE THING IS THAT MAN BELIEVES LOVE IS ONLY WHEN THINGS ARE WELL. LOVE IN TURN CALLS TO ACT RIGHTEOUSLY; AND THIS IS WHAT NATURE DOES AT THIS INSTANT. NATURE CALLS MAN TO ACT RIGHTEOUSLY BY TREMBLING, YES, BY THE WATERS THRASHING AROUND, YES, THIS IS HOW NATURE CALLS MAN TO AWAKEN AND RETURN TO HIS GOD AND LORD.
Man's rage has led him to look at other men as inanimate objects, lifeless, without the Gift of Life, and the acts that man commits at that instant against the Gift of Life are sins against the Holy Spirit.
BUT, WHAT DO MY CHILDREN KNOW ABOUT THE GIFTS OF THE HOLY SPIRIT OR ABOUT THE GIFT OF LIFE WHEN THEY HURL THEMSELVES AGAINST ONE ANOTHER IN AN ENDLESS HUNT?
Beloved children, if some of you were given the opportunity, given by My Son, to be taken out of this Earth at this instant and be placed on another planet, and if you could see the convulsed acts and works of man, and if you could see the negative force that comes out of man towards all things created, you would choose not to return to Earth, because at this instant man throws away onto Earth the waste of a spirituality totally contrary to the one My Son has bequeathed to you, and this transforms Earth into a repository of filth—spiritual, carnal, and social—where those who hold the power and have more money are the ones that rule, while those who do not have it subject themselves voluntarily to the law of the ones that rule by means of money.
Beloved children of My Immaculate Heart,
The state of this Humankind is regrettable and My Son's People do not unite; I see how they constantly separate, ceaselessly criticizing one another, destroying one another… This makes My Son's Sacred Heart and My Immaculate Heart hurt infinitely.
Beloved children of My Immaculate Heart, My Son's beloved People, I must inform you that the Earth will continue shuddering strongly. Do not expect a different action from the Earth that has nestled you; this is a grievance from Earth to its children.
Pray, My children, for Ecuador; it has suffered and it will suffer.
Pray, My children, because the United States will be shaken so much that the inhabitants of this Nation, that is loved by Me, will want to stand up but will not make it.
Pray, My beloved, for France; terrorism will wreak destruction and will exterminate a great number of lives.
Pray for England.
In Italy, volcanoes that lay asleep will awaken. Woe to you Rome, woe to you Rome, how much pain it brings to all its inhabitants!
Pray, My children, pray for Chile and Argentina. Chile will be shaken and will be surprised by something unexpected.
Pray, My children, I call you to pray for My land of blessing, Puerto Rico; it will suffer; it will suffer because I myself inhabited this land and, at this instant, it has been
taken by the enemy of souls and by those who take part in sects. And why? Because
My Favorite children do not use the Truth, prayer, and the Gift of the Word that they have received in order to attract the sheep into My Son's fold.
Beloved children of My Immaculate Heart, My beloved, I will tirelessly warn you and call you to reconcile with My Son; and those who judge at this instant should reconsider whether your life is testimony of Divine Love.
Beloved children, My Immaculate Heart bleeds for each one of My children, but it bleeds even more because of the contempt for the Law of Love.
TO ALL THOSE WHO READ THIS MATERNAL WORD, I BLESS YOU AND KEEP YOU IN MY HEART. I COVER YOU WITH MY MANTLE.
Mother Mary.
HAIL MARY MOST PURE, CONCEIVED WITHOUT SIN.
HAIL MARY MOST PURE, CONCEIVED WITHOUT SIN.
HAIL MARY MOST PURE, CONCEIVED WITHOUT SIN.