Monday, May 2, 2016
Message Given by the Most Holy Virgin Mary
To Her Beloved Daughter Luz De María. Rosario, Santa Fe, Argentina.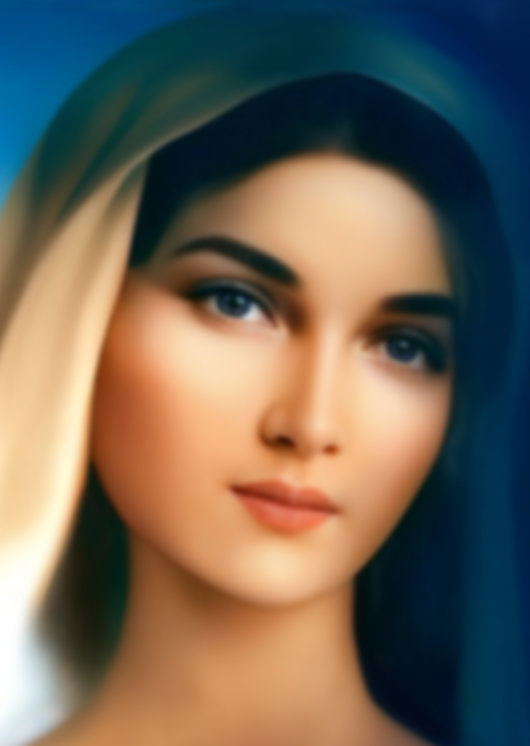 Beloved children of My Immaculate Heart,
MY BLESSING REMAINS AS A LAMP FILLED WITH OIL FOR EACH ONE OF MY CHILDREN.
I CALL YOU TO READ ATTENTIVELY AND TO PUT INTO PRACTICE EACH ONE OF THE MESSAGES
YOU RECEIVE
BY DIVINE WILL.
You must not feel satisfied with just reading the Holy Scripture; you must delve into the Divine Word and not feel satiated, but each instant feed more and more on the Divine Truth, on the Divine Way so that you will live in Divine Will and thus be more mature spiritually and less mundane each instant.
Beloved People of My Son, My Heart remains palpitating in view of the events prior to the Great Purification of humankind in its totality.
I speak to this generation by Divine Will—this stubborn generation—waiting for one soul to convert in the midst of the sea of human will, shattered and snatched away by the evil oppressor of souls.
IT IS NOT A PRIORITY FOR MAN TO BELIEVE IN MY SON OR IN THESE CONSTANT CALLS.
MAN IS SATISFIED WITH MATERIAL GOODS; HE HAS FORGOTTEN ETERNAL SALVATION…
Selfishness has reduced man to be a delirious passionate for satisfying his ego and his well-being, making him increasingly in need to own everything his imagination could want.
My Son's People are being manipulated without them being aware of it and without consenting to it. Children, you are literally and aggressively led to rebellion, to challenge My Son.
Children, so many of you have wasted the opportunity to help your fellow men! Do you hear the laments of your brothers who suffer at this instant?...
Beloved children, storms will become more frequent, so much that you will feel fear. The waves will rise in one place and the other, and science will not be able to warn you. You do not know that this happens because of the movement of the tectonic faults of the Earth's layers.
My children, you will shudder at the events and the fury of Nature; you will see with perplexity the power with which the sea will penetrate the land and will destroy what man considers indestructible. In My Pain, I anticipate the fury of the Elements: Inactive volcanoes will surprise humankind, Earth laments at the indifference of man towards his Creator.
FOR WHAT ARE YOU WAITING, MY CHILDREN, TO RETURN TO MY SON?
I do not keep from you the fact that scarcity will be felt all over the world. Rich and poor will suffer hunger, money will not be a means to get food or dress or medicines. With the fallen economy nothing will be valid for human subsistence until you be willing to put in your body the mark of the beast, the microchip that the rulers of the Nations will require of the people in order to deliver them in the hands of the antichrist.
Beloved children of My Immaculate Heart,
FAITH WILL STAGGER, MY CHILDREN WILL CRY AND WILL REGRET NOT HAVING OBEYED MY SON
PREVIOUSLY; MY CHILDREN WILL LAMENT NOT HAVING BEEN AWARE OF THE PERSONAL NEED TO LOOK FOR AND TO
DELVE INTO MY SON'S WORD; AND MY CHILDREN WILL REGRET NOT HAVING DELVED DEEP INTO THE DIVINE TEACHINGS AND NOT HAVING PUT THEM INTO PRACTICE IN LIFE.
IT IS NOT RELEVANT TO MAN TO GROW SPIRITUALLY because he does not believe in the announced events and he does not believe that the conditions of the world will change; even when he sees the sudden and unusual change in Creation, he does not want to face the truth of the condition of his soul and he does not allow his conscience to move him to change. He stops his conscience with his will.
Beloved children, violence in Humankind will increase, attacks and assaults will be continuous, the weather will be intensely deranged, and the seasons will change all over Earth, the winds will wreak destruction, and frost will rush.
Children, the antichrist is guarded by the elite that rules Humankind's destiny through power; the control exerted by these allies of the antichrist will intensify with social repression. My children, through health they will lead you to deliver yourselves to the enemy; unleashing its hidden power, freemasonry will find its crucial point to dominate My Son's Church, and they will take off the mask before the People who cannot intervene in this regard.
You, My beloved children of My Immaculate Heart, REMAIN IN FAITH, even if what you see next to you is barren, in Faith continue praying and giving testimony of My Son's Love and of His Promises. UNITE TO FACE EVIL, so you will be able to uncover it and not be trapped in its nets.
Beloved children, you will witness the testing of a new weapon; the consequences of this will be spread by the wind… and death will be a comfort to My children. You will not find a place to bury the dead and the stench will rise with diseases, crying will come from within the soul for having disobeyed the Calls from the Paternal House. Confusion will be great because of man's desire to control his brothers.
A world leader loses his life at the hands of his brothers. Agitation increases, rage increases.
Pray, My children, pray for Argentina; it will be flooded again by the water that falls without stopping; its soil will not bear fruit, and My children will experience shortage and lack. This My People will be purified by themselves; blood will be spilled.
Pray, children, pray for Chile and Venezuela, they will taste again the pain; the land will be shaken.
Pray, My children, alliances seem to be affirmed when betrayal is the hidden strategy which, as a bird of prey, will arrive unexpectedly.
Pray for France; it will suffer by terrorism and Nature flogs it.
Pray for the United States; Purification has not left its land.
Pray for Russia; it will scourge Humankind; it has won the desired time.
Beloved children of My Immaculate Heart, know My Son so that you discover Infinite Love, without which you will live empty and, not being able to find the way, you will come to adore men who, with treacherous words, will tell you they own the power given by My Son… they will tell you they own My Son's Word… they will tell you that they are chosen by My Son… and instead, they will lead you to be stray creatures separated from grace.
Beloved children, THE COMET THAT I HAVE ANNOUNCED IS NEAR, and with its nearness, the alteration of man will be visible, in the weather and in Nature in its entirety it will be evident.
Earthquakes increase, My children, and tsunamis with them. MAN DOES NOT BELIEVE THAT SIN INFLUENCES ALL HIS SURROUNDINGS and even animals will change their habits and the way they treat man.
Beloved children,
LOOK FOR THE TRUTH; IT IS WITHIN YOU. FIRST SEE YOURSELVES WITH TRUTH AND, AFTER YOU HAVE EXAMINED YOURSELVES, GO RECONCILE WITH MY SON, this way you will be able to start on the path towards order within yourselves, towards interior order.
Rise above yourselves so you will truly know yourselves, finding the Center of Truth which resides in each of you. You will only find the Truth within yourselves, because the Truth, without being light, without being reason, without being conscience, is necessary for you to rise above yourselves. You have goodness, you must do good, you must work and act in goodness, you must walk in goodness. My Son does not expect any other treatment from His children.
Beloved, you walk insecurely in My Son's Power, in His Divine Omnipotence, in the Divine Providence, and this is denoted in fear, in a weak and inconstant Faith.
THESE ARE INSTANTS WHEN MY CHILDREN MUST LIVE FULLY BEING MY SON'S CHILDREN AND
HAVING THE GOODS OF THE FATHER'S HOUSE, BEING ASSISTED AND FILLED WITH THE HOLY
SPIRIT.
Allow the fruit that My Son bequeathed to you to blossom; do not hesitate because the instant is closer than any other instant to the nucleus of the Great Tribulation.
Beloved children of My Immaculate Heart,
I AM WITH YOU AT THIS INSTANT MORE THAN IN OTHER INSTANTS; LET ME GUIDE YOU. COME TO ME. I LOVE YOU.
Mother Mary.
HAIL MARY MOST PURE, CONCEIVED WITHOUT SIN.
HAIL MARY MOST PURE, CONCEIVED WITHOUT SIN.
HAIL MARY MOST PURE, CONCEIVED WITHOUT SIN.