Wednesday, May 4, 2016
Message Given by Our Lord Jesus Christ
To His Beloved Daughter Luz De María.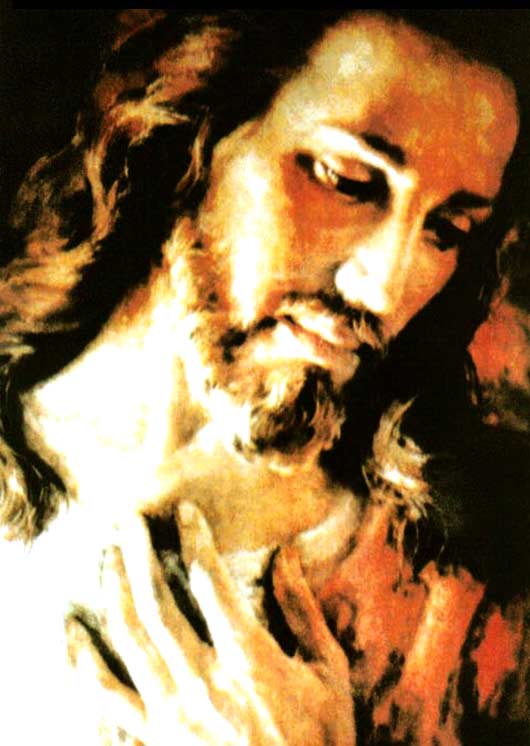 My beloved People,
MY LOVE FOR MY PEOPLE IS INFINITE…
DO NOT ASK WHO ARE "MY PEOPLE", MY PEOPLE ARE ALL THE HUMAN CREATURES FAITHFUL TO
OUR WILL, ATTENTIVE AND OBEDIENT TO OUR WILL.
Beloved children, indifference are the antithesis of Love, and, based on this, My People are divided by their own will. He who does not have Love is not worthy of entering My House.
Just as a bird soars through the air, the souls that have an overabundance of My Love are the ones that soar in the spiritual path and know well My Mercy without discarding My Justice.
This is the instant when you evoke My Mercy to justify human sin… The man who acts this way is so mistaken!
My Love has no limits…
My Mercy has no limits…
My Justice has no limits...
You talk about My Mercy with hesitant words leading My People to believe that they are worthy of My Mercy without repentance.
AT THIS INSTANT THE PATHS MUST BE WALKED WITH THE HELP OF MY HOLY SPIRIT; THIS WAY EACH STEP WILL BE GUIDED SO THAT YOU WILL NOT BELIEVE IN WHAT IS NOT TRUE.
My Love—deposited in each one of My children—leads you to recognize and accept that, if you do not live giving testimony of My Love, if in the last instant of life you refuse to see yourselves as sinners and to reconcile with Me, then, by man's will, My Love is withdrawn and replaced with indifference and hatred; and you will not attain Eternal Life.
My beloved People, you are all loved by Me, but not all accept My Love; this stops many of My children. As they reject Me, hatred invades them taking the acts and works away from My Love and, thus, away from My Mercy.
You do not have the power to imagine what it would be like to remain on Earth without My Love; all experience My Love according to the human will: Some more, some less, each one in his own measure.
CHILDREN, FOR AN INSTANT IMAGINE LIFE WITHOUT MY LOVE; IN THE LAKE OF FIRE, THE SOULS REMAIN TOTALLY DEPRIVED OF ME. THEY DO NOT LIVE MY LOVE THERE.
When man resigns Me, the nature of the creature is invaded by all things contrary to good and by everything that is contrary to My Love. Violence increases and, therefore, horror and fear spread all over Earth as man separates more and more from Me.
You forget that in My Vineyard everyone receives the same retribution; that is, all those who embrace My Call and make it come alive before impiety spreads like a plague.
THE ENTIRE CREATION INTERACTS WITH MAN AND RECEIVES FROM MAN WHAT HE HAS
INSIDE. This is why I constantly repeat that Creation does not recognize the man who despises Me and disobeys Me. It would be different if Humankind had taken the righteous path, working and acting in My Likeness. Men would possess so many virtues! This instant would be so different! My Light would invade everybody and the fire of My Justice would not touch you.
My People, the instant shortens; contaminated sunrays fall on Humanity and weakness in man is felt in the body; this weakness does not allow man to resist satan's insinuations that call him to leave aside Grace, Penance, Faith by deceiving man with falsehoods and making him fall into evil doings.
My beloved People,
SAVE YOUR SOUL AT THIS INSTANT WHEN THE PRESENCE OF EVIL COMES TO MEET UP MAN UNDER ALL CIRCUMSTANCES, when sin is the evil that suffocates man so that he will not understand My Love, move away from It, and deliver himself to evil with pleasure, having been taken by the evil spirits that move in all directions.
Evil will drag My children, those for whom I gave up Myself; and the possessions of those who are Mine will be destroyed in order to make them seek shelter with those that work for evil. The unbelievers, the wicked, the ones who have lived in darkness will be like vultures in search of prey. This is why I Call you to make an effort to hold on to the Faith and be not of those who do not know Me.
You will live pain anew. Unbelievers will pounce with more force against those that are Mine; right will be wrong even more so that it is at this instant. Goodness will be seen with disdain and the righteous man will hear false doctrines from evil's mouth that will spread all over Earth. The righteous man will be able to differentiate what the ignorant man will accept as correct.
My Mercy goes as far as My children will allow. My Mercy is waiting for man's call, even when he may be the greatest sinner. They ignore forgiveness because they do not forgive. I AM FORGIVENESS AND I DO NOT IGNORE A SON REPENTED, A SON WHO PLEAS WITH REPENTANCE AND A FIRM PURPOSE OF AMENDMENT. MY MERCY IS INFINITE AS INFINITE IS OUR LOVE FOR MAN.
My People, not only seawater will invade the land; it has been invaded by satan just as I announced it, just as My Mother announced it. Not only the sun causes skin cancer, it is man who keeps his heart in a state of putrefaction and is therefore insensitive to the pain of others, and pity is a nonexistent word for him.
I OFFER YOU MY MERCY, MY FORGIVENESS. COME TO ME; DO NOT REJECT MY CALLS.
Clouds will advance quickly; man will look upwards and disown what he sees; nothing will be familiar to he who delivers himself to the malignant oppressor.
War has not stopped, My children, it is under cover in a territory in order to catch man unawares.
EVIL HAS MADE HIS THE POWER AND HE HAS GIVEN IT TO SEVERAL WORLD POWERS TO ALTER HUMAN NATURE AND THE ELEMENTS. AT THE INSTANT OF INSTANTS, EVIL PRECIPITATES ITS ACTIONS AND MAN LOOKS SIDEWAYS.
My People, My Church will suffer; do not forget that "I am who I am" (Ex 3:14), and My People will never be left out of My Hand or of My mother's Hand.
My beloved, what man dismissed as a danger, at this instant will be activated with force. Dormant volcanoes will awaken, streams will be flowing rivers, mainlands will be muddied and will lose resistance and solidity… The sin that man has deposited in the land will rise to the surface.
My People, man created with his hands what he uses to combat his enemies. At this instant, power is in weaponry, except that man has not foreseen that the atmosphere is contaminated by the sun and by the same man, and hence the effects of his creations will surpass the expectations of science.
Children, My People, the instant does not wait; I wait for My People NOW!
YOU WILL RECEIVE MY HELP AND MY PEACE SO THAT YOU WILL NOT DESPAIR IN THE PRESENCE OF THE EXECUTOR OF EVIL.
MY ANGEL OF PEACE WILL ARRIVE TO GIVE MY PEOPLE THE LIGHT THAT WILL HAVE BEEN STOLEN BY THE MALIGNANT OPPRESSOR.
My Love will live with My People each instant until those who are Mine receive My Heritage.
DO NOT LOOK FOR ME OUTSIDE OF YOU; LOOK FOR ME IN THE INTERIOR OF EACH OF YOU
WHERE, OPPRESSED, I WAIT FOR ONE WORD: "MY LORD!"…
Pray, My children, My Mercy does not despise any of those who come to Me repentant.
Pray, children, the land will continue to shake changing its geography.
Pray, My children; the creatures, agitated by the convulsion of the Peoples, will lead to spilling innocent blood.
Pray, My children, pray to My Holy Spirit; ask for discernment, do not separate from Me.
My People, My Love is Eternal; you just have to love Me and repent of the evil committed.
Come to Me, children, come to Me, your Lord awaits you!
Do not despise My Calls, do not wait. Come to Me! Live the miracles of My Love. I love you.
Your Jesus
HAIL MARY MOST PURE, CONCEIVED WITHOUT SIN.
HAIL MARY MOST PURE, CONCEIVED WITHOUT SIN.
HAIL MARY MOST PURE, CONCEIVED WITHOUT SIN.