Wednesday, May 11, 2016
Message Given by Our Lord Jesus Christ
To His Beloved Daughter Luz De María.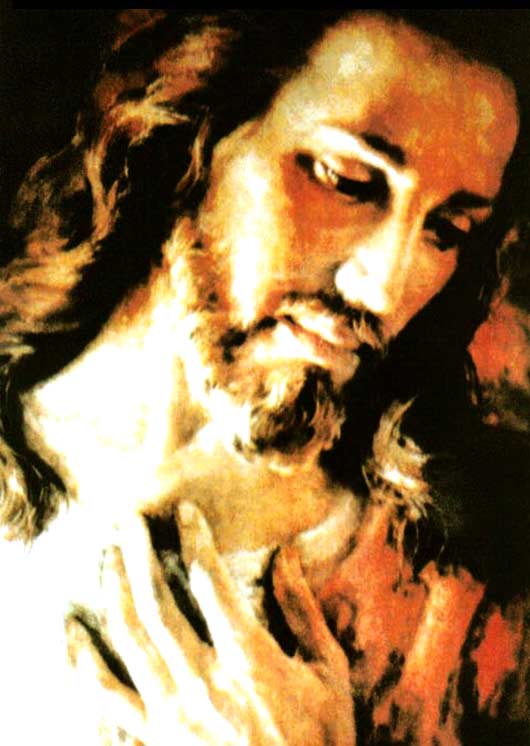 My beloved People,
I PROTECT YOU AS YOU ADVANCE TOWARDS OUR ENCOUNTER.
This is the instant when many of My children give themselves to the wrong path because they ignore My Word or because they want to remain within sinfulness.
Since the beginning of My Calls to all of My children, in this Word I have anticipated all that has happened to this generation, what is happening, and what will happen, so that you be prepared. I have been left aside, as My Mother has been left aside. You are living the consequences of My Revelation and you do not believe even though you have the events in front of you.
My Merciful Love does not stop; it remains in constant motion in search of souls and renewing those who give themselves to conversion.
My Universal Love is full; it makes no distinction or partiality in favor of some individuals. I offer My Hands to all who call Me with a contrite heart.
My beloved, Salvation is not found by reaching out, or by solely reading and memorizing some verses of My Word. No! Salvation is found in loving obedience to Our Will and by living in full THE SACRED WORD, putting it into practice every day, every instant. HE WHO DOES NOT LIVE PRACTICING MY WORD RUNS THE RISK OF BELIEVING ANYONE WHO APPROACHES SAYING "I AM THE CHRIST."
What has not been said yet will be said: "where sin increased, grace abounded all the more"(Romans 5: 20).
My People, I love Rome where Grace has over abounded; however, sin has been spreading, sin that stealthily infiltrated it, taking power among my people, distorting the raison d'être of My Church.
Humankind has corrupted their flesh; no need for death, without being in grace, they have achieved this while alive. The powerful have dug long underground tunnels as a place to stay after committing great mistakes against My People, giving them pain, tragedy, famish, and pestilence, and forgetting that nothing will allow them to escape from My Hand.
"AND YOU, O MORTAL, DO NOT BE AFRAID OF THEM, AND DO NOT BE AFRAID
OF THEIR WORDS, THOUGH BRIERS AND THORNS SURROUND YOU
AND YOU LIVE AMONG SCORPIONS; DO NOT BE AFRAID OF THEIR WORDS, AND DO NOT BE DISMAYED AT THEIR LOOKS, FOR THEY ARE A REBELLIOUS HOUSE." (Ezekiel 2:6)
No creature will pass before Me without being judged, not even the most exulted one on Earth.
THIS INSTANT IS OF GREAT RESTLESSNESS, GRIEF AND ANGUISH OF MIND.
MY PEOPLE SUFFER, FEAR, BUT MY HOLY SPIRIT WILL LIFT THEM WITH FORCE, WITH THE POWER OF MY HAND.
IN ORDER FOR THEM TO COME TO ME, MY CHURCH MUST BE PURIFIED OF ITS MISTAKES.
The upheaval in the world grows under the influence of the public appearance of the antichrist, who, since before, has been giving guidelines to My People.
MY CHILDREN ARE LED TO GREATER TEMPTATIONS BECAUSE OF THE PROXIMITY OF THE GREAT WARNING—ACT OF MERCY FOR MY PEOPLE.
I EXHORT YOU TO BE MY TRUE CHILDREN, COME TO ME AND I WILL GIVE YOU ETERNAL LIFE.
I have not sent you to suffer, but to live being one in My Love. Evil has not been inert and man has paralyzed the Law of Love and has become an automaton of the course of the world. Thus he comes to suffer from his free will being outside of My Will, and attracts not only wickedness, but also his own purification. Suffering is not light or easy for any man, and this generation enjoys the suffering of their brothers, betrays his own parents… SO MANY DEDICATE THEIR LIVES TO IMMORALITY WHICH, AS GOD, I DO NOT CONSENT!
I have not moved away from My children; My Love gives them the strength to resist temptation; I forgive them and wait for them to return when they repent for having sinned. My children do not believe in sin because they do not know My Love.
I RETURN IN MY SECOND COMING AND I WILL GIVE JOY TO THOSE WHO HAVE SUFFERED AS I
SEPARATE THE WHEAT FROM THE WEEDS.
My beloved People, each one of you must bear witness to My Love; each one of you is responsible before Me of what happens at this instant; each one of you takes part, consents, assents good or evil, in one way or another, with the passivity with which you let go whatever happens. You are astonished for an instant and return to their chores again.
I call you to be spiritual by showing spiritual growth, being the last, carrying the greatest burden, not seeking honors, accepting My Provisions, responding with My Love, not judging, being UNITY, because he who calls to disunity, this one, this one is not in My Love. I have instruments that I use to explain My Word to you, disobedient generation. None knows all about My instruments. This only I know as God.
My People, the way the earth shakes in its entrails is the way in which man's heart will shudder when he looks on high and sees that the fire is approaching more and more until it falls into the sea and causes high waves in the sea water that will pounce on countries.
Pray, My children, pray for Puerto Rico; the water will rise over this land.
Pray, My children, pray for the United States; they have hosted world citizens, and live with them in degeneration. The power in the land is not My Power.
Pray; this nation will suffer because of the Pacific Ocean and the Atlantic Ocean; the East Coast is cleansed of its sin. Nature acts.
Pray, My children; Mexico will suffer; its land will tremble; violence intensifies; these People will be oppressed.
Pray, children, pray for Europe; it will suffer strong attacks by those who rebel against Europe.
Spain will give up My Temples to the abomination.
Italy will nestle in My Temples the music that calls the devil, and he arrives with terror and dread. Bulgaria will suffer.
Children, My People, do not wait, the instant is …
"I AM WHO I AM." (Exodus 3:14)
MY SHADOW COVERS YOU. BE FAITHFUL CHILDREN, I DO NOT ABANDON YOU. COME TO ME.
CONSECRATE YOURSELVES ON THE 13th OF MAY; DO NOT DESPISE THIS LOVE FROM OUR TRINITY.
Your Jesus
HAIL MARY MOST PURE, CONCEIVED WITHOUT SIN.
HAIL MARY MOST PURE, CONCEIVED WITHOUT SIN.
HAIL MARY MOST PURE, CONCEIVED WITHOUT SIN.