Friday, May 13, 2016
Message Given by the Most Holy Virgin Mary
To Her Beloved Daughter Luz De María.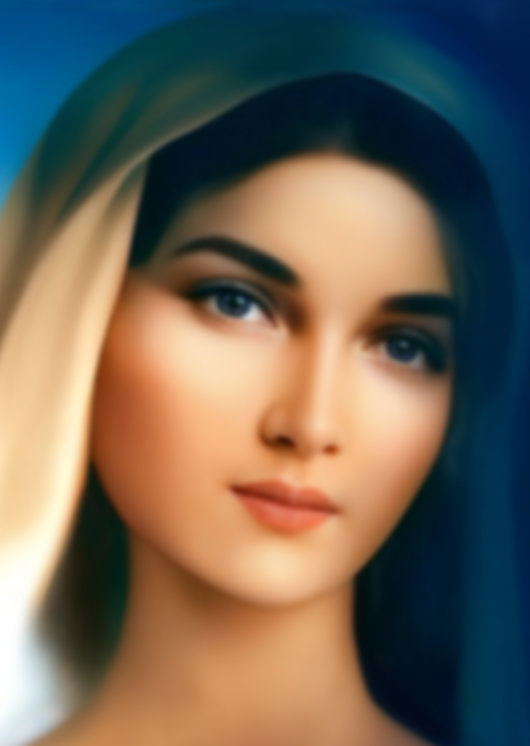 Beloved children of My Immaculate Heart,
I remain before each one of My children because My Son does not want you to be confused.
BELOVED CHILDREN OF MY IMMACULATE HEART, IT IS NECESSARY FOR EACH ONE OF YOU IN PARTICULAR TO REQUEST MY HELP SO THAT, AS MOTHER, I WILL TAKE YOU BY THE HAND AND LEAD YOU TO MY SON.
To Me, each call from you is the balsam for which My Heart yearns so I can intercede in favor of your salvation before My Divine Son.
I will not abandon you, children, I will not leave you alone, at this instant, with the infernal enemy, through organizations created for the good of man but which have created death and you ignore this because you trust human protection, AND THESE ORGANIZATIONS GAVE UP THEMSELVES TO THE DEVIL.
TECHNOLOGY HAS ADVANCED AND AT THE SAME TIME IT HAS CREATED MEN WHO DO NOT THINK, WHO ACT LIKE MOST.
MISUSED SCIENCE CREATED BY MAN IS THE WEAPON WITH WHICH MAN FLOGS HIMSELF.
Look, children, all that happens on Earth! Earth is suffocated by man and his wrongdoing; sin has stopped being sin to become blasphemy. Some Temples have been the nauseating stages where the devil has pleased himself and continues indulging. This is how, right before all of you, My children, the devil will be given some Temples sacrilegiously.
My Son's Temples are not stages for worldly shows; music that calls satan the king of the world must not be accepted where My Son is adored. The devil infiltrates the Church and the Church does not see the great offense caused to Heaven. CHILDREN, DO NOT ATTEND SACRILEGIOUS ACTIVITIES INSIDE TEMPLES.
My children must expand the knowledge so as not to be confused: " give to the emperor the things that are the emperor's, and to God the things that are God's." (Luke 20:25)
THERE IS NO HALF WAY IN THE SPIRIT: YOU BELONG TO GOD OR YOU BELONG TO THE DEVIL.
Man in his insanity—because of his contempt of Divine Law and disobedience—has become the greatest threat to himself. My Maternal Heart suffers so much!
Beloved children of My Immaculate Heart, not only in Fatima but also in My Apparitions and My Revelations to the world, I continue to Call for man to be saved. The walking must be constant. In order to achieve the joy of merging with My Divine Son, you must make an effort until each work, each act that you carry out be done with the conscience of being children of the KING, and this leads you to act and work in My Son's likeness.
This behavior is seen as impossible because of the agitation of Humankind; but this is not impossible for those who want to belong more to My Son, to be more spiritual, to be closer, truer to themselves and to Divine Will, to which all men must aspire.
My Son's People will be greatly persecuted in their own land; each creature faithful to My Son will be persecuted as has been announced, each in a different way. Offer everything you live for the salvation of souls.
Beloved children of My Immaculate Heart, the Holy Trinity has entrusted Me with the protection of His children so that, as Mother of the Word, I be the one to fight by your side against the hosts of the devil with the defense of Saint Michael Archangel and the Celestial Legions.
My children, the specter of war has stopped being specter; and you live the onslaught, only silent, through a war of words and threats that will become action: The feared and announced Third World War.
YOU MUST NOT ALLOW THE MICROCHIP TO BE IMPLANTED IN THE HUMAN BODY, HAVE FAITH; neither My Son nor I will allow the faithful People to march under the delusions of the followers of antichrist that walks freely all over Europe, daring to enter even My Son's House.
A weapon superior to the ones you know is in the hands of a Power, and it will not hesitate to use it if it feels threatened. The great insanity of man created the weapon that can cause the greatest devastation on Earth.
ENOUGH IS ENOUGH! DO NOT CONTINUE TO DENY THE CALLS OF MY SON AND MINE! DO YOU NOT UNDERSTAND THAT YOU GIVE THE DEVIL MORE POWER?
Man is not only flesh; he has spirit, soul, reason, five senses, intelligence, and will, all of which, when offered and taken to act in My Son's path, multiply infinitely, spreading good over all of the Earth and beyond, to the Universe.
Bacteria and viruses proliferate in a sick body; they multiply if the disease is not treated promptly. This happens to Earth; each one is a body that spreads good or spreads evil, and thus evil attracts negative effects to the Earth itself, from the Universe Therefore it is several Celestial Bodies that will reach Earth. Man does not know how good or evil can influence for better or for worse.
My prophecy in Fatima has not concluded. My Son's Church will suffer the schism; Humankind does not perceive it, due to the accelerated daily life, man has separated from My Son because of human occupations to which man gives a higher priority. MY SON'S PEOPLE MUST RETAKE THE PRAYER TO SAINT MICHAEL ARCHANGEL, DEFENDER OF MY SON'S CHURCH.
MY REQUEST IN FATIMA HAS NOT BEEN FULFILLED…
CHILDREN OF MY IMMACULATE HEART, AS MOTHER I ASK YOU TO CONSECRATE YOURSELVES TO OUR SACRED HEARTS, A PERSONAL CONSECRATION AS WELL AS FOR THE WORLD.
I POUR OUT ABUNDANT GRACE FOR THOSE WHO COMPLY WITH THIS REQUEST ON THIS DAY.
I made a greater request which would have stopped the sorrows that Humankind will encounter. I WAS NOT HEARD…
Children of My Immaculate Heart, do not separate from My Son, receive the Eucharist, remain united, share the happiness that comes from being children faithful to Divine Will, thirst for souls so that you will bear fruit of Eternal Life, remain in the Faith even when you think that all has been lost. To the astonishment of all humanity, Angelic Legions will come to rescue My Son's People, My children that I have begotten in spite of the darkness that has attempted to undermine My Son's Church.
EVIL WILL NOT PREVAIL; I WILL CRUSH THE TYRANNICAL OPPRESSOR OF HUMANKIND, AND I WILL TIE HIM UP SO THAT HE WILL NOT BE ABLE TO SCOFF MY SON'S PEOPLE.
You have entered the instant of instants, and My children know it, THE INSTANT OF PURIFICATION.
The Shepherd that Loves His Flock does not deliver it into the hands of the enemy; instead, He warns them and leads them to another pasture where they will not be devoured.
Beloved children of My Immaculate Heart,
My Immaculate Heart will triumph and you, children faithful to My Son, will be the ones to rejoice on the Eternal Lap.
RECEIVE MY BLESSING AS YOU READ THIS CALL AND GIVE IT LIFE.
I love you.
Mother Mary.
HAIL MARY MOST PURE, CONCEIVED WITHOUT SIN.
HAIL MARY MOST PURE, CONCEIVED WITHOUT SIN.
HAIL MARY MOST PURE, CONCEIVED WITHOUT SIN.
CONSECRATION TO THE SACRED HEART OF JESUS
LUZ DE MARIA, JUNE 2009
Sacred Heart of my beloved Jesus,
Spring of infinite mercy,
Receive on this day the complete surrender of my being.
Take my life, I offer it to You
Let your sacred Heart be a fountain of blessings,
Not only for me, but also for all of humanity, Which at this moment united with me, I give to Your protection.
I give You my heart, so that it only loves You,
I give You my sight so that I see Your Love everywhere,
I give You my ears so that they hear your heartbeat,
I give You my thinking so that protected by You, it be a constant hymn of adoration, I give You my hands and my feet so in your likeness they may be blessing for my brothers and sisters.
Sacred Heart of my beloved Jesus,
I accept you today as my refuge from anguish and tribulation at all times,
I accept You as protector and custodian of my life, Above all in moments of temptation.
Sacred Heart of my beloved Jesus, From today on I give myself wholly to You.
I plead with You to help me in this life, So that nothing and no one separates me from You.
Fountain of infinite mercy, take possession of my being; I, in exchange, promise to love You, and I resolve to never offend You.
Receive, I beg You, this my consecration to You,
And keep me, as of this moment, as Your own possession.
Amen.
CONSECRATION TO THE IMMACULATE HEART OF THE BLESSED VIRGIN MARY
LUZ DE MARIA, AUGUST 2011
I ………….. give myself, Mother, to Your protection and to Your guidance; I do not want to walk alone in the midst of the storm of this world.
I present myself before You, Mother of Divine love, with empty hands, but with my heart filled with love and hope in Your intercession.
I ask You to teach me to love the Most Holy Trinity with Your same Love, so as not to be indifferent to Its calls or indifferent to mankind.
Take my mind, my thoughts, my consciousness and unconsciousness, my heart, my desires, my expectations, and unify my being in the Trinitarian Will, as You did, so that Your Son's Word does not fall on arid land.
Mother, united with the Church, Mystical Body of Christ: bleeding and despised in this instant of darkness, I raise my pleading voice to You so that the discord between men and the nations be annihilated by Your Maternal Love.
Solemnly I consecrate to You today, Blessed Mother, my entire life, from my birth. With full use of my freedom, I reject the devil and all his machinations and I give myself to Your Immaculate Heart.
take me by Your Hand from this instant, and at the hour of my death, present me before Your Divine Son.
Allow Mother of Goodness, that this: my consecration be taken in the hands of the Angels to every heart so that it might be is infinitely repeated in each human being. Amen.