Tuesday, May 17, 2016
Message Given by Our Lord Jesus Christ
To His Beloved Daughter Luz De María.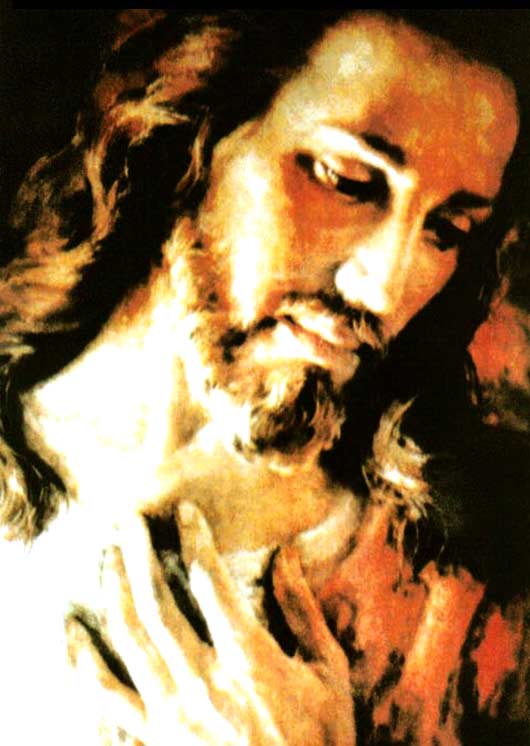 My People,
I LOVE THE HEARTS OF THOSE WHO ARE HUMBLE BECAUSE THEY ARE DOCILE TO MY CALLS…
My People, you look for Me outside of you and you will find Me within you…
MY PEOPLE'S INTEREST IS ANOTHER; IT IS NOT TO COME NEAR ME AND GET TO KNOW ME; instead, it is to delve into the new things that the world presents to them. This is why they have stopped looking for Me, they have stopped obeying Me, and they have forgotten My Requests and have changed them for their own personal wishes, interests, and whims, which leads them to be like small children, behaving as such, immaturely and with the ego so ingrained that they do not see the brother next to them and, least of all, the ones who need them. They allow the ego to continue with deeper roots until these become so strong that, although they may want to overcome their own humanity, hubris will defeat them.
THEY QUICKLY FORGET THAT THEY FIGHT AGAINST THE DEVIL AND HIS LEGIONS AT THIS INSTANT MORE THAN OTHERS, and they do not see him, they do not believe they hear him; he only controls them taking them out of My Will to become others of his own, repeaters of his behavior. And what does he attack? Man's heart, hardening it, desensitizing it, until he leads the heart to act contrary to the way in which it should move properly in man's interior.
My People, you mistakenly look for Me with hardness in your hearts. It is not so much the wisdom— although it is necessary—what manages to transmit My Word; it is the constant living, practicing, what man keeps in his heart.
My beloved, the hardened heart does not grasp the interior of his brothers; he is not clever to draw spiritual gain in his brothers; on the contrary, he becomes senseless and foolish.
My People, you must thirst for Me. When you abandon this thirst, the interests are different, personal interests emerge and not My Will, and you imprison the heart of your brother inside your personal human will.
Children, you must constantly remind your memory that you do not know everything. INNER STRENGTH IS BORN WHEN MAN KNOWS WHAT IS KEPT IN MEMORY, BUT IT [MEMORY] MUST BE REMINDED CONSTANTLY THAT IT IS NOT MEMORIZING THAT YOU COME TO ME; YOU COME TO ME WITH WHAT IS KEPT IN YOUR HEART, because the heart cannot give what it does not have and therefore what comes out of the memory is memory, not reality.
My People, he who lives in discord does not allow Wisdom to guide him on his way. The wise man is humble and in his heart is the intense living glow of My Merciful Love.
There are so many who with great eloquence talk about Me, but they do not transmit My Love to their brothers!
MY PEOPLE, LOOK FOR KNOWLEDGE, DELVE INTO ME; but, with a heart of flesh, the knowledge you obtain will be incorrect. Look for Me loving that for which you search, loving yourselves and your brothers, because, in order for man to act correctly, there must be a parallelism between what he transmits and his heart.
MY PEOPLE, YOU SAY YOU LIFT YOUR HEARTS UP TO ME, AND IT IS NOT TRUE…
YOU TIE THE HEART TO THE HUMAN WILL OR TO THE WISH OF PERSONAL INTERESTS WHICH MOSTLY BELONG TO THE WORLD AND ITS EGOTISM. You strive looking for answers to the unity to which I Call you as My children, but this unity does not have an answer except for the one that naturally springs from the heart that is merged with Me and that wishes to be united with his brothers.
My People,
I CALLED YOU TO UNITY. As God, I know each one in particular; you are not alike, your interests are different. But if I Call, each one must be available to the purpose for which I called you…
YOU HAVE BEEN CALLED BY ME, BUT YOU COME AS SPECTATORS WITHOUT MAKING THE DECISION TO PASS FROM BEING A MERE SPECTATOR TO BECOMING PART OF THE ACTION TO FORM THE UNITY.
He who desires to be a spectator at some instant will be a stumbling block...
He who desires to be action in the Call, fights first against his human ego in order to look for internal similarities with his brothers and is available with a docile heart to be life of My Request…
THE DEVIL IS AGILE TO PRODUCE CONTRARINESS AMONG THOSE WHO ARE MINE; THEREFORE YOU SHOULD NEVER NEGLECT THE UNITY. This unity is lost when each one of My children takes a personal priority and is not humbly available to be a part of what I desire, but moves away from the Knowledge of My Call.
He who claims to know Me overcomes his own humanity for the benefit of My Requests… He who does not know Me strives in favor of his own personal interests, even when these are not Mine.
UNITY IS NECESSARY AND FOR THIS YOU MUST KNOW ME…
Agonizing instants are close to My children, instants when loneliness will accompany My faithful children, and the unity of My People will be the help that will achieve your triumph in My Name.
I do not explain My Word so that a few will live it; I wish all humankind to live it. Satan has dispersed My People and there are few who follow Me, but with those few I will manage to keep My People alive.
MY ANGEL OF PEACE WILL ARRIVE TO BE THE COMPANY THAT YOU WILL THINK YOU HAVE LOST
WHEN YOU ARE PERSECUTED, STALKED AND SLANDERED. THE STRENGTH OF MY SPIRIT WILL ACCOMPANY YOU SO THAT HE WILL HEAL HEARTS WITH HIS LIGHT, AND CONFIRM THE CERTAINTY OF MY LOVE FOR MY FAITHFUL.
MY ANGEL OF PEACE WILL BE SHELTER FOR MY PEOPLE AND LIGHT IN THE DARK, STRENGTH FOR
THE ONE WHO THINKS HE WILL GIVE UP, AND UNFATHOMABLE CHARITY THAT CAN COME ONLY
FROM ME. HE COMES TO BE FORTITUDE OF MY PEOPLE AND PEACE FOR THOSE WHO ARE SCARED. HAVE FAITH.
My beloved People,
Pray; the movement of the earth will continue to increase; there will be great earthquakes all over the Earth, this increases the inversion of the magnetic field of the Earth and this, together with a strong volcanic eruption, can accelerate magnetic change in a few months.
Pray, My children, pray; the Earth's nucleus emanates its activity towards the external layers of the Earth, and this attracts change in the Earth's magnetism. Communications will be paralyzed and man will understand that he does not have control over everything.
Pray, My children, chaos goes into man. Those who prepare the entrance of the antichrist (*) hasten the pace; the elites that rule the
Governments of the Earth disclose their biggest lie; remain attentive.
Pray for Venezuela; pray for Brazil.
Pray, My children; where it has never trembled it will tremble.
Pray for Spain and for Argentina.
Pray, My children; natural disasters increase; pray for Sweden, Stockholm.
MY PEOPLE THAT CONSTANTLY COMBAT RAISE THE PRAYER AND ASK MY HOLY SPIRIT FOR WISDOM.
HE WHO DOES NOT DISCERN DOES NOT KEEP A FIRM PACE.
These are instants of confusion and convulsion when My children express violence and rise against Me; they have changed good for evil with which they confidently ally themselves.
New plagues flog you; they do not come by natural causes; they are created to act against My children.
Do not separate from Me; "I AM WHO I AM" (Exodus 3:14), and I seek the humble.