Sunday, May 22, 2016
Message Given by Our Lord Jesus Christ
To His Beloved Daughter Luz De María.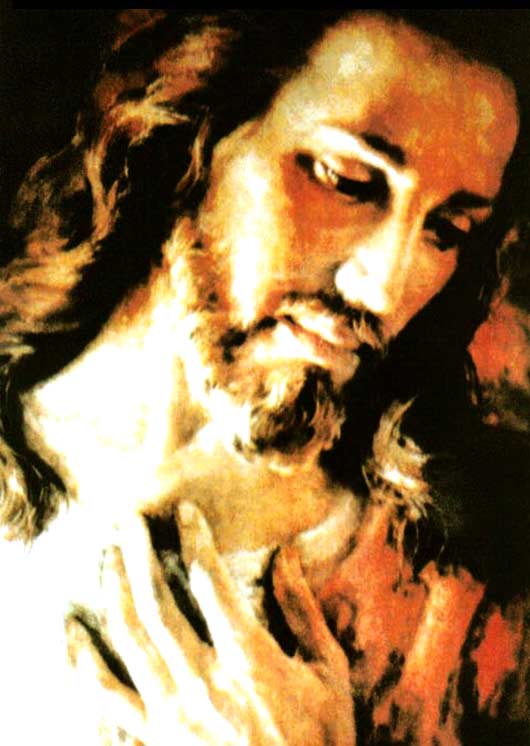 My Beloved People, My children,
I bless you with My Love which I pour over all those who are thirsty for My Will.
You walk and walk, discuss and discuss; you think you understand and you do not understand. YOU MUST KEEP THAT ENTHUSIASM OF WANTING TO BE UNITY IN MY LOVE.
Children, you do not perceive it but each one, in his thinking and in his memory, is keeping the issues that have impacted him in his life. Once those issues have made you shudder and each of you has thought he has forgotten them, at some instant, what each of you carries in your interior jumps up for better or for worse, according to your free will.
IT IS IMPORTANT FOR EACH ONE OF YOU TO ENTER IN COMMUNION WITH ME, AND TO FOCUS ON ASKING MY MOTHER AND MY HOLY SPIRIT TO HELP YOU SO THAT YOUR THOUGHTS BE TRULY MY WAY, AND YOUR MEMORY KEEP YOU FOCUSED ON ME.
Children, in the interior of each of you there is a flow of your thoughts, personal intuition, the concepts each of you takes as a rule of life. At this instant, you must be astute, because the envoys of evil move all over Earth and, in the slightest indisposition of man, enter to cause a serious storm where there should not be even a light drizzle.
I have called you to be faithful and persevering. The devils come to produce restlessness in those who want to live close to Me. You have not realized that the fight is not visible. The devil attacks man's interior to give him discomfort, misunderstanding, convulsion, wrong reactions; he brings out the worst of the human ego in order to divide.
BE ASTUTE; DO NOT FALL IN SATAN'S TRAPS.
My People, I lead you to inner peace. The soul in peace belies a creature centered on Me, and a creature that tends to Me and is oriented towards Me belies the peace of the soul. Human will must move towards Me, live in Me, and be subjected to Me, so that the creature be ordered to My Love and to what is derived from My Love.
MY CHILDREN, YOU ARE IN CONSTANT EVALUATION BEFORE ME. EACH ACT, EACH WORK CONSTITUTES THE TREASURE YOU WILL PRESENT BEFORE ME.
Passivity before Me is the lack of being testimony of each of My Words; the apparent certainty of man before Me is the greatest insecurity and the clearest sign that he does not walk next to Me.
MY PEOPLE, YOU CANNOT SEPARATE YOURSELVES FROM THE POWERS OF THE SOUL:
MEMORY with which you do not let yourselves move away from Me as you keep your memory active. I am in the memory of each one of My children.
INTELLIGENCE to want to be a part of My Mystical Body, an active part, by means of the Love that leads you to the correct behavior at every instant.
WILL so that you live of and for good. The will chooses correctly and directs My children towards Me, or it leads you to spiritual weariness, denial, disobedience, and thus distances you from My Love.
At this instant, this is relevant for My People who cannot walk to the wiles of evil without knowing in order for them to resist.
He who denies evil and sees everything as good cannot rid himself of evil, but in evil lives…
He who lives above his brother to judge him cannot see the harm he causes because he does not think it is wrong to judge, as it is part of his being and he has not been instructed on the correct way of walking of My children which is DO NOT JUDGE…
He who lives of envy does not see envy as an act contrary to Love of neighbor when the soul is poisoned with what the same creature produces…
THE EVIL THAT CORRODES HUMANKIND IS INDIFFERENCE AND BEING SELF-CENTERED. THAT TO WHICH I LEAD YOU IS THE COMMON GOOD IN MY WILL. This turns men into a community of likeminded creatures that constantly look for mercy for their fellow men.
MY LOVE LEADS TO UNITY; UNITY LEADS TO UNION; UNION TO ORDER, AND ORDER TO
OBEDIENCE TOWARDS ME. He who is obedient is free from pride, does not live in disorderly love where the first place is held by the same creature; instead, he lives in charity which unites the soul with My Love.
My children, keep in mind that he who loves Me, loves his brother firmly and abundantly, in such a dimension that the certainty and security of living in Me leads him to externalize My Love, present and joyful in the human creature, revealing at each instant the greatness of what is not human and common, but acquired by Grace and by the permanence of My Spirit, in constant and active giving of self to his fellow men.
My People, remember that the love you possess is Love that comes from Me as you work and act in My Will, without rejecting Me but in constant evolution to achieve a greater possession of this Gift.
The Earth that has nestled you cracks more often and these cracks will make territories disappear.
Pray, My children, pray for the United States; it is being purified, racism will proliferate making past events be revived again. There will be mass arrests for no reason other than it's an order.
Pray, My children, pray for Italy; the Vesuvius volcano attracts pain, awakens with force unexpectedly.
Tyranny arrives in Europe; betrayal will happen in these lands.
Pray, My children; you will see the great light come down from space;
it will shine with its own light creating panic. Then it will fall into the sea and, in a few instants, Nations will be flooded with water.
MY PEOPLE, WHAT I SHARE WITH YOU IS NOT FEAR, IT IS WHAT YOU WILL ENCOUNTER.
You must stop the great sins you constantly commit and with which you offend Me. Admit that you have allowed satan to penetrate your hearts, RESIGN HIM AND COME REUNITE WITH ME; I WILL NOT REJECT YOU.
Suffering in the Middle East will surprise the rest of humankind. In few days they will wage bloody battle by the territories. In the midst of suffering they will find what does not belong to them and is My Property, THEY WILL FIND REASON TO ENACT THE GREAT BATTLE FOR WHICH THEY HAVE BEEN PREPARING FOR YEARS.
My children, do not continue being creators of death…
Be obedient children that return to Me…
Implore the intercession of My Mother who does not abandon you…
I look at Earth and I see it uninhabited; the souls that love Our Trinity and My Mother are the ones that attract Me, but they are not a majority.
My beloved People, communism seems to diminish; this is a strategy of evil to create a new form of captivity which will be turned over to the allies of the usurper.
Do not trust, convulsion will remain all over the world; the pain will be unspeakable for those who live it. At this instant, power in some Nations of the world represses man with torture in the desire to subjugate him in light of the agreement of some leaders with the elite that holds sway over the Earth.
My beloved People, My People's freedom has been sold to those that prepare the entrance of the infernal butcher. Do not be confused with modernisms of My Word which is written.
Know Me, delve into Me; it will be forbidden for My favorite children to alert My People. AN UNUSUAL EVENT WILL BE ANNOUNCED TO MY CHILDREN.
REMAIN ATTENTIVE; THE GREAT POWERS OF THE ILLUMINATI AND OF THE FREEMASONS WILL IMPOSE WHAT IS NOT MY WILL AND MY PEOPLE WILL BE PERSECUTED.
PRAY, ENTER IN COMMUNION WITH OUR WILL.
YOU LIVE IN MY BLESSING; I AM FAITHFUL TO MY PEOPLE.
I BLESS YOU.
Your Jesus
HAIL MARY MOST PURE, CONCEIVED WITHOUT SIN.
HAIL MARY MOST PURE, CONCEIVED WITHOUT SIN.
HAIL MARY MOST PURE, CONCEIVED WITHOUT SIN.