Sunday, May 29, 2016
Message Given by Our Lord Jesus Christ
To His Beloved Daughter Luz De María.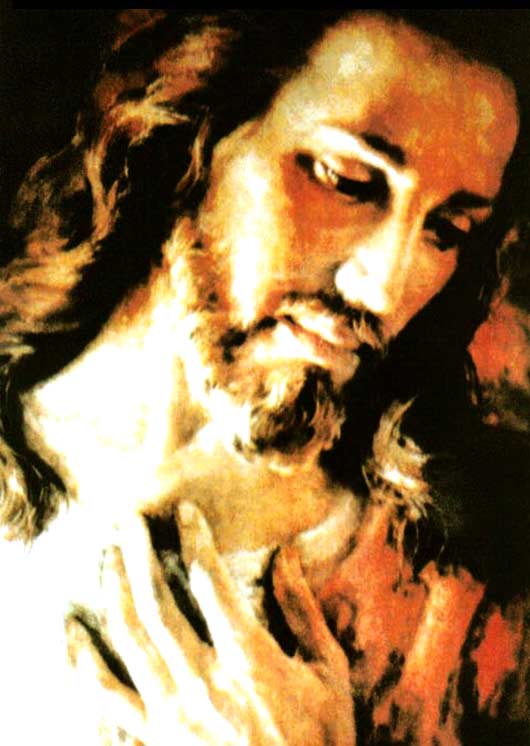 My beloved People,
How I love you!
Without My children I would have nobody to love.
I am King, and a King without children… What kind of King would I be?
My People, go deep into My Heart and drink from the Fount of Mercy that spills for those who want to retake the Path towards Eternal Life.
I CALL YOU TO UNITY. MY CHILDREN ARE HUMBLE AND STRIVE FOR UNITY, even if they must put first what they want, as long as it is not detrimental to the guidelines of My Word contained in the Holy Scripture or The Commandments, the Sacraments, and other pious works of Love toward neighbor.
I call you to Unity at instants when you witness great human cruelty. In instants you will have to open the doors, not only to your home, but also the most important one, THE DOOR TO YOUR HEART SO YOU WILL RECEIVE THOSE WHO DO NOT KNOW ME BUT WANT TO KNOW ME.
YOU SAY YOU KNOW ME.
ASK YOURSELVES, DO YOU REALLY TRULY KNOW ME?
Do you see Me in your neighbor? Or do you see another creature that does not follow the path you want?
In the measure in which you love Me, in that measure you must love your neighbor so that your humility be My Humility, your patience be My Patience, your tolerance be My Tolerance, your charity be My Charity, and your rigor be the same one you apply on yourselves.
My People, each one has before him a scale; each act and work is placed on that scale, and I see how self-love outweighs the love of neighbor and the love of My Requests.
I ASK AND YOU DISOBEY ME… I EXPLAIN AND YOU DO NOT HEED MY EXPLANATIONS, YOU IGNORE ME…
ARE YOU AWARE OF HOW THIS OFFENDS ME?
NO, MY PEOPLE, YOU HAVE NO CONSCIENCE OF THE OFFENSE YOU CAUSE ME.
FOR THIS AND MORE, THOSE WHO REMAIN WITHIN MY WORKING AND ACTING ARE FEW.
I LAMENT MUCH THAT YOU RECEIVE ME WITHOUT BEING UNITY, without being aware of My Real and True Presence in the Eucharist. How can you approach to receive Me when the rags of sin are attached to you?... You do not want to be aware of who I am.
I reprimand the ones I Love; this is why I instruct you on the behavior, on the good way to act and work, on what is good.
MY PEOPLE, YOU MUST GIVE YOURSELVES WITHOUT MEASURE IN ORDER TO ATTAIN THE GIFTS, VIRTUES, AND GRACES I SEND TO MY PEOPLE. He who searches finds the Way, not only using man's finiteness, but also the mind illuminated by My Holy Spirit. He who seeks—with his soul, his mind, his heart, and his powers—to belong more to My House than to the world, must be open to the Grace so he can project himself towards his brother and spread good like the rays of the sun to illuminate everything and everyone.
Children, will, reason, and thinking do not ascend if good is not in them. You will find yourselves mired in tepidity which leads the creature to do more evil and thus lose Eternal Life.
My People, use your freedom to approach with goodwill the acquisition of Eternal Goods. Abide by My Will so that the Eternal Laws, together with the effort of each one of you, will achieve the flow of the Holy Spirit in My children.
My beloved People, this instant is valuable; do not allow evil to continue lodging in your brothers; be testimony of My Love and, this way, attract those who wander lost in the mundane, away from Me.
My People, evil moves all his tentacles in search for souls to lead them to eternal perdition. If evil is not curtailed in My People, by themselves they will not seek out good; evil is comfort, debauchery, senselessness, ignorance, … accepted freely. And this, children, is what the tentacles of evil achieve, being attractive so that you will become easy prey.
THESE ARE CONFUSING INSTANTS FOR MY CHILDREN WHEN THEY CALL GOOD WHAT IS IMPROPER. BE ALERT! WHAT IS IMPROPER IS IMPROPER; IT DOES NOT CHANGE LIKE DAY AND NIGHT. Confusion will spread with the wind and My People will be divided looking for debauchery. It will be then when the tentacles of evil will show the truth they were hiding, but by then, man will already be prey contaminated with the carnage with which his mind has been invaded.
THESE ARE INSTANTS WHEN YOU MUST DECIDE TO LIVE AWAY FROM THE HUMAN EGO, AWAY FROM HUBRIS, AWAY FROM SIN.
THESE ARE INSTANTS WHEN YOU MUST CALL SIN ALL THAT IS AGAINST THE LAW OF GOD'S PEOPLE.
Pray, My children, pray so that those who approach to receive Me will be worthy of Me.
Pray, My children, pray. Food will be scarce. Power denies food to the people, and Nature interrupts the production of food.
Pray, My children, pray in instants just prior to the imprudence of…
Pray, My children, pray for Japan and India; they will be strongly shaken.
Pray, My children, pray; water strongly hurls over Mexico and the Philippines.
My People, you do not listen to the explanation of My Word; you do not wish to use My eye drops of Truth to stop and regain the dignity of My children. Communism attacks without being seen; this is how it extends its power on the peoples. Communism seems to be kind but once in power it is the enemy of My children.
MY CHILDREN SUFFER THE HORROR OF THE SILENT WAR WHICH HAS SPREAD THROUGHOUT THE WORLD; war against man with the consent of the man of power; war against the people that suffer because they are hungry, not only physically but also spiritually, and in the face of this, man falls prey to fake satanic ideologies. The devil constantly usurps man's will with a will that tolerates sin.
My People, darkness comes to Earth suddenly, without explanations. Remain prepared in the spirit united with My Mother who does not abandon you. From space you receive the threat that science has denied.
Laboratories in the hands of the elites continue to spread flogging for My children; disease continues.
The Sun will give a spectacle without being cause for alarm for Humanity.
My People, social agitation spreads all over Earth; do not be involved in violence.
A leader finds death, pre-planned by those close to him.
MY PEOPLE, DELVE WITHIN ME, COME CLOSE TO MY MOTHER.
DO NOT BE AFRAID; KEEP PRACTICING CONSTANTLY THE COMMANDMENTS.
Be docile to My Word. My children have Faith; even when they walk without seeing the physical light, THEY WILL BE ILLUMINATED BY THE LIGHT OF THE PARACLETE.
Pray; always raise a prayer—it is nourishment—and put that prayer into practice.
MY LOVE POURS OUT IN A SPECIAL WAY OVER THOSE WHO RECOGNIZE ME.
"I am the Lord your God". (Deuteronomy 5:6)
I Bless you.
Your Jesus
HAIL MARY MOST PURE, CONCEIVED WITHOUT SIN.
HAIL MARY MOST PURE, CONCEIVED WITHOUT SIN.
HAIL MARY MOST PURE, CONCEIVED WITHOUT SIN.