Friday, June 3, 2016
Message Given by the Most Holy Virgin Mary
To Her Beloved Daughter Luz De María.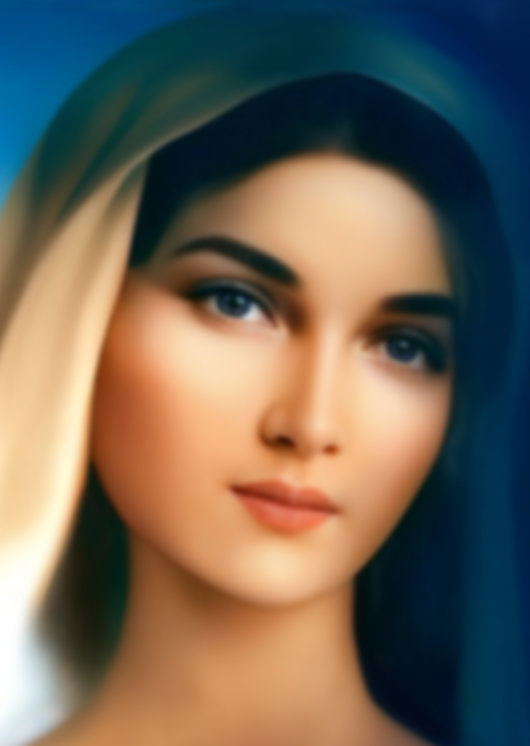 Beloved children of My Immaculate Heart,
I BLESS YOU.
The clock continues ticking, and humanity subjects itself to time; humanity constantly thinks about time and about how to allot it so that the day's engagements fit the scheme that man has designed for his day-to-day life. Time is no longer time, but human beings brush this aside.
Beloved children of My Immaculate Heart, you live in your own time, in the time each one fabricates for his life plans and projects. Time stopped being time. Again and again We have reiterated that, in God's time, the space called time has stopped being time. Time has come to be instant which is the one in which you live, which is the instant of instants when human time elapses between day and night; but, in the instant of the Universe, it is a brief and fleeting flash of light; hence the importance of man's consciousness to every Word that the Holy Spirit gives him.
MAN ALONE IS NOT CAPABLE OF UNDERSTANDING THE URGENCY OF THE DIVINE CALLS.
THEREFORE I TELL YOU THAT YOU MUST FOCUS YOUR SENSES TOWARDS THE TRUTH, MANAGING THE THOUGHT FOR THE MIND TO CENTER IN GOD AND THUS TEND TOWARDS THE SALVATION OF THE SOUL.
The soul remains in constant contact with the Holy Trinity; and the Holy Spirit, through man's spirit, communicates him with God's Will. This is why I call My Son's People for them to react and not get involved in the mediocrity of low instincts.
Children,
Most of the rulers do not wish to leave their places of prominence since they are aware of everything that reaches humankind and so they wish to keep their power.
Earth is a beautiful place. At this instant, man has turned it into the shame of the Universe. Man has come out of himself, of his sanity, without being aware of his behavior; man has forgotten the value of his soul and does not heed Our Call to act and work in the Divine way.
Beloved children of My Immaculate Heart, destruction arrives for the small countries as well as for the large Nations.
Men do not want to pay attention in any way; all I can say is that Prayer, Penance, and Sacrifice are most indispensable in the acting and working of this instant, crucial for the salvation of souls.
Sin keeps man in great darkness which blinds him and clouds his thinking, it gives him no truce and therefore he commits unthinkable acts.
With great sadness in My Heart, I reiterate that disobedience to the Divine Precepts wants to imprison Justice so that injustice be a daily practice.
Pray, My children, pray; an asteroid is divided by man,
but a large portion falls into the sea, being the cause of terror and fear for Humanity, while some other fragments penetrate the earth.
HUMANKIND IS IMMERSED IN CHAOS WITHOUT SEEING IT IN THE LIGHT OF TRUTH.
The iniquity of the evil ones is confusing My children who cannot get out of the tentacles filled with lies and errors. My Son had already announced it: They will walk on evil seeing it as good.
Beloved children of My Immaculate Heart,
The devil is gravitating next to each of you so you have setbacks and dismiss this reality. This way you are easy prey to evil and thus you act in favor of evil by your wrongdoing, killing those who are innocent and defenseless, seeing a suspect in every brother and, like savages, fighting one another.
The Warning is a great truth revealed to you so that you get prepared… All feel prepared, but it is not true as long as you do not stop muddying the soul and the spiritual senses with daily sin. THIS INSTANT IS FOR YOU TO ASCEND IN THE SPIRIT, FOR YOU TO DELVE INTO THE HOLY SCRIPTURE AND COMPLY WITH THE DIVINE WILL IN THE COMMANDMENTS, THE SACRAMENTS, AND OTHER...
BUT ABOVE ALL IN THE LAW OF LOVE.
Pray, My children; the sin of this generation is the scourge of the brothers, it bleeds Humankind with so much blasphemy, lust, impiety, and other sins; this generation is stained with human
blood. This blood attracts to Earth the purification, thus the diseases that they will suffer have not been previously experienced and only with medications that I have given them and that I will give to them in My Calls will they be able to be healthy.
CHILDREN OF MY IMMACULATE HEART, YOU WILL SEE GREAT SIGNS IN THE SKY, GREAT SIGNS THAT YOU HAVE NEVER SEEN BEFORE, AND THESE WILL HAPPEN ONE AFTER THE OTHER.
You will discover that Earth not only inverts its poles, but also plunges itself against the same man, and the animals and plants have mutated due to the climate change.
As Humankind, you do not stay in tune; and, as God's children, some walk struggling to be faithful while others walk in total debauchery and disobedience. Not now, this has been gestating for some time by forgetting about God which the same Church of My Son will take to itself. That which is spiritual has been postponed for money, for politics and social relations… the Church will suffer the consequences with greatest pain.
Pray, My children; Italy will suffer; it will be invaded from one instant to another, and Rome will be flogged in the midst of labor pains; Russia will enter and take what belongs to My Son: The Basilica. (*)
My Son's People will have to gather with My faithful favorite children in hidden places, but from those hidden places, the light of Faith will rise up to the Paternal Throne. Beloved children, the Church will be desolate and will know that the alliances with other religions have not been true; instead, they have served to lead My children to confusion; and as a result, My children have become more tepid than they were before and the devil has taken them and drank their blood to abate them… MY CHILDREN, THE DEVIL IS ON THE PROWL; HE IS NEAR.
The Warning is not far from man; in instants you will explain your disobedience and the harm you have caused, the good you have not done and the disobedience with which you have hurt My Son's Most Sacred Heart.
CHILDREN, EACH ONE HAS GROWN SPIRITUALLY WITHIN HIS OWN FREE WILL: SOME HAVE
CLOSED DOORS, OTHERS HAVE HALF-LIVED, OTHERS DO NOT WISH TO LOOK AT MY SON, AND OTHERS GIVE THEMSELVES WHOLLY. I MUST CONFIRM TO YOU THAT THOSE WHO HALF-LIVE WILL HAVE TO CONVERT; OTHERWISE, THE PAIN THEY WILL SUFFER WILL BE GREAT.
Pray, children, pray; the war that has already started will
intensify its activity when political decisions in the United States draw near. This Nation will be threatened by a meteorite that will approach; politics will become static.
This Nation will suffer ad nauseum. The volcano Mount Saint Helens will erupt. The Yellowstone volcano is larger than scientists think.
My Son's People, Earth will continue to agitate with force; the large volcanoes will erupt and those that were dormant will awaken. Man with his wrongdoing emanates evil towards the Universe and the Universe returns it to Earth with even greater force, thus awakening Creation which looks at man as the great unknown.
Children of My Immaculate Heart, with sorrow in My Maternal Heart I speak to you at this instant that will not pass until Humankind purifies itself and cleanses itself of all sins.
My Son warned you: When Mankind ignore the Law of God, and man lives together with man, and woman with woman, when governments accept this behavior and a part of My Son's Church dissimulates it—remember—this is a great sign of the nearness of what has been announced. Do not be lost; the purification will happen. Nature will alert man with sudden changes and great events never experienced before. Then the great impostor will come without Humanity understanding, without Humanity recognizing him, due to man's separation from Heaven. Freemasonry, the Illuminati, communism, those who are economically powerful, will appoint king the spawn of evil.
HELP WILL ARRIVE FROM THE PATERNAL HOUSE AND
IN YOUR MIDST HE WILL BE THE MIRROR OF MY SON'S LOVE; HE WILL KEEP YOU IN FAITH, HOPE,
AND CHARITY UNTIL MY SON ARRIVES IN HIS SECOND COMING TO EARTH.
My Son and I do not abandon you. Once the Tribulation is over, and with new eyes, new ears and a renewed will, man will cry out ABBA FATHER!
Beloved, wait; My Son in His Second Coming will shake the entire Creation and will arrive for His faithful; therefore, persevere and do not give up.
BELOVED PEOPLE OF MY SON, IN VIEW OF THE UNEXPECTED WAR,
MY MATERNAL LOVE SPILLS ON EACH AND EVERY HUMAN CREATURE THAT WANTS TO BELONG ALL TO MY SON.
I WILL SEND MY CELESTIAL LEGIONS TO YOU; I WILL GATHER YOU SO YOU WILL NOT SUFFER.
I bless you, I love you.
Mother Mary.
HAIL MARY MOST PURE, CONCEIVED WITHOUT SIN.
HAIL MARY MOST PURE, CONCEIVED WITHOUT SIN.
HAIL MARY MOST PURE, CONCEIVED WITHOUT SIN.
(*)Prophecy. Saint Maximilian Kolbe (1894 - 1941)
"One day the flag of the Immaculate Virgin Mary will flutter over the Kremlin (center of communist power), but first the red flag will flutter over the Vatican." In other words, Russia will convert but not before communism (its errors and atheism) reach to the very Vatican, the seat of the Pope.