Sunday, June 5, 2016
Message Given by Our Lord Jesus Christ
To His Beloved Daughter Luz De María.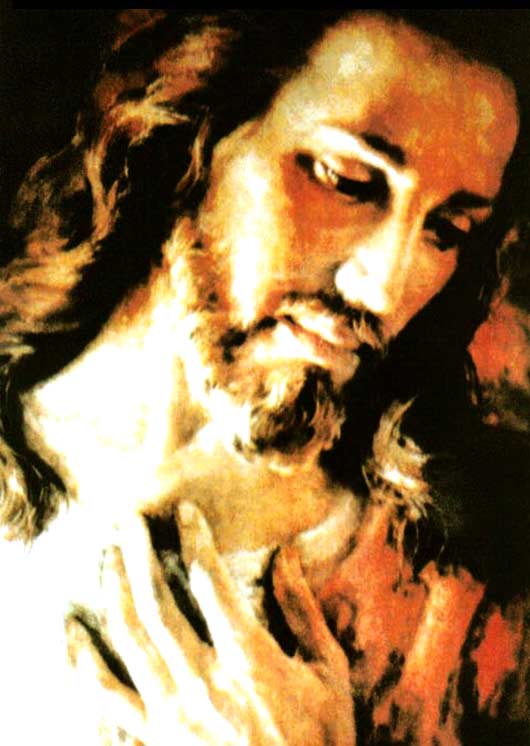 My beloved People,
I CONVENE YOU TO JOIN IN PRAYER; IT IS NECESSARY FOR THIS SINFUL HUMANITY.
I have already revealed to you the instant in which you live… you continue without heeding My Calls, you continue without looking at reality, and, since you do not know Me, it is more difficult for you to recognize Me.
I have been infinitely Merciful, I am infinitely Merciful, and I will eternally be Merciful…
Man abuses My Love and refuses to return to My Lap when false and mistaken ideas about what is forgiveness wander in his mind… I WOULD BE AN UNJUST JUDGE IF I DID NOT JUDGE THE SINNER WHO DOES NOT REPENT; I WOULD BE AN IMPERFECT GOD. It is ignorance on the part of man to pretend that I not judge sin.
Modernism believes it has modified all that I bequeathed to man by assuring him that I will return and forgive him. YES, I WILL RETURN, BUT TO SEPARATE THE GOOD FROM THE BAD AND THE LUKEWARM. I WILL SEPARATE THE ONE WHO REPENTED AND CONVERTED FROM THE ONE WHO DID NOT REPENT.
Man's denial increases the power of evil over the same man; the will to fight against sin is not the same in the one who struggles and makes an effort not to be lost as it is in the child of Mine who does not oppose any resistance and, seduced by evil, voluntarily sinks in vices and mistaken beliefs regarding the nonexistence of the place of grief for those who have been obstinate in evil.
Man has five senses and, with them, he has the Gift of perceiving the outside; at the same time, man has interior spiritual senses that help him perceive the Truth of what his reason approves, and the folly and lie that his reason calls him to disapprove.
You are not alone; Humankind has one thing in common which is YOU ARE MY CHILDREN… This is why reason calls you; it makes you restless when you refuse to say yes to the understanding of something that is True and you resist in order to continue in the world's insanity.
CHILDREN, MY PEOPLE, EVIL IS NOT GREATER NOR DOES IT HAVE MORE POWER OR GREATNESS
THAN ME. You have free will and, therefore, without reasoning, without heeding the calls of reason and understanding, you throw yourselves headlong towards the void, giving yourselves up to the devil at these instants so crucial for Humankind.
If you remain inactive and refuse to grow by delving into My Word, you will allow what is contrary to My Will and aberrant, and you will approve what your brothers, by means of pacts with evil, will present to you to hasten the arrival of the domain of the antichrist.
My People, it is not that you do not see evil. As men, you feel where is evil; however, since evil is allowed by some who represent Me, you omit that feeling and rampantly indulge in lust, dishonesty, immorality, and all other sins with which the devil tempts you, and you fall, accepting everything that is presented to you along your way and you refrain from nothing.
I ask you to understand that you must delve into knowledge. This is a duty of those who are Mine so that, by means of knowledge, you resist what is improper and outside the limits of Divine Law.
BELOVED, MY TRUTH IS IMMUTABLE AND HE WHO OBEYS IT AND MAKES IT LIFE WILL FIND THE
LIGHT OF THE TRUTH, LIGHT THAT IS UNIVERSAL BECAUSE OUR TRINITY IS THE ESSENCE WHERE ALL TRUTHS RESIDE.
Children, We have called you so much to delve in Our Trinity, in Our Truth, in the explanation of Our Word, to accept the Word of My Mother to whom We have given a most special place at this instant with each one of you so that She will guide you.
WE HAVE CALLED YOU SO MUCH AND JUST THE SAME YOU HAVE REFUSED TO ACCEPT THAT, AS SECOND PERSON OF THE TRINITY, I OFFER YOU SALVATION.
AND YOU WALK IN SEARCH OF EVIL TO WHOM YOU EASILY DELIVER YOURSELVES DUE TO EVIL'S AUDACITY IN TEMPTING YOU SO THAT YOU DO NOT REASON.
Technology, which has been used to keep man voluntarily imprisoned, has stolen from you the power of decision, and you, My children, do not think, do not reason, and therefore do not distinguish between good and evil, because reason has been removed from thought.
YOU ARE HUMAN BEINGS INCOMPATIBLE WITH REASON AND
I COME TO BREAK THAT STRUCTURE TO ELIMINATE IT AND TO CALL YOU,
THROUGH MY APOSTLES OF THE END TIMES, TO RETAKE THE PATH OF GOOD, OF REPENTANCE, OF WISHING TO SAVE THE SOUL.
You know that Earth will change its structure and its geography, and what is man's response? You know through the Calls in which We explain the extreme harshness with which the climate will treat you, and what is the response? THE ETERNAL LETHARGY, THE LIVING THE INSTANT WITHOUT THINKING ABOUT THE FUTURE, THE IGNORING THE SOUL AND THE MISERIES AND SORROWS TO WHICH THE SOUL WILL BE SUBJECTED BECAUSE OF DISOBEDIENCE.
Beloved People, Earth convulses and man will be severely shaken, so much so that some will disappear inside the earth.
This I have made known to you, but in some cases, knowledge is not illuminated by My Holy Spirit, because man thinks that, by having human knowledge, he has control over everything; man thinks he has reason through knowledge, and this is a great mistake. Knowledge must be illuminated by My Spirit so it be correct—and even then it will not always be the absolute truth, because, over the years, each human creature has formulated his own concepts—BUT HE WHO PLACES ALL HIS WORKS AND ACTS IN THE LIGHT OF MY HOLY SPIRIT WILL BE CLOSER TO THE TRUTH.
Beloved children, because of the Sun Earth is overheating. This raises the interior temperature of Earth and, since the Creation does not recognize you, volcanoes (3) that have caused great destruction in the past are erupting; volcanoes that lay dormant awaken; the heated waters quickly evaporate and very quickly fall on the Earth's surface causing irremediable disasters across the Earth.
Man finds himself before the purification, the greatest purification of Humankind! AND THIS DOES
NOT CAUSE YOU FEAR AND YOU DO NOT REBEL AGAINST WHAT LEADS YOU TO THIS PURIFICATION… BUT YOU DO REBEL AGAINST THE EXPLANATION OF MY LOVING WORD WHICH ALERTS YOU AND WARNS YOU...
You refuse to think about the drastic change that all of Humankind will undergo due to the Third World War…
You belie My Word and welcome the modernisms that go against The Commandments, the Sacraments, the Works of Mercy, and other…
You offend Me ad nauseum and resign Me because I call you to amend yourselves…
You are hypocrites with yourselves when, without repentance, without conscience, without acting the way I order when you kill the brother and offend him mercilessly and judge him with great levity, AND THEN YOU APPROACH TO RECEIVE ME IN THE EUCHARIST… WOE TO THOSE WHO FORGE THEIR OWN CONDEMNATION!
My Ministers must be devoted to the salvation of souls before the voices of those who serve Me be totally drowned by persecution, by the hand of the same man, and by order of the antichrist.
Pray, My children, pray; the new plague hastens making Humankind shudder and man dies in instants.
Pray, My children, pray; South America trembles.
Chile will be invaded by the sea due to the shaking of the earth, and Peru, Bolivia and Argentina will share that shaking of the earth.
Pray, My children, pray for Spain; terrorism will take it by surprise.
Pray, My children, pray; communism will show its true face.
Pray, My children, pray; terrorism together with the false religion penetrate France and renew and enhance the pain of these People.
LOOK ON HIGH. THE SIGNS FROM ABOVE ARE ON HAND.
My People,
Serve with My Truth…
Be Unity…
Prepare to face the harshness of the purification that advances with force…
Prepare by complying with Our Divine Will…
Obey, pray and practice what you pray, be constant practice of The Commandments…
Adore Me, visit Me, be charity and hope for your brothers…
Do not be whitewashed tombs, do not be pharisees or birds of prey…
Beloved, sin is not only one act, it is a habit and it is negative energy that leads you to like evil, and that energy spreads to those who are weak in the Faith.
BELIEVE WHAT I ANNOUNCE. YOU MUST CONVERT. I WILL SEND THE WARNING (6) TO STIR UP CONSCIENCES AND FOR MY PEOPLE TO UNITE IN ORDER TO HELP ONE ANOTHER.
I am within you; do not look for Me outside, outside there is confusion. I am above the senses, above memory, above what is finite, above man...
I AM WHO I AM (Ref Exodus 3:14) AND I WILL SEND TO MY PEOPLE MY ANGEL THAT WILL ILLUMINATE THE PATH AT THE MOST DIFFICULT INSTANTS.
MY ANGEL WILL EMBRACE YOU SO THE DARKNESS WILL NOT TORTURE YOU.
HE ALREADY LOOKS AT YOU WITH LOVE.
MY BLESSING IS WITH ALL THOSE WHO MAKE AN EFFORT TO REMAIN ON MY PATH, WITH ALL THOSE WHO REPENT AND WITH ALL THOSE WHO LOOK FOR ME.
"I am the way, and the truth, and the life." (John 14:6)
Your Jesus
HAIL MARY MOST PURE, CONCEIVED WITHOUT SIN.
HAIL MARY MOST PURE, CONCEIVED WITHOUT SIN.
HAIL MARY MOST PURE, CONCEIVED WITHOUT SIN.
Note: The Bible used is the New Revised Standard Version Catholic Edition