Thursday, June 9, 2016
Message from Our Lord Jesus Christ
To His Beloved Daughter Luz De Maria.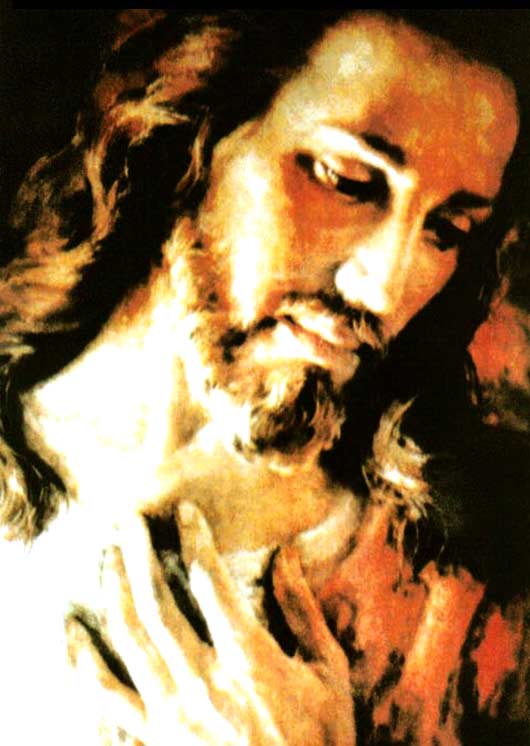 My Beloved People:
MY BLESSING BE WITH EACH ONE OF YOU.
YOU ARE MY PEOPLE, WHOM I LOVE AND THROUGH WHOM I CONTINUE GIVING MYSELF TO
ALL.
All Humanity proceeds from Our Divine Will, without distinctions. Before Me there are no distinctions, all are equal. It is human creatures who distance themselves from My Love, when they have allowed their physical and spiritual senses to become contaminated with the emanation of the force of evil, which not only leads them to despise the good, but also to despise being My children.
My Beloved People, do not seek culprits for the evil that you commit, as whoever falls into sin commits sin, acts in sin and should not look for the author of sin outside himself.
Whoever sins, is the author of his own sin and his wrongdoing. When a man sins, that sin stems from free will, that aligns itself with the will to carry out the act or work.
My Beloved People, I keep you alert in order that you might not fall into sin, but some insist on putting aside My Instructions and are invaded by evil inclinations. One of these the misuse of free will.
I have called you to remain vigilant against evil..., I have mentioned to you that evil is spreading and contaminates the will of man...
WHOEVER IS NOT STRENGTHENED IN ME IS EASY PREY FOR EVIL.
No man will attain Salvation without Me ...
How resistant you are to living in peace!
HOW SOME HUMAN CREATURES TRY TO LIVE IN A CONSTANT CONVULSION, IN WHICH PEACE DEPENDS ON YOUR INFLATED HUMAN DESIRE!
Children, look within yourselves, examine yourselves. Human pride is a great personal evil, it is the plague that contaminates the senses, until these come to think that they will dominate every brother around them.
I CALL YOU TO UNITY; PRIDE LEADS YOU TO DISUNITY.
My Love is creative; whoever does not live in My Love is not a creature who creates acts of goodness, does not exhale My Love and therefore continually find obstacles on its way.
MY PEOPLE, YOU ARE RAPIDLY DISTANCING YOURSELVES FROM ME, YOU DO NOT SEE THE BEAUTY OF THE FATHER'S WORK.
Those who do not maintain peace within themselves do not ascend. On the contrary, they sink into the mud, at every moment they descend further and further until they come to be less than an animal.
CHILDREN, SOME OF YOU BELIEVE THAT YOU ARE MAINTAINING YOURSELVES IN A GREAT
SPIRITUAL EVOLUTION AND THIS IS NOT SO, SINCE IF THERE IS NO LOVE IN THE CREATURE, IT WILL REMAIN FAR FROM ACHIEVING A CHANGE IN ITS WORKING AND ACTING.
My beloved, every action has a reaction and every reaction gives fruit for good or for evil. You have the Gift of Speech; if you use this Gift for good, you will grow in Me. If you use this Gift of Speech against your brethren, the words uttered against your brothers not only reach your brother, but come back to you once more.
EACH PERSON IS SHAPING THEIR PATH, SHAPING IT THROUGH THEIR WORKS AND ACTIONS,
ABOVE ALL IN LOVING NEIGHBOUR, GIVING HIM/HER SUPPORT, BEING CYRENE IN EVERY
ASPECT OF LIFE, LOVING THE BROTHER'S VIRTUES AND HELPING WITH THE OTHER'S DEFECTS.
Each of you has a personal set of scales, where you place your acts, the works of each moment. When the personal scales weigh more on one side, the creature is flooded with anger, envy, contradiction, arrogance and the denial of forgiveness, until that same creature becomes aware that it is working and acting wrongly and, therefore, is not going towards Me but towards itself.
BELOVED CHILDREN, DO YOU ASPIRE TO FINDING THE GOOD? LOVE AND FORGIVE.
My People, science has become so out of control that sometimes it does not manage to halt its own discoveries or investigations ... generating ills for the health of Humanity and for the climate. Faced with this, Humanity in general is most affected when they alter the air and water.
I have called you to remain vigilant against those who have taken power over Humanity. These decree a fierce assault against man, via the annihilation of everything that has to do with My Love and My Presence in you. They have decided upon persecution for My People, giving their approval for the greatest manifestation of world war. They have made pacts with some rulers of great nations in order that in small nations satellites of political, social, moral, educational and religious destabilization should be formed, all over the Earth, for the purpose of accelerating chaos at the global level.
Rainfalls throughout the Earth will be massive. These are provoked by the order of this elite, the handmaiden of Freemasonry and the Illuminati, who in turn are servants of the evil one awaiting the antichrist.
My People, a plague of insects will come; these will seek food and plantations, and My People will suffer hunger.
I WILL SEND MY ANGEL OF PEACE. You should pray for him, pray with the praxis of love towards your brother so that there might be peace in homes, peace in persons of good will.
My Angel of Peace will gather you in one Flock, he will protect you with My Word. My People are not alone...
My Angel ought to be waited for appropriately, by preparing yourselves spiritually, being those who accomplish My Will, and obeying the Commandments, but above all, living in My Peace, My Love, My Charity, in My Hope, fighting the evil that wants to disperse you. My Angel reunites and is already suffering because of Humanity's ignorance, especially because of the acts of those who will stay by his side on Earth.
MY PEOPLE, MY WILL DOES NOT CEASE, IT CONTINUES WITH THE GREAT PLAN OF SALVATION ... FOR THIS I HAVE CALLED YOU: THOSE WHO OBEY AND FULFILL IT WILL BRING MY WORK TO A CULMINATION; THOSE WHO REFUSE WILL DENY ME.
Pray, My children, pray for Ecuador, it will again suffer and its volcanoes will awaken.
My children, pray for Argentina, the land of peace will be a land of pain coupled with the scourge of Nature.
Pray, My children, pray, Australia will be scourged.
Pray, the sun will cause sorrow for Humanity.
Pray My children, Europe will weep tears of blood, the scourge of terrorism will not stop.
My people, I am to be found within each person. Do not rebel when I correct you, do not put Me aside when I lead you towards My Truth.
Do not forget that what is created by man himself is completely changing ... Come to Me who "AM WHO I AM" (Ex 3, 14).
THE LEARNED IS FOOLISH; IT IS ON THE SIMPLE AND HUMBLE OF HEART THAT I CAST MY GAZE AND MY LOVE.
I LOVE TRUTH IN THE WAY OF LIFE. THE WORD MAY BE TEMPORARY AND SUPERFICIAL.
YOU, MY PEOPLE, ARE MY CHILDREN, YOU ARE NOT THEREFORE MY OWNERS.
DO NOT FORGET THAT I LOOK WITH SPECIAL LOVE AT TIRELESS SEEKERS OF MY LOVE WHO BRING IT TO LIFE. MY CHILDREN ARE NOT AT EASE WITH THEMSELVES BUT ARE EAGER TO REACH THEIR BROTHERS IN ORDER TO SHARE SALVATION WITH THEM.
My People, I love you, I bless you.
Your Jesus
HAIL MARY MOST PURE, CONCEIVED WITHOUT SIN.
HAIL MARY MOST PURE, CONCEIVED WITHOUT SIN.
HAIL MARY MOST PURE, CONCEIVED WITHOUT SIN.