Tuesday, June 21, 2016
Message Given by the Most Holy Virgin Mary
To Her Beloved Daughter Luz De María.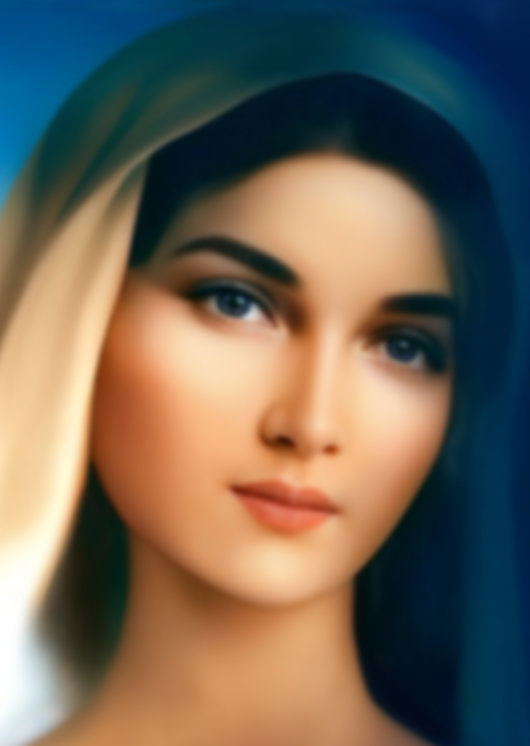 Beloved children of My Immaculate Heart,
Children, there is no need to stop thinking about yourselves, My children. Each one needs a stop on the road to look at yourselves and analyze the spiritual state in which you are.
As Mother of Humankind, I must tell you:
ENOUGH! STOP NOW! I DO NOT WANT YOU TO BE LOST…
YOU ARE IN A MOST DANGEROUS INSTANT IN WHICH YOU CAN LOSE YOUR SOUL.
Humanity's convulsion invades man's mind, thoughts, and heart.
This convulsion has been designed to occur at this precise instant; it was programmed ahead of time as part of those who gestate the establishment of the antichrist, the aberrant deceiver, the defiler of all that belongs to My Son's House.
Beloved children of My Immaculate Heart, the human ego is a blessing for each one of you who know and recognize that you are human creatures, each one different from the brother. Man has misused the human ego, different as a free creature, free to make decisions contrary to Divine Will at this instant.
The instant will come when My Son's children will take the wrong path and fall in the abyss, by living in sin, increasing the power of the devil who will usurp the minds of the innocent—youngsters and adults—to fight for his objective: "THAT AT THIS INSTANT MEN WILL NOT LOVE ONE ANOTHER AS BROTHERS OF THE SAME GOD" BUT INSIST ON CORRUPTING EACH OTHER.
The human ego will not produce goodness in man. Man knows that he has his human ego, and he has led the human ego to be invaded by his wrongdoings...
My children, the human ego feeds off of negative feelings, negative wishes, hubris, the imposition on other brothers, and vengeance...
The human ego feeds off of the thoughts, feelings, wishes, and acts of each one of you. The more selfish the creature is, the more he imposes his ego without caring for the brother who has feelings, sensitivity, thoughts, a mind, and a heart.
THE HUMAN EGO CAN MAKE A GREAT MAN… OR CAN TURN THE MAN INTO ITS GREAT SLAVE.
My children, this is the instant when you must know how the Gifts you received influence you to lead you to My Son and for the Gifts to be multiplied by the Holy Spirit. This is why Heaven takes you by the hand, so that you not be mistaken and each one recognize himself for what he is in order for the devil not to deceive you.
MAN WILL NOT GROW UNTIL HE HONESTLY RECOGNIZES THE WAY HE BEHAVES...
FOR AS LONG AS MAN DENIES HIS WRONG ATTITUDES OR TENDENCIES,
HE WILL NOT BE ABLE TO COME OUT OF THE DARK, AND HE RUNS THE RISK OF BELONGING MORE TO THE
HUMAN EGO THAN TO THE FRATERNITY TO WHICH MY SON CALLS HIM.
EACH WORD OF THIS CALL IS FOR YOU, MY CHILD, FOR YOU THAT READS; IT IS FOR YOU TO PONDER ON IT AND NOT LET IT GO BY AS IF IT WERE FOR ANOTHER HUMAN CREATURE. Each man has his human ego, and he has the responsibility of recognizing what his human ego is like, so that he will not walk against Divine Will.
At this instant, it is necessary for man to put his ego in the proper place, SO THAT THE SPACE, THE CENTER, BE GIVEN TO MY SON SO THAT HE "MAY BE ALL IN ALL." (1 Corinthians 15:28) Only this way will My Son be able to help His children for them to act and work in His Divine Way.
AS MOTHER, I DO NOT WANT MEN WHO DO NOT REASON…
NEITHER DO I WANT MEN WHOSE REASON HARDENS THE HEART.
Fix your improper acts and works; this is accomplished by great people, the great children of God, knowing that the time to reap the harvest will come and that they will be either on the side of the wheat or on the side of the weeds. This instant merits the practice of goodness, and this practice begins within man himself.
DO NOT EXPECT YOUR BROTHER TO CHANGE; ON THE CONTRARY, CHANGE MUST BE PERSONAL, AND THIS WILL MAKE IT EASIER FOR THE BROTHER TO DECIDE TO BE A BETTER SON OF GOD AND A BETTER HUMAN BEING.
The true Christian knows that it is not the duty of others to adjust their acts and works to his demands which could be wrong to begin with. Living in Divine Will starts with loving God and brother, not in a battle field trying to stand out.
Children, do not misuse intelligence through personal gain. IN AN INSTANT YOU WILL FIND YOURSELVES FACING THE GREAT WARNING AND, AT THAT INSTANT, ALL OF YOUR IMPROPER ACTS AND WORKS WILL BE THERE BEFORE EACH OF YOU, IN THE SILENCE OF THAT INSTANT WHEN EACH ONE WILL BE BEFORE HIMSELF. The silence in which you personally examine your conscience, the silence of the personal verdict, is the greatest silence you will have ever experienced. The solitude in which the least act will be felt in the personal scale, for better or for worse, will seem interminable. The WARNING is Divine Mercy if, after the Warning, the human creature repents and does not listen to the voices of those who, full of wickedness, refuse to accept what they have seen in themselves and rebel against God.
Children of My Immaculate Heart, you refuse so much matters of the spirit! Some do not recognize the existence of evil; others do not know they have a spirit that lives within the human body.
SATAN OPERATES CUNNINGLY; HE STRIKES ONE BY ONE; HE SENDS HIS LEGIONS TO ATTACK A DETERMINED HUMAN CREATURE. He is angry with you, My children, because you strive to be better each instant given the proximity of the fulfillment of the Divine Word.
You are not of those who believe that what you are living in this instant has always been lived and that later everything will continue as before. THE DEVIL INDEED RECOGNIZES THAT HE HAS LITTLE TIME LEFT TO TAKE THE SOULS TO HELL; in this he has an advantage over those who do not believe that the instant has come.
The devil knows that he must act with force depraving man, separating him from My Son, and leading him to love evil and to wish for evil.
Satan knows that at this instant he has a great problem. Yes, children, you are satan's great problem, because you continue loving My Son, you continue to receive His Body and Blood, you continue to love fraternity, and you continue to overcome the flaws that separate you from Eternal Life. MY CHILDREN, YOU ARE THE DEVIL'S GREAT PROBLEM. THIS IS WHY YOU MUST BE ASTUTE TO RECOGNIZE HIM AND NOT TO FALL INTO TEMPTATION.
My children, the causes of disasters on Earth will increase. Man will act more viciously to cause harm; the human mind will be invaded with a fixation: Kill the brother, lacerate small children, and cause terror and uncertainty.
Do not be afraid, My children, pray and practice the Commandments of God's Law, be merciful, adore My Son in truth and spirit. We will not deliver you into enemy hands; Divine protection is called by all of you with full consciousness.
Pray, My children, pray. Pakistan… this people will cry over itself.
Pray, My children, pray for China; from one instant to the other, the conflict of this Nation will spread all over Earth.
Pray, My children, pray for France; tears will be rivers of sorrow.
Pray, My children; the land continues to crack, and man will not find solutions.
Pray, My children, and look at the Sky; wonderment will be great.
Nature arrives on Earth with greater power, unleashing its fury against sin.
The Sun will have man in tension; it is no longer as much man's ally.
Ecuador suffers, this people suffers, laments, and cries.
Indonesia watches in awe the strength of the volcanoes as the land shakes.
Argentina, land of peace, leaves lament over its soil.
MY SON IS DENIED, SATAN AND HIS TENTACLES ARE IDOLIZED…
MY FAVORITE CHILDREN [THE PRIESTS] MUST BE STRONG IN THEIR PREACHING. FIGHT FOR THE SOULS!
THOSE WHO APPROACH SATAN HAND OVER TO HIM CONTROL OF THEIR SENSES.
Beloved children of My Immaculate Heart,
THIS INSTANT IS TRULY AN INSTANT. MASONIC FORCES DO NOT WASTE TIME; THE ILLUMINATI FORCES HAVE ISSUED ORDERS TO THEIR GREAT ELITE. THEIR OBJECTIVE IS THE EXTERMINATION OF A LARGE PART OF THE WORLD POPULATION. Large world organizations are under this control, and the goal is human degeneration so that people will deliver themselves to evil.
My Son's Church will be a source of great criticism. You, My children, do not lose Faith.
A president will lose life at the hands of opponents.
Nicaragua is a land of provision of communism; he who does not speak has a loot…
Children, do not take time to get back on track; be children who are attentive to the Calls, to this explanation of the Divine Word. REMAIN ATTENTIVE TO THIS BLESSING THAT YOU RECEIVE FROM THE HAND OF GOD THE FATHER.
Children, pray and put it to practice; unfruitful prayer is dead.
Awaken your brothers that sleep; do not be afraid. Wait patiently. The Father's House does not abandon His People.
I BLESS YOU, CHILDREN; YOU REMAIN IN THE BOAT OF MY HEART.
I love you.
Mother Mary.
HAIL MARY MOST PURE, CONCEIVED WITHOUT SIN.
HAIL MARY MOST PURE, CONCEIVED WITHOUT SIN.
HAIL MARY MOST PURE, CONCEIVED WITHOUT SIN.
Note: The Bible used is the New Revised Standard Version Catholic Edition