Thursday, June 30, 2016
Message Given by Our Lord Jesus Christ
To His Beloved Daughter Luz De María.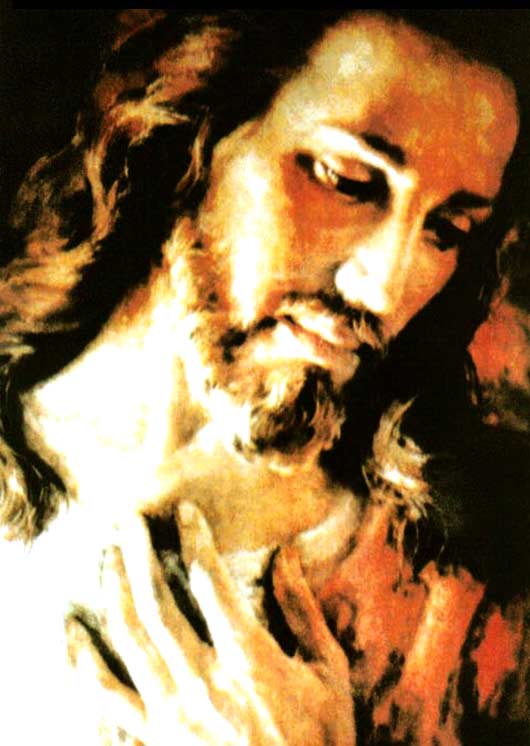 My beloved People,
IN OUR DIVINE LOVE, INSTANTS ARE A TREASURE THAT OUR TRINITY OFFERS EACH HUMAN
CREATURE…
EACH INSTANT IS FRUIT OF OUR MERCY FOR YOU.
So much incredulity on the part of men towards Our Calls and towards Divine Law magnetizes evil on Earth!
Each one of you is transmitter and receptor of everything that lives in your interior, whether it be through words, gestures, emotions or thoughts, this causes a reaction in the brother towards you. You must work to be very transparent at the instant when you are transmitter or receptor.
My People, the upheaval in which you live degenerates you physically and spiritually. You must understand that daily living does not separate you from Me; what separates you from Me is to resign My Help, obedience, and My Love.
DENYING MY TRUTH IS A SIGN OF THE IGNORANCE INTO WHICH EVIL HAS MADE MY PEOPLE FALL, spiritual ignorance that has been inherited by My Church from before, and at this time, My Church has become subject to a new, strengthened and reformed ignorance by those who lead My children the wrong way.
MY PEOPLE HAVE NOT BEEN DIRECTED TO LIVE A TRUE SPIRITUAL LIFE OR TO WISH FOR A SPIRITUAL ASCENT.
My People have come to enjoy a comfortable ignorance with which they intend to excuse sin, hubris, and control over the human ego of each one of you.
I have called you so much to be certain that I live inside those who are Mine, but limitations prevent you from delving into this My Truth; you do not look for Me or crave My Affairs…
I carry so many crosses and there are so few children who lighten My load!...
MY CHILDREN, I ANNOUNCE THROUGH MY PROPHET… I DENOUNCE THROUGH MY PROPHET…
In Humankind I see a field that is arid, denied, disturbed by the daily instant, wild, without objectives or wishes for Salvation.
The Hierarchy of My Church must remain firm and abide by Divine Law so that more souls are not lost, encouraging them to prepare in the spirit and grow towards Me.
CHILDREN, AT THIS INSTANT YOU CANNOT SEE THE SNARES THAT EVIL PLACES ALONG YOUR WAY, because they are varied and, in most cases, the works and acts do not seem to be wrong or serious sins…
MY PEOPLE, AT THIS INSTANT INNER PEACE IS ESSENTIAL; IF EACH ONE WERE TO REALIZE THE VALUE OF PEACE, YOU WOULD TAKE MEASURES REGARDING THE HUMAN SELF SO AS NOT TO GRIEVE THE SPIRIT.
This is the instant when you do not look at yourselves; you have lost the measure of what you really are, and you react improperly to unexpected situations. You judge without having to do so, you look at the brother's ego—the one that is obvious, the one you think you recognize.
Children, peace is the dressing of all you do; peace seasons the actions and those around you—and farther away than you can imagine—are impregnated with it. The echo of peace in Our Will has infinite repercussions.
My People, the economy together with man's desire for power cause man to worry and to enter into constant contentions. At the end of the instants, man will want to possess, and in this eagerness man will become more fearsome than the beasts. For the sake of economic control, Earth has been rapidly destroyed by My children, turning it into a place that will be almost incompatible with human life. AT THE END OF THIS INSTANT, MY PEOPLE WILL FOLLOW THE CURRENT OF THE WORLD, ACTING INCORRECTLY UNDER THE PLOT OF THE ENEMY OF SOULS.
Evil is confusion, separation, disorder, imperfection, lovelessness, pride; and he exerts with force this reality against man, for example when people say that evil does not exist. And this is how man is not afraid to offend Our Divinity, believing that the devil does not exist does not disturb man, as he ignores that evil's seduction arrives unnoticed, thus creating a man that will pact with the devil in order to possess what the devil offers him.
CHILDREN, HE WHO DENIES THE EXISTENCE OF EVIL IN THE WORLD IS A SLAVE OF THE SAME EVIL. The instant has come when man feels close to satan. This is a regrettable action of those who are Mine which brings suffering upon them until they experience firsthand that satan only has slaves that he takes and uses as he pleases.
Man acts under the control of evil to whom he has given his human will, and My Presence is annulled and unwanted. I AM THE ABSENT IN THE LIVES OF MY CHILDREN; THEREFORE MAN RUNS A GREATER RISK OF SELF-DECEPTION AND OF CONTINUING TO ACT TOWARDS THE ABYSS.
Man likes heights; the higher he finds himself in the human ego, the greater the thought of wanting to be remembered by his brothers. But man forgets that he who believes to be the first will be the last of all. (Ref Mark 9:35). My People, only those who are humble are aware of this, and this awareness is what I want My People to have, My People that I discipline before I examine them.
INCREDULITY STANDS OUT AND EATS AWAY AT MY PEOPLE AT THIS INSTANT, AS A PRELUDE TO THE PROXIMITY OF ALL I HAVE ANNOUNCED TO YOU, ESPECIALLY THE WARNING.
My People, those who follow Me are continuously harassed, mocked and derided. Traps are continually placed before them and they are regarded with contempt and suspicion by those who call themselves brothers. Children, do not forget that those who approach My faithful to lead them to stumble, trying their patience and measuring their Faith, greatly abound.
CHILDREN, YOU FEED YOUR PHYSICAL ORGANISM AND FORGET THE SPIRITUAL ORGANISM… Attract your brothers so they will look for Me and be nourished by My Body and Blood, being aware of My real Presence in the Eucharist.
Man on Earth is spiritually confused because of the currents that agitate the mind and the human heart. ONE IS MY LAW, ONE MY WORD…ETERNALLY PRESENT.
My beloved People, evil's strategy is to cause confusion and then to divide; after the division will come contention in which some will perish. YOU MUST NOT ENTER IN CONTENTION. MY WORD IS ONE. MY PEOPLE MUST MAINTAIN UNITY AND, WITH IT, LIVE IN MY LOVE.
Pray, My children, pray to strengthen interiorly and to ministering to one another. I do not want cold prayers that do not bear fruit and do not move consciences. From My children I wish the piercing prayer that vibrates in the inner moved by My Holy Spirit.
My People,
Pray, pray for Italy; its lament will spring up everywhere; even the land will exhale pain. Great aberrations are committed on this land. It will be strongly shaken; volcanoes will make themselves felt. Terrorism wants to destroy images and relics of My Beloved Cross, AND THEREFORE I ORDER: THEY MUST BE PROTECTED.
Pray, My children, pray for England; the pain will be felt with the light of day and mourning will fill the hearts. Rain will be relentless.
Pray, My children, pray; Argentina slips with evil in its hand. Betrayal arrives.
My children suffer. The river will be sea.
Pray, My children, pray; the United States is in front of the face of pain, the one that does not wait or think. This Nation will suffer the unimaginable force of Nature. Sin cries for purification.
Pray, My children, pray; Japan continues to suffer; Russia will hasten.
Pray; the economy shows the world that it is in the hands of a few.
My People, Earth wails; some of Mine have Heard it. It wails not only for the sin that Humankind deposit on It, but also because of the ignorance with which man acts in complete contempt of The Commandments, Sacraments, and Deeds of Mercy, in an absurd denial of all that reminds him of My Love, My Mother's Love, and all that is Sacred.
Groups that do not believe in Our Trinity will enter to demolish most of the places that Christianity has kept in remembrance of the delivery of the martyrs and where relics of My Delivery on Earth are kept.
THE DEVIL DOES NOT WANT TRACES OF MY DIVINITY TO EXIST ON EARTH. THIS IS WHY HE PLUNGES AGAINST MY PEOPLE WHO ARE INNOCENT AND AWARE OF MY PRESENCE IN EACH OF THEM.
My People, do not continue sleeping as you face the harshness in which this instant will move. Threats between powers will provoke action.
Look on high; an unexpected asteroid will amaze Humankind.
Volcanoes continue to awaken and Central America shakes.
The land cracks and water emerges in search of the purification of Earth.
My People,
Humankind does not live in My Peace; you keep My Peace…
Humankind lives maddened, without morals; you live in Me…
Humankind disowns Me; you love Me and recognize Me…
LOVE MY MOTHER, PRAY THE HOLY ROSARY. I do not abandon you, and My Mother asks of you to entrust yourselves to Her Protection.
Do not be afraid, My beloved; I will raise you out of the rubble and I will call My Apostles not to silence the voice but to be lamps with the best oil and to shine amid the darkness produced by the awakening of a volcano.
MY PEOPLE WILL NOT WANDER THROUGH THE DESERT. I SEND MY ANGEL FOR YOUR SAFEKEEPING.
EDUCATE YOURSELVES BY LOVING ME, ADORING ME, FEEDING OFF OF ME… YOU ARE NOT TRUE IF YOU EDUCATE YOURSELVES WITHOUT MY WORD.
With the Oil of My Love I bless My children, those who give life to this explanation of My Word.
Do not look for Me to satisfy your curiosity; look for Me because you love Me.
I bless you in a special way at the beginning of this instant.
Your Jesus
HAIL MARY MOST PURE, CONCEIVED WITHOUT SIN.
HAIL MARY MOST PURE, CONCEIVED WITHOUT SIN.
HAIL MARY MOST PURE, CONCEIVED WITHOUT SIN.