Sunday, July 3, 2016
Message of St Michael the Archangel
Given to Luz De Maria.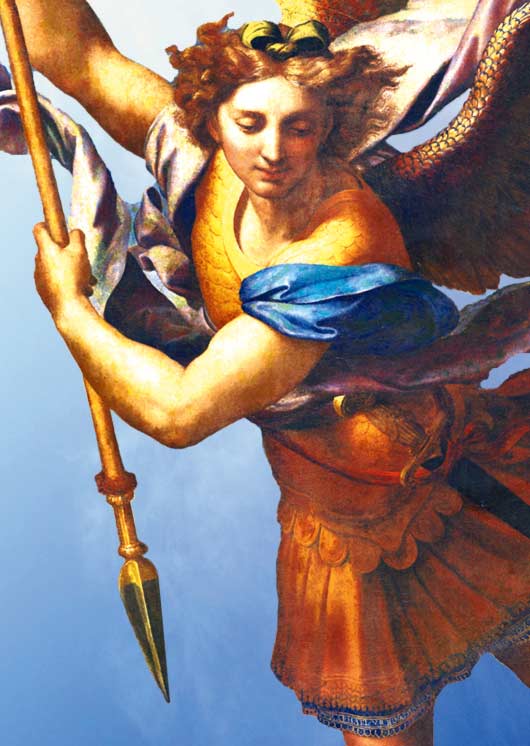 Children of the Highest:
YOU MUST PUT THIS DIVINE SCIENCE OF CHARITY CONSTANTLY INTO PRACTICE, IN ORDER THAT YOU EXERCISE THE GIFT OF DIVINE LOVE IN YOU.
I MAKE YOU AN APPEAL TO CHARITY, as being charitable not only gives reason for giving or giving oneself to others with material aid but at the same time is it that fullness of the human creature that has managed to impregnate the soul and the body with Love. CHARITY, BELOVED, IS IN REALITY A GREAT SCIENCE, VERY IMPORTANT FOR THESE INSTANTS.
Charity leads man to immerse himself in the stability of Truth, and at the same time it impregnates you with generosity: that which leads to giving without expecting to receive.
Children of the Highest, the Gifts of the Holy Spirit elevate the conscience and inculcate in man Spiritual Understanding in Heavenly Knowledge, which communicates to the soul all that it needs, if it is desired and sought in order to draw nearer to the Divine.
Whoever is not love, is an isolated man, dry as the fig tree that bears no fruit, weighed-down, and in most of his decisions he only counts with what he creates for his personal benefit.
Love Charity, led by the Holy Spirit, takes man and leads him consciously to work and act in that form stemming from the Paternal House, where the soul desires what is from Above, being a just, merciful, grateful human being, who in every instant looks for how to do good.
Beloved of the Most High:
God has no beginning or end ...
God has taught each one of His children goodness and justice ...
IN THIS INSTANT MAN, BY HIS OWN FREE WILL, DOES NOT KNOW GOD AND EVEN SO BLAMES HIM
FOR PERSONAL MISFORTUNES.
The Most High has given everything to man but man does not long to approach God. He respects the freedom with which He has endowed man.
The Most High created the Sun for the benefit of Humanity. If a human being does not want to look at the Sun, although he perceives heat and enjoys the light of the Sun, he will say: "this does not come from the Sun, it is another source that radiates both heat and light". So is man with the Most High: he denies him.
Every human being knows that the Almighty created him as a work of His Infinite Love and put all Creation there for him in order that he should not lack anything.
EVIL WAS BORN OUT OF ARROGANCE, PRIDE, ENVY, OF THE HATE THAT AWAKENED IN A BEAUTIFUL ANGEL WITH ALL THE PROPERTIES AND ATRIBUTES THAT THE MOST HIGH ORDAINED FOR HIM. But this angel looked at the Woman with a pure and virginal Womb, where the Son of God would be born. And in this angel there grew a feeling of envy, and envy sparked the feeling of pride that became reality.
This fallen messenger has brought Humanity to discord, to spiritual and moral baseness, he has disrupted all the good in order that man transforms it into evil.
YOU ARE NOT CONSCIOUS OF THE SCOPE OF EVIL ACTION ....
Beloved, you are not conscious of the scope of evil action... EVERY EVIL ACT, EVERY ACT
CONTAMINED BY ANGER, PRIDE, ENVY, IMMORALITY, PERVERSION AND AGGRESSION IS NOT STATIC, IT DOES NOT REMAIN WITHIN THE HUMAN CREATURE BUT EXTENDS TO ALL CREATION, as man is the multiplier of his works and actions for good or for evil.
Likewise, acts of goodness are amplified throughout Creation, without man being aware of it: it is the Law of Love that is not static. MAN IS A RECEIVER IN CREATION, BUT AT A TIME HE IS A SENDER, AND THIS IS A GREAT RESPONSIBILITY BEFORE THE MOST HIGH AND BEFORE HUMANITY ITSELF.
Man emits thoughts, desires, acts among others; and what man emits comes out of him and is amplified towards the whole of Creation. Just as the sun influences man and as the moon influences man, so man continually emits his thinking and feeling ad extra, outside his physical body. Man is not trapped inside his body but is an amplifier of his works and deeds, hence the importance of prudence attracted by the believer, emanating from the Holy Spirit.
THE CHILDREN OF THE MOST HIGH ACT FOR THE GOOD OF THEIR BROTHERS.
In this instant in which each step forms part of the great crossroads towards the prophesied events, bear in mind, beloved:
"Act upon all without murmurings and mutterings, so that you may become blameless and pure, children of God blameless among a perverse and degenerate generation, in which you must shine like stars, bringing the Word of life" (Phil. 2, 14 -16).
By maintaining this awareness man will know that he carries on his shoulders the weight of all what is happening in Humanity, and he should remain on the defensive against the lightest whisper of evil inciting him to the most detestable of consummations as a human creature. I do not want to see monsters in the place of men of God, I do not want to see monsters who destroy everything in their path.
BELOVED, YOU MUST UNDERSTAND THAT THE LACK OF LOVE IS A DANGEROUS SIGN IN YOU, the lack of love is a sign that a correct correspondence to the Holy Trinity and to his neighbor eludes man, being the most dangerous of doors through which satan penetrates.
Those who transgress Love do not delay, they are continually working to counsel man to do evil. Nevertheless, the Most High continues exhaling His protection for man, He defends him from what may cause an irreparable evil, but man refuses Him.
The instant has come when pagan peoples, confident in their own human strength, make war against Christians: "Let us kill them like a flock of sheep."
THE INSTANT ANNOUNCED HAS ARRIVED, IT DEVELOPS LITTLE BY LITTLE, ALTHOUGH YOU ALREADY SEE IT.
From far away places immoral, malicious, perverse creatures will come to Europe, to America principally, who like birds of prey will pounce on those who confess true faith in Christ, our King. Eager to destroy every vestige recalling Christ the King, they will invade the holy places and take great spoils, carrying off the spoils for great sacrilege.
Likewise, human vanity will allow ecclesiastical norms to be corrupted, transgressing the Commandments of God's Law.
Humanity does not see the traps of evil and persists in evil, the one which will come to you from the same Creation that does not know you, and so you suffer and will suffer earthquakes and tsunamis.
The force of the volcanoes will be greater, meteorological phenomena will possess great force, viruses will spread over the Earth.
Chaos grows and the foolish man denies it, while more men will be asphyxiated by fire, a product of the creation of weapons of war, the ones man should never have created.
Beloved:
BEFORE THE OUTBREAK OF WAR, BE STEADFAST IN PRAYER, AND IN UNION WITH OUR KING IN THE EUCHARIST, PRAY TO OUR QUEEN OF ALL ANGELS AND ALL LOVE ONE ANOTHER.
Do not distance yourselves, beloved of the Most High, do not distance yourselves!
Pray in season and out of season, being each one of you an imitator of the Love of our King and expanding goodness, which will triumph, and will give Eternal Life and Life in abundance.
Pray for Europe, it will be prey to terrorism.
Pray for the Middle East, it will burn.
Do not forget that evil presents itself as a predecessor of the one who is its essence: the antichrist.
Those who do not believe do not laugh, rejoice those who believe and prepare, rising above their own pain and trials.
OUR KING CONQUERS AND WILL CONQUER IN THOSE WHO REPENT AND PROCLAIM HIM KING AND LORD OF THEIR LIVES.
WHO IS LIKE GOD?
St Michael the Archangel.
HAIL MARY MOST PURE, CONCEIVED WITHOUT SIN
HAIL MARY MOST PURE, CONCEIVED WITHOUT SIN HAIL MARY MOST PURE, CONCEIVED WITHOUT SIN