Friday, July 8, 2016
Message of Our Lord Jesus Christ
To His Beloved Daughter Luz De Maria.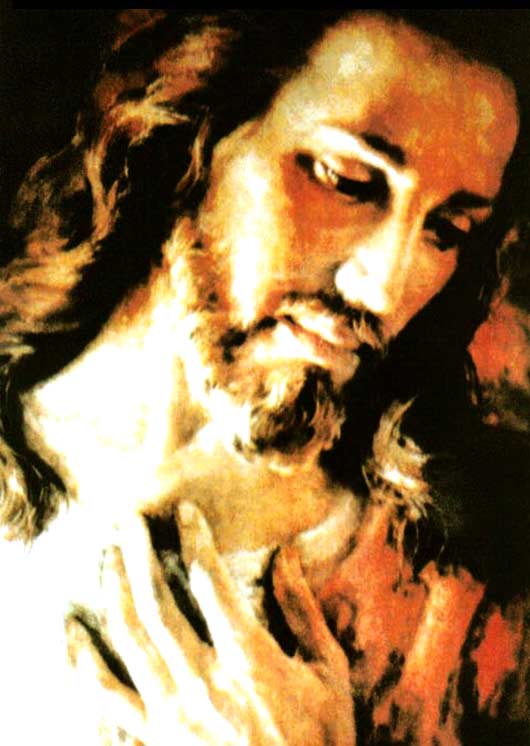 I bless you, you who remain attentive to My strong and firm Appeals, so that man be aware that you do not deceive Me, nor can you hide your acts from Me.
I LOVE ALL MY CHILDREN WITH ETERNAL LOVE, WHO IN THIS INSTANT ARE ACCOMPLISHERS OF OUR WILL AND THOSE WHO WILL BE FOLLOWERS OF OUR WILL.
The Mercy of Our Trinity for each one of you is inexhaustible when man draws near to Us, determined not to return to sin and to make amends with actions for past mistakes
HUMANITY COLLAPSES FOR LACK OF OUR LOVE PRESENT IN IT, NOT BY OUR WILL BUT BY THE WILL AND FREE CHOICE OF MAN, WHO WISHES TO WALK WITHOUT US. You have taken the short way, which is easier but more painful, that which satan offers: the way of sacrilege, of killing, immorality and abuses, the way of dishonesty, theft and blood. This is not for free, it costs the soul's surrender to satan.
At the end you will see, My children, your brothers worshipping satan: the king of lies, erecting it sculptures and giving themselves over to all kinds of sins and offenses. There will be multiple heresies within My Church. The god of money will come to take a privileged place within My Temples and within My Ministers.
Evil will not stop and My children, with a fragile education, are permissive and are easily deceived. Children have entered into an improper and distorted sexual education; centres of learning pervert minors. Centres of learning will be turned into places of sexual practice inducing children to an immorality never before seen.
In countries where great sculptures have been erected to worship satan, satan will take more power, coming to take possession of human creatures, transforming them into strong followers of evil. Demons will move very quickly and easily, disrupting the mind of man in order that he commits various acts which will become daily events.
Evil will offer daily spectacles confronting men against men. Racial struggle will rise anew in great nations. The United States will become one of them in this regard.
My Beloved People:
You do not attend to My Calls, despite watching how evil spreads and takes My children in order to carry out its diabolical plans. It is not necessary for man to show himself to be possessed, allowing clear signs of demonic possession to be revealed in the instant when the devil needs an atrocious act to be carried out. The devil acts stealthily, taking the creatures that follow him even indirectly and using them to carry out his macabre plans.
The children of darkness develop a great addiction to evil, the mind does not stop, it creates and recreates its demonized acts, they enjoy the suffering of others and enjoy the blood of the innocent.
This is the instant when the devil keeps his legions and followers ready to attack the family; thus he destabilizes society and thereby every human creature.
MY CHILDREN HAVE A GREAT OBLIGATION FOR THIS INSTANT: FROM OBEYING WHAT SEEMS TO BE INSIGNIFICANT TO BEING THOSE WHO ACCOMPLISH WHAT SEEMS TOO GREAT...
You who love Me:
You must love Me in spirit and in truth...
You must advance spiritually in order that evil might not overtake you...
You must master the human ego in order for it to serve your own good and that of your brothers...
Man causes Me great pain; influenced and sometimes taken over by satan, it has managed to make evil instincts emerge from within man, which he has acquired from all that is contrary to Me, with which misused technology has flooded him.
Love for neighbour is not a Commandment for the man of the present but a battlefield. Each man carries within himself what he has acquired throughout his life. In the environment where they have developed, some of My children have grown up in the midst of evil, and in seeking Me and finding Me have changed their lives; other children of Mine have grown up surrounded by families devoted to Me and have surrendered themselves to satan, seduced by what is worldly, or seeking dark experiences on wrong paths.
My beloved People, I have called you to recognize evil and you refuse to do so. Evil sifts you mercilessly and you, like creatures without conscience, allow evil to use you to cause division, primarily in your homes.
My Heart is torn apart at hearing the insults and disrespect with which you treat one another in families, as if you were enemies. Violence is not only lived on the streets, in centres of study or in workplaces; the most dangerous violence is that which takes place in homes, those that satan has set out to destroy.
MY PEOPLE, YOU HAVE TO KNOW THAT WHERE VIOLENCE, LACK OF LOVE, INSULTS, CONSTANT
ANGER, LACK OF CHARITY, LACK OF FAITH AND CONTINUOUS INCIDENTS EXIST, EVIL HAS ENTERED.
Do not forget that satan uses those who are far from Me.
Those who attend Mass or receive Me daily or know My Word are not exempt from the attacks of the devil, since a creature that receives Me continually, but does not live in Our Will and causes evil to his fellows, being a lamp in the street and darkness at home, that creature is a whitened sepulchre and removes Me from him, leaving the creature exposed to evil.
YOU MUST UNDERSTAND THAT EVIL DOES NOT WASTE OPPORTUNITIES FOR CAUSING DIVISION.
This should be
clear to you, as it should be clear to you that I have chosen human creatures in order that they let My Word be known, and they are not exactly saints, although they are perfected in their daily living in union with Me.
WOE TO THE ONE WHO PUTS GREATER WEIGHT ON THESE CREATURES OF MINE! YOU DO NOT KNOW WHAT IT IS TO SERVE ME AND WHAT IT IS THAT I CHOOSE.
Both have merit, those whom I choose and those who choose, but the one that I choose not only suffers what I ask of him, but also suffers what his brothers make him suffer.
So many human creatures with great intelligence are servants of evil. How My Heart grieves! Yes, servants of the evil that dominates them, and they live in continual war with their brothers, going away from Me at an increasing pace.
CHILDREN, YOU REBEL AT MY REQUESTS AND DEMAND FROM ME:
WHAT DEMAND AM I GOING TO SATISFY IF I KNOW WHAT EXISTS WITHIN EACH PERSON?
I will not answer the one who demands, I will not give to the insolent, I will not settle with the presumptuous or the haughty, I will not encamp with the proud.
I am one with the humble, I encamp with the one who desires to know Me and is industrious, I give My Word to the needy. I will give the Gift of Science to the simple in order to astonish those who, thinking themselves intellectuals, err in My Word.
I AM JUST AND WITH JUSTICE I WILL ACT TOWARDS MY PEOPLE.
YOU SHOULD REMAIN ALERT, EACH ONE GIVING THEIR BEST EFFORT, TRUSTING IN ME.
Already you will see how My Temples will be destroyed in order to that you might not gather. My People are feared because "I AM WHO I AM" (Exodus 3:14). They will close My Temples and you should not stumble; where you are gathered in My Name I will be there.
BE CAREFUL, MY CHILDREN, THE ONE WHO WORKS AND DOES NOT PRAY IS LIKE THE ONE WHO PRAYS AND DOES NOT WORK.
May each person be the praxis of My Word and of every prayer that you lift up towards Our Trinity and towards My Mother. The intercessory Saints, your travelling Companions, are constantly waiting for your requests for them to help you.
My Beloved People, the forces of the Universe are moving, the moon is quickening the ocean waves and this is more dangerous for man. The waters rise and pounce on cities, great buildings will be part of the past together with the great works of man.
The unstable seasons cause Humanity to suffer hunger.
Pray, children, the outbreak of war is approaching, the suffering of humanity will no longer be far away. Those who are promoting war have made haste that it might be so.
Pray, children, pray, science is hiding great advances, Humanity does not know of them, they have been created for evil. Great scientists have disappeared this is not certain; they work for the elite for the purpose of making millions of human beings disappear.
Pray children, pray, volcanoes evoke bygone Eras, their fury shakes the heart of man.
Pray children, pray, the earth trembles together with the man of terrorism, France will weep for its children, England and Italy will be consumed in lament.
Pray, Chile suffers, Ecuador is not without fear. California will weep with great groaning.
Pray, from Spain you will hear laments, they will also come from Asia. The Earth does not stop, changes are arriving and man does not see them.
My Beloved People: I do not delight in the suffering of My own; let the one who recognizes him/herself as a sinner repent and come to Me. What it is not earthly will not endure.
THIS INSTANT IS FOR EACH OF YOU, MY CHILDREN, TO STOP LIVING FROM WHAT IS IMMEDIATE AND TO BE MORE SPIRITUAL, FREEDOM IS PRECISELY IN AMENDING YOUR WAY AND RETURNING TO ME.
Become aware of what you are, do not act mechanically; spiritualize every act, every work, carry it out together with Me; in this way you will tell the human ego: "You are not the one who is executing or carrying this out, it is God alive in me who acts ". You will be humbler, until the instant will come when you will not need praise, even personal, BECAUSE I WILL BE ALL IN ALL.
You do not find Me because the majority look for Me on the outside, and the outside says to you: "I am not God, God is above me." Man believes he is like Me, and so he has fallen into the depths, into what is dark and false, because of his pride.
My beloved People, do not expect to encounter events, come to Me, I await you with Eternal Love, there is no man who is what I am: your God.
DO YOU DESIRE TO DRAW CLOSER TO ME?
SERVE ME WITH A GENEROUS SPIRIT, SERVE ME IN MY WILL, UNITED TO ME. THUS I WILL GROW IN YOU AND THE HUMAN SELF WILL BE MORE SPIRITUAL AND THE EGO WILL DECREASE, GIVING ME ALL THE HONOUR AND GLORY THAT YOU SHOULD HAVE GIVEN ME.
Let those in tribulation come to Me. I bless you.
Your Jesus.
HAIL MARY MOST PURE, CONCEIVED WITHOUT SIN.
HAIL MARY MOST PURE, CONCEIVED WITHOUT SIN.
HAIL MARY MOST PURE, CONCEIVED WITHOUT SIN.