Thursday, July 14, 2016
Message of Our Lord Jesus Christ
To His Beloved Daughter Luz De Maria.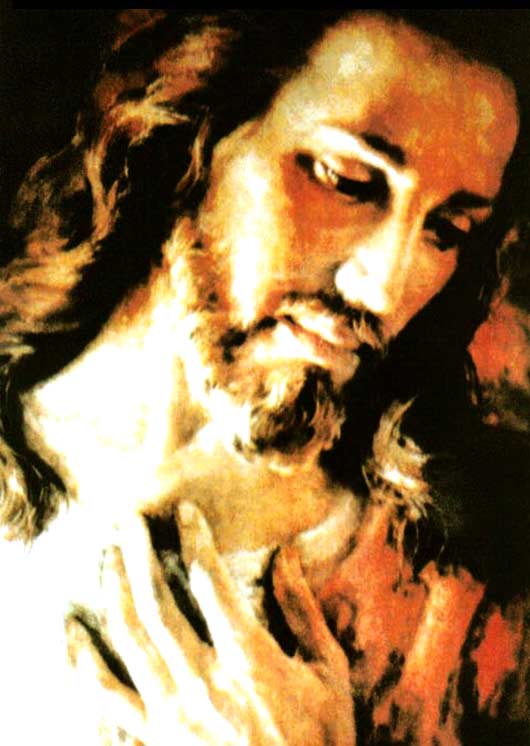 My Beloved People:
MAN HAS NOT HAD THE WILL TO DOMINATE THE EGO WHEN IT CALLS HIM TO TRANSGRESS THE LIMITS PERMITTED BY OUR TRINITY.
The Great Tribulation of this generation is living without the Love that Our Trinity has sent to you, not recognizing the authority coming from Our House.
Man yearns for immortality; thus he wrongly searches for how to find bodily immortality. The soul is immortal and this is what should occupy men. The soul is immortal in Heaven or in hell; be aware of this so that work and action be accord with Our Will, so that you enjoy Eternal Life.
Each one of you walks as you please, until the road is as you wish, until the road is as you like; otherwise, you abandon it. So it is with the engagement that you have towards Us.
Our children, Our People weep before so much trial, which ultimately results in greater Faith and a great patience, that which I had. Patience is a great partner for humility to overcome the judgments that men are accustomed to make lightly.
Then Christ said to me:
My child, the whole Universe was entrusted to man, in order that, serving My Father, he would dominate everything created. The Universe is not outside man nor man outside the Universe, since what happens in the Universe interferes in man and man will be called to account for what he does against what has been entrusted to him.
A great planetary alignment is beginning and this movement is altering the entire Universe, managing to penetrate the Earth and therefore man, altering his psyche and causing man to receive this emanation that is occurring in the Universe. For man is not normal to receive this reaction that reaches him forcefully from the Universe, altering and changing man's thinking, behaviour and intelligence, him who is not equipped to receive such convulsion.
THE REACTION OF MAN WHEN HE IS NOT CENTRED ON ME IS: VIOLENCE, REPROACH, INTOLERANCE, EGOISM, JEALOUSY, CRITICISM, ARROGANCE AND A STRONG EMANATION OF REJECTION. Therefore Humanity is characterized by strong actions and reactions, different from how man used to act and react previously. This, coupled with satan's snares upon humanity, has transformed My children into veritable time-bombs who react impulsively, and their actions are unexpected and incredible, due to alienation from Our Trinity, from My Mother and to the unbelief in the intercession of My Blessed Ones.
MAN OF THIS INSTANT IS VIEWED BY EVIL AS A WEAK HUMAN BEING, TO WHOM A DOSE OF REBELLION IS ADMINISTERED UNTIL REBELLION TRANSFORMS ITSELF INTO HATRED. This is why I constantly call you to remain attentive to your own selves, to your actions, reactions and deeds. Therefore, I call you constantly to stop, to meditate on how you are acting and to review the extent of your Love towards Me and your neighbor.
My beloved, crises will be anticipated in the countries that will enter into continuous protests until these are uncontrollable. Scarcity is becoming widespread in every aspect for man's survival. The Sun, which you believe has entered a stage of passivity, is preparing for a strong solar eruption, which will emanate coronal mass ejections, affecting the great advances of science in various fields. Humanity will remain unable to communicate, forced to return to the past to survive.
My beloved, Humanity does not think of these contingencies coming from outside the Earth, nor of those which it receives from Nature itself. In the nations there are agitators in charge of generating conflicts, releasing loose talk into the air that sows discord.
Pay attention My People! Those desiring world domination are supplying arms to the people. I suffer over young people who are casually brought to bear arms. I CALL UPON THE YOUTH NOT TO PARTICIPATE IN RIOTS OR PROTESTS, AS BECAUSE OF THE HEAT OF THEM THEY WILL BECOME PARTICIPANTS IN MASSACRES. YOUNG PEOPLE, FLEE! DO NOT STAIN YOUR HANDS WITH YOUR BROTHERS' BLOOD.
The Southern Cone will first be anguish and then peace. MY MOTHER EMANATED HER BLESSED BLOOD ON ARGENTINE SOIL AS A PRELUDE TO WHAT WILL COME. NOTHING HAPPENS WITHOUT MY WARNING TO MY PEOPLE. MY MOTHER WAS NOT HEARD.
North America will be a land of convulsion. On the great bridge they will find themselves facing death which is lying in ambush in wild hands.
Brazil weeps, weeps and together with this land the whole world will weep.
THE CONVULSION IS NOT SEEN BY HIM WHO DOES NOT BELIEVE AND PROTECTS BEHIND A FEW WORDS ...
THIS HAS ALWAYS HAPPENED.
HOW THESE CREATURES OF MINE WILL LAMENT AT NOT HAVING OBEYED IN SEASON AND OUT OF SEASON!
The enemies of the soul have taken hold of human weaknesses in order to destroy what is Mine. In this instant, My own have become unrecognizable and irrational creatures, without recalling My Will, knowing that the heart of man leads him to be a beggar or a hero, not for his bravery but for his spirituality, for living the Divine Will.
Argentina, you do not possess riches, agitation is growing, the murmurs rise and these are shouts in the streets. The wise people fear the repression of the agitators. At dawn there will be plotting. Oh, Argentina! land of writers and songs, voices will drown in the lament that you will suffer unjustly. I asked you for devotion and meanness triumphed; you will weep faced by disobedience, mobs will enter the Palace in search of valuables.
MY PEOPLE WAIT FOR MY ANGEL OF PEACE; HE WILL BE IMPARTIAL, HE WILL POSSESS MY LAW IN HIS HEART AND HIS WORD WILL BE MY LAW.
England will sigh, pain will come unexpectedly.
Europe will know destruction; the ancient palaces will be ruins.
HOW MUCH LOVE AND RESPECT ARE LACKING TOWARDS OUR TRINITY, WHEN YOU OFFEND MY MOTHER, AND MY TEMPLES REMAIN EMPTY, THE DOORS CLOSED!
MY PEOPLE DO NOT FIND ANYWHERE TO COME AND WORSHIP ME.
Man puts Me out of his life, and I, BEGGAR OF LOVE, CALL HIM SO THAT EVERYONE COMES TO ME.
The Middle East will detonate, cruelty has overflowed and the Earth suffers.
I call you, I explain My Word to you in order that you do not believe I have forgotten you. I call you in order that My People stay by My Side without losing Faith in the Divine and Maternal Protection.
COME TO ME, WALK IN MY WORD, BE FULFILLERS OF THE DIVINE LAW AND DO NOT TAKE DIFFERENT PATHS.
THE WORD IS ONE FOR EVER AND EVER.
I love you, My children, you are My Great Treasure.
Your Jesus.
HAIL MARY MOST PURE, CONCEIVED WITHOUT SIN
HAIL MARY MOST PURE, CONCEIVED WITHOUT SIN HAIL MARY MOST PURE, CONCEIVED WITHOUT SIN