Sunday, July 17, 2016
Message from the Blessed Virgin Mary
To Her Beloved Daughter Luz De Maria.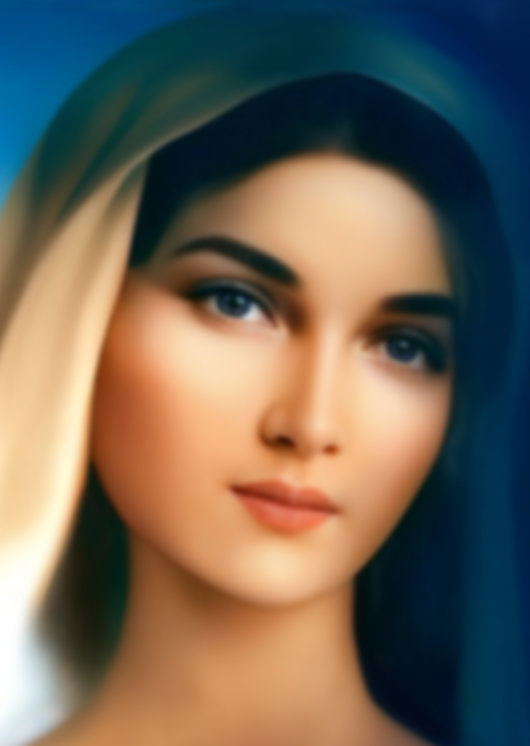 Beloved children of My Immaculate Heart:
MY MOTHERHOOD EMBRACES EVERYONE...
MY PROTECTION REMAINS OVER EACH HUMAN BEING.
You are My children, whom I received at the foot of My Son's Cross and, as My children, I care for you in every instant and intercede for all in equal measure.
Beloved People of My Son:
DO NOT SKIMP EFFORTS TO REMAIN UNITED...
UNITY IS FUNDAMENTAL FOR YOU IN THIS PRECISE MOMENT, AND ITS PROTECTION TRANSCENDS THE PHYSICAL AND IS AT ONCE ALSO SPIRITUAL.
I announced to you the instants that would come... THESE ARE THOSE INSTANTS! And I called you to Unity, to that unity which in this instant is very important and necessary for every man, for all as brothers and sisters and lovers of the Heavenly Father, of My Son and of the Holy Spirit.
The way in which violence has increased throughout Humanity is not new for you, My children. The Paternal House has already been alerting you constantly about this lamentable fact. In My Apparitions I explained to you what this violence would consist of: that evil would take as prelude the global apparition of the antichrist as the only leader of Humanity.
Heaven warned you that you were at war, since this war was presenting itself unlike previous models of other wars throughout History. This Third World War consists of a scale of violence of different forms, within which men will reach unthinkable extremes for human thought. The most powerful nations will use protests and states of global turmoil to seize power with greater force. Millions of
My children will be mutilated, persecuted and violated in every aspect, and they will be killed. Temples will be pillaged. Already, some temples are desecrated with worldly and satanic spectacles.
YOU KNOW THAT FIDELITY IS EXPRESSED NOT ONLY WITH WORDS BUT IN ACTION.
IN EVERY ACTION YOU CARRY OUT, IT IS EVIDENT IF YOU ARE CHILDREN OF MY SON, IF YOU ARE LUKEWARM OR IF YOU BELONG TO THE DARKNESS.
This instant is the one in which a thermometer has been placed before each one of you, the thermometer that measures My children by their words, their witness and their actions: that is how they will know and recognize you... If you belong to My Son you must keep Peace in your hearts, since you have the knowledge and certainty that this instant is one of trial for everyone and evil attacks you to bring out the worst in you: the least Christian reactions, so that you give ill witness to the Faith you profess to My Son Jesus Christ and to the love you have for Me as a Mother.
THE TRUST IN MY SON'S WORD IS ESSENTIAL IN THIS INSTANT, MORE THAN IN OTHERS:
Some will be tested in stealthiness...
Others will be tested in patience...
Others will be the wall of prayer, not only born of Faith and of the heart but of prayer put into practice, so that they are witnesses of true love to the Divine Will, calling their brothers and sisters to conversion...
Others of My Children will be tested in trust, in charity, in hope...
AND THE MAJORITY OF THOSE TESTS LEAD TO ONE: TRUE UNITY IN FRATERNITY.
My children, whoever thinks too much about the future is led to despair due to the evil that surrounds all of Humanity and remains attentive to souls so as to attack them...
Whoever lets himself or herself be carried away by the moment of trial will be led to act by evil, as he or she has never before acted...
WHOEVER OVERCOMES THE TRIAL WITH FAITH AND LOVE IS FULL OF THE HOLY SPIRIT AND THE TRIAL WILL BE THE GREAT BLESSING OF HIS OR HER LIFE.
Children, who dares to say that a trial will not appear on the path of the true children of My Son at the most unexpected instant?
WHOEVER IS TESTED, IS TESTED BECAUSE HE OR SHE IS ON THE RIGHT PATH, WHOEVER IS NEVER TESTED SHOULD WORRY AND SINCERELY LOOK AROUND -- UPON WHAT PATH IS HE OR SHE WALKING?
Welcome the trial with Love, Patience, Charity and Faith. Love will make the trial less heavy; Patience will give you peace and security, leading you to offer up whatever comes for your brothers and sisters who suffer throughout the Earth. Charity will lead you to trust in My Son. The greatest thing about a Christian is the love he or she has for God and for neighbor, knowing that in one way or another, the brother or sister beside him or her, can offer aid. Faith gives you the certainty you have been chosen to be faithful children of My Son and because of that, you are tested.
People of My Son, children of My Immaculate Heart:
THE SACROSANCT TRINITY HAS CONVOKED GROUPS OF YOUNG PEOPLE THROUGHOUT THE WORLD SO THAT THESE YOUNG PEOPLE MAY BE A SUPPORT FOR THEIR BROTHERS AND SISTERS WHO NEED IT IN THIS INSTANT, SO THEY ATTRACT WITH LOVE OTHER YOUNG PEOPLE WHO MUST JOIN THIS VERY CALL, BUT DUE TO THE LACK OF A SINGLE ACT OF LOVE, THEY REMAIN OUTSIDE. These young people will be the ones to accompany this Mother being the support of their brothers and sisters, even of those older in age. These young people will be an example of living in My Son's Will and are the ones who will accompany the Angel of Peace, so that the mission that the Paternal House has given that Child will be fulfilled, and He will help My Son's People in the instants of greater tribulation.
Beloved children of My Immaculate Heart:
BE CHARITY, CHARITY IS MATURITY AND MATURITY IS A SIGN OF FAITH, UNDERSTANDING,
EDUCATION, RESPECT TOWARDS MY SON, TOWARDS ONESELF AND TOWARDS ONE'S NEIGHBOR. Charity is proof of a soul who has matured and this is what each of My children must maintain at hand in every instant. Give aid to your neighbor, be untiring servants of others.
CHILDREN, REMAIN VIGILANT IN REGARDS TO YOUR NEIGHBOR: DO NOT GIVE INSULT, DO NOT SLANDER, DO NOT BE AVARICIOUS, DO NOT REPROACH THE PAST. ALL HAVE THE SAME OPPORTUNITY TO AMEND THEIR PATH. Be Love in every instant without faltering, because whoever loses Love can get ahead of himself or herself and be overcome by rage, which is an important weapon for satan, since it has different forms, among them poison that wounds and causes one and one's brothers and sisters to bleed out. Rage is the great evil of this instant for My Son's People. Whoever lives under the power of anger, cedes territory over to satan each instant, and satan makes that person more vulnerable every instant, conditioning the person until satan takes that person for himself.
PEACE IS VERY IMPORTANT FOR THE HUMAN SPIRIT, EVEN IN THE MIDST OF A STORM. You will know of brothers or sisters who in a moment of folly will lose their life by themselves. These children of Mine cause Me great pain; as a Mother I do not want to lose them. That is why I invite you to pray for one another in every instant, so that you minister to one another and protect one another.
You will encounter different paths, but you, who have remained faithful, must double your good actions, good works, so the merit is greater and overcoming temptation is greater.
Children of My Immaculate Heart, there is no manual that exists for the life of a christian, not one I can give you as a Mother. You would have to wait for Me to describe to you each and every one of the events and the unexpected of each one of you in particular, and this as a Mother I would not detail.
THERE EXISTS ONLY ONE MANUAL FOR THE LIFE OF A TRUE CHRISTIAN: THE TEN
COMMANDMENTS OF GOD'S LAW. Whether they appeal to you or not, they are the Manual of the life of a true christian, they were, are and will be, without leaving out the Beatitudes, the Works of Mercy, the Sacraments and the adoration of the Eucharist. Each one of you is a Temple of the Holy Spirit, and satan's wiles should not enter into the temples, not in any aspect or under any form.
KNOW MY SON'S WORKS AND ACTIONS, and after putting them into practice say to Me: "Mother, I am a child of Your Son." Before that, do not assure it lightly.
KNOW MY SON, YES, IT IS NECESSARY FOR YOU, SO THAT YOU MAY BE TRUE, but getting to know Him you must put that knowing Him into practice, for knowledge without due praxis is worth absolutely nothing. It would be like a gardener who planted a variety of all the most beautiful roses, fertilized them constantly, possessed all the knowledge of cultivation, of plagues, of the smallest signs of plagues that could attack them--but if this gardener does not give his love to the roses, the ingredient that will distinguish them and make them special would always be lacking.
If a person possesses everything he or she desires and considers to be necessary for his or her life, knows about what they will ask him or her, is prominent and knowledgeable about all ideologies, sciences, arts, music, mathematics, is a prominent historian of the Universes, but if he or she does not have Love to overcome himself or herself and also his or her ego, he or she will succumb before the lack of knowledge of what is most important: Love and the development of this precious Gift in himself or herself and will not be able to recognize it in his or her brothers and sisters.
Beloved People of My Son:
I MUST CONFIDE IN YOU AS A MOTHER THAT YOU MUST REMAIN ALERT; EVIL'S VISION IS TO
DRAG WITH IT THE GREATEST NUMBER OF SOULS AND THOSE SOULS ARE THE SOULS OF EACH
ONE OF YOU, NOT OTHER SOULS. EVIL WANTS THAT BOUNTY, THE ONE OF THE SOULS OF THOSE WHO BATTLE CONSTANTLY TO CONTINUE TO BE FAITHFUL TO MY SON.
In this battle arise disagreements, uprisings, threats, persecutions and the acts taken to reality; this war is based on threats, acts of violence, cruelty and of the reality of man against man himself.
Beloved People of My Son and of My Immaculate Heart:
Revolts are poisoning peoples; it is a plague that goes from people to people. Evil moves in the emotion instability of man, in which evil is an expert in the one who lacks faith. You will hear of calamities, in place after place. Each instant there will be a seizure in some country, it will seem unending. Due to evil needing to keep man's mind immersed in violence and to guide the nations and people in constant uncertainty, so as to cause fear in this instant in which the birth of evil has come to light, which is terrorism and it will continue to carry suffering to all of Humanity and it will not tire of doing so.
AS A MOTHER I WARN YOU, CHILDREN, TRUST IN MY SON'S PROTECTION, IN MY PROTECTION AND BE CAUTIOUS AND ASTUTE.
Pray, My children, pray for Ecuador, pain will be a mark on the heart and mind of this beloved People.
Pray, My children, pray for Paris, England, Spain, Italy, Portugal, Germany, the United States, the Middle East, Venezuela, Nicaragua, Pakistan, Japan, China, Nigeria and Russia. Evil has become entrenched in a special way in these nations.
Pray My children, for Italy, it will be in the midst of the light that the hand of evil will come.
Suffering comes from the depths of the earth; two great volcanoes which I have already mentioned, are about to become active and are a great danger for My children.
Pray, My children, pray for the United States. When the strong eagle dabbled with other countries, it gained enemies. In this instant those who consider themselves enemies can be found within and will be a great lament for this nation. Nature will scourge them without ceasing. This nation will be mentioned for the great trial it will live in its system of government.
Pray My children, the waters of the sea will invade the land without cause and inactive volcanoes will become strongly active.
Children, in every home there must exist spirituality, peace, harmony, understanding and you must have the Sacred Scriptures, but not to decorate your home. Have Sacramentals, receive My Son in the Eucharist, pray the Holy Rosary. In every home there must exist true union with My Son and the constant praxis of the true child of My Son: the Law of Love.
BE CHILDREN AWARE OF THE INSTANT. There are children who did not recognize the instant in which Humanity moves, but they are recognizing it now, just like it was announced by the Sacrosanct Trinity.
BE PEOPLE WHO CARRY OUT AND NOT ONLY READ THIS WORD THAT HEAVEN UNVEILS TO YOU IN ADVANCE IN THESE CALLS, BUT ABOVE ALL, BE PEOPLE WHO FULLFILL GOD'S WILL.
My Son's Church needs the prayer of its members; evil has entered it with force but covertly. You are the Mystical Body. Recognize that that Mystical Body simultaneously has cancer and must be healed.
CHILDREN, TRIALS PASS...
MY SON LEADS YOU TO LIVE IN INNER PEACE, HE GIVES YOU WHAT YOU NEED BECAUSE HE LOVES YOU.
People of My Son, beloved children of My Immaculate Heart:
DO NOT DOUBT IN CALLING ME, I AM MOTHER OF ALL MANKIND. WHEN YOU ENTER INTO DARKNESS PROVOKED BY MAN, DO NOT FEAR. THE LIGHT OF YOUR SOULS WILL ENLIGHTEN YOU.
You, My children, are the peace guided by the Holy Spirit that will keep your brothers and sisters standing.
I see in every town some souls who call Me and I come quickly to fill them with Love so that they remain in Faith. I see more souls in the towns who call Me and I go to them to give them My Hand and guide them. I see souls that grow every instant and My Son is pleased by the response to His Requests, and I come to give them My Hand to guide them. I see groups of children, that as in the cenacle, receive Heaven's Word with special love.
BELOVED CHILDREN, EACH ONE OF YOU IS A REFUGE FOR MY SON, FOR ME AND FOR YOURSELF. You must know places of refuge exist where you can protect yourselves in the instant I point out to you, created by some of My children. Some places of refuge are large to accommodate many of you, others are not so large and others are familial places of refuge. You must not enter in search of these, or feel bad because you do not form part of a group conformed for this aim of protection. You possess the protection within you by working and acting like My Son works and acts.
Your homes are permanent places of refuge for Our Hearts if in them Divine Love dwells, if you are messengers of Peace and fruits of Unity and Fraternity, being witnesses and testimony of Faith, of Hope and of Love for your neighbor, remaining in a state of grace or in permanent vigil to ensure you come to posses this state of Grace, not only for you but so that you are able to give yourselves to others in a single Heart: that of My Son, which will not allow you to make discriminations.
MY SON'S PEOPLE ARE ALREADY VICTORIOUS AND WITH THE ANGELS, COMPANIONS ON THE JOURNEY AND BLESSED, PROCLAIM THE GLORY OF GOD FOR EVER AND EVER. AMEN.
I love you, My children. Carry your scapulars with you. I bless you with My Heart.
Mother Mary
HAIL MARY MOST PURE, CONCEIVED WITHOUT SIN.
HAIL MARY MOST PURE, CONCEIVED WITHOUT SIN.
HAIL MARY MOST PURE, CONCEIVED WITHOUT SIN.