Sunday, July 24, 2016
Message from the Blessed Virgin Mary
To Her Beloved Daughter Luz De Maria.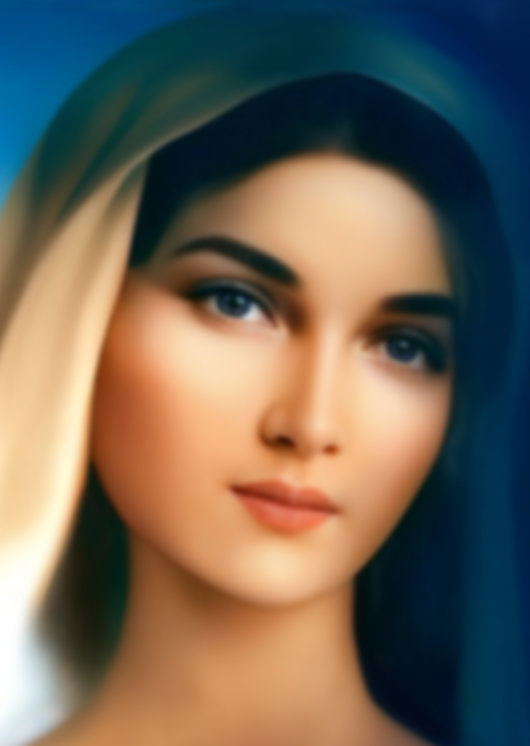 Dearly beloved children of My Immaculate Heart:
I bless you and as the Mother that I am of Humanity, you remain in My Heart. May the heart of the one who lives in continual search of conversion not be troubled.
THE PASSAGE TOWARDS MY SON IS A WAY OF TRIALS. HOWEVER, EACH TRIAL IS A BLESSING
WITHOUT WHICH YOU WOULD NOT GROW INCREASINGLY QUICKLY AS YOU SHOULD GROW IN THIS INSTANT, IN WHICH THE PEOPLE OF MY SON MUST KNOW AND RECOGNIZE THE DIVINE WORD IN SACRED SCRIPTURE.
Children of My Immaculate Heart, Humanity finds itself in confusion; you ask one another what to believe and in what to believe. This way of working and acting is not in accordance with the Divine Will set out in the Law of God: in the Commandments, which are non-transferable, unchangeable and inalterable. They are the Eternal Will of the Father in order that His children do not enter into confusion and clearly remain within Love, fulfillment and practice, obeying the Divine Will.
You, whom I love, you My children, I call you to remain steadfast and unmovable. Your brothers need testimonies that motivate them to continue in the pursuit of saying yes to God without faltering, without tiring, without setting aside commitment to neighbor and to each person individually.
I had mentioned to you that uncertainty would be the nightmare of the People of My Son, and thus you are living it. Terrorist acts are occurring with greater frequency, the aim is to frighten, to create chaos and to lead man to impatience and bewilderment. I ASK YOU TO NOT DOUBT, BUT TO STRENGTHEN YOUR FAITH IN EACH EXPLANATION OF THIS WORD OF MY SON.
Whom is evil pursuing? The innocent, the poor children of this Mother, but above all it is pursuing young people in order to take them to form part of this terror that is expanding everywhere, without any fear or amend hesitation. How I grieve over these works and acts!
The devil seeks My children in order to make them fall and so that they abandon My Son, transgress the Law of God and be those who interrupt the fraternity that My Son asks of you and has entrusted to each person, in order that in complete fraternity you might progress in Love , Charity, Hope and Faith.
For the one who is not Love it is difficult to walk. Continue receiving My Son in the Holy Eucharist. Discover the Divine Presence in every instant of life, in all creation, so that, in being aware of it, you at the same time be tireless seekers of the Truth.
Beloved children of My Immaculate Heart, you are aware that the smoke of Satan has invaded the Church of My Son and that evil therefore rejoices in shaking those who are Mine, threatening the Faith of My Son's People.
THE DIVINE WORD IS ONE: YESTERDAY, TODAY AND ALWAYS, IT IS AND WILL BE. The threats of ideologies and sects towards the Church of My Son have become reality. From within the Church itself they attack it, oppress it and distort the true Divine Word in order that chaos spread and the faithful depart from the Church that My Son instituted.
THERE IS DIVISION AND THE CHURCH OF MY SON WILL BE STRONGLY SHAKEN TO ITS
FOUNDATIONS. Some of My Priests have set aside the true Teaching to My Son's People, in this instant serving interests foreign to the Divine Will. Freemasonry has strongly influenced the faithful People, it has given them conditional teaching regarding the true Faith and for this reason the weak Faith of My children is like a weathervane in the wind, and even doubts what it believes.
MAN HAS NOT SUCCEEDED IN CONQUERING HIS EGO, ALLOWING PRIDE AND THE LOVE OF SELF
TO BEND HIM SO AS TO OPT FOR WHAT IS IMPROPER AND SINFUL, GRAVELY OFFENDING THE MOST HOLY TRINITY.
CHILDREN, INSIST ON CRUSHING THE HUMAN EGO WITH DIVINE LOVE IN ORDER THAT IT DOES NOT RESIST. Do not forget that love conquers all and remains in constant evolution, because from every act or work it receives the equivalent of these acts and works for the good or ill of the human creature.
BE THOSE WHO FULFILL THE DIVINE WILL IN EVERY INSTANT, BE TRUE TESTIMONIES OF THE
DIVINE LOVE THAT DWELLS IN YOU, DO NOT FORGET THAT YOU ARE NOT EMPTY CREATURES, BUT THAT THE HOLY SPIRIT RESIDES IN EACH ONE.
Beloved children of My Immaculate Heart:
The instant, that is no instant, is God's time in which every revelation is being fulfilled. Live in peace and do not despair or become anxious. Faith in the Love and Mercy of My Son for you must be greater, and do not despair. In every instant actions must sum up this testimony of true Christians before your brothers and in secret. In this way, the waiting is not feared as much, nor will Divine Justice lead you to despair, as you are a reflection of the acting and working of the true child of My Son.
The human will should overcome every attack in order forcefully to say 'No!' to what can cause it to be separated from the Divine and to depart from Eternal Happiness.
Pray children, pray for France, it suffers without respite, pray for this nation.
Pray children, pray for the United States, it suffers at the welcome they give to the devil. That same devil is pursuing it, in order that it falter and not invoke God. Suffering will be caused by minds disturbed by evil, and Nature will make it suffer.
Pray for Germany, an event will shake it.
Pray for Brazil, pray. In instants terror will invade this land.
Pray My children, in this instant of agitation, despair and lack of love for God in which Humanity is living, give way to evil's dominion over men. The way of acting is not consistent with a man who is a child of God. Humanity does not see evil in anything: wrong is right and what is right is old-fashioned. This is the ruse of satan that you do not wish to recognize, and which leads you towards the eternal fire, if you do not repent and convert.
War will be recognized as such and those who struggle for world supremacy do not delay. Humanity will be taken by surprise in the midst of fear.
Children of My Immaculate Heart:
THE DEMON URGES MAN TO SURRENDER TO HIM, MISUSED TECHNOLOGY CONTINUES TO ENSNARE THE MINDS OF CHILDREN AND YOUTH. Innovations are not innovations, the games they practise are traps of satan. Do not accept these traps of evil, do not be introduced into the new games, these are traps that lead you to be involved with evil.
STOP MANIPULATIVE TECHNOLOGY THAT LIES IN WAIT FOR AND RUINS CHILDREN AND YOUTH IN ORDER TO STEAL THEIR SOUL!
Children, these instants are strong instants. At the same time the child of God knows that he will not be defeated if he remains on the right path.
I protect you as a Mother who loves Her children, do not fall away.
Nature is altered in the extreme.
Be those who adore My Son, and with the Love of My Son, spread blessings to all Creation.
I love you all, I bless you. I kiss your hearts so that you continue onwards, without faltering.
THE PEOPLE OF MY SON DO NOT WALK ALONE, BUT UNDER THE SHELTER OF YOUR GOD.
In every instant lift up this request:
In instants of spiritual plenitude:
Sacred Hearts of Jesus and Mary, be my strength and that of my brothers.
In every instant of unity:
Sacred Hearts of Jesus and Mary, be my strength and that of my brothers.
In every instant of loneliness:
Sacred Hearts of Jesus and Mary, be my strength and that of my brothers.
In every trial:
Sacred Hearts of Jesus and Mary, be my strength and that of my brothers.
In Faith, Hope and Charity:
Sacred Hearts of Jesus and Mary, be my strength and that of my brothers.
In blessing your family:
Sacred Hearts of Jesus and Mary, be my strength and that of my brothers.
In trial and agony:
Sacred Hearts of Jesus and Mary, be my strength and that of my brothers.
I bless you.
Mother Mary.
HAIL MARY MOST PURE, CONCEIVED WITHOUT SIN
HAIL MARY MOST PURE, CONCEIVED WITHOUT SIN HAIL MARY MOST PURE, CONCEIVED WITHOUT SIN