Friday, July 29, 2016
Message from the Blessed Virgin Mary
To Her Beloved Daughter Luz De Maria.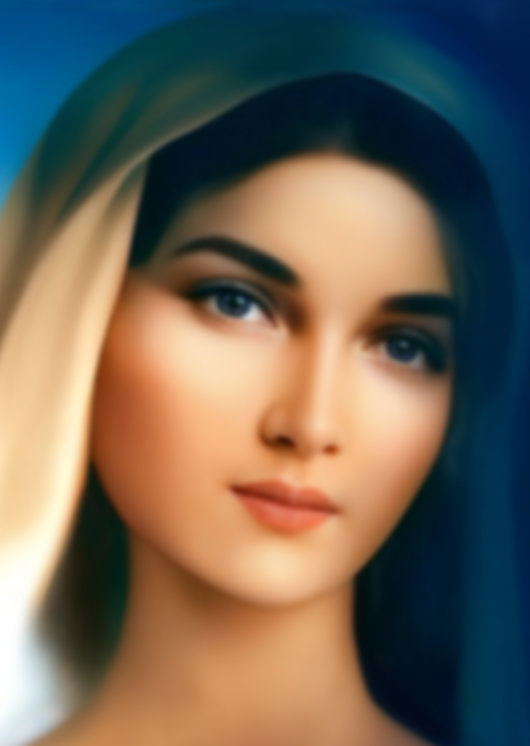 Dearly beloved children of My Immaculate Heart:
ALL ARE CHILDREN OF GOD, "ALL", EVEN THOSE WHO DO NOT BELIEVE IN HIM.
Those who flee from God swim against the current of their own existence. God knows everything that man wants, He knows it in advance: "BY THE HANDS OF GOD MAN WAS FORMED".
TIME IS: THE WORK OF GOD'S HANDS AND EVERYTHING IS FULFILLED IN HIS TIME ... NOT IN THAT WHICH THE MAN WANTS TO IMPOSE.
You, My children, know that far from the Father you are heading for an ignominious death, you head towards failure, you go against the established Order, you go in search of what misused free will shall give you, shall facilitate for you. Who facilitates man using his free will against what the Father has established? Satan.
It is in this instant when man does not see the alignment he maintains with sin and hands himself over to evil, establishing a pact with sin, which takes human freedom and invades it, dominates it, maintaining supremacy over man.
Evil, therefore, is what orders and maintains power over the will of man, provoking in man the awakening of base instincts ensuing from the calamity that emerges from the misuse of human freedom, which has led the soul to find itself at the great crossroads facing sin that oppresses it and does not allow it to regain unity with the Most Holy Trinity.
MY SON DIES ON THE CROSS IN ORDER THAT MAN, LOST AND DEAD BECAUSE OF SIN, BE RESURRECTED TO THE NEW LIFE OF UNION WITH THE MOST HOLY TRINITY. This has been forgotten by a great number of My children, who neglect the fact that each sin is alienating them even from their own selves. You are not a unity of Divine Love, but a unity that rebels against what God's Law has established for the straight walk of His children. Man walks against Unity.
A GREAT PART OF HUMANITY MOVES IN THE INTERESTS OF FASHION, OF A PURPOSE THAT IS
NOT THE DIVINE WILL. YOU GO LIKE ZOMBIES TOWARDS THAT WHICH IS NOT THE FINAL END OF MAN, WHICH, AS CHILDREN OF GOD, IS ATTAINING ETERNAL LIFE.
The devil has succeeded in making evil and discord enter the Church of My Son. The aim of the devil is to divide the Church of My Son, to fracture it in order to facilitate its possession of the Church and lead it to schism.
FOR MY CHILDREN, THIS INSTANT IS THE INSTANT FOR STAYING AWAKE, THE INSTANT OF
KNOWLEDGE, OF ABSOLUTE FAITH, OF UNCONDITIONAL LOVE TOWARDS THE MOST HOLY
TRINITY. In this instant the lukewarm find themselves in grave danger.
You must know and accept a reality, My children: UNITY IS FRACTURED, YOU CALL YOURSELVES CHRISTIANS BUT YOU FIGHT AGAINST ONE ANOTHER.
The devil has divided without man offering resistance, without recognizing that this is the great work of evil: dividing the People of God and introducing the deadly poison even among some Cardinals, Bishops and Priests in order that the poison not be so evident.
Children of My Immaculate Heart, some of My Priests have taken the Celebration of the Eucharist as a routine, and Transubstantiation has been forgotten, making My Son present in the Eucharist out of love for those who receive Him with Faith.
My children:
YOU SHOULD NOT FORGET THAT IF YOU RECEIVE THE BODY AND BLOOD OF MY SON WITHOUT HAVING REPENTED OF SINS COMMITTED AND A FIRM INTENTION OF MAKING AMENDS, EACH COMMUNION OUTSIDE THE STATE OF GRACE CAUSES YOUR OWN CONDEMNATION.
Evil possesses cunning and knows the weakness of every human creature, standing in man's way in order to defeat him.
The proud man does not listen to the Voice of Heaven that time and time again announces to him the dangers in which he finds himself ...
The one who is proud is puffed up and listens to nothing but what he or she wants ...
The one who is proud blames his/her brothers in order to hide his/her conceit ... The one who is proud argues at all times ...
I HAVE MENTIONED THIS, BECAUSE SOME OF YOU LIVE BEING PROUD AND DO NOT ACCEPT IT, YOU REMAIN PUFFED UP AND DO NOT ACCEPT IT, YOU SPEND YOUR LIVES FEEDING YOURSELVES WITH SCIENCE, BUT WITHOUT GOD.
THIS IS THE SCIENCE OF EVIL: SCIENCE WITHOUT LOVE, SCIENCE WITHOUT CHARITY, SCIENCE WITHOUT HUMILITY AND WITHOUT JUSTICE. SCIENCE WITHOUT GOD IS SCIENCE OF EVIL.
Children of My Immaculate Heart:
In this instant, you who are overcoming the setbacks of every instant will find strength in the Eucharist, in union with My Son, in fulfilling God's Law, in Works of Mercy and progressing in the fulfillment of the Divine Will.
You must strive to be that New People who find their support in My Son, in the ardent desire for Unity. You must walk so as to bring fulfillment to the Will of My Son, being those new men who love My Son and are disposed to be fulfillers and lovers of the Divine Will.
In this instant, humanity has taken its course: some walk towards Divine Truth and other wound the Sacred Heart of My Son, rushing thirstily towards sin and its novelties. For want of this awakening of man regarding sin, as this accompanies man, is that the tentacles of evil continually appear with novelties in order for man to be lost. The devil needs to steal man's time so that he does not react, keeps his mind occupied by an imaginary life and so that he does not hear the call of My Son.
My children: I received you at the foot of the Cross of My Son, and as Mother I must warn you.
THE GAMES THAT YOU ARE USING AT THIS INSTANT THROUGH THE TECHNOLOGY THAT YOU
CONTINUALLY CARRY IN YOUR HAND MAKE YOU ROBOTS, TAKE YOU AWAY FROM REALITY AND
ABSORB YOUR INTEREST TO THE POINT OF CAUSING YOU TO BE THOSE WHO FULFILL THE DEVIL'S DESIRES.
There is no Unity; the Gift of Speech has been lost. Each one of My children has constructed their own world, without love for neighbor, but only for himself; daily living is that of one more film that you transmit to all those you want, without considering the consequences.
The man of this generation falls into the abyss of contempt for freedom and has immersed himself in debauchery in every respect. Children, this is the product of evil, this is what evil desires in order that those who are followers of evil do not stop and carry out all its work and action upon you, who expose yourselves gratuitously.
I deeply grieve for what adult man has brought childhood to, opening up for it the way of unbridled sex, sexual deviation, of seeing what is immoral as being natural, of taking that which is the great drawing near to evil as being a part of life
Pray, My children, pray for the Church of My Son, schism is approaching by leaps and bounds, confusion spreads and the devil is taking advantage of this instant.
Pray, My children, pray for Romania, it will be overcome with pain, Nature will shake it and water will flood it.
Pray, My children, evil is moving upon the nations, seizing the darkness in order to prepare its actions. Suffering is evil's goal. Terrorism lives by nourishing itself at each instant on the product of its action.
Pray, My children, pray for Brazil, its soil attracts pain.
Pray My children, chaos becomes one with the United States that has lost its peace.
Beloved children of My Immaculate Heart:
LOVE THE MOST HOLY TRINITY, PENETRATE INTO THE DIVINE LOVE AND FIND THE FLAVOUR OF THE GOOD IN FULFILLING THE DIVINE WILL.
Humanity receives the evil actions of terrorism with distress. This tentacle of the devil is reinforced by those who suffer from the voluntary absence of My Son in their lives.
Beloved children of My Immaculate Heart:
I CALL YOU TO CONVERSION: CRY OUT FOR THE WISDOM OF THE HOLY SPIRIT WITHIN YOU, CRY
OUT FOR THE GIFT OF DISCERNMENT FACED BY NEW INFORMATION THAT WILL LEAD YOU INTO CONFUSION.
Children, Charity is disappearing; you draw Charity towards Humanity and infect it with it.
It is not only calamities that should keep you on alert, but staying on the Way of My Son and in the reciprocal fulfillment of Divine Love.
WARN YOUR BROTHERS ABOUT THE INSTANT IN WHICH YOU ARE LIVING. Some will believe, others will reject you. Do not give up, but continue warning your brothers in order that they return to the path of the Gospel.
My children should not expect the organizations assigned for the protection of the Earth to alert you to the truth about the threats approaching from the Universe. Earth is threatened from space by an asteroid. Do not strive to save the body but the soul.
Beloved children of My Immaculate Heart:
UNDERSTAND THAT THE GOAL OF EACH ONE OF YOU IS LIVING ETERNAL LIFE.
I protect you, I love you.
Mother Mary.
HAIL MARY MOST PURE, CONCEIVED WITHOUT SIN