Monday, August 1, 2016
Message from Our Lord Jesus Christ
To His Beloved Daughter Luz De Maria.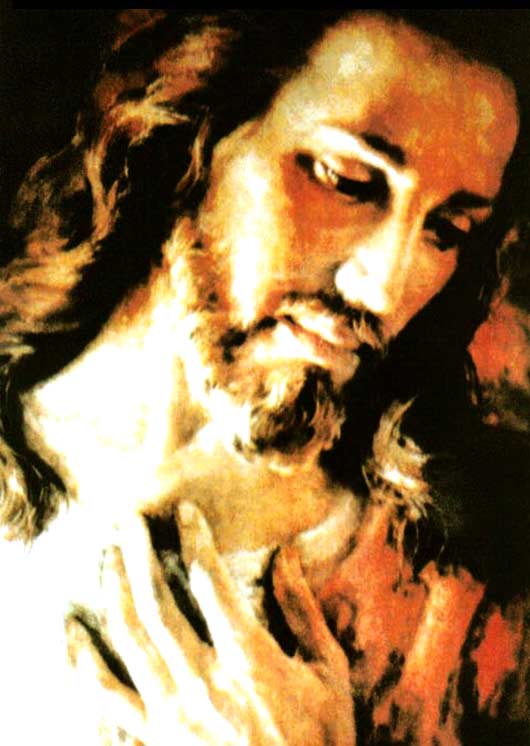 My Beloved People:
My children, receive My Blessing.
MY LOVE AND MERCY DO NOT DECREASE BEFORE THE SLIGHTS THAT MAN UTTERS AGAINST ME.
I call you to repentance and conversion. My Love and Mercy do not decrease; at the same time My Justice remains present.
My Beloved People:
YOU HAVE THE KNOWLEDGE OF WHAT WILL HAPPEN IN THIS INSTANT, YOU HAVE COME TO KNOW IT IN SACRED SCRIPTURE. Men will revolt against My Love and will come to mock Me and everything that reminds them of the Love of Our Trinity, above all of the Redemption of humankind. And this revolt is occurring at this instant, so this is the instant referred to in Sacred Scripture.
You have forgotten the suffering of those disobedient children who, of their complete free will, handed themselves over to punishment for their sins. Punishment, the fruit of their constant sins, ignoring the Warnings of Our Trinity.
CONCUPISCENCE RULES; EVERYTHING THAT IS AFFIRMED BY SACRED SCRIPTURE AND OF WHICH MY MOTHER HAS FOREWARNED YOU IN HER APPEALS, IS IGNORED AND SCORNED SO THAT MY PEOPLE DO NOT FEAR. This is not My Will, although, not all who claim to spread My Word are genuine, My instruments are criticized harshly when I or My Mother warn you and explain to you what you are living and what you will live in expiation. Man perished with the Flood, and a with new deluge of fire the wicked will perish.
This generation would have to remain united to Me so that the errors of the previous generation would not be repeated. This has not happened. Past errors, offenses and sins have multiplied everywhere; offenses are greater, as are the inventions of sin.
THE DEVIL IS DEMONSTRATING HIS CUNNING AT THIS INSTANT, MORE SO THAN IN PREVIOUS INSTANTS ...
SATAN MAINTAINS THIS INSTANT AS HIS GOAL, AS THE FINAL INSTANT FOR SPREADING HIS EVIL AND MAKING IT GROW IN MEN.
A great number of My children claim to love Me and pretend to do so, persecuting My faithful children in secret, sowing discord so that unity cannot bring My People close into one peacemaking consensus.
The demolisher of Humanity finds ground prepared upon which to be well-received: sin has increased, and the power of evil over man goes as far as man, with his free will, allows it to go, before a Grace diminished by man's constant refusal of Salvation.
In the depths of their being, every one of My children maintains the recognition that I Am the Truth, but they refuse to recognize Me. I do not command man to act outside of his possibilities; I do not call you to be as you cannot be. Those who do not act rightly, do so not because they cannot act rightly, but because the world and the flesh have become entrenched in them and are stronger than their own will and good intentions.
MY BELOVED PEOPLE, IT IS URGENT FOR YOU TO TAKE MY APPEALS AND THOSE OF MY MOTHER WITH GREAT SERIOUSNESS.
THE INSTANT IS NOT AN INSTANT... WHAT MUST BE FULFILLED HAS BEEN REVEALED TO YOU AND IS BEING FULFILLED. WAKE UP! Do not be among those who go on as if evil did not contribute to the suffering of this generation that suffers, that suffers and will suffer the unthinkable.
At this time, the interests of the leaders of powerful nations are centered on their own personal interests. Therefore, the suffering of man will be continuous until the antichrist is defeated.
MY PEOPLE MUST PREPARE THEMSELVES SPIRITUALLY,
ASCEND AND STAY UNITED TO MY HOLY SPIRIT SO THEY DO NOT ERR.
Man's thinking has not expanded, rather it has been limited spiritually and has been limited more in this instant, so he does not to react to My Appeals and continues surrendering to evil. My calling you to transcend, to be mainly spiritual applying My Teachings and Commands in all your works and deeds, is described as being "out of the bounds" of which I can direct My People, and therefore those who think themselves learned, describe you as followers of the so-called new age.
YES, CHILDREN, I WANT YOU TO COMPLY WITH MY REQUESTS, I WANT A NEW MAN, RENEWED, WHO THINKS AND KNOWS ME FULLY, OPEN TO HEARING MY HOLY SPIRIT, SINCE I HAVE NOT RESERVED HOLINESS FOR SOME BUT HAVE IT AVAILABLE FOR ALL MY PEOPLE.
Children, new ideological currents want to limit you with the goal of keeping you in the traps that satan places before you, hindering you with incorrect definitions of a false religiosity, from being more spiritual and less worldly. The spiritual man is not the one who stays far from the world, but the one who is not worldly and whose life is a testimony of My Love present in the fulfilling of what Our Divine Will has commanded of you.
YOU RECEIVE GREATER DIRECTION FROM OUR HOUSE DUE TO THE PROXIMITY OF GREAT EVENTS, BUT DO NOT TRUST THOSE WHO DO NOT REAFFIRM SACRED SCRIPTURE TO YOU, because there is no man on Earth who possesses the Truth of Our Trinity. Man cannot attain absolute Truth, for it is above the human spirit.
My People, how many falsehoods are being communicated to you! World power is on the shoulders of great contenders against Our Truth. That power is hiding what is coming to Humanity, what is in the Universe and will come to impact the Earth.
Much of science is willingly muzzled and at the service of the powerful. Human power over man is more important for those who govern the great powers than the very safety of human life throughout the planet.
They refuse the loving Legacy of My Mother and My Warnings so Humanity does not enter into panic, and thus they hide the soul's Salvation from man, hindering him from being primarily spiritual. They saturate man with science that is misused and bent on a technology that makes man a plaything under the dictatorship of satan, in order to create in man a false spiritual regeneration and growth of evil, with the intention that man be the one to break the unity with Our House and his brothers, seeing everyone who is at his side as an enemy.
My Beloved People:
WAKE UP BEFORE IT IS TOO LATE! ...
Pray, My children, pray for the United States: misused technology has invaded homes, it has led them to feel supremacy over Humanity. In this instant, My Heart aches for this nation that will suffer due to the earth's shaking; the offenses against Our Trinity are innumerable; the devil
takes control in that nation. Terror has been formed on its own soil and My children will suffer in broad daylight. Nature scourges it, the politics of this nation will be news.
Pray, My children, pray, communism progresses, underhanded in its falsehood. What has seemed good is not - on the contrary, it has dressed itself as a lamb in order to invade other territories and gain power.
Pray children, for Germany, it will weep before terror.
Pray for Russia, Nature scourges it.
Pray My children, in the world's great meeting sin reigns in all its forms. Pain looms forcefully.
Pray My children, the winds strike unexpectedly, the waters surprise man, the seas are not the same as in the past, deformed sea creatures are emerging.
Pray, the earth shakes. Pray for Chile, Japan, pray for the West Coast of the United States, pray for India.
My Beloved People, from Heaven you will see looming that which will make man tremble; fire is approaching without Humanity being aware. Selfishness will allow it.
BE MESSENGERS OF PEACE, BE UNITY.
I PROTECT MY PEOPLE: YOU, MY CHILDREN.
I LOVE YOU AND PROTECT YOU, I KEEP GUARDING YOU, I AM KING AND LORD.
I love you with Eternal Love. I bless you from My Sacred Heart.
I love you.
Your Jesus.
HAIL MARY MOST PURE, CONCEIVED WITHOUT SIN
HAIL MARY MOST PURE, CONCEIVED WITHOUT SIN HAIL MARY MOST PURE, CONCEIVED WITHOUT SIN