Saturday, August 6, 2016
Message from Our Lord Jesus Christ
To His Beloved Daughter Luz De Maria.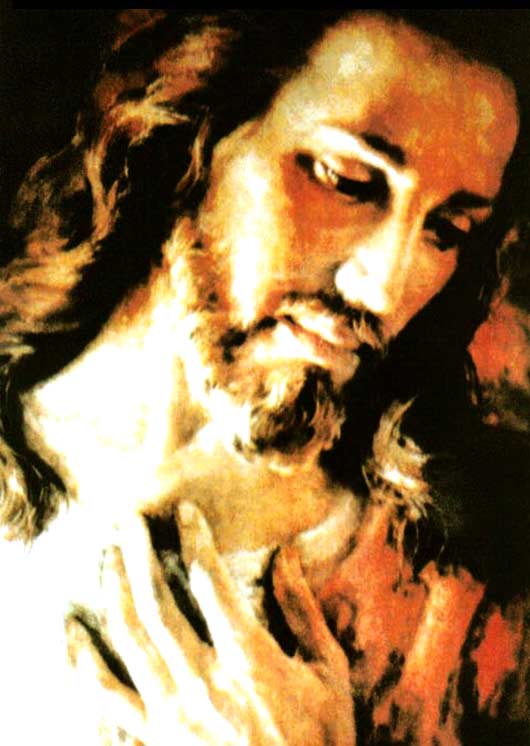 Beloved children, My People:
MY BLESSING IS CONSTANT TOWARDS ALL MEN.
Mercy constantly emanates from My Hands that wishes to be received by those who need it. With pain, My Mercy returns to Me anew: there are few who accept it.
Humanity dismisses My Love and this has led humanity to have a heart that hardens more and more by the instant.
My children look at each other with contempt; the struggle of the great nations is a struggle that has taken shape in the hearts of the majority of their inhabitants.
In this instant, My People are viewed with contempt, My People of whom everyone who follows Me and wants to save their soul forms a part.
THE INSTANT OF SUFFERING ARRIVES, THE INSTANT THAT I DELAYED ... It comes inexorably to this generation to which so much has been revealed in all My Mother's Apparitions, and men do not recognize it willingly.
The foundations of the Earth will be shaken again and again. The water of the seas will emerge through the land, it will come to the surface and flood cities.
How much I have to mention, again and again! My People need to enter into the Revelations of My Mother in various beloved countries where She has revealed in advance what you are living and will live through in this instant.
My Beloved People:
DO NOT KEEP MY LOVE FOR YOURSELVES OR THE KNOWLEDGE THAT YOU POSSESS, DO NOT WITHHOLD FAITH OR BE LUKEWARM.
"I AM WHO I AM" (Ex. 3:14) AND I MAINTAIN MY LOVE AND PROTECTION OVER THE ONE WHO DOES NOT DENY ME.
Humanity celebrates and in the midst of the distraction appears the darkness of the man with a heart of stone. Impiety does not wait, disease and violence are displayed amidst the hubbub and the nations react without conscience.
The seas have been taken by the powerful as their property and the waters are contaminated with constant bombardments from nations wishing to intimidate other nations. Men have forgotten that the waters of the seas filter down into the depths of the Earth and that contamination is definitive.
Earth, given for man's subsistence and habitat, is at this instant indiscriminately contaminated by a Humanity without conscience that only wants to achieve its goals: TO BE THE POWERFUL WHO DOMINATE THE WORLD.
DO NOT CONTINUE CONTAMINATING THE WATERS OF THE SEAS ... THIS WATER INVADES THE LAND AND MY CHILDREN GROW SICK.
At this instant, My beloved children, you find yourselves under a constant threat. Some are aware of this; others, deaf and blind to these Warnings, ignore them and have created their own Tower of Babel so as not to hear ME, and soon they will fall.
Beloved children, My beloved People, hearts vibrate with excitement caused by the propaganda of competition, thus succeeding in diverting your attention from the frightening truth that is approaching.
MY CHILDREN ARE VENTURING INTO INNOVATIONS THAT TAKE THEM AWAY FROM ME; CONFUSION HAS COME TO MY CHILDREN AND THEY DISTANCE THEMSELVES FROM THE
FULFILLMENT OF MY WILL. Evil has taken hold of this libertine generation in order to display the sins that most offend My Sacred Heart and the Immaculate Heart of My Mother. Satan accomplishes its task, confusing My People who walk between doubt and darkness.
Do you seek the Truth? Turn to My Word in the Sacred Scriptures, in the Commandments, in the Sacraments, do not turn away from prayer and from the contemplation of the Mysteries of the Holy Rosary.
In difficult instants, confusion increases when the Pharisees display a false concept of the Divine Word in order to lead more souls astray.
DO NOT ARGUE IN A FALSE RELIGIOSITY, YOU KNOW WELL THE COMMANDMENTS OF THE FATHER'S HOUSE.
DO NOT BE AMONG THOSE WHO SEEK EXCUSES TO OFFEND OUR TRINITY.
IN ORDER TO LIVE IN THE DIVINE WILL YOU CANNOT REMAIN LUKEWARM, YOU MUST LIVE IN
THE 'YES, YES'.
THE LUKEWARM WILL BE VOMITED FROM MY FATHER'S MOUTH (Rev. 3:16).
MY MERCY IS ONE, AND IT IMPLIES CONDITIONS WITHOUT WHICH MY MERCY IS HINDERED BY MAN'S OWN FREE WILL FROM ACTING TO ASSIST MY CHILDREN. If these conditions are not taken into account you do not bring My Mercy to where sin is committed daily, life is a constant sowing of offenses and the Divine Law is ignored at one's convenience.
You refuse to realize that the life of each one of you is what each one desires.
Beloved children, these instants will be more difficult as time progresses. The persecution of My People will be constantly in the news, NEWS CONVENIENT FOR THE RULERS OF THE NATIONS WHO HIDE THE TRUE PURPOSE BEHIND THE CLOSURE AND INVASION OF MY TEMPLES.
MAN, WITH HIS SOUL DARKENED, SEEKS THE DEVIL. I CALL YOU TO RETURN TO ME.
Satan takes the spiritual chaos of man in order to forcefully begin the predicted spiritual confusion, to bring down and confuse consciences, to bring down persons of Faith and to muddy them, in order to contaminate My chosen ones and catch them in its nets.
Love Me, nourish yourselves with My Body and Blood, receive Me in the Eucharist. Receive Me in the mouth; thus you prevent Me from being taken and offended by those that hide Me in their hands in order to spit on Me and insult Me in ceremonies dedicated to satan.
Children, My People, DO NOT CONTINUE THINKING THAT THE WARNING WILL NOT COME, IT IS AS NEAR TO YOU AS YOU REMAIN NEAR TO SIN.
Each one of you will live instants of spiritual solitude; I will allow you to see yourselves throughly. In that solitude you will see yourselves as you truly are. Horror will take hold of you, desolation will be lived, not felt, but lived by each one of you. It is necessary for My children to see themselves within, to see their work and actions, so that they seek to fulfill the Divine Commands.
You will see how fire approaches the Earth and the Earth will be shaken for some instants; silence will be the scourge for many souls.
My People, prepare yourselves! Calamities are calamities, persecutions are persecutions. Plagues will increase and will be increasingly unknown. My Mother has given you the protection against the plagues: the Oil of the Good Samaritan and other means to fight what science will not succeed in fighting.
My People, with the advance of terror famine advances, and with famine advances the threat for the man who centers his life on what is material.
I WILL ASSIST MY PEOPLE, MY MOTHER WILL TAKE YOU BY THE HAND. IMPOSSIBLE THINGS ARE IMPOSSIBLE FOR MAN, NOT FOR ME.
The war is in its first phase; soon it will be unleashed without compassion and man will suffer as a result of misused science.
My Beloved People, pray for Russia; the sleeping giant awakens and displays its power.
My Beloved People, pray, the one who seemed innocent will be uncovered, his wings have become stained with blood, giving power to terror. The United States will live its own internal war.
My Beloved People, pray, Humanity will see how far evil goes; it disavows love, brotherhood, solidarity, disavows man himself and sacrifices itself in order to kill without mercy. Pray for Brazil.
My Beloved People, pray, the Earth shakes, it sinks and is transformed geographically; Nature strikes Humanity with all its power. Events never before seen will be lived by this generation.
My Beloved People, man, not wishing to become a child of Mine, draws calamity upon himself.
Pray children, pray, Humanity lives in constant terror, peace will be unknown and it is fear that rules in the world.
MY CHILDREN, I CALL YOU AT THIS INSTANT TO DRAW NEAR TO ME WITH FAITH AND STRENGTH.
I bless you, My Love surpasses what you can imagine.
I love you.
Your Jesus.
HAIL MARY MOST PURE, CONCEIVED WITHOUT SIN
HAIL MARY MOST PURE, CONCEIVED WITHOUT SIN
HAIL MARY MOST PURE, CONCEIVED WITHOUT SIN