Tuesday, August 9, 2016
Message from Our Lord Jesus Christ
To His Beloved Daughter Luz De Maria.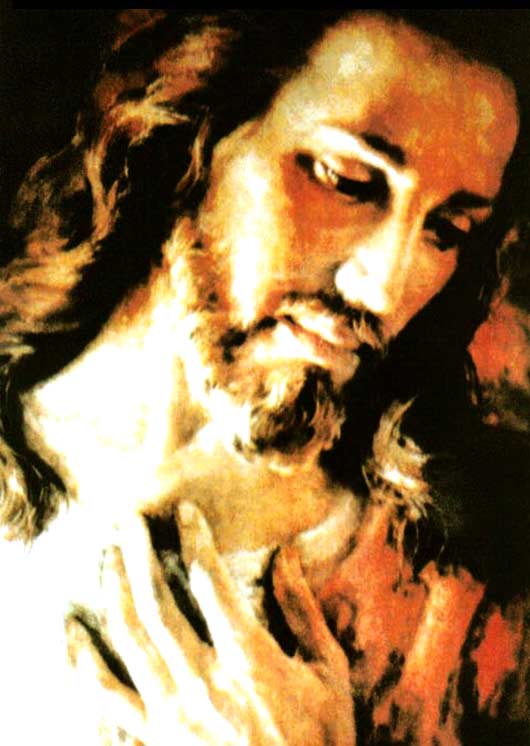 My Beloved People, I bless you.
SEEK ME WITHOUT CEASING ...
DESIRE IT, UNTIL I AM THE GREATEST NECESSITY FOR YOU.
LOVE ME, UNTIL REASON CALLS THE WILL TO BE AWARE THAT I AM THE SUPREME GOOD.
My People, be docile towards My Appeals; the right disposition of the human person is necessary in order that Faith, Hope and Charity might grow in you.
The virtuous man is seen without saying a word, since in him My Love shines ...
The man who seeks to be admired lives from his pride; he will possess eloquence, but it will be empty and his word will not achieve more than momentary admiration.
WHOEVER DOES NOT ENTRUST HIMSELF OR HERSELF TO ME AND IS NOT HUMBLE, DOES NOT POSSESS VIRTUES BUT ONLY EMPTY WORDS.
My People, you must seek unity, you must go in search of the common good so that devotion for one another be the fulfillment of the Divine Command.
Whoever is not fraternal and walks over his or her own well-being is prevented by pride from seeing the need of his or her brother and sister... Whoever is fraternal and follows Me is pleased to guide his or her brothers and sisters towards the good of all, knowing that My Providence sees the direction in which man works and pours himself out, providing for all in their needs according to My Will. I ask you only for a right disposition and My Providence welcomes and blesses, blesses and loves.
I ENLIGHTEN YOU WITH MY WORD, FOR MY WORD IS REVELATION, WHICH YOU BELIEVE BY
FAITH, ACCORDING TO HUMAN UNDERSTANDING AND HUMAN WILL
THAT COMES TOWARDS ME OR GOES AWAY FROM ME.
Revelation is not contrary to reason, rather both are necessary. Although reason does not reach Divine Mystery, Faith prevents man from falling into error. Just as the one who proclaims that the pain of hell ends by Divine Mercy falls into grave error; this is contrary to Sacred Scripture. Human will is free to receive good or evil. Even so, I seek man so that he desires good.
My People, you have persisted in evil; if you do not seek to make reparation, you cannot be forgiven by Me. Whoever has known Me and rejects Me is more culpable if they do not return to union with Me.
My People, it is not enough to call one another Christians; it is not with dead works that you gain Eternal Life. It is not with an empty prayer, or with acts without My Love that you attain Eternal Life, it is not with appearances that you gain Eternal Life. Every instant should be lived as if it were the last, and Love must prevail over your own selves; otherwise, you have not attained the comprehension of living in my Will.
I call you not to forget this: Humanity has forgotten brotherhood, love between brothers and sisters, the helping of brothers and sisters. The struggle for what is material makes man selfish and hard of heart.
How much more will you live?
How much more will the system that man has implemented prevail?
Do I not take care of My children, in order that My children should give mutual assistance to one another?
The birds of the field do not die, I feed them. Thus my children are protected by Me, guided by Me, and, pointing out the way in advance to them, I warn them so that they might not be prey to the errors of the moment.
WAKE UP! DO NOT ALLOW FAITH TO DECREASE. Stay awake, My children, do not trust in the agreements of the men who govern the great Nations; be aware that at this instant hunger is taking lives, diseases are not stopping, natural disasters continue at their peak.
Humanity turns its back on Me, rejects Me, immorality is present at every instant and this, My People, is what you must flee: violence - it knows no bounds. Some want to be more violent than others, some of My children have become willing to be the most ruthless. The youth grieve Me with their insensitivity and lack of respect for life and for their elders.
MAN IS LIVING THE GREAT CHAOS REVEALED BY MY MOTHER AND NOT RECOGNIZED BY MEN.
My People, do not be distracted by trivialities, be careful, do not be distracted by the cunning of the devil who wants to distance you from reality.
My Mother shelters your soul so that you may remain beside Me.
My People, since the beginning of this Revelation, I have invited you to stay in the Immaculate Heart of Mary and in My Sacred Heart. THIS REVELATION BELONGS TO OUR HEARTS. THUS I DESIRE THAT THIS REVELATION OF THE IMMACULATE HEART OF MARY AND OF THE SACRED HEART OF JESUS BE RECOGNIZED, so that each one of you, my People, might cry out: THY KINGDOM COME! at every instant, however difficult the instants may be, because Our Hearts will keep beating with My People.
David defeated Goliath with a sling. My People will triumph with My Love and by the Hand of My Mother.
Pray, My children, pray for the suffering of France, England and Spain, they will be surprised by terror, and Nature will scourge them.
Pray, My children, pray for Venezuela, pain increases. The earth shakes.
Pray, My children, pray for Costa Rica, violence looms. The earth shakes because of its volcanoes.
Pray, My children, pray for Japan, it suffers, its land shakes, the water is stirred up.
Pray children, pray for the Middle East, it moved violence against humanity, peace is not peace, man suffers.
I WILL SEND MY HELP TO THIS PEOPLE OF MINE, MY ANGEL OF PEACE WILL COME AND LOVE YOU WITH MY LOVE. HE WILL FIGHT EVIL AND SHAPE MY WORD IN YOUR HEARTS.
My people, how many martyrs at this instant!
Do not become used to the pain of your neighbor, stand in unity, in fraternity, in charity, in respect towards one another, do not raise your hand against your brother or sister, or use the tongue as a double-edged sword.
My People, I desire in this instant especially, when evil has taken possession of so many human beings, I desire that you receive the Holy Eucharist in the mouth.
MY BODY AND MY BLOOD MUST BE TREATED WITH RESPECT; RECEIVE ME IN THE MOUTH, DO
NOT TAKE ME IN THE HAND. YOU LET ME FALL WITHOUT NOTICING IT WHEN, AFTER RECEIVING ME IN YOUR HAND, THE PARTICLES OF MY SACRED BODY FALL ON THE FLOOR WHEN YOU
LOWER YOUR HANDS CARELESSLY AND THROW ME TO THE GROUND. THIS IS NOT BECAUSE THE HAND IS NOT WORTHY OR PART OF THE BODY, BUT BECAUSE YOU DO NOT KNOW HOW TO TREAT ME AND IGNORE THE VALUE OF A SINGLE PARTICLE OF MY SACRED BODY.
My People, I am the Shepherd who does not neglect the details of His Flock, I anticipate and warn you so that you do not make careless mistakes.
When you repent of your sins, I see you as for the first time, and I love you more. Do not fear because of what is to come, fear offending me.
My Mother does not leave you. Have faith, at this instant each one of My People has his or her load. Some suffer for those who live in sin; others, for the dying so that they might repent; others, for those who do not recognize their errors; others, for those who do not want to change and persist in sin. Each one of you is like a finger of the hand; all play a role, but all belong to Me. I lead you, I AM YOUR LORD, "I AM WHO I AM" (Ex 3:14).
My blessing is with each one of you: in the Name of the Father, of the Son and of the Holy Spirit. Amen.
Your Jesus.
HAIL MARY MOST PURE, CONCEIVED WITHOUT SIN
HAIL MARY MOST PURE, CONCEIVED WITHOUT SIN
HAIL MARY MOST PURE, CONCEIVED WITHOUT SIN