Monday, August 15, 2016
Message from the Blessed Virgin Mary
To Her Beloved Daughter Luz De Maria.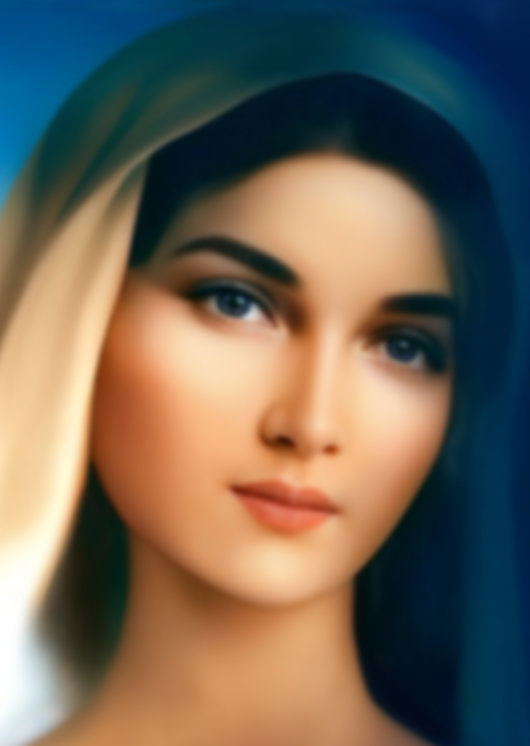 Beloved children of My Immaculate Heart:
IN THIS INSTANT I BLESS YOU IN A SPECIAL WAY.
In this instant when the Divine Will is being hindered from being fulfilled, and thus the Word of God expressed in Holy Scripture and made explicit in this Revelation of Mine is not believed.
CHILDREN, THE FAITH OF MY CHILDREN IS SCARCE, ALMOST NULL IN SOME AND NULL IN OTHERS.
In order to be true children of My Son you must live the Gospel in spirit and truth, you must enter into Divine Love. I know that you will understand the Mysteries of the Kingdom, since you, beloved children, are humble and simple of heart.
The Father's House has not left His children alone; always and at every instant it has announced to them what is going to happen to them if they do not obey, but the proud do not understand how Heaven chooses human beings who are simple of heart in order to make the Divine Word explicit to its People.
'Why does Heaven not speak to me?', the proud often say. I answer that question: because you are not humble, or because the learned dare not reveal what the Father's House gives to its instrument, since for the learned it would be a matter of studying and comparing the Truths that Heaven is revealing at this instant with what their intellect has come to know - managing in some cases to put human exegesis full of rational interpretations before the TRUTH OF THE DIVINE WORD.
Acting in this way causes great confusion among My Son's People. Sometimes they deny the greatness of My Son, the Miracles He performed, the life of purity and love, in order to bring doubt into man's mind, SO THAT MAN DOUBTS THE MISSION OF MY SON, HIS SELF-GIVING, HIS
RESURRECTION AND THEREFORE MAN'S SALVATION.
My children:
Few are the learned who put human intellect aside in order to jump into the great Truth of the Divine Word …
Few are the human beings who, out of love for the Father's House, raise their voice when conveying the Messianic Message of My Son …
Few are the instruments who, according to the Divine Will, disclose what My Son reveals to them. Human considerations prevail in the human heart over conveying it according to the Sacred Heart of My Son ...
BELOVED CHILDREN, I WILL BE PUSHED AWAY FROM MY CHILDREN, AS MY SON IS PUSHED AWAY FROM HIS PEOPLE ...
I WILL BE DENIED AS THE MOTHER OF MY SON, YOU WILL BE AN ORPHANED PEOPLE ...
Not all those called to bring the Divine Word to My Son's People accept this great challenge, which at the same time is a great blessing in this instant, when a great majority of Humanity is going against the Commands of the Father's House and has joined those who follow evil. In this instant, human beings trample their brothers and sisters without hesitation, disavowing their parents, siblings and relatives when their mind, disturbed by satan, clouds their reason leading them to be less human and more worldly.
Children, fierce struggles are going on at this instant, great massacres of the innocent, the earth shakes upon receiving so much innocent blood, it shakes when prayers and petitions for satan to reign completely on Earth fall upon it. THIS, BELOVED CHILDREN OF MY IMMACULATE HEART, IS WHY THE UNITED STATES IS SCOURGED SO MUCH AND WILL BE IN GREAT MEASURE, BECAUSE THE AUTHORITIES DO NOT COMPLY WITH THE FIRST COMMANDMENT OF GOD'S LAW ... SO MUCH OFFENSE DOES NOT GO UNPUNISHED.
Again and again, My Son is lacerated, is derided in homes and in public and private institutions so that He is thrown out, and in the same way man does not want to know about My Son, but only about lust, moral decadence, lack of love and disorder.
Children of My Immaculate Heart, Humanity, for the most part, lives without love in its heart, and if man's heart contains some love, expressing it is cause for great embarrassment.
IN THIS INSTANT, A LARGE NUMBER OF MY CHILDREN PIERCE MY HEART WHEN MAN AND WOMAN LIVE TOGETHER IN HOMES IGNORING ONE ANOTHER, because the man has been formed in a society where man's heart has become hardened and reason dictates to him that he should not express his emotional feelings, principally towards his wife, with the aim of distorting the true meaning of family. This is the action of satan, this is. How is it that you do not recognize it? ... Marriage has been led to indifference for the purpose of being destroyed by the lack of commitment in the couple and in the absence of feelings that keep their lamp lit so that neither storms, nor strong winds, nor snares manage to bring down the love in the couple and in their family.
CHILDREN, KEEP YOUR HOMES ALIVE. The family must survive in the midst of such madness, man and woman must live in peace and be a testimony for themselves, for their children, as well as for the Church of My Son and for society. Therefore, you should not hide the love of marriage, you must constantly cause it to grow. When a family works and acts hiding love, it satisfies evil and enlarges it, because love usually disappears.
From this is born the little love that children give to their parents, to their siblings, to their grandparents and so on. I suffer for the lack of the expression of love between families, and this lack is expressed in society through totally inhuman, unthinkable and irreparable acts.
Beloved children of My Immaculate Heart:
LOVE IS BEING REMOVED FROM THE EARTH.
A FEW POSSESS IT, AND THESE FEW ARE CONSTANTLY TEMPTED. THEREFORE, I CALL YOU TO KEEP ALIVE THE FLAME OF LOVE.
My children are not hard-hearted, nor can they afford to be outwitted by satan, when they lose control becoming enraged because of life's unforeseen events. Children, you must understand that each of you represents a challenge for satan. The lord of lies needs to grow through his tentacles, those that torment man, therefore you should not participate in this; you would be accomplices of satan when you usually keep hidden the sublime Sacrament and true devotion of marriage, respect in courtship and love between brothers and sisters in the family.
The enemy uses the LACK OF CONCERN of one for another like a great tentacle against Love ...
The enemy uses LIES as another great tentacle against Love ...
The enemy uses INDIFFERENCE as another great tentacle against Love ...
DISLOYALTY AND UNFAITHFULNESS is another great tentacle of satan, deceit warrants every sanction. This tentacle of satan is one of the great snares with which evil is taking possession of and destroying families.
Beloved children of My Immaculate Heart, Humanity is living upside down, sin abounds throughout the Earth. Is this or is this not a great rebellion against My Son? ...
Beloved children:
THE EXTINCTION OF LOVE WILL GIVE ALL POWER TO EVIL.
FAMILIES WITHOUT LOVE ARE FAMILIES IN AGONY, EXPOSED TO THE ATTACKS OF EVIL. DO NOT FORGET THAT MY SON WILL SEND BESIDE YOU HIS ANGEL OF PEACE, AND HE WILL RECOGNIZE LOVE IN THE HUMAN BEING.
My children, LOVE MY SON and My Son will show you the Way, the Truth and the Life.
CALL OUT TO ME and I will help you to love as My Son loves each one of you.
Pray, My children, pray for Germany, terrorism will be a great plague for this nation, it will be constantly shaken by terrorism. Nature will come with force to shake the heart of this nation.
Pray, My children, pray for Switzerland, the tears of My children will flow without restraint, the losses will be innumerable.
Pray, My children, pray for Italy, the volcanoes become active, the ground shakes and the People will suffer terror.
Pray, My children, pray for France and Spain. These Peoples will suffer inexorably through deplorable acts which will be committed against them. These Peoples will suffer pain.
Beloved children of My Immaculate Heart, Humanity has pounced against evil and evil has no compassion towards man.
REMAIN ALERT: a great pandemic is about to make itself present in Humanity, this is a fruit of misused science - it is sent to Humanity by a great power.
Man, possessing intelligence, uses it in the large technological companies and remains in competition to push this human intelligence to the limit and thereby create dehumanized human beings with a need for violence.
Beloved children of My Immaculate Heart:
YOU ARE ON THE EDGE OF THE ABYSS: the world powers are making secret alliances. War is moving slowly, but it advances without stopping; prepare yourselves. The Third World War, after great struggles, will lead the world powers to make use of nuclear energy. I suffer greatly for this reason; My Son loves each one of you, and He does not want you to suffer, but man in his great ignorance will only see his mistake after having committed it.
Children, follow closely the peace treaties that are being signed. These will be broken without those who sign them having interference in it.
Children, you believe in astronomers, but not in the Calls of Heaven ... An asteroid is roaming around the Earth, it will appear unexpectedly.
Volcanoes are entering a new stage of activity.
Do not continue living like those who do not love My Son.
Pay attention to the signs of this instant and do not neglect the Signs of the Times. Fire will rain down from Heaven; the Earth will be purified again.
I INVITE YOU TO KNOW CLOSELY THE TRUE LOVE OF MY SON.
I INVITE YOU TO INVOKE THE HOLY SPIRIT SO THAT HE CONSTANTLY ASSIST YOU.
I INVITE YOU TO CALL ME MOTHER.
Do not be troubled like those who doubt and believe in men and not in the Protection of Heaven.
Do not enter into conflicts, maintain the Unity of My children.
LOVE ONE ANOTHER, LOVE IS THE STRONGEST BARRIER AGAINST SATAN. AT THIS INSTANT, YOU
SHOULD DISCOVER THE GREAT POWER THAT VANQUISHES EVIL AND WITH WHICH MY CHILDREN MUST FIGHT: THIS IS LOVE, BORN IN MY SON AND FULLY LIVED ACCORDING TO THE DIVINE COMMANDMENTS.
UNITY PUTS A HALT TO EVIL...
HE WHO HAS EARS, LET HIM HEAR (Mt 11:15)
I am with you, I am your Mother. My Peace be with you. I bless you with My Heart.
Mother Mary.
HAIL MARY MOST PURE, CONCEIVED WITHOUT SIN
HAIL MARY MOST PURE, CONCEIVED WITHOUT SIN HAIL MARY MOST PURE, CONCEIVED WITHOUT SIN