Tuesday, August 16, 2016
Message of Our Lord Jesus Christ
To His Beloved Daughter Luz De Maria.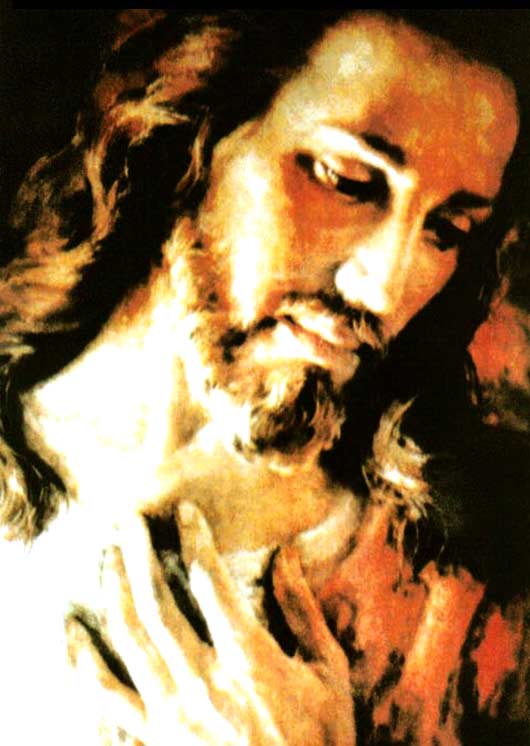 WHAT DO I SEE FROM HEAVEN?
A planet in agony, lacerated by the hand of man, whose task was to keep the planet in perfect condition ...
I SEE THE RAVAGING OF NATURE. Trees have been and are eliminated without thinking of replacing them; water grows scarce in the earth; where water overflowed, it is lacking at this instant. During war they will fight for water, just like in instant they seek to take control of the oil.
How many men serve in My Temples in the interests of gaining a little importance in society! but do not respect or love Me as I desire that those souls love Me.
I SEE HOW MY CONSECRATED ONES DELEGATE TO EUCHARISTIC MINISTERS THE FUNCTIONS WHICH ARE EXPRESSLY THOSE OF MY PRIESTS; they do so because some do not serve Me with sufficient Faith. I am treated carelessly without My Consecrated ones being totally jealous of My Real Presence in the Eucharist. I see this and My Heart aches at such a serious act.
I SEE THE LACK OF PRAYER AMONG SOME OF MY CONSECRATED ONES; from this arises the deformation in the spirit that leads them to fall into despondency, into routine. Some sermons are poor, lacking My Word, some of these sermons lack the motivation and strength to wake up My People.
My Church must remain in constant observance of the fulfillment of The Commandments. Without omitting them, It must maintain a balanced zeal for the fulfillment of how much the Commandments of Our Divine Will dictate.
Unfortunately, some of My Consecrated ones have entered into politics, an act that influences them in being impartial and protectors of My Own.
My Mandate for every Consecrated is to teach My Flock; to go in search of those who have strayed; to call sin, sin and evil, evil. Lukewarmness nauseates Me, it precipitates My children towards satan so that they fall into damnation.
Freemasonry together with the illuminati and other sects have taken high-ranking positions within My Church, impoverishing the Truth that I want My People to know. THESE SECTS STAND AT KEY POINTS WITHIN MY HOUSE IN ORDER TO DIVERT THE LAW THAT MY FATHER SENT TO HIS PEOPLE IN THE HANDS OF MOSES IN ORDER TO BE FULFILLED IN ALL TIMES AND PLACES.
Evil, disguised by falsehood, has introduced itself into My House, the smoke of satan has blinded some of My Consecrated ones, and they do not see how the demonic serpent cunningly creeps into My House, introducing the poison of evil among My representatives.
Some of the theologians write papers about this difficult time, without describing the time. The time is each one of My children, the time is Humanity itself, since every generation defines how the time is in which it lives.
THIS GENERATION HAS BROKEN OUT AGAINST EVERYTHING DIVINE, AGAINST MY MOST HOLY MOTHER ... THIS GENERATION HAS VOICED AGAINST ME. THUS IS AND WILL BE THE TIME IN
WHICH IT LIVES: calamities, diseases, natural disasters, great cataclysms, uprisings of men against men, the massacre of innocents, disrespect and lack of fulfillment of the Divine Law, of the Sacraments and other practices of piety.
Among some of My children, My Cross does not hang on their chest out of love but out of modernism, and in some cases out of derision.
SATAN IS INVOKED IN ORDER THAT IT TAKES CHARGE OF HUMANITY...
THEY IGNORE THE FACT THAT EVERYTHING WILL PASS BUT MY WORD WILL NOT PASS.
Lucifer's rebellion is occurring anew among some of My children who in this instant rebel against our Most Holy Trinity and disregard My Mother, as a result of love for man's human ego, as a result of uncontrolled love for the flesh. THIS IS WHAT MY FAITHFUL PEOPLE ARE SUFFERING AT THIS INSTANT; THEY SUFFER BECAUSE OF THOSE WHO ENJOY UNGODLINESS, THEY SUFFER BECAUSE OF SERIOUS OFFENSES AGAINST MY MOTHER AND THE MOTHER OF HEAVEN AND EARTH.
I am infinite Mercy and I watch over My Children. I wait patiently so that sinners recognize themselves as sinners and seek Me, and be reconciled with Me ... So infinite is My Love, yet at the same time I am Just and I come to separate the wheat from the chaff.
EVIL APPEARS TO BE WINNING BUT IT WILL NOT PREVAIL AGAINST MY CHURCH, AGAINST OUR TRINITY.
WHOEVER DOES GOOD, WILL ENJOY MY HOUSE.
WHOEVER LIVES IN EVIL WITHOUT MAKING AMENDS, WILL SUFFER ETERNAL FIRE ...
Sin seizes men of their privileges, it succeeds in making the senses rebel against Our Trinity, engendering in Humanity the need for bad actions and works. Because of this I command you to reverse the evil done, to ask Me for forgiveness of bad actions, and to ask for My Assistance in what you cannot overcome.
I SEE THE LACK OF HUMAN AWARENESS WHICH DOES NOT THINK BEYOND ITS PHYSICAL BEING; IT IS NOT AWARE OF ITS SPIRITUAL BEING, it is not aware that the body emanates good or evil, and this affects all Humanity. A creature of goodness is an expansion of My Love, and goes touching the souls of his brothers, moving hardened hearts.
I SEE HOW YOU DO NOT UNDERSTAND THAT YOU ARE AN IMPORTANT FORCE ON EARTH, A FORCE FOR GOOD OR FORCE FOR EVIL. My children have to be aware that they emanate darkness or light, and that emanation remains latent in every instant. You are not inert bodies; you are capable of achieving miracles with the power of Unity.
Each one of you is like a universe in miniature with the greatest potential of Creation. Attend to this and use it for the good of the soul.
I warn you, I alert you, I call you not to lose heart or to be taken forever as prey by the power of darkness.
DO NOT FORGET THAT OUR HOLY SPIRIT WILL REMAIN WITH YOU, BELOVED CHILDREN.
"... and I will pray the Father, and He shall give you another Comforter,
that He may be with you forever" (Jn 14, 16)
Children, wake up, react, make reparation! ...
I HEAR THE CRY OF MY PEOPLE, I PROTECT THEM ESPECIALLY IN THIS INSTANT.
RECEIVE ME, PRAY TO MY MOTHER THAT SHE INTERCEDE FOR YOU, ASK OUR HOLY SPIRIT TO POUR OUT HIS GIFTS UPON YOU.
I see Humanity- violent, angry, drawn by evil in order that the struggle of bother against brother comes sooner. Humanity has been undermined by violent games with no respect for age, because they have been created to wipe man out, affecting the unconscious, preparing him for struggle and rebellion.
Pray, My children, pray in order to discern the Signs of this instant. The Warning will not delay and you will suffer because of evil actions.
Pray, My children, pray for Argentina, turmoil advances, dragging this nation along. Violence grips this nation, danger advances. Do not pay attention to terror, be one another's keepers - only then, in unity, will you succeed in overcoming the turmoil.
Pray, My children, pray for the Philippines, they will suffer through terrorism.
I SEE MY CHILDREN SUFFERING BECAUSE OF NATURAL DISASTERS, the awaited great earthquake draws near to My children.
The Earth will be chaos; violence will spread like a plague. Peace will be unknown, violence will be this generation's instant.
My People, be constant in prayer, in devotion, do not let the ego cause you to remain unstable in character. Do not neglect Love among you, be experts in Love and the rest I will give to you.
The creature who is a reflection of My Love is stable and aims to give without expecting to receive
...
The creature who is a reflection of My Love expresses the Truth of his/her heart, is compassionate and merciful...
I SEE MY ANGEL OF PEACE COMING IN THE MIDST OF MY PEOPLE, being of assistance in instants of persecution.
MY LOVE WILL NOT CEASE, IT WILL CONTINUE POURING ITSELF OUT ON YOU.
My Blessing is a treasure for My People. May My Blessing be a spring of Faith, Love, Hope and Charity within you. I love you.
Your Jesus.
HAIL MARY MOST PURE, CONCEIVED WITHOUT SIN
HAIL MARY MOST PURE, CONCEIVED WITHOUT SIN HAIL MARY MOST PURE, CONCEIVED WITHOUT SIN