Sunday, August 21, 2016
Message from the Blessed Virgin Mary
To Her Beloved Daughter Luz De Maria.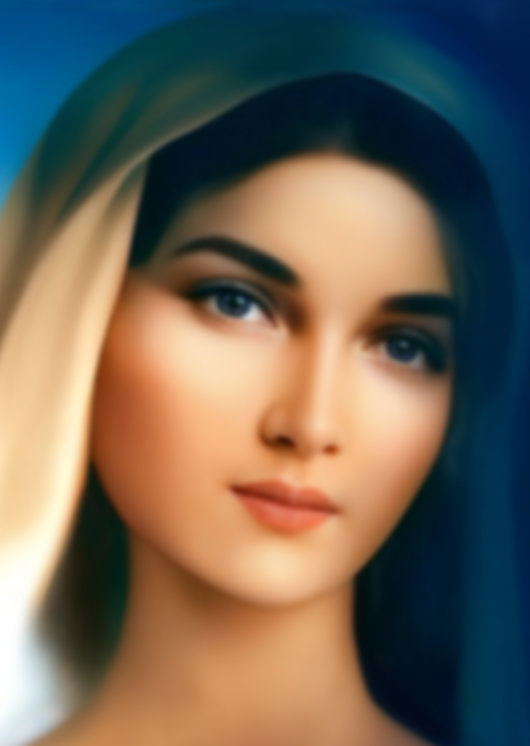 Beloved children of My Immaculate Heart,
IN A SINGLE ACT OF LOVE MAN MUST, AT THIS INSTANT, RECOGNIZE HIS DISTANCE FROM GOD AND REPAIR THIS, AS IT IS A GRAVE ERROR.
At this instant, man is moving about in an unreality that causes him not to listen to the inner voice of His King and Lord.
At this instant irrationalism prevails. The Divine Word falls on barren ground that welcomes every way of thinking; this is the irrationalism of the instinct of brutality.
In My Heart I grieve so much over this distance of My children towards My Son, that My Heart bleeds. MY CHILDREN CAN FEEL ANXIOUS FACED BY SPECIFIC SUFFERING OR WRONGFUL CONDUCT, BUT THEN THEY DO NOT REACT, DO NOT MAKE AMENDS.
My children seek debauchery that makes them cold and hardens the heart. Debauchery fertilizes the spiritual soil in man with irrational manure, which produces only acts and works that are fruits of unconquered temptation.
My Beloveds, Humanity is mostly material and less spiritual. You have no interest in the spiritual aspect but in growing materially, you do not stop to think that the body needs to be sustained by something and that, just as the heart beats in the body, "something" must exist that maintains the spiritual organism.
CHILDREN, YOU HAVE A SOUL, THE SOUL SUSTAINS THE BODY AND IT IS PRECISELY THE SOUL THAT YOU MUST SAVE IN ORDER TO ENJOY HEAVEN.
FEEDING THE SOUL IS THE WAY YOU COME TO FAITH IN THE MOST HOLY TRINITY.
Children, you do not know that you have souls!, you have forgotten it ... I am reminding you in this instant.
I do not call you to an empty Faith, I call you to live the Faith. I call you to look at yourselves within, stilling the senses in order to fill the heart, reason, mind and thought with the greatness and the necessity of the Most Holy Trinity.
Beloved children:
GOD IS THE ONLY TRUTH AND REMAINS PRESENT WHETHER OR NOT YOU ARE AWARE OF IT. He remains present in the secrecy of the mind, of thought, of reason and in the heart. This is the familiarity that you have with the Father, the Son and the Holy Spirit, WHO LEAVES YOU THE LOVE THAT YOU ALWAYS HAVE TOWARDS TRUTH AND TOWARDS LOVE; IN THIS WAY YOU ALWAYS TEND TO THE GOOD.
Man needs to know himself, he should know that the soul is something deeper than saying: "I have a soul", and affirming it without clarity, without comprehension, without knowledge, allowing the devil to administer all of man's spiritual possessions. When the human creature does not attend to the knowledge of God, the spiritual soul is blind and merges with what is temporal.
Beloved children:
DESIRE TO BE SPIRITUAL AND TO LIVE DESIRING GOD ...
IMMERSE YOURSELVES IN THE KNOWLEDGE OF MY SON, OF LIFE IN MY SON'S LIKENESS IN ORDER THAT YOU BE RENEWED, AND THAT THE MIND, CLEAN OF ALL IMPURITY, THIRST FOR GOD.
Humanity is saturated with vices. The mind of man finds no rest. Man is immersed in concupiscence, man has mutated into a creature of greater carnality, where he finds pleasure and puts his heart.
To you, My children:
I CALL YOU TO A GREATER TASTE FOR RECOLLECTION, to distance yourselves from so much distraction that keeps you in constant temptation ...
I CALL YOU TO BE MORE SPIRITUAL, for which you must look within each of you, where the Deity resides.
Beloved children, only when you close the door to everything that comes from what is worldly and live in happiness, will you know that you are truly loving with your understanding guided by the Wisdom proceeding from the Holy Spirit.
Dearly beloved children of My Immaculate Heart:
THE SOUL IS IMMORTAL, DO NOT LOSE ETERNAL LIFE.
Live every instant as if it were the last. Do not take false steps, do not live with an eye on your brothers to criticize them, do not look for the needle in the haystack in order to criticize that needle. You need to work at being more spiritual. Strengthen Faith so that you do not stumble.
Be strong and firm in the Faith, as this is not an instant for you My children to be lukewarm.
Many of My children have been taken by the devil, they are possessed, they attack everything that reminds them of or represents My Son and Me.
Nobody should believe that they know everything. Do not be of those who feel that they are superior. Humility gives the human creature the pedigree of being children of God, the humble person knows how to be love, charity, forgiveness, possesses wisdom. Humility gives the human creature what neither books, nor titles, nor experiences give, because all the foregoing are tinged with pride that contaminates and destroys what it has found on its path.
My beloved, this is the instant when Humanity has entered into suffering slowly but surely, going towards the encounter with its crucible. My children, My emissaries, My mystical souls who convey the Divine Word and whom My Son has entrusted to Me especially in this instant, are protected by My Angels. Do not make them suffer ahead of time, as for those who cause more pain to My instruments, greater will be the charge and slower the walk towards the final encounter with My Son. "With the measure you use it will be measured to you". (Mt 7,2)…
Dear children, do not be proud towards the humble. When the humble person sees you powerless by the side of the road, he will give you his hand so that you continue. By contrast, the proud will grieve and be ashamed of themselves.
Beloved children of My Immaculate Heart, the whole Universe flows with energy. Each one of My children emanates good or evil from within them, in a space and time. That good or evil is in its decisive instant.
In this instant evil abounds, attracting serious dangers to Earth that are approaching from space. The Earth itself is at boiling point, warding off so much evil that Humanity is depositing on It: there will be suffering, grief, terror ...
Man acts against the Divine Will; therefore, I call My children to be spiritually strong, immersing themselves in the knowledge of Divine Work and Action, so that at every instant the soul desires to be more like My Son and less like the world.
SAINTS... YES, I WANT SAINTS!
BELOVED, IMMERSING YOURSELVES IN DIVINE ACTS AND WORKS LEADS YOU TO BE MORE SPIRITUAL, TO ENJOY THE GOOD, TO DO THE GOOD AND TO TAKE THE GOOD TO YOUR FELLOW MEN.
DO NOT FORGET THAT ETERNAL FATHER IS THE ONE WHO ADMINISTERS EVERYTHING, AND HE WANTS WHAT HE ADMINISTERS TO ASPIRE TO HIM.
Beloved children of My Immaculate Heart, you must ascend in order that the spirit survives in the Divine Light. Do not let them steal your peace, love, Faith, constancy. Be astute, assist one another taking the same path.
LOOK WHERE YOU ARE, OBSERVE WHAT IS AROUND YOU: DOES IT HELP YOU TO GROW?...
IS IT CAUSING YOU TO DECREASE?
From the Father's House you receive all the good that you create and the good that you need, if you request it with humility.
Children, pray for Germany, pray, this people will suffer the effects of evil, it will be a grieving and frightened people.
Children, pray for Hungary, Nature will scourge it fiercely.
Children, pray for Chile, it will shake with great intensity.
Children, pray for one another; plague is spreading, accelerating over the Earth.
Beloved children of My Immaculate Heart:
You will not be abandoned, the Angelic Forces remain with you. You should know that man's free will has precipitated events. You will be examined by yourselves. The chastisement will descend to Earth, the temperature of the entire Earth will be lower, the cold will seem to penetrate the bones of your body.
UNDERSTAND, CHILDREN, THAT THE MORE SPIRITUAL THE CREATURE IS, THE CLOSER IT IS TO THE MOST HOLY TRINITY.
DO NOT SEEK POWER, SEEK UNITY AND FRATERNITY.
BE THAT LOVE THAT KEEPS MY SON LOOKING TOWARDS THE EARTH.
Receive My Blessing.
Mother Mary.
HAIL MARY MOST PURE, CONCEIVED WITHOUT SIN
HAIL MARY MOST PURE, CONCEIVED WITHOUT SIN HAIL MARY MOST PURE, CONCEIVED WITHOUT SIN