Thursday, August 25, 2016
Message from Our Lord Jesus Christ
To His Beloved Daughter Luz De Maria.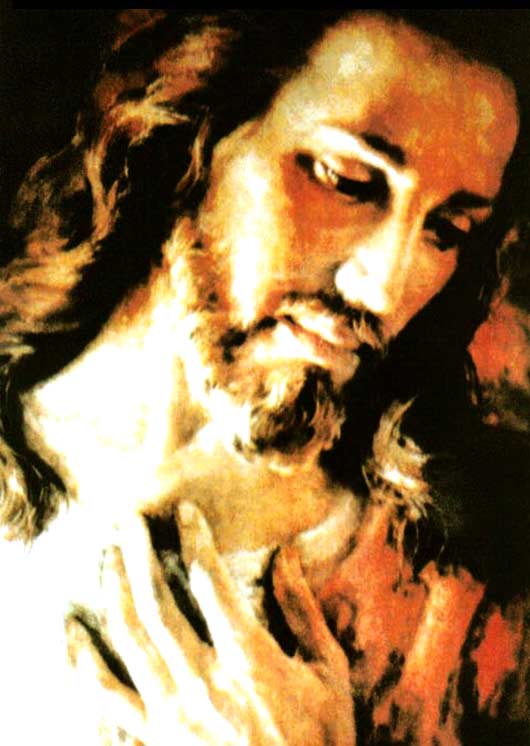 My Beloved People:
BLESSED IS THE ONE WHO COMES TO OUR WILL IN SEARCH OF MERCY.
BLESSED IS THE ONE WHO COMES TO OUR WILL WITH THE FIRM INTENTION OF AMENDMENT. BLESSED IS THE ONE WHO COMES TO OUR WILL WITH LOVE.
My Beloved People:
Humanity is instants away from the Great Warning ...
Evil has devoted itself to sowing evil in the man deprived of Me.
Humanity is laying great and heavy sins upon itself, which have blackened man's work and action. The human creature has fallen so far that it no longer appears to be a child of Our Will, but a child of free will feasting with the devil.
THE STAR SHINING IN THE SKY WILL NOT DELAY, illuminating those who live in darkness and those who live in the Light. The Earth will seem to burn and everything to be consumed in the flames, but you who believe in Our Trinity and in the Mother of all Humanity - some will know that it is the Warning, others will enter into a great panic that can lead them to perish. My children will enter into a great calm as if seeing themselves in a great mirror, that of the conscience. Everything will stop before the fulfillment of Our Will, not even the demons will be able to interfere at that instant, everything will be paralyzed.
My People, minimize the suffering of your own sin ...
ENTER WILLINGLY INTO A CHANGE that will give you the opportunity to remain closer to Our Trinity.
ENTER INTO THE LOVE OF THE QUEEN OF ALL OF CREATION so that She shows you inner silence is indispensable in whoever decides to be more of Our House and less worldly and sinful.
You should be aware of the state of madness into which Humanity has fallen, taking disobedience and the lack of conscience as its banner. The devil is guiding thousands of My children so that they enter into the maze of sins and are unable to get out of them.
I, your Lord, see from Heaven the actions of My children, and every action in favor of evil and contrary to Our Law and to Love leaves on the earth an amount of physical contamination such that I see the Earth covered with garbage in large quantities.
How you have deformed the House that you received!
AT THIS INSTANT MAN'S SPIRITUAL GARBAGE IS SO GREAT THAT IT NUMBS HIS SENSES. Thus every instant, man's every waking moment is infected with indisposition and this paralyzes you, so that you are unable to dispose yourselves to a radical change in your lives and to distance from yourselves the feeling of complacency towards what you know is wrong.
HUMANITY REMAINS WITHIN THE CLOUD THAT CLOUDS REASON, NUMBS THE MIND, HARDENS THE HEART AND CHAINS THE WILL.
Therefore, you do not see with clarity, you cannot discern or be strong to fight against evil.
My People:
YOU ARE NOT IMPOSING THE FORCE OF YOUR WILL IN THE FACE OF EVIL IN ORDER TO REJECT IT, you fail to turn away from what is sinful, you live allowing all that inner power living in each one of you to be suffocated by the power of evil, and that inner power is extinguished by cowardice of fighting against evil.
YOU DO NOT RESPECT YOURSELVES, YOU HAVE LIMITED YOURSELVES MENTALLY AND
SPIRITUALLY, so that evil has managed to surpass you to a great extent, due to the instability in which you keep your intellect, limiting yourselves to live in a past time, denying yourselves the possibility of being more spiritual and less of the flesh.
My People:
YOU HAVE DESIRED TO REMOVE ME BY ALL MEANS FROM YOUR LIVES, THINKING THAT TO LIVE IN ME IS TO LIVE BEING SUFFOCATED, HINDERED, REPRESSED, WITHOUT FREEDOM.
Unfortunately for my People, such thinking has brought you to stop in your ascent towards Me and to hold back the awakening of the spiritual faculties with which you were endowed in order to be closer to Our Will. What you continue ignoring and will ignore, is that in moving away from Our Will you have moved away from man's true identity as a child of God.
My People, how I have called you to halt the momentum of the human ego! ... and you do not heed Me.
That momentum which governs you at this instant, will die, and the soul will have been carried along the path of evil, governed by the human ego with the full use of poorly employed freedom. How many of My children live in this instant as if they had condemned themselves to hell, constantly spewing out the arrogance of the human ego upon their brothers and sisters!
How many, without knowing it, are denying themselves the happiness of being Our children, living poisoned by the human ego, envy and selfishness! The human ego has incrusted itself in man's thinking so that man likes to think he maintains his predominance over his brothers and sisters.
POOR SOULS LACKING MY LOVE, LACKING WHAT IT IS TO TRULY BE MY CHILDREN!
THEY CONTINUALLY JUDGE THEIR NEIGHBOR, THEIR SIGHT DOES NOT ALLOW THEM TO LOOK AT THEMSELVES.
How regrettable it is for Our Trinity to see man's state at this instant, in which for much of Humanity God does not forbid anything! Thus evil grows in the midst of a Humanity tolerant of the lack of values, where oppression is important, being superior is more important, the absence of love is more important, not fulfilling the Divine Law is more important. I look with pain upon Humanity that is ill, where men's evil acts go unpunished and there are recriminations against those who act in goodness.
You live in impunity, valuing sin, gravely offending Me with this way of acting.
YOU HAVE DRAWN PURIFICATION TOWARDS THE EARTH, MY FATHER'S HAND FALLS UPON MANKIND...
AND THE ELEMENTS REACT IN CONVULSION AGAINST MAN WHO IS TOTALLY INDIFFERENT TO THEM.
My people, great pieces of land will sink and the water that will emerge will cause severe flooding. The volcanoes will roar, announcing to man the proximity of their activity.
You will find strange creatures created by man in the sea, created by radioactivity in the ocean's waters.
Pray beloved children, pray for Japan, it will be strongly shaken.
Pray, beloved children, pray for Chile, lament will be heard with the ground's shaking, and water will invade the land.
Pray, My children, pray for France, pain comes again.
Pray, My children, pray for England, the heart will be bitter.
Pray My children, volcanoes are ready to erupt in one country and another, rapidly.
My people:
Turn away from evil and return promptly to Our Trinity...
Turn away from the stubbornness of the human ego so that you attain the good things that are for you...
Continue without being afraid and prepare, even if they say that you do not know what you are doing. Keep supplies in the places specially prepared to be My Refuges. I will bring you from one place to another and will protect you.
Love My Mother, find in Her the Intercessor for you to be endowed with Our Divine Love, and may Peace therefore reign in your hearts.
DO NOT FEAR, WHERE THERE IS A TRUE DEVOTEE OF OUR TRINITY, THEY WILL ATTAIN PROTECTION.
MY PEOPLE, DO NOT FALL AWAY IN THESE INSTANTS, FORTIFY YOURSELVES WITH OUR BLESSING.
I bless you with My Love.
Your Jesus
HAIL MARY MOST PURE, CONCEIVED WITHOUT SIN
HAIL MARY MOST PURE, CONCEIVED WITHOUT SIN HAIL MARY MOST PURE, CONCEIVED WITHOUT SIN