Sunday, August 28, 2016
Message from Our Lord Jesus Christ
To His Beloved Daughter Luz De Maria.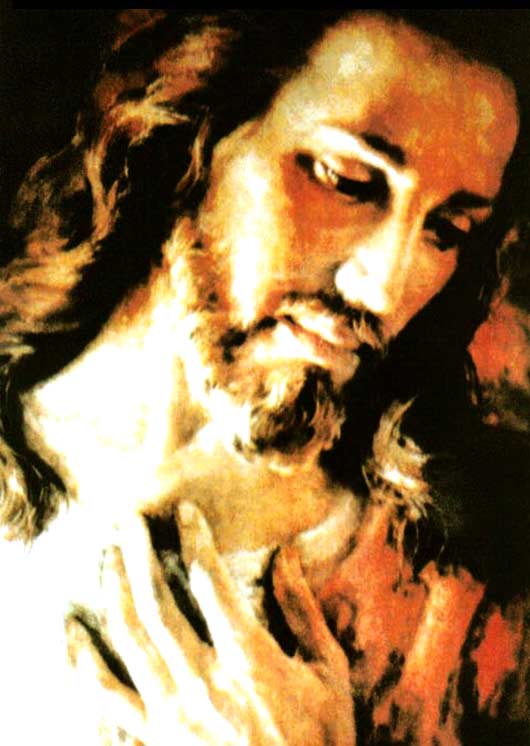 My Beloved People:
IN EVERY BEAT OF MY HEART MY PEOPLE REMAIN PRESENT.
NONE OF YOU SHOULD EXCLUDE HIMSELF OR HERSELF FROM MY PEOPLE, YOU ARE ALL MY
CHILDREN
I need you to recognize one another as brothers and sisters. I am gathering My people from all over the world so that, united in My Love, you be the force of goodness that expands throughout Creation, throughout the Universe.
Some may ask: "How is He going to gather us"?
In the encounters that each person has with me: in prayers, in our encounter in the Eucharist, in the meditation of My Passion, in the meditation of the Seven Sorrows of My Mother, in the meditation of the Holy Trisagion, in Confession, in love of neighbor, in love within the family, in the fulfillment of the Divine Law, in sacrifices, in obedience, in hope, in charity, in faith and in being true Christians in spirit and truth.
MY PEOPLE'S STRENGTH WILL REMAIN, IT WILL NOT DIMINISH, MY PEOPLE ARE FAITHFUL AND TRUE.
Because of this, I call My Priests not to feel that they are in Heaven in advance but to be worthy of their Magisterial office, at every instant serving My People with humility, SHARING WITH HUMANITY THE RIGHT TO ETERNAL SALVATION. My Bishops must live in humility, they should not live in palaces: with decorum, yes, but without excess, they should not have luxuries but should assist the poor, the needy.
I grieve over those Ministers who have given themselves over to the service of Freemasonry, usurping My Church and taking Her along completely wrong paths. Imposing themselves at this instant from within My House, they are taking advantage in order to prepare the arrival of the usurper. WOE TO THOSE WHO ARE HANDING OVER MY CHURCH! THEY WILL EXPERIENCE MY PEOPLE'S LAMENT AND THE SEVERITY OF MY HAND, for these allies of evil the separation I come to make of the wheat and the chaff will be a great sorrow. Ministers who call themselves faithful to Me will mourn with tears of blood for having disowned me, having deceived and having given themselves over to evil, directing My People wrongly.
I do not accept lust, excess, opulence, arrogance, the lack of charity, the denial of what I make explicit to My People, and woe to My Servants who are not devoted to My Mother!
My people, in this instant of discernment, you must remain in constant proximity to Our Will; otherwise I will see you deteriorating even more, with there being a greater number of those who muddy themselves, and their nauseous stench will be irresistible.
EVIL BINDS ITS FOLLOWERS, THOSE WHO ACCEPT IT,
THOSE WHO DO NOT RESIST IT, IT TRAPS THEM IN ITS CLAWS…
My People, do not mistreat each other; let it not be the members of My Church who strike Her, smear Her, denigrate Her when they enter into arguments against each other. UNITE, DO NOT ENGAGE IN CRITICIZING ONE ANOTHER BUT IN UNITING IN MY SACRED HEART AND IN THAT OF MY MOST HOLY MOTHER. May it not be My own people who stone one another out of petty envy or unjustified jealousy. No grouping within My Church is greater than another, all tend towards a single purpose: GIVING BACK TO US THE EARTH THAT WE HAVE LEFT FOR YOU.
I come to call you to continue sharing My Cross. LET EACH PERSON TAKE UP HIS OR HER PERSONAL CROSS, IN ORDER THAT YOU DO NOT DESERT ON THIS WAY OF MINE and not be a part, in this decadent instant, of this generation that offends Me to the point of nausea as never before.
Peace is a fleeting memory for Humanity, terror has taken hold of various countries, spreading and taking leadership in Europe.
My Church is sick, confused by the division that exists; this is not good because these are signs of the instant in which My Church will experience agony and then fall into schism.
A ray of lightning alerted My People about what is to come, and about My People's strength, and although they intend to destroy My People, the forces of evil will not succeed in removing Me from the Heart of My People.
Our Will has entrusted My Mother with the command of the Heavenly Legions in order that She be the one to crush the head of satan and, as the Queen that She is of all Creation, guide the spiritual struggle that Humanity is living through in these instants. Hence the importance of rapport with the prayer of the Holy Rosary, hence the awareness of praying the Rosary and of the meaning of every word and every act performed in said offering.
Do not wear the Rosary around your neck if you are not aware of what It means, because to do otherwise is to offend Me. YOU POSSESS A WEAPON WHICH THE DEVIL FEARS WITH HORROR AND FRIGHT: IT IS THE WEAPON OF THE HOLY ROSARY, NOT RECITED BUT CONSCIOUSLY MEDITATED.
Evil will appear to triumph, but will never prevail. At this instant unbelief prevails, you constantly offend Me, I am despised, a great number of My children have declared themselves among my enemies, the worst and greatest enemies, willing to serve satan as solicited by it, not knowing that after carrying out its purpose, it will send them to the eternal flames.
Because my people have been taught to see My Mercy without meditating on Our Divine Justice, at this instant it horrifies them that My Prophet obeys Me and conveys My constant warnings for you to wake up. Scripture contains in the Gospels:
"I HAVE COME TO BRING FIRE ON THE EARTH ..." (Lk 12: 49)
TO PURIFY, TO SEPARATE THE ONE WHO FULFILLS MY LAW FROM THE ONE WHO DOES NOT
FULFILL IT.
I WARN YOU, MY MOTHER HAS WARNED HUMANITY, AND MAN DOES NOT PAY HEED AND DENIES THE NAUSEOUS STATE OF HIS SOUL..., YOU ARE STIFF-NECKED.
MY WORD IS NOT GIVEN IN ORDER THAT YOU SEE EVIL AS SOMETHING WITH WHICH MY CHILDREN LIVE AND CONTINUE DOING EVIL, CAUSING MY TEACHINGS TO BE FORGOTTEN AND SUPPLANTED.
THOSE WHO ARE STIFF-NECKED WILL NOT SUCCEED IN CHANGING UNTIL THEY ARE AWARE THAT, AWAY FROM THE SACRAMENTS, THEY ARE HINDERED FROM BEING ASSISTED BY GRACE ON THE PATH OF CONVERSION.
My People, some of you are harder than others, some are determined not to listen to Me, to deny Me, and because of pride, they continue along the road to perdition.
The lack of humility of this generation is the weapon of satan. You forget humility, all think that they are wise without recognizing that "WHOEVER REMAINS STIFF-NECKED AFTER MANY REBUKES WILL SUDDENLY BE DESTROYED—WITHOUT REMEDY." (Prov 29: 1)
My Beloved People, I come to purify this generation with fire. You have two paths: good or evil, there is no in-between. COMPLY WITH MY WORD!
Pray My children, pray for the United States, it continues its purification, fire will emerge with the feared roaring of the great volcano. Nature and man emanate pain.
Pray My children, pray for India, it will be scourged by Nature.
Pray My children, pray for Chile, the earth moves from inside its core, forcefully stirring the sea.
Pray My children, Spain will suffer, Italy will suffer greater pain.
Pray My children, Mankind has attracted Purification and this has not been denied.
Coastal countries will suffer and famine will come to the great cities. Man with his anger is a means that stirs up evil in order to cause situations of emergency in various countries, where agitation will cause social havoc. Humanity rebels against its rulers and then comes the suffering of all with the grief of seeing the suffering they have caused. Man, in all he develops, manifests rebellion towards Me.
Argentina will suffer chaos. Pray for Argentina, they have disobeyed My Mother's warning.
My people, satan is cunning, it will appear to triumph.
Do not say you are saved by having being baptized. This instant is hard, this instant is for My true People, tho who are looked at by the whole of Creation whose elements aim to assist the faithful.
THE STATE OF MAN HAS BEEN LIFTED UP TO CREATION THAT SUFFERS BECAUSE OF IT,
CAUSING A CHAOS THAT MAKES THE COSMOS IN GENERAL SUFFER;
THE UNIVERSE IS SHAKING AND IS AMAZED AT MAN'S DISOBEDIENCE.
MANY WILL BE SCANDALIZED AND WILL BETRAY AND HATE ONE ANOTHER,
"BUT HE WHO ENDURES TO THE END WILL BE SAVED." (MT 24:13)
My blessing is with the one who strives to overcome his or her human ego and to ascend to My House.
My Mercy is ready to receive you.
I love you.
Your Jesus.
HAIL MARY MOST PURE, CONCEIVED WITHOUT SIN
HAIL MARY MOST PURE, CONCEIVED WITHOUT SIN
HAIL MARY MOST PURE, CONCEIVED WITHOUT SIN