Thursday, September 1, 2016
Message from the Blessed Virgin Mary
To Her Beloved Daughter Luz De Maria.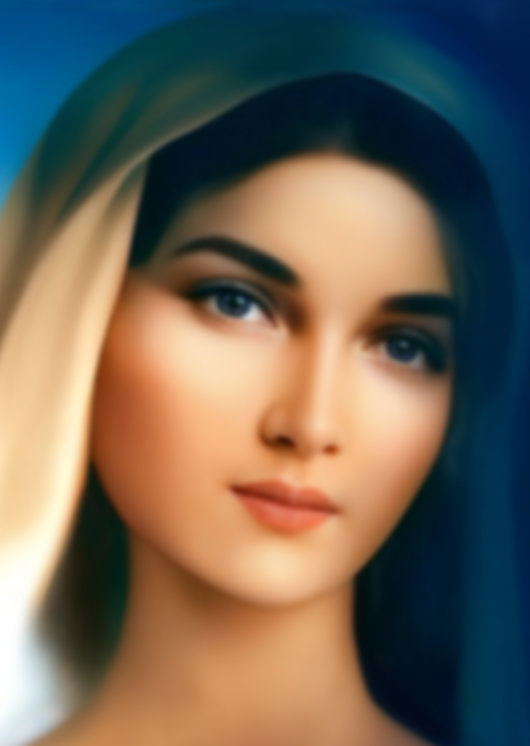 Beloved children of My Immaculate Heart:
I WATCH OVER HUMANITY, WHICH I PROTECT AND LOVE AS YOU ARE ALL MY CHILDREN.
Man continues on his way through life and at this instant he should stop to see himself within, even if he has no notion of what it is to see oneself within. In order to see within he must silence his mind and heart, in order that, in the silence, the Holy Spirit guide him to within himself and so that man perceive the Divine Presence.
MY SON REMAINS WITH YOU ...
YOU ARE THE ONES WHO REFUSE TO ENTRUST YOURSELVES TO MY SON GIVEN THE DECEIT OF THE WORLD THAT REMAINS IN THE HANDS OF EVIL.
Humanity has changed, it has been transformed into the machinery that moves the tentacles of evil. Every day a new deception emerges with which satan sorrounds My children. Instant by instant, evil raises its possession of souls to unimaginable levels through contempt for what is right and therefore a manifestation of good.
IN THIS INSTANT THE DISTANCE HAS BEEN ACCENTUATED BETWEEN THE ONLY TWO PATHS THAT
REMAIN FOR HUMANITY: GOOD OR EVIL. You cannot call good that which is contrary to God's Law.
Woe to My Priests who induce the people of My Son to act wrongly!
Woe to My Priests who love what is worldly, strive in what is worldly and put being shepherds of souls to one side!
My children should know that in the end, evil will pounce upon My Son's People, and THAT END IS THIS PRECISE INSTANT OF THIS GENERATION, the one which has been taken hold of by the legions of evil while it was distracted, submerging it in all kinds of sins through the tentacles of the devil, oppressing the mind and hardening the heart so that it act against what God ordered it to respect.
DO NOT WAIT FOR MORE SIGNS OF THE TIMES, MY CHILDREN, THESE ARE ALREADY BEING GIVEN THROUGHOUT THE EARTH.
WAKE UP!, LOOK AT THEM! DO NOT WAIT FOR THE POWERS OF HEAVEN TO BE SHAKEN.
I have mentioned war to you, which has rushed forward stealthily, famines, increasing natural phenomena, persecution, and I have called you to center your life on God. BE LOVE, SAVE THE SOUL!
I see the majority of My children curious with the dates and events.
What does man achieve by knowing a date if his work and action is not in accordance with the Divine Will?
How does curiosity increase the determination towards conversion?
Man has to till the soil in order to obtain good seed. MY CHILDREN MUST NOT LIVE IN CURIOSITY, BUT IN FAITH AND IN THE FULFILLMENT OF GOOD INTENTIONS.
Beloved children of My Immaculate Heart:
You must not sin anymore! Stop! Do not be blinded, do not let your thinking be captured by the one who should not have the first place in the life of a true child of God.
Live in peace; you have not allowed yourselves to see in the light of the Truth how satan remains standing over you, in order for peace to be abolished at the personal, family, social and global level.
SATAN'S PLAN, THE ONE TO WHICH YOU CONSENT OUT OF FOOLISHNESS, IS THE LOSS OF LOVE.
AS LESS LOVE EXISTS IN THE WORLD, SO MORE LEGIONS OF SATAN PENETRATE AND CREATE DISCORD.
Little children, you need to be humble to recognize that pride leads you to see yourselves in the first place and to put your brothers and sisters in other places. With pain I see how what you have constructed with spiritual and physical hard work crumbles in an instant for lack of humility. The one who is proud feeds evil.
I ANNOUNCE TO YOU THE TRIUMPH OF MY IMMACULATE HEART, and for this triumph I need each one of My children: those who do not offend My Son, those who do not offend their brothers and sisters, the humble, those who do not rebel against God.
I love My children: those who offer their suffering for the salvation of their brothers and sisters, those who remain attentive to their neighbor, those who do not justify sin, those who heed the Divine Word, those who evangelize with their testimony, those who repent of their mistakes.
Beloved children:
I HAVE ANNOUNCED TO YOU THE ARRIVAL OF THE ANGEL OF PEACE, WHO COMES TO ASSIST MY SON'S PEOPLE IN THE CRUELLEST INSTANT THAT YOU WILL COME TO LIVE.
HE WILL BE PEACE, LOVE, CHARITY, FORGIVENESS, HOPE, FAITH FOR ALL OF YOU. THE PEOPLE OF MY SON WILL NOT BE ABANDONED.
You are in the instant of the instants, when evil does not lie in wait but pounces upon the children of God. Therefore, I am among you to help you.
The demon attacks you in all your senses, it does not rest, it remains attentive to detonate his weapons of disunity, and with pain I see how you are so weak and in instants fall into disunity. This is because you act on impulse, you do not ponder how to respond or how your action will affect your brothers and sisters.
The great children of God are seen in the small details.
Beloved children of My Immaculate Heart, pray for Europe, it will suffer the agonizing scourge of terrorism.
Beloved children, pray for Turkey, blood covers that land, impiety leaves its mark.
Beloved children of My Immaculate Heart, pray, the threat to Earth is emerging from space.
Beloved children pray, Freemasonry will strike an unexpected blow within in the Church of My Son, and I grieve for you, My children.
Beloved children, pray for Venezuela, pain hangs like a cloud over this people, whom I do not leave abandoned. It will be shaken.
The coasts will be shaken, the water of the seas penetrates into the land.
Humanity will be surprised at the force of Nature when it shakes.
With the awakening of the instant, Nature does not delay. As soon as man sins, Nature calls him to return to friendship with God. Man suffers through the elements, they purify him. The volcanoes emerge with unexpected eruptions. The surface of Earth changes its color and man strives to continue handing it to over the devil.
My Children, a discovery will make the Church and science come into great conflict that will unsettle Humanity.
I CALL YOU TO RECEIVE MY SON IN THE EUCHARIST PROPERLY PREPARED.
I CALL YOU TO PRAY THE ROSARY, MEDITATING EVERY WORD WITH WHICH YOU GO OVER MY SON'S LIFE.
SURRENDER EVERY INSTANT TO THE DIVINE WILL AND ENTRUST YOURSELVES TO ST MICHAEL THE ARCHANGEL AND HIS LEGIONS.
Man must reflect before evil causes him to be a persecutor of his own family.
I will hear the lament of the man who did not listen to the Calls of Heaven. My pain has no comparison, it is intense.
Children, it is precisely the human ego that you must govern in order to bring it to say "YES"!: yes in favor of good deeds and good works.
CHOOSE GRACE, DO NOT ENTER INTO SIN, THIS LEADS YOU TO MISERY, AND THE HUMAN CREATURE IS NOT ONE OF MISERY, BUT OF GLORY.
Children of My Immaculate Heart, receive My blessing.
Mother Mary.
HAIL MARY MOST PURE, CONCEIVED WITHOUT SIN
HAIL MARY MOST PURE, CONCEIVED WITHOUT SIN HAIL MARY MOST PURE, CONCEIVED WITHOUT SIN