Monday, September 5, 2016
Message from Our Lord Jesus Christ
To His Beloved Daughter Luz De Maria.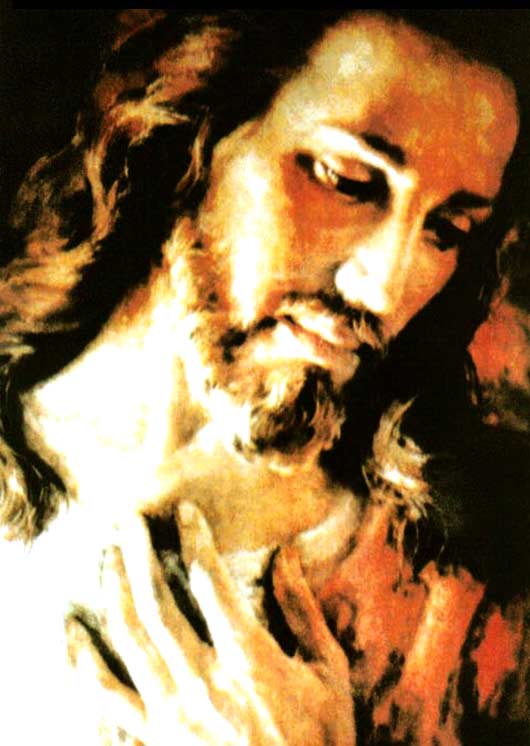 My Beloved People:
YOU ARE NOT CHILDREN WITHOUT A MOTHER!
MY MOTHER IS BOTH THE MOTHER OF HUMANITY AND THE QUEEN AND LADY OF ALL CREATION.
Turn to Our Mother, She stretches out Her Hand to you so that you maintain the necessary strength in this instant and not be lost. My Mother comes to give you Her Motherly Love so that you, My faithful ones, be those who take the Good News of My Second Coming to your brothers and sisters.
My Beloved People:
CONVERSION DOES NOT COME ON ITS OWN OR WITH MINIMAL EFFORT ON MAN'S PART.
WHOEVER DESIRES FROM THE HEART TO ATTAIN THE SOUL'S SALVATION MUST ERADICATE FROM THEIR LIFE:
* Evil deeds, evil thoughts, evil desires, greed, avarice, despair ...
* Pride, impatience, counter-witness, falsehood, evil, judging one's neighbor ...
* Denying assistance to one's fellow human being, fear, coldness, bad feelings, intolerance ...
* Competitiveness, eagerness for material things, the denial of growth in the spirit ...
* They must stop living out of human free will, they must subject their intelligence to My Will and eradicate all that is contrary to Works of Mercy and to the Divine Laws, among which are the Sacraments.
MAN ONLY SEES HIS PHYSICAL BODY: skin with its different layers that compose it, eyes, nose, hands and feet, without stopping to give thanks for breathing, for the enjoyment of sight, without thinking of others among his brothers and sisters who do not have these faculties.
MAN DOES NOT GIVE THANKS TO OUR TRINITY for everything that the human body executes.
MAN ACTS MECHANICALLY AND THINKS THAT HE CAN LIVE WITH HIS SPIRITUAL ORGANISM IN THIS WAY. A great mistake! Whoever does not feed his spiritual organism does not grow and does not come to Me with the speed that all My children should attain.
In the action and work of man Our Work and Action are embodied. Painfully, My children truncate and ruin this work and action in their spiritual organism, and because of this, they do not ascend but fall back, without managing to live in Spirit and Truth, in Our Likeness.
My Beloved People:
YOU HAVE NOT BEEN CALLED ON OUR PART TO LIVE IN OR LIVE WITH SIN, BUT TO ELEVATE YOUR SPIRITUAL SENSES THAT SIN HAS SUBJUGATED IN EVERY PERSON.
Children, you must not be kept bound to the lowest level on the spiritual plane, but you are called to ascend and to awaken the whole supernatural organism that you possess, so that it freely empower the human self so that the latter be more of Heaven than of Earth.
My People, I ORDER YOU TO TAKE THIS CALL OF MINE SERIOUSLY, so that formally and with urgency you be conscious of the reality in which your are living for the personal and communal good, or of the distance that you keep with My House.
Each person is the manager of the soul's destiny. You are faced with two paths and the decision is a free one, but at the same time it must be nurtured by what man might not know, and therefore deny himself Eternal Salvation.
In this instant, Humanity is about to experience with greater force and power a variety of events among which are volcanic eruptions, which are the result of a strong reaction that manages to create a process with volcanic substances such that these substances come out forcefully.
IT IS NOT THROUGH FEAR THAT MAN COMES TO LOVE US, man loves Our Trinity for the Truth that is born from Our Trinitarian Heart, but we ask man to hold back anger and the desire for revenge, which has great negative force .
Man loves Our Trinity because he experiences Our Assistance, Our Love, Our Protection when human reason does not close itself to Our Truth, which carries Divine Love manifested in every detail, not only within man himself, but in all Creation.
HUMANITY WALKS IN THE FOOTSTEPS OF NOVELTY, WITHOUT THINKING THAT NOVELTY IS
STEALING ITS SOUL. The novelty of sin in its greatest expression makes an unrecognizable creature of man, as he rages against his own brothers and sisters in order to eliminate them. The novelty of evil, which grafts itself onto the one that accepts it, transforms him with the poison of evil, with the worst thoughts, the most abrupt actions and the greatest heresies in human history.
My People, novelty is the aggression, it is the experience of how to serving satan, paying him homage until it takes possession of the human creature and penetrates within, endowing him with power and malevolent attributes with which the creature thinks he possesses everything, ignoring the fact that thought does not belong to man when he hands himself over to satan, since satan does not respect free will, but subjects it to its evil interests, since his goal is dominion over man.
THE INSTANT IS PASSING, MY CHILDREN ARE BEING LOST ...
AND WHERE IS THE ORDER THAT I GAVE TO MY CHURCH TO SAVE SOULS?
Pray children, pray for Ecuador, it will suffer in its land and its volcanoes will awaken.
Pray children, pray for Greece, the land shakes and the soil is invaded by water.
Pray, My children, the threat to Humanity is approaching from the Universe, you will see it approaching. My children will be afraid.
Pray children, pray, provocation at sea will no longer be provocation and an error will unleash horror.
Pray for United States, the land will shake forcefully.
Pray for Japan, it continues to pollute Humanity.
MY BELOVED PEOPLE, THE DEVIL ATTACKS MY CHILDREN, it hurls seduction in order for it to go round Earth like the wind and so that My children might be prey to this sin. The Earth will be saturated by infestations of evil, men possessed by the devil will roam the streets rushing forward to kill large numbers of human beings. Evil has families in its sights so as to dismember and break them up. Unity makes evil furious. For this reason, disunity is a triumph for evil, and gradually disperses man in order that he does not live in brotherhood.
MY PEOPLE, UNITED AND GATHERED IN MY BODY, BLOOD, SOUL AND DIVINITY, ARE ILLUMINATED BY MY HOLY SPIRIT. Hence the awareness that being My Child is not a phrase, but the fulfillment of My Precepts and the unshakable Faith that My People are the apple of My Eye.
Lukewarmness is not a good companion, it is the inclination to grant whims to the human ego so as not to commit to the fulfillment of the Truth. My poor children who are in lukewarmness! - they will be vomited out of My Father's mouth.
My People, Love of My Heart! I COME TO YOU AS A BEGGAR OF LOVE IN THIS INSTANT OF TRUTH IN WHICH I AM SPEAKING TO YOU, SO THAT YOU DO NOT BE LOST AND THAT YOU RETURN TO THE WAY OF TRUTH THAT OUR LOVE EXUDES TOWARDS HUMANITY, INSTANTS AWAY FROM BEING EXAMINED BY OUR DIVINITY.
Amen.
Your Jesus.
HAIL MARY MOST PURE, CONCEIVED WITHOUT SIN
HAIL MARY MOST PURE, CONCEIVED WITHOUT SIN HAIL MARY MOST PURE, CONCEIVED WITHOUT SIN