Thursday, September 15, 2016
Message from the Most Holy Virgin Mary
To Her Beloved Daughter Luz De Maria.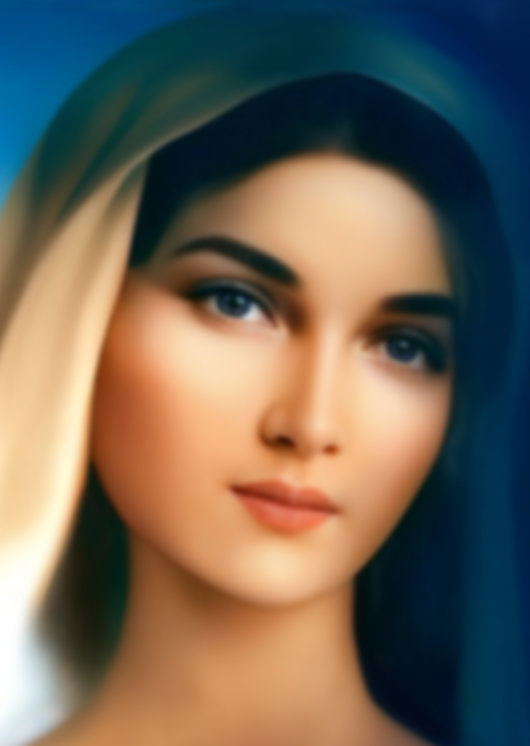 Beloved children of My Immaculate Heart:
My Maternal Blessing accompanies you, as a mother stays by the side of her little child.
I CALL YOU TO REDISCOVER THE TRUE MYSTERY THAT LIVES AND BEATS WITHIN YOU.
THE TRUE MYSTERY IS MY SON, HE LIVES IN YOU ...
YOU SHOULD NOT SEEK IN THE WORLD THAT WHICH LIVES WITHIN EVERY PERSON.
Man's feelings are so innumerable and the affections of the heart so unpredictable, until the desire to amend your path comes to be the primary goal.
MY SON CALLS YOU TO BE RENEWED, THAT IS: TO UNITE WITH HIM IN THE FULLEST EXTENT OF THE WORD.
The human ego remains latent in My children; in one instant you decide to stay with My Son, and in another instant, no ...
The ego governs man, so much that he neither makes an affirmative decision nor says no; he remains lukewarm, allowing what can lead him to act and work in the good to be moved by the circumstances of the instant and by opportunities that he considers beneficial.
My beloved ones, at this instant sin has managed to transform itself into a habit for man.
I invite you to make Grace a habit within you that is able to oppose sin. Grace brings unity, the overcoming of man, and illuminates him.
Humanity continually surpasses the evil that it committed previously. The evil that man has allowed himself keeps him being a doer of evil that dominates man himself, with great unkindness towards his own brothers and sisters. You believe that the unthinkable actions of this instant will be unrepeatable. It is not so; this generation ought to have been prepared to fight against evil, knowing that this is the instant when the tentacles of evil have arisen and spread throughout the Earth, taking My children captive in order that some physically injure their brothers and sisters, others wound the heart, others the senses, others deceive Humanity and others directly fight against My Son's Church.
EVIL IS TAKING HOLD OF MY CHILDREN WITH GREAT SPEED GIVEN THE HASTE TO DOMINATE THE WORLD. Those who serve evil, believe what evil makes them know, and My children do not believe that this instant is decisive, because this is denied among those who are My Priests.
EVIL IS NOT A FANTASY ... Those who love My Son must unite and recognize one another, be rooted in the Law of God and each commit to being a spokesperson for the testimony of My Son's Love.
EVIL ACTS WITH THE POISON OF FALSEHOOD, falsehood being a part of man's action and work; he is unable to detect it, continuing in what is improper and sinful.
Wake up, My children! My Son bleeds in the face of the abasement to which His People are subjected, before the cruelty with which Christians are persecuted ... and you do not make up your minds to seek conversion.
Beloved children:
PERSECUTION WILL SPREAD, DO NOT LOOK ON FROM AFAR AT WHAT CAN COME TO YOU WITHOUT YOUR THINKING OF IT OR SEEKING IT.
The devil has seized minds, hearts, reason, thought, the human ego, the human intellect, human desire and everything that it can hoard, in order that Humanity allow him to control it and lead it to commit the most unthinkable acts that some of My children commit.
The devil leads man to repeat the actions of his evil spirits, and as a result of the spiritual irresponsibility of My children, they refuse confession, repentance, bearing witness to the Faith, they refuse to say 'no!' to sin, they live a half-hearted spiritual life, without commitment, and they have not become aware of what the Eucharist truly is.
SATAN IS NOT MORE POWERFUL THAN MY SON...
IT IS MAN WHO SURRENDERS TO EVIL AND SURRENDERS HIS LIFE TO IT FIRST, AND THEN EVIL, WHICH BECOMES HABIT IN MAN, LEADS HIM TO LOSE HIS SOUL IF HE DOES NOT WAKE UP IN THE FACE OF THE DAMAGE HE CAUSES.
I, as the Mother of all Humanity, call you not to fear bearing witness to Faith in the Most Holy Trinity; do not be afraid of being My children, do not be afraid of being recognized by the Love of My Son that dwells in you. The true strength of man comes from the good, the rest is not true. The search for Truth is arduous and you will not easily find it if you are not ready to be tireless seekers of the Eternal Goods.
CHILDREN, IN THIS INSTANT CHRISTIANS IN APPEARANCE ARE IN GRAVE DANGER IF THEY DO
NOT WAKE UP AND TAKE THE RUDDER OF FREE WILL AND DIRECT IT TOWARDS ETERNAL SALVATION.
Humanity has become perverted, its condition is dramatic, the gravest in the history of Humanity; this is why I am continually announcing to you the Purification that you are facing.
Fire is purifying and sending out signals to man that it will purify everyone. Volcanoes, which seemed to be asleep, are waking up. Fire will come from the ground, overwhelming heat when the earth opens in several places and throws out the heat that it is keeping inside. The sun sends solar flares towards Earth; some will affect scientific advances and others the Earth, inundating the Planet with heat, man having to return to old and unthought-of tools and means of survival.
The earth shakes intensely ...
Pray children, pray for Chile, it will suffer a strong earthquake.
Pray children, pray for Ecuador, the earth will shake.
Pray children, pray for Japan, it will spread contamination again, it will shake.
Pray for Italy, it will suffer again.
Pray for the United States; its acceptance of evil is its own scourge; it will be shaken.
Pray for North Korea, it will be a hand that wounds.
I especially call the Argentine people to reconsider their actions; violence will find no limits if not in the union of My children. This people will experience pain if you do not limit the agitation to which this nation is subjected.
The Peoples are being stirred up in this instant in order that commotion reign throughout the world.
Beloved children of My Immaculate Heart:
YOU ARE LIVING WHAT YOU HAVE SOWN ...
THE INTERNAL STATE OF MAN IS REFLECTED IN WHAT YOU ARE LIVING THROUGH AT THIS INSTANT.
Fulfill My Son's Teachings each week. Purify the senses, in order that they honor God above all things, and love your brothers and sisters as My Son loves you all.
My Blessing is with you all, dear children.
Mother Mary.
HAIL MARY MOST PURE, CONCEIVED WITHOUT SIN.
HAIL MARY MOST PURE, CONCEIVED WITHOUT SIN.
HAIL MARY MOST PURE, CONCEIVED WITHOUT SIN.