Sunday, September 18, 2016
Message from Our Lord Jesus Christ
To His Beloved Daughter Luz De Maria.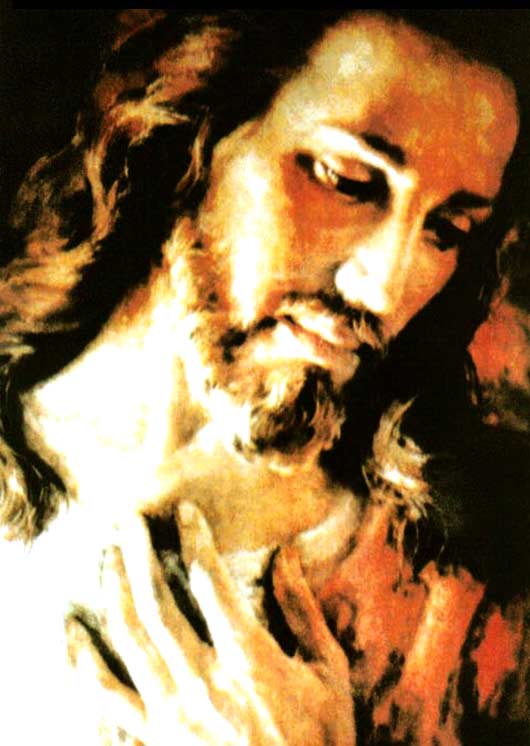 My People:
I bless you. You will not be abandoned by Me, at any instant.
BE MY OWN LOVE, BE HONEST, JUST, CHARITABLE, KIND-HEARTED, CAREFUL IN THE
TREATMENT OF YOUR BROTHERS AND SISTERS, BE KIND TOWARDS YOUR FELLOW MEN; GOOD ACTION IS PRAISE BEFORE ME.
Each person must keep in mind how they are spiritually. If you have this present, you will be able to make intention of amends, and you will separate yourselves from darkness, from the wrongful treatment towards your peers. Some of My children look within themselves exclusively in what corresponds to dealing directly with Me. My children must be a reflection of My Love. I regret that for some of my children this Word is not contemplated in their lives.
Love has been supplanted by the 'I am', ruling out the possibility of softening the heart of stone, and this results in selfish and arrogant creatures, who do not tolerate or respect the work and action of their peers, imposing themselves upon their brothers and sisters. Whoever acts in this way becomes a torment for his brothers and sisters, for his own square meter and for himself. Children, you should not impose yourselves, you should be loved and not feared.
In My People, all need each other, all are brothers and sisters, all assist one another mutually, all are generous and retain in their memory and heart the occasions when they were aided by a brother. My children - it is important not to forget the good deeds of your brothers and sisters towards you: this is part of Love. Do not allow pride, which spreads throughout humanity via the spirits of evil, to eradicate the humility that must dwell in you. YOU WILL FIND MY HELP WHEN YOU REQUEST IT, AND WHAT PREVIOUSLY WAS AFFLICTION WILL COME TO BE DELIGHT IF YOU ALLOW MY SPIRIT TO PERFECT YOU IN YOUR WEAKNESSES.
My people:
THOUGHT AND MEMORY, FOR SOME OF YOU, HAVE BECOME A GREAT IMPEDIMENT TO
CONTINUING THE WAY IN TRUE PEACE. You live from the past, in what was not, and you forget Our Will, you long for past situations and this becomes a great force that holds you back. Whoever yearns for the past will be left on the way, this impediment of the past will keep you bound and will hinder you from seeing the instant and surrendering to Our Will.
Some cling so much to the past that they live immersed in memories, in the instants of adversity they experienced, and bitterness, resentment or anger spring up, repeatedly, until they become a root that oppresses them and makes them live in constant bitterness. Man lets the past torment him and evil uses this to keep you bound.
You, My children, must surrender your mind to me and allow My Spirit to guide you and lead you to meditate on My Promises, in order that I subject everything to Our Divine Dominion and so that what torments you does not continue to be an impediment to surrendering to Our Will.
In this instant, there are so many children who are content with seeing salvation from afar, as they feel that they do not need to attain it, but are content with seeing it from afar. Therefore, I am constantly calling my ministers to be witnesses to My Work and Action, since man keeps My Word in his memory and in this instant I require you to insist on the correct Love, the correct and proper Obedience, the necessary Faith and the correct leading of My Ministers in order that My People do not lose themselves in banalities.
My children must be constantly strengthened with My Word, My children must strengthen themselves with My Word in order that evil does not take them by surprise because of not recognizing what is Mine.
You cannot judge yourselves, the human being is not competent to do this, as it always tends to see the good in its works and actions or to varnish with good that which has not been good.
Therefore, I lead you to purify your senses so that, on this path, you let go of personal justifications and allow Me to show you the impediments that remain embodied in you and hinder you from coming to Me.
This generation is committing great abominations against Our Will, committing sacrilege as the human being has never before committed, they demerits My Mother, denying Her Virginal Purity and Her Motherhood towards all Humanity. This generation is constantly sinning against My Holy Spirit, forgetting that man's life hangs from Our Will.
It does not believe in the explication of My Word and mocks My Mother's Appeals, denying the urgent purification of this generation before the righteous are lost.
Sin is Humanity's food, increasing upon the Earth the army of satan, the one that will attack My Temples throughout the world, with the desire to extinguish every recollection of My presence on Earth. Given such actions the Warning will not delay, so that some of My children return to the path of Truth.
I INSIST ON KNOWLEDGE OF OUR DIVINE WORD SO THAT, KNOWING IT, YOU LOVE OUR DIVINITY WITH INTENSITY AND IN TRUTH.
FIRM, STRONG, DECISIVE FAITH IS NECESSARY: FAITH THAT IS INDISSOLUBLE AND LIVED OUT AT
EVERY INSTANT, IN EVERY EVENT, IN ORDER THAT YOU SUCCEED IN OVERCOMING EVIL'S ATROCITIES.
THE SELF-GIVING OF EACH ONE OF MY CHILDREN IS NECESSARY: THE DECISION TO LIVE IN OUR WILL, THE DISPOSITION TOWARDS UNITY, BROTHERHOOD.
YOU ARE NOT OF THE WORLD, CHILDREN, DO NOT ALLOW THE WORLD TO TAKE YOU.
YOU MUST LIVE IN CONSTANT EXPECTANCY AND IN THE FULFILLMENT OF OUR WILL.
DO NOT LOOK AT WHAT IS WORLDLY. YOU ARE NOT WORLDLY, NONE OF MY CHILDREN IS MEANT FOR WORLDLINESS, NONE SHOULD LIVE OPPRESSED BY SATAN.
YOU ARE MY PROPERTY, I REDEEMED YOU WITH MY BLOOD.
NOURISH YOURSELVES WITH MY BODY IN THE EUCHARIST, PROPERLY PREPARED.
ACCOMPANY ME IN THE TABERNACLE AND STRIVE SO THAT YOUR LIFE BE A CONSTANT ACT OF LOVE WITHIN YOU AND TOWARDS YOUR BROTHERS AND SISTERS.
I WANT HOUSEHOLDS THAT LIVE IN MY LOVE, IN PEACE, IN MY UNITY. When there is no peace in homes or this is taken away instantarily, evil spirits take over the home and create rebellion, causing some to view others' actions wrong, making someone within the home intolerant of the actions of the other family members, and thus little things become great destructive torments.
Children, the devil attacks man, attacks unity, attacks the family, sows discord and empties man's heart of love, SO THAT MAN DOES NOT FEEL THE NEED TO BE A TEMPLE OF MY LOVE TOWARDS HIS NEIGHBOUR.
SATAN'S BATTLE IS AGAINST MY LOVE, AGAINST UNITY, THUS AGAINST THE FAMILY, AGAINST MORALITY, AGAINST MY MOTHER, BECAUSE IT KNOWS THAT MY MOTHER, IN UNION WITH SAINT MICHAEL THE ARCHANGEL AND THE HEAVENLY LEGIONS, WILL CRUSH IT AND THROW IT INTO THE DEPTHS OF HELL.
My people, do not despise My Calls, for satan and the evil spirits scattered throughout Humanity remain active, looking for prey to take. My children should not fight against My children; such fighting strengthens evil.
Do not defend me, for what is not Mine falls and what is Mine prevails; do not confuse My People more than evil has them confused. INSTEAD, PRAY AND DO PENANCE.
Pray children, pray for Italy, it will have its fill of suffering. Nature rushes against Italy, it will be severely attacked by those who do not love Me, they will move against the Vatican.
Pray My children, pray for France, it has lost peace, it will live with the insistence of terror.
Pray, My children, for Nicaragua, it will be struck by Nature, it will shake, it will suffer because of its volcanoes.
Pray for Costa Rica, it will be shaken.
Pray for Venezuela, Nature will be present in force.
Pray for Colombia, it will be forcefully shaken.
Children, continue with the purification of the senses. And this week, together with the purification of sight, continue purifying the sense of hearing, since this brings what it hears to thought, memory, and makes them sick.
"Remember what you have received and heard; put it into practice and repent, because if you do not stay awake, I will come like a thief, without your knowing at what hour I will surprise you." (Rev. 3:3)
Hearing that I call you not to sin, you need to know that My desire is to guide you so that you cleanse your memory and find freedom.
MY PEOPLE, IT IS ESSENTIAL THAT EACH ONE OF MY CHILDREN SHOULD CONTINUE PURIFYING THE SENSE OF HEARING. The physical senses of man must come into harmony with the spirit. You will continue with the sense of the ear, the sense of hearing, for a week. Every instant you will devote yourselves to cleansing the sense of hearing, until it is surrendered in order to please Our Will and for the greater good of the soul.
FIRST DAY OF THE SECOND WEEK:
I offer the Gift of hearing, on this day, to the Most Sacred Hearts of Jesus and Mary Most Holy.
I offer you this Gift of hearing in this instant for the Divine Glory and for the good of souls. In every present act, my memory and my thought will remain attentive, alert, in order not to accumulate what my ear hears and which causes sin to be retained, offending the Most Sacred Hearts.
Give me the strength to listen only to what is for the good of my soul and of my brother or sister. I cry to You, Most Holy Mother, so that You take me as Your disciple, guide my life, and that my path be directed towards meeting Your Son.
ON AWAKENING I OFFER:
I have ears and with these I hear good and evil.
From this instant on I offer my constant effort in order that this Gift be made more spiritual, prioritizing the Divine desire for my personal salvation. I propose to free my hearing from occasions for sin, seeking the Divine purpose in everything I hear, remembering the good that each brother and sister has provided for me and listening in Creation to the greatness of the Eternal Father.
I do not wish to sin any more with the sense of hearing,
I surrender it to the Sacred Hearts so that, being Your child, my Lord, you might lift me out of sin.
I do not want what I have heard to continue provoking evil thoughts nor that I neglect the Divine kindnesses that lead me to remain in a state of Grace. Sacred Hearts, sustain my memory and my thoughts so that my hearing leads me to retain only what is good.
I hold back my free will and subject it immediately and surrender it to the Sacred Hearts, so that they free me from occasions for fault, and thus mold my hearing so that it brings to my memory only that which is for the good of my soul and so that I do good to my brothers and sisters.
May my ears be cleansed in the Purifying Water of Love coming from the Sacred Hearts. Amen.
MIDDAY:
Review together with Our Mother the morning's efforts and note down weaknesses.
BEFORE GOING TO SLEEP:
I give thanks to the Sacred Hearts of Jesus and Mary Most Holy, to whom I pray for succor for this purpose, in order to be a better child of God.
Our Father, three Hail Mary's and Glory Be.
CHILDREN, COME TO ME, AND ENTRUST YOUR LIFE TO ME.
I bless you. I love you.
Your Jesus.
HAIL MARY MOST PURE, CONCEIVED WITHOUT SIN
HAIL MARY MOST PURE, CONCEIVED WITHOUT SIN
HAIL MARY MOST PURE, CONCEIVED WITHOUT SIN