Friday, September 23, 2016
Message from the Most Holy Virgin Mary
To Her Beloved Daughter Luz De Maria.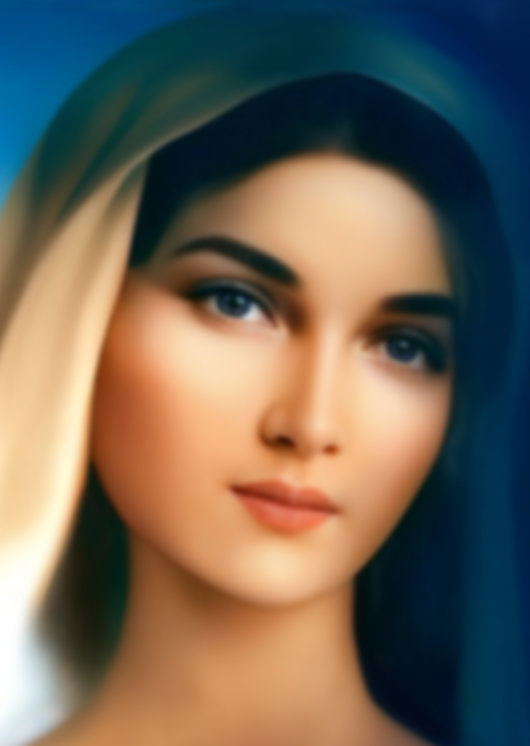 Beloved children of My Immaculate Heart, receive My Blessing.
HUMANITY IS MY CONSTANT SORROW ...
MY CHILDREN ARE MY GREAT TREASURE AND AT THE SAME TIME MY GREAT PAIN.
Some who call themselves My children do not fully comply with the love that they say they have for Me, ignoring My Teachings, as true disciples of My Son disposed to fulfill the Divine Law. Constantly they hurt My Heart and I intercede immediately in order that My Son does not suffer so much.
True love is not known at every instant because it is surpassed by interest, and you should not ignore that interest is the great self-deception with which man is submerging himself in chaos.
UNCONQUERED PRIDE AND IMMATURITY LEAD THOSE WHO SAY THAT THEY LOVE ME AS THEIR MOTHER TO DEPART FROM THE BALANCE THAT THE TRUE CHILD OF MY SON OUGHT TO
MAINTAIN. Do not forget that this has been required of you as a prerequisite for the devil not to oppress you. You quickly forget, without thinking of the consequences for the soul, just as you forget that the devil remains attentive in order to invade you with pride and to lead you to refuse forgiveness between brothers, entering into a lack of spiritual courtesy.
You easily lose reason because of spiritual weakness and are easy prey to the wiles of the devil, which incline you to improper behavior of a child of God.
The instant has come when the man who calls himself a Christian and Marian will be unjust towards his brothers and himself. Conscience will not be able to halt the evil, so undesirable, that causes injustice among My Son's own children. REASON PARALYZES ALL KNOWLEDGE WHEN THIS IS CONTAMINATED WITH EVIL DESIRES, BITTERNESS, INSENSITIVITY, THE LACK OF WISDOM, SELFISHNESS AND THE LACK OF LOVE.
Man has come to forget that which is the common good, failing to keep and rejecting the personal good to which you must direct yourselves, so that then, be testimony of the One who dwells within you. For Humanity it is easy to forget the good that My Son has given you. You forget and will forget it because you use the good that you have received to cause evil.
Beloved children:
SOME ARE FALLING INTO THE VANITY OF EXPRESSING THEIR HIGH DEGREE OF KNOWLEDGE IN IMPORTANT AREAS OF LIFE; THIS IS PURE VANITY, SINCE THAT KNOWLEDGE IS FOUND EMPTY.
THE HUMAN EGO IS THE GREAT USURPER OF THE PLACE THAT MY CHILD SHOULD OCCUPY IN
MAN'S FACULTIES, IN ORDER THAT THESE ARE NOT AN OBSTACLE BUT A BLESSING IN THE SERVICE OF ALL.
Man, with intelligence void of the teachings of My Son, is zero in practice, because intelligence is unable to overcome the bad conduct, the disorderly habits, which are intended/desired by his bad behavior, REFLECTING A TERRIBLE LACK OF LOVE, through work and action lacking a proper understanding of what is truly the effect caused by the power of good intention and the correct execution of what My Son commands you.
THE DIVINE WILL GIVES ME THE POWER OF BEING AN INTERCESSOR, BUT HUMANITY HAS DECIDED NOT TO NEED MY SON IN ORDER TO FIND PERFECTION, IGNORING THE FACT THAT MAN IS NOT GOD. And this is all part of satan's plot of against humanity, which at this instant is the mobilization of the evil spirits towards man.
EVIL IS INCREASING, IT WILL NOT STOP UNTIL THE ANTICHRIST MAKES HIS APPEARANCE, thus it attacks My children in a thousand ways and has pitilessly penetrated man's psyche in order that the one who is far from My Son, instantly lose his sanity, and from apparently being a good man, come to act totally out of himself.
BECAUSE OF THIS I HAVE ASKED YOU FOR REDOUBLED VIGILANCE AND TO REMAIN IN A STATE OF GRACE ...
OTHERWISE, WHOEVER IS NOT IN A STATE OF GRACE IS EXPOSED TO BEING TAKEN BY THE FORCES OF EVIL IN ORDER TO DESTROY ALL THAT IS OF MY SON.
Humanity moves in lies, as the king of lies is the king of Humanity. You will not find order in life until you regain friendship with the Creator.
Dear children, you have lost love for life. You are losing Salvation, allowing yourselves to become detached from God, and with this you are totally devoid of what for Humanity is spiritual sustenance, not because the Father forsakes you, but because Humanity, separating itself from the Divine, has fallen into what is most base, since no man is greater than God.
Human power has caused love in man to degenerate, has increased the sense of power in the human creature. Human thought suffers from atrophy because of a heart immobilized by the feeling of coming to surpass God, deciding about life.
I suffer for the pain caused to My Son facing the destruction of man by man, facing this crucial instant when the specter of war is taking greater power in the eyes of the world and man denies it when you are ALREADY living the Third World War, which will jump out at the world in a matter of instants. Countries are gaining military strength and Humanity is reduced to waiting and ignoring the action of the powerful.
PAY HEED TO MY CALL, THE DEVIL AND HIS EVIL SPIRITS ARE POURING OUT DISUNITY, and given the great number of My children who do not put their trust in My Son, the fertile ground for evil to reproduce abounds and oppresses the soul.
Beloved children of My Immaculate Heart: you are living without living instants prior to the great tragedy of the expansion of war and of your being allowed to see your own selves, so prayer is necessary and indispensable at this crucial instant when the task of bringing knowledge and testimony to your brothers and sisters ought ipso facto to transform itself into action.
AT THIS INSTANT, THE EFFORT IS LIKE ONE OF THE FINAL STEPS BEFORE THE FINISHING LINE.
UNITY MUST BE REINFORCED AND YOU MUST GIVE STRENGTH TO ONE ANOTHER, KNOWING
THAT MY SON DOES NOT ABANDON HIS PEOPLE, AND HIS PEOPLE SHOULD BE FAITHFUL TO HIM.
Have confidence in the Divine Promises for His people, do not be afraid. Reverse the evil committed, the works and improper acts ... REPENT, MY CHILDREN, REPENT!
Pray children, pray, the sun is sending its heat towards Earth and Humanity will suffer.
Pray, My children, pray, humanity has focused its life on the god of money; the economy falls again and man despairs because of the lack of faith in Divine Assistance.
Pray, My children, pray for Mexico, it will be strongly shaken, volcanoes will speak to man enveloped in anger by social protests.
Pray, My children, pray, the sea is stirred up and surges onto the land which will shake forcefully.
Pray children, astonished Humanity will see instantly the disaster that shakes the world. Then it will forget that it suffered.
Pray children, pray, do not forget to keep praying for one another, pray tirelessly in prayer chains, pray, do not repeat what you say by rote, PRAY WITH THE HEART, LIVING EVERY WORD.
I REMAIN WITH YOU, INTERCEDING FOR REPENTANT SINNERS AND BLESSING THOSE WHO SUFFER.
Pray, powerful nations have adopted evil as their master and rear up against my children.
Uprisings among the peoples are occurring like a contagious plague. The United States suffers heavily; it will have to stop its ways of acting force by the pain.
Beloved children of My Immaculate Heart:
NOT EVERYTHING IS PAIN OR SUFFERING; in the very instant in which man sees in everything that happens to him the Hand of My Son who prepares and loves you, who purifies and love you, Who warns you and does not abandon you, Who accompanies you in suffering for love and Who does not wish that anyone be lost, you will love My Son above all things and your neighbor as yourselves.
The Angelic Legions are above Humanity; as soon as a creature cries out, it is helped immediately. My children are helped so that they do not fall prey to evil; some receive this assistance, others scorn it.
TO YOU WHO WISH TO KEEP THE FAITH, I BEG YOU AS MOTHER NOT TO SCORN THE ASSISTANCE THAT THE HOUSE OF THE FATHER SENDS YOU BY VARIOUS MEANS. OPEN YOUR SPIRITUAL EYES SO THAT YOU SEE THE MIRACLES THAT ARE CONSTANTLY OCCURRING BEFORE YOUR EYES.
MY SON REMAINS ALIVE AND PULSATING ...
TO THOSE CHILDREN WHO OFFEND OUR SACRED HEARTS, I OFFER YOU MY ARMS AND MY INTERCESSION IF YOU REPENT, CONFESS AND MAKE A PURPOSE OF AMENDMENT.
Be not afraid, I remain with you.
I bless you.
Mother Mary.
HAIL MARY MOST PURE, CONCEIVED WITHOUT SIN.
HAIL MARY MOST PURE, CONCEIVED WITHOUT SIN.
HAIL MARY MOST PURE, CONCEIVED WITHOUT SIN.