Friday, October 7, 2016
Message of the Most Holy Virgin Mary
To Her Beloved Daughter Luz De Maria.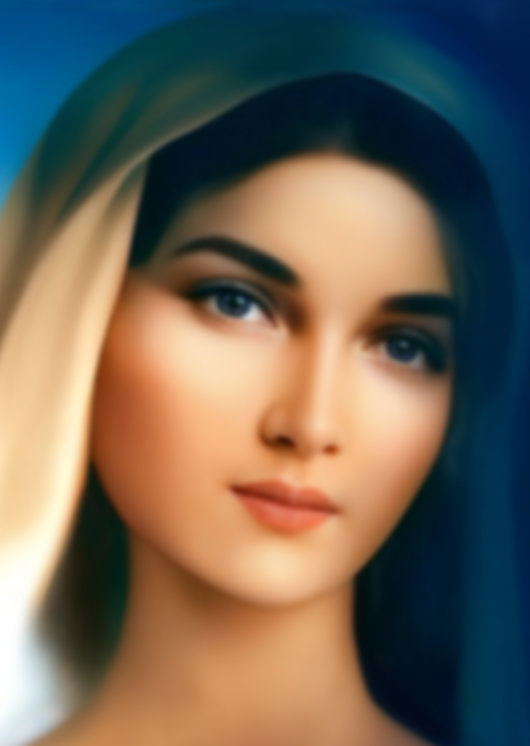 Beloved children of My Immaculate Heart:
MY MATERNAL LOVE IS WAITING FOR MY CHILDREN'S CALL, IN ORDER TO COME HASTILY.
I wish that you come closer to My Son, being those who fulfill the Divine Will and observing the Law of God at every moment of your lives.
I constantly watch you to protect you because, continuing to live amid the turbulence of the world and being unaware of the depth of the Divine Word, you are easy prey for those dedicated to serving evil.
MY BELOVED ST MICHAEL THE ARCHANGEL, ST GABRIEL AND ST RAPHAEL, TOGETHER WITH THE HEAVENLY LEGIONS, HAVE TAKEN UP AS NEVER BEFORE THE PROTECTION OF THOSE WHO ALLOW IT, BEING THE DEFENSE, PROTECTION AND LIGHT OF MY SON'S PEOPLE.
This generation is called to remain attentive and to look at reality with clarity, as it faces continually the unexpected reactions of man of this instant.
Children, you are constantly being attacked by the darkness which accompanies the demons, and remain attentive in order to act when impatience invades you. Impatience leads to ire and ire clouds your thinking. It is precisely at this instant when evil penetrates reason, seizes it and destroys it, enslaving man so that he offends My Son through atrocious sin.
The great Work of Creation is watching man attentively, in rebellion against his Creator, seeing man constantly committing one sin after another, one offense after another, without tiring.
AS CHILDREN OF THE FATHER, YOU POSSESS GREAT GIFTS THAT YOU ARE KEEPING DORMANT. The Holy Spirit pours out His Gifts upon each one of you so that man works and acts rightly in Obedience and Love in every instant.
My Son's People have embraced spiritual lukewarmness, entering into acts that bring them closer to the darkness in which evil moves, enjoying man's destruction at this instant.
Some of My children appear strengthened by putting into effect negative attitudes contrary to the personal and common good. They do not stop to measure the great calamities in which they are plunging the soul of those who act in continuous rebellion, carrying out deplorable acts towards whatever represents My Son.
The Cross - sign of Divine Love, sign of Salvation, sign of Redemption - is treated with contempt in the midst of the spit that followers of evil and some Christians dressed in sheep's clothing hurl against It.
Beloved children of My Immaculate Heart:
The instant passes amidst constant uprisings in various countries, before human agitation, generating ire, chaos and protests for what man desires, without any awareness of the spiritual damage he is causing himself.
Humanity has stagnated in its stubbornness in order to not accept My Calls, denying them and minimizing the power with which Nature is acting, trying to distort what I announce to you.
THE DEVIL INVADED THE EARTH IN ORDER TO DIRECT MAN AGAINST GOD. The allies of evil have achieved that the antichrist, from times past, manipulates Humanity, grafting evil onto the minds of men. The antichrist has launched his rule without his public appearance having been made, augmenting the harmful acts of this generation which will be remembered for having forged its own misfortune.
Man will come to use what he has created with his hands in order to guarantee his superiority in war. I see how some are waiting for war to start, when it is already devastating everything in its path, stealthily deploying the use of atomic weapons, the product of the action of the devil in misused science.
THIS GENERATION WILL SUFFER TO THE UTMOST AT THE HANDS OF THOSE WHO RISE UP THE ANTICHRIST AGAINST MY SON'S PEOPLE, as a result of the lasting action of freemasonry, the illuminati, communism, rebellion, falsehood, lack of Faith and satanism which has infiltrated in the Church of My Son, provoking the tentacles of evil to be ruthlessly activated against all Humanity.
FIRE IS THE GREAT PURIFIER OF HUMANITY IN THIS INSTANT.
I SHED MY TEARS THROUGHOUT THE EARTH IN VARIOUS PLACES, CALLING YOU TO CONVERSION SO THAT YOU DO NOT SUFFER WHAT IS NOT THE DIVINE WILL.
The fire of volcanoes is pouring outwards; My children see and will see, dumbfounded, the force of Nature, but will soon forget.
Man does not recognize his need of Divine Assistance. In the midst of the most unexpected shocks, you will continue surrendering to evil in all its forms, making the Earth lament at maintaining such a perverse generation upon it.
You take Divine Mercy as a shield in order to act in evil...
You proclaim Divine Mercy in order to defend evil actions...
You declare Divine Love and Divine Forgiveness in order to hide the sins of Humanity...
CHILDREN, WHAT PLACE HAVE YOU GIVEN TO WHAT IS JUST? WHERE IS DIVINE JUSTICE TO BE FOUND FOR YOU?
You have relegated Divine Justice to past generations, so that you continue erring in free will directed towards augmenting sin everywhere.
Were Sodom and Gomorrah not destroyed for their wickedness? Evil is an uncontrollable plague from which arise the most horrific sins with which Humanity is giving itself over to condemnation.
Children, you are deceived, seriously deceived by large global organizations that were created to assist you. Humanity has been taken in order to experiment with diverse foodstuffs, medicines and clothing containing substances harmful for the human body. Because of this, we asked you earlier to be cautious before eating, especially because in some foods there is such toxicity that the human body reacts with diseases that cause death.
In Global Organizations the instruction exists to exterminate much of the world's population. This is contradictory for you, but not for those living under the orders of the antichrist, whom they constantly serve.
The unified thought in those who cater to this generation with food, medicines, clothing, technological implements and so on is to condition you to being conformed to the creation of a single government which will rule the world under a single currency and the establishment of a single religion. This single religion will eliminate the religion that My Son established.
THE EUCHARIST WILL BE PROHIBITED, DEVOTION TO ME WILL BE PUNISHED BY DEATH, MY SON'S PEOPLE WILL BE PERSECUTED AND MY SON CRUCIFIED ANEW ...
Dear children, it is necessary for you not to forget the perverse plan of evil to destroy My Son's People; may you desire the Divine Will.
The Father's House does not ignore the efforts of His children to remain faithful, their integrity as children of the Creator, their continuing efforts so that temptation does not defeat them. God's Assistance is infinite, just as infinite is Divine Love for His faithful.
THE ANGEL OF PEACE WILL COME TO RESTORE THE UNITY OF THE CHILDREN OF GOD WHO WILL FIND THEMSELVES SCATTERED, REMINDING THE PEOPLE OF MY SON OF THE TRUE VALUE OF
THE EUCHARIST AS STRENGTH AND FOOD, UNITY AND LOVE, NOT ONLY FOR THE BODY BUT FOR THE MIND OF MAN, THE FOOD OF ETERNAL LIFE WHICH IS NOT FINISHED ON BEING CONSUMED BUT WHICH ENDURES IF THE CREATURE REMAINS IN THE APPROPRIATE STATE.
Pray, My children, pray for Jamaica, it suffers from the constant onslaught of Nature.
Pray, My children, pray for the United States, adherence to evil causes it to be purified, the earth shakes, disease spreads rapidly.
Pray children, pray, Japan is a scourge for Humanity.
Pray children, pray, Chile shakes forcefully.
Beloved children of My Immaculate Heart, the road towards My Son is not made of thorns if love for attaining Eternal Life remains rooted in you.
When man does not look at himself hope in God does not fade easily, since the heart of the child of God finds itself raised towards Him.
DO NOT FALL, DO NOT FEAR, TRUST IN GOD, IN HIS LOVE, AND BE GIVERS OF THE GOOD. DO NOT POSTPONE CONVERSION.
Be witnesses to My Son's self-giving and union with each one of you. I bless you.
Mother Mary.
HAIL MARY MOST PURE, CONCEIVED WITHOUT SIN.
HAIL MARY MOST PURE, CONCEIVED WITHOUT SIN.
HAIL MARY MOST PURE, CONCEIVED WITHOUT SIN.