Tuesday, October 11, 2016
Message from the Most Holy Virgin Mary
To Her Beloved Daughter Luz De Maria.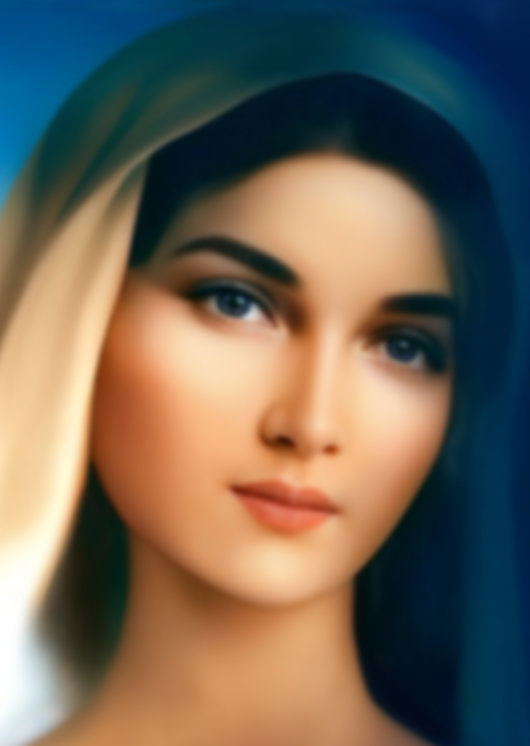 Beloved children of My Immaculate Heart:
MY SON KEEPS WATCHING THIS HUMANITY AND BLESSES THOSE WHO REMAIN FAITHFUL ...
My Son blesses those who were astray and have repented of their evil work and action ...
My Son blesses those who are still astray, so that they renew their walk and maintain it, united to the Divine Will ...
My Son grieves over His children who neither love Him nor wish to come near Him ...
Beloved children of My Immaculate Heart: How lost is this generation! You are not afraid to offend My Son, protecting yourself on His Mercy and ignoring the fact that unless you repent, Divine Mercy is bound and cannot help you.
Divine Mercy is open to all His People...
I intercede for all, but it is necessary for man to recognize his error, to repent and to want to make amends.
I offer you My Hand to lead you to the path of goodness; may you decide to take my hand. I assure you that all your effort will be taken into account.
Children, I invite you again to work earnestly for the Kingdom of God; be faithful, put aside worldly life, the true children of My Son cannot serve two masters, they cannot live in what is worldly and polluted and live against sin. DO NOT CONTINUE EXPOSING YOURSELVES TO TEMPTATION; IT IS DANGEROUS; EVIL REMAINS ALERT TO MAKE YOU FALL.
Beloved children, evil weakens man, attacking his senses.
You are living in the midst of the confusion; the Church of My Son has been divided, giving way to modernism and gradually moving away from the obedience to Holiness to which the People of My Son are called. Morals in the Church of My Son are melting like wax in the fire so as to be infringed freely. As Mother I suffer, seeing My children soiling themselves in the mud of every state of impurity. My children have allowed atrophy to take over their thoughts, so as to commit impure acts without feeling guilt or pangs of conscience.
THIS GENERATION TAKES THE LAW OF GOD AND TRANSGRESSES IT, FORMING LAWS TO ITS CONVENIENCE, GRAVELY OFFENDING MY SON.
Beloved children: you do not see that the works that lead you to spiritual death are those that are hidden so that the conscience does not lead you to repentance.
CHILDREN, SOME OF YOU BELONG TO VARIOUS GROUPS WITHIN MY SON'S CHURCH AND GO TO DAILY PRAYER. YOU DO THIS IN ORDER TO SILENCE YOUR CONSCIENCE FOR NOT CORRECTLY LIVING A LIFE COHERENT WITH THE LIFE YOU PROFESS. Those works, those actions, those prayers are dead, mistaken and fruitless works, since they have the purpose of distracting the conscience so that the conscience does not discover the stench that covers the lives of those who act incorrectly.
My beloved, at this instant confusion is taking the reins with many of My children, being led down to the wrong path. Persecution of My children increases as man distances himself from My Son and forgets Him in order to take the devil as his god.
Humanity descends into what is satanic and dark; the devil welcomes them, providing them with all debauchery so that shelter in greed, in impurity, in immorality, and thus be allies of evil, allowing demons to dominate them. WHEN HUMAN CREATURES ALLOW EVIL TO DOMINATE THEM, THIS EVIL TAKES THEM AND GIVES THEM WHAT THEY NEED IN ORDER TO INFECT MEN THROUGH DECEPTION.
Oh unrecognizable generation, how much grief you are causing My Son!
Social upheavals will continue, the economy falls and man rises against man.
Differences between social classes are a cause of great upheavals; struggles because of this motive will not delay in coming, overpopulation warns of great economic changes leading society to lose its peace in every respect; fear is constantly being breathed in the face of violence and terrorism.
Man will feel foreign in his own Homeland ...
The elderly are disrespected on their own soil ...
Women are frightened in their own homes ...
The one who was invited in will within instants will be the owner of the house ...
The youth that has been welcomed in some countries rise up among the adults, taking what is not theirs and doing violence to those who are faithful to My Son ...
Temples will go from being Houses of prayer and adoration to being places feared by My children faced with the violence that is rising up the whole time because of the growing wave of followers of satan.
My Priests who are faithful to My Son will be scourged for wearing the habit; death will constantly be around them for not giving in to the threats of those who join the hordes of evil.
Beloved children:
Hunger is riding over the Earth, the climate will change everywhere until the crops wilt because of the heat, rain and plagues; famine will become widespread because of the proximity of the Great Comet that will come more and more closer to the earth. The nations of great opulence will fall into poverty. The proximity of the Great Comet will cause some coastal cities to be flooded as it has not been seen before. Destitution will take up its place within Humanity. You forget all of what I have warned you about.
The great nation in which My children from all places live will suffer greatly; the ocean will rise up above it and will silence the hubbub and will stop acts contrary to the Divine Will.
My children, pray for England, the plague is at the gates; its ground will shake.
My children, pray for China, it will suffer, its ground will shake. It will pour out pain upon Humanity.
My children, pray, children, pray for Italy, it will be shaken, terror is gathering strength.
Beloved children of My Immaculate Heart:
MY SON HOLDS YOU ON HIS LAP. EVIL INCREASES, BUT MY SON'S LOVE FOR HIS PEOPLE IS INFINITE
AND THE ANGELIC LEGIONS COME QUICKLY TO PROTECT THE PERSON WHO ASKS FOR THEIR
PROTECTION. Do not refuse Divine Shelter, detach yourselves from what causes you to fall and hold out your hands towards this Mother who loves you. My children have never been abandoned by Me; in every instant no matter how bloody those instants have been, this Mother has protected and defended you when evil has drawn near to defeat you.
DO NOT TURN AWAY FROM THE FOOD OF THE EUCHARIST, EACH ONE OF YOU IS A TEMPLE OF THE HOLY SPIRIT and is therefore protected by Angelic Legions, therefore stay on the right path that leads you to the soul's salvation.
IN THIS INSTANT I CALL ON YOU VEHEMENTLY TO STAY WITHIN GOD'S LAW SO THAT YOU DO NOT GO ASTRAY DOWN WRONG PATHS. Be faithful to My Son's Word in the Sacred Scripture and pay attention to the explanation revealed in these Calls.
You are My Son's People, and I will not abandon you. The crueler the instant, the greater will be my Protection over you.
BE NOT BE AFRAID, CHILDREN, DIVINE LOVE MITIGATES THE DIFFICULT INSTANTS AND PROVIDES YOU WITH SPIRITUAL STRENGTH SUCH AS THE PEOPLE OF GOD HAVE NEVER BEEN PROVIDED WITH BEFORE.
BE NOT BE AFRAID, THIS MOTHER LOVES YOU.
I CALL YOU TO ENTER WITHIN THE SACRED HEART OF MY SON AND WITHIN MY IMMACULATE HEART.
Persevere, do not decrease in the Faith, maintain your confidence in My Son. I bless you.
Mother Mary.
HAIL MARY MOST PURE, CONCEIVED WITHOUT SIN.
HAIL MARY MOST PURE, CONCEIVED WITHOUT SIN.
HAIL MARY MOST PURE, CONCEIVED WITHOUT SIN.