Tuesday, October 18, 2016
Message of the Most Holy Virgin Mary
To Her Beloved Daughter Luz De Maria.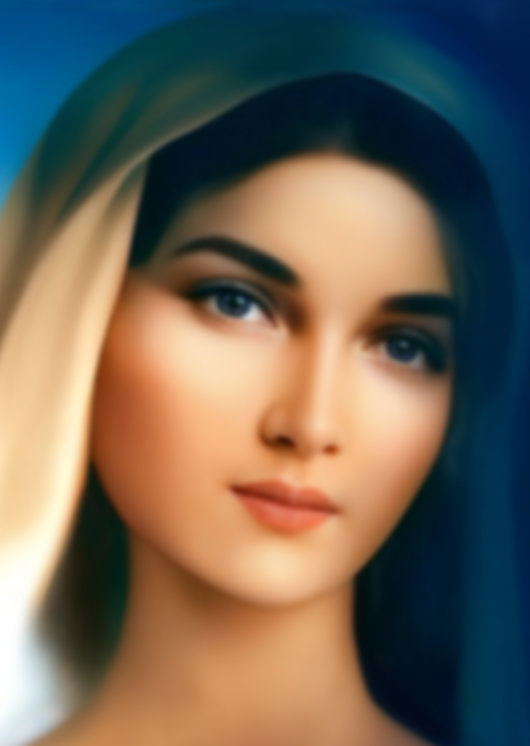 Beloved children of My Immaculate Heart:
MY SON'S LOVE FOR HUMANITY KEEPS ME PROTECTING YOU AND INTERCEDING FOR EACH ONE OF YOU.
I bless you abundantly, I bless you to strengthen you in these instants in which Humanity is mired in indifference towards the Love and Law of God.
MY CHILDREN ARE CAUTIOUS AND ATTENTIVE TO THE WORD EXPLAINED IN THIS REVELATION OF LOVE, MERCY, JUSTICE AND TRUTH WITH WHICH THE FATHER'S HOUSE IS CALLING ALL
HUMANITY, revealing step by step events and serious changes of Nature, social changes, political changes, changes in morality and spiritual changes that this generation is facing and will face before the establishment of the reign of the antichrist, who, within its retinue, holds leaders of the great powers and organizations of all kinds related to man.
CHILDREN OF MY IMMACULATE HEART: THE SUFFERING OF MY CHILDREN IS ESCALATING
BEFORE THE PROXIMITY OF THE PUBLIC APPEARANCE OF THE ANTICHRIST, WHO NEEDS UNCERTAINTY AND HUMAN TURMOIL THROUGH WAR IN ORDER TO APPEAR AS THE GREAT SAVIOR OF HUMANITY.
Because of the continuous and widespread persecution throughout the Earth of My Son's People, I have called on you to consolidate your union with the Most Holy Trinity so that, being one with the Divine Will, you will not be easy prey for evil.
Beloved children, the pain has not finished but, as when a woman is to give birth, the purification of My Son's People will increase as time grows shorter and evil comes closer to man.
The devil knows human weakness well and knows that in what is worldly it is tempting My children with great ease. I invite you to turn away from what is worldly so that, overcoming the world, to turn away from what leads you to stain yourselves with immorality, immodesty, offences against the Commandments and the Sacraments and against human nature.
My beloved:
BE ASTUTE, WEAKEN THE DEVIL BY OVERCOMING WHAT LEADS YOU TO REMAIN IN SIN. KNOW MY SON SO THAT YOU DO NOT TAKE THE DEVIL AS YOUR GOD.
At this time, much of Humanity has been taken over by the devil. I see My children given over to evil and possessed by evil, acting with anger, violence and arrogance, acting against the Holy Trinity, blaspheming, committing impure acts and sacrilege, for which My Son pours out His Precious Blood, and because of this the Passion of My Son continually remains current at this time.
Children, overcome the human ego! The human will, taken over by what is contradictory and wrong, has led this generation to desire what is sinful, awakening in man, from an early age, the strength of the "ego" and imposing one's own rules at the whim of each one of you. God's children immersed into this chaos at this instant, as the devil and his legions continue bringing down the greatest number of souls.
YOU CANNOT LIVE IN SPIRITUAL LUKEWARMNESS BECAUSE THE ONE WHO IS LUKEWARM WILL BE SPEWED OUT OF GOD'S MOUTH.
At this instant, you must hold to what is good in the Eyes of God and hold to God's Law, not to the lukewarm interpretations that some of My children give of what is God's Law and which cause man to lose Eternal Life, denying Divine Justice, denying the existence of hell, denying the purification of a sinful Humanity.
My Son is Mercy towards the one who seeks mercy and makes a firm purpose to amend their way. My Son is Mercy with the one who repents of having offended Him, but this act of humility is necessary on man's part wherein he acknowledges that God is God and man is man.
Beloved children of My Immaculate Heart:
The sun will no longer be man's ally; within the sun the agitation will be accelerated and the heat that it emits will cause devastation to man's technological advances. What man has achieved with technology will be reduced to nothing and in this way man will have to return humbly to the times when he did not affect or distort the Elements so as to cause evil, as at this instant.
Man gives names to changes in nature, such as "climate change". God created everything good with the Work of His Hands; man with his hands has destroyed the whole Work of Creation and has altered it to the point of to losing control of what he has altered, causing irreversible changes for Humanity which will come back against man himself.
Humanity has chosen its future; it does not want to heed the calls of the Father's House. Reason is clouded in man and the "ego" is leading Humanity towards the precipice, as water drags a leaf off a tree.
MY PETITIONS HAVE NOT BEEN HEARD. I have come to intervene in the history of this generation by Divine Will, as Mother of all people. My Words have been calls of distress anticipating this instant and those to come, with the Maternal Hope of being heard so that the purification of My Son's People not be as severe. My Requests not having being heard, My Pleas unfulfilled and unheeded by the hierarchy of My Son's Church, denial is leading this Humanity to be purified by Creation and by the hand of man himself who in the absence of Love for neighbor, rises up to be an executioner of his own race.
BELOVED, SINS ABOUND AGAINST THE HOLY SPIRIT...
YOU HAVE FORGOTTEN THE SEVERITY FOR THE MAN WHO SINS AGAINST THE HOLY SPIRIT!
You must to be responsible for the works and actions of each one of you ...
You must be generators of good and immerse yourselves in Sacred Scripture so that you know the Will of God ...
DO NOT CONTENT YOURSELVES WITH WHAT YOU CAN DO, ENTER INTO THE TRUTH OF THE
DIVINE WORD AND GROW, MATURE SO THAT YOU MANAGE TO LIVE ACCORDING TO GOD'S LAW
AND FIND GRACE IN THE DIVINE EYES.
Children, Humanity is at the critical point. This instant keeps man in two states:
Those who commit to the good and know My Son and recognize Him as God, rising up in the midst of the falls, will receive the strength to stay within the Holy Remnant ...
Those who deny My Son and surrender freely to the devil will be the cause of their own condemnation.
THE PRESENT INSTANT HAS TWO PATHS:
SPIRITUAL GROWTH OR WITHDRAWAL FROM THE DIVINE PRESENCE.
Divine Mercy does not close with the Year of Mercy, but will remain open for all those who come in repentance before God, only that freely drawing near to seek the meeting with his Lord and his God must come from man.
Beloved children:
THE ANGEL OF PEACE WATCHES YOU WITH LOVE, HE WILL COME TO COMFORT THOSE IN TRIBULATION AND TO GIVE STRENGTH TO THE FAITHFUL SO THAT THEY DO NOT DECREASE IN
FAITH. My Son's People will again see Hope with the arrival of the Envoy, the Angel of Peace, in the midst of the siege of evil and My children's persecution. As Mother of Humanity, I come to crush the head of the devil and its hosts. My beloved Angel of Peace is strength for My Son's people and will not be confused with the antichrist.
My children, be true, do not be deceived, do not lie to one another, do not be false; be light at all times, do not allow yourselves to be confused. Man's deceiver is using its tentacles to dominate all Humanity and you, children, still deny the change in which you find yourselves, change with which Nature maintains itself and reacts. Man is not recognized by Creation, Creation fears man, who with his hand has destroyed what God left him.
Beloved children of My Immaculate Heart, the forces of nature are redoubling all over the Earth. The water is gaining strength and penetrates the land, contaminated wind carries the plague with it. DO NOT FEAR, I AM WITH YOU.
Beloved children, pray for Denmark, it will suffer, its ground shakes. The wailing will not stop.
Beloved children, pray for Spain, death at the hands of terror will not delay. The water comes and penetrates the land.
Beloved children, pray for Australia, the plague continues advancing in silence.
Pray children, pray for Italy, she will be scourged without the need for foreigners to penetrate
within her. The roar of the land comes out with great power through its volcanoes. Pray; Etna and Vesuvius cause pain.
Beloved, pray for the Church of My Son, confusion divides.
Prayer for the suffering of the United States should not decrease.
Beloved children of My Immaculate Heart:
KEEP ON WORKING AND ACTING IN OBSERVANCE OF GOD'S LAW, DO NOT BE EASY PREY FOR
WHAT IS WORLDLY. DO NOT FORGET THE WORD OF MY SON OR THE EXPLANATION OF THIS REVELATION.
Do not forget that you are loved by My Son, do not forget that My Son is "the Way, Truth and Life" (Jn 14,6), do not turn away from Him.
My Son speaks to every person individually and you do not listen to Him, you do not look at Him because of the turmoil in which you live. In every instant the Divine Presence is implicit, through which every instant should be lived on the Right Path.
MY SON REVEALS THE DIVINE WILL TO YOU ALL IN ORDER THAT YOU DO NOT CHOOSE WRONG PATHS. Be astute, live every instant on the Right Path, do not allow yourselves to be separated from My Son, be creatures of peace, love your brothers and sisters, and be bearers of the Divine Word. Do not give back evil for evil, be those who teach with the testimony of Divine Love. Whoever calls themselves Christian at this instant, must be so in the fullness that this title carries with it.
I bless you, I enlighten the path of My children.
I am warmth when you are cold ...
I am a refreshing breeze when the sun is stifling ...
I am rain causing seeds to germinate ...
I am a Word that instructs, Love, the Gate of Heaven ...
THUS I CALL YOU AGAIN AND AGAIN:
THE DOOR IS OPEN, COME, MY CHILDREN, ENTER SO AS TO ENJOY THE ETERNAL GOOD.
Fear not children, be united; thus you are a strong wall, impenetrable.
I bless you.
Mother Mary.
HAIL MARY MOST PURE, CONCEIVED WITHOUT SIN.
HAIL MARY MOST PURE, CONCEIVED WITHOUT SIN.
HAIL MARY MOST PURE, CONCEIVED WITHOUT SIN.